LifeStraw started off as a humanitarian project with the goal of providing safe drinking water to communities in need around the world.
They've since expanded into one of the most popular and most efficient water filters on the market.
But they're far from the only great option. There are plenty of solid alternatives that each offer their own unique benefits. 
If you're into backpacking, hitting the trails or just want to have access to clean drinking water wherever you go then here are the absolutely best alternatives to the LifeStraw.
The Sawyer Squeeze is the best alternative to the LifeStraw and is one of, if not THE, most popular water filters on the market. It's lightweight, small and easy to carry and versatile. It come with a water bag, can fit onto standard water bottles, be converted into a gravity filter or clip directly onto a hydration bladder so you can filter directly as you drink. It's also very affordable and long lasting.
If that isn't you thing then either the Platypus Quickdraw or the Katadyne BeFree are filters designed to work with squeeze bags and have high flow rates. The Platypus is more versatile with 2 thread types as well as the fact you can drink directly from it. It also has a faster flow rate that is very difficult to clog. The Katadyn is less versatile but super simple to use and extremely lightweight. Both are great options.
For the most questionable water sources you'll want to opt for the Grayl Geopress which not only removes bacteria and protozoa but also removes viruses which are too small for all other filters. It comes in a 24 oz bottle but is more expensive to replace filters and tends to clog faster and doesn't work well with silty water.
There are also a variety of other cheaper alternatives to the LifeStraw and each have their pros and cons as ways to create safe drinking water no matter where you are.
INSERT TABLE
1. Sawyer Squeeze/Sawyer Mini
If you've ever owned a water filter, I'm sure you've heard of Sawyer. After all, the Sawyer Squeeze has been the most popular water filters among hikers and backpackers for decades.  
And while LifeStraw has certainly put Sawyer to the test over the last few years, it's hard to go wrong with a filter by either company.
The Sawyer Squeeze is loved by backpackers everywhere because it is very small and extremely light, meaning it doesn't take up much space in your bag.
It's relatively cheap to purchase and it's widely available in backpacking and camping stores.
But what makes the Sawyer Squeeze so great and #1 on this list is it's overall versatility compared to other water filtration devices.
The Sawyer Squeeze comes with it's own bag (which honestly is pretty trash) but it can also be attached to any water bottle with a standard thread.
It can be converted into a gravity feed for easy filtration or you can connect it directly inline to your bladder so you can filter as you drink.
The versatility combined with the longevity of this filter makes it still one of the best options out there to this day.
The only major downsides of the Sawyer Squeeze is that it can lack durability if you drop it or in colder temperatures and cleaning it on the trail can be hard as you need a syringe in order to back filter it. But overall these issues are fairly small and not a big deal for most people.
A Sawyer water purifier can turn the gnarliest water into safe, great-tasting drinking water right in the palm of your hand.
Sawyer's S3 Select Water Purifier is one of their newest offerings — providing the same trusted dual-filtration of the Mini in a less clumsy, much better-looking package.
The S3 uses Foam Adsorption technology to remove contaminants like viruses, chemicals, and heavy metals, along with a Micro Squeeze Filter that removes sediment, microplastics, protozoa, and other pathogens — all the way down 0.1 microns in size.
2. Platypus Quick Draw
While the Sawyer Squeeze is the obvious choice for #1 both the Platypus Quick Draw and the Katadyn BeFree could be tied for 2nd place.
But I've got to give the slight edge to the Platypus Quickdraw for it's speed and ease of filtration (up to 18 seconds for 1 liter but more realistically 30 seconds or so per 1 liter).
It also is more versatile as it features 2 different thread types – a standard thread size for regular water bottles plus a wider threat for use with specific platypus bags and bottles.
You also have the ability to drink directly from a stream, river, lake, puddle or cup using it just like you would use a LifeStraw.
One thing I really love about this is that the filter it is difficult to clog and when flow rate does slow it is really easy to clean and you don't need any special tools to clean it or backwash it.
This makes it easy to clean whilst on the trail. Simply hold it tight against any water bottle to back flush it.
It's very affordable and also gives you the ability to check it's integrity after a freeze, so you don't throw away perfectly good filters.
Overall this is an exceptional product and well worth the investment.
3. Katadyn BeFree
The ease of use, both in filtration and cleaning, makes the Katadyn BeFree one of my absolute favorite picks on this list.
This filter with it's 1L bag is so easy to use that even my kids are excited to fill up the bag in the river and know how to filter water – or drink directly from the 1 Liter (or 600 mL) squeeze bag.
It's small and light and comes as an all-in-one system – it's a filter and a drinking bottle all at the same time.
The flow rate is great and due to the filtration fibers being open on all sides cleaning is a breeze as you just have to swish around clean water and just that will do a great job cleaning the filters and increasing flow rate.
The downside of the BeFree is that it only has a wider thread making it less versatile and it can't be used with standard water bottles. It also tends to clog up a bit faster in silty water compared to other filters.
Saying that it does seem to hold up really well in colder temperatures and if you grab this AquaClip for it you can easily attach it to the shoulder of your backpack making it quickly accessible.
I'd highly recommend this filter.
4. Grayl Geopress And UltraPress Water Purifiers (Best Filtration)
Grayl has been quietly pumping out some of the best water filtration bottles on the market since a massively successful Kickstarter campaign about a decade ago.
And if you're in an area with very questionable water sources then Grayl is going to be the best bottle for you.
Not only does it filter out bacteria and protozoa like LifeStraw does, but it also filters out viruses and some chemicals which are too small for the LifeStraw to filter. It's going to give you the best filtration of any of the products on this list.
Unlike LifeStraw filters, Grayl Bottles use a clever inner outer bottle system to filter water.
Simply fill the outer bottle and press the inner bottle into place to force the dirty water through a dual-filtration system, where it's instantly purified and ready to drink.
I've always preferred to chug rather than sip through a straw, which makes a Grayl GeoPress or UltraPress the perfect filtration system for me. 
5. Katagyn Hiker Pump Filter
There's long been the debate between squeeze filters and pump filters and each have their pros and cons and sometimes a pump filter is going to be your better option.
It can certainly make it easier and more convenient to filter larger quantities of water and to fill up items like your hydration packs.
The Katagyn Hiker Pro Pump Filter features a 0.2 micron filter that's made from pleated glass making it less suspecible to freezing damage.
It also features a carbon filter which helps to remove chemicals and improve the taste of your drinking water.
With it's compact size and compatibility to pump directly into hydration bladders this is a great filter option if you prefer a pump over the squeeze filters.
6. Etekcity Water Filter Straw
If you're looking for a less expensive alternative to a LifeStraw, Etekcity's Water Filter Straw is a decent option. 
It uses a dual-filtration process to make almost any fresh water safe to drink, weighs in at only 2 ounces, and can filter up to 330 gallons (compared to LifeStraw's 264 gallons).
Not bad for a solid, budget-friendly water filter.
It'll normally set you back about 17 bucks, but I've caught them on sale for $12 or so pretty frequently. 
7. Membrane Solutions Water Filter Straw
If you're looking for a product that is as close to being a LifeStraw as possible without being a LifeStraw (and saving you a few bucks in the process) the the Membrane Solutions Straw Filter is going to be a great option for you.
It features a 5 stage filtration system with a coarse filter screen, double layer pp cotton fiber, coconut shell activated carbon and 0.1 micro hollow fiber membranes.
Made from durable food grade plastic which is BPA free you can buy these in bulk amounts to save money and get one for each family member.
8. HydroCap by WAATR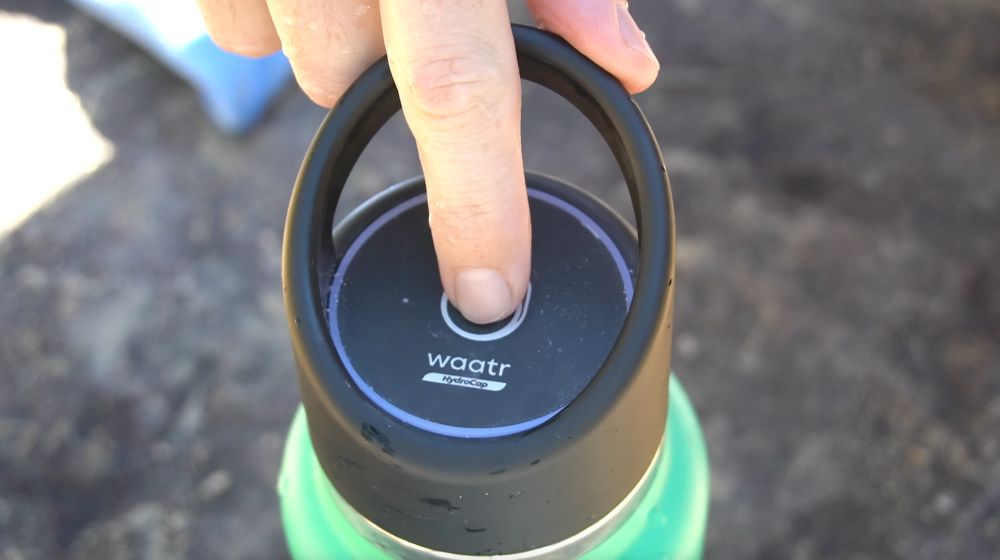 UV water filters have been growing in popularity as an alternative to the more traditional filters like LifeStraw.
Using ultraviolet light to kill over 99.9% of bacteria, protozoa, and viruses in water, UV purifiers are an easy and effective way to remove potentially harmful microorganisms from your water.
While LifeStraws are really solid filters, they unable to filter viruses. So if you're in an area where waterborne viruses are likely, UV purification makes a great alternative.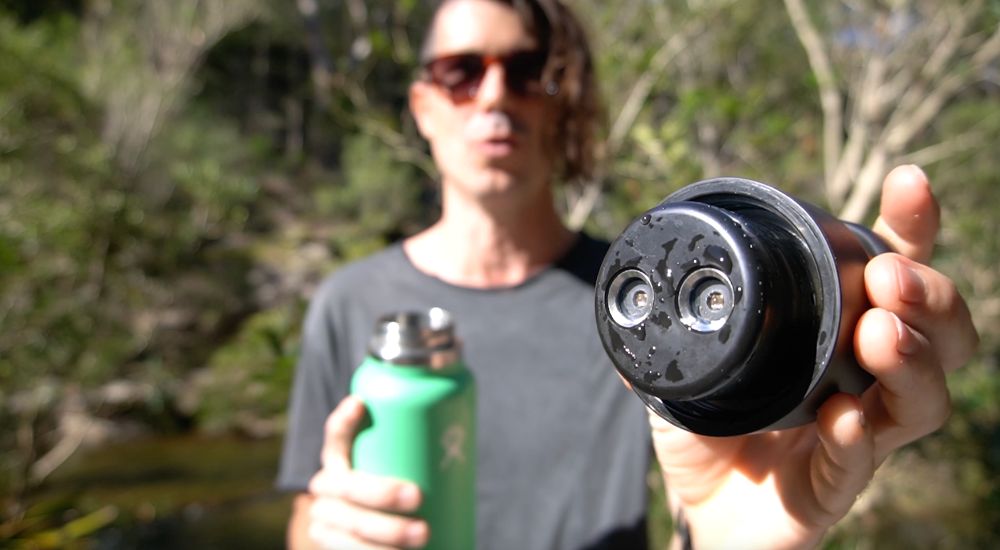 WAATR's HydroCap uses two 20mW UV-C LEDs on the underside of the cap to kill bio-contaminants in your water. It's compatible with most popular wide mouth bottles, including HydroFlasks, Klean Kanteens, ThermoFlasks, and Simple Modern Bottles, just to name a few.
But while it sounds great, but there are a couple of pretty big drawbacks with UV purification:
It works well with tap water, rainwater, and clear water from lakes and streams, but if the water is cloudy or full of sediment, the UV light won't be able to penetrate well enough to work properly.
It doesn't remove non-biological contaminants, like heavy metals, micro plastics, and chemicals from your water.
It doesn't improve the taste of your purified water much, unlike most filters.
For more information, check out my full HydroCap review or learn more about exactly how safe UV light water bottles are. 
9. AquaMira Shift Cap
Cleaning/Backflushing Method: None – it cannot be done.
AquaMira's Shift Filtered Cap is a (mostly) universal wide mouth lid with four different filter options:
The Everyday Filter is a carbon filter that removes the chemicals and heavy metals commonly found in tap water to make your water taste crisp and clean.
The Backcountry and Backcountry+ Filters remove the bacteria, parasites, and protozoa commonly found in the lakes and streams of the backcountry.
The Worldwide Filter tackles viruses in addition to everything the Backcountry Filters remove — for the most hardcore adventures. 
If you're using a HydroFlask or any other compatible wide mouth bottle, the AquaMira Shift offers the flexibility needed for hydration in any situation. 
You can also get the Aquamira Backcountry which is compatible with all the same cartridges and is designed to clip directly into your hydration bladder.
The downside of this filter over the other filters on the list is that you cannot backflush it to get more use out of it and it tends to have less filtration capacity when compared to other brands.
Still I like the versatility of interchanging the filters for when I'm at home vs when I'm out backpacking.
10. SteriPen Adventurer
If you don't necessarily want a special UV lid or bottle, the SteriPen Adventurer offers the same benefits of the HydroCap (and same downsides), all wrapped up in a super-portable handheld purifier.
Because it's so small and light, I always keep one in my backpack if I know I'll be around clear, fresh water on the trail.
It lets me use any bottle I want, takes up almost no space, and leaves me confident that my water is safe to drink. 
11. LARQ Filtered Water Bottles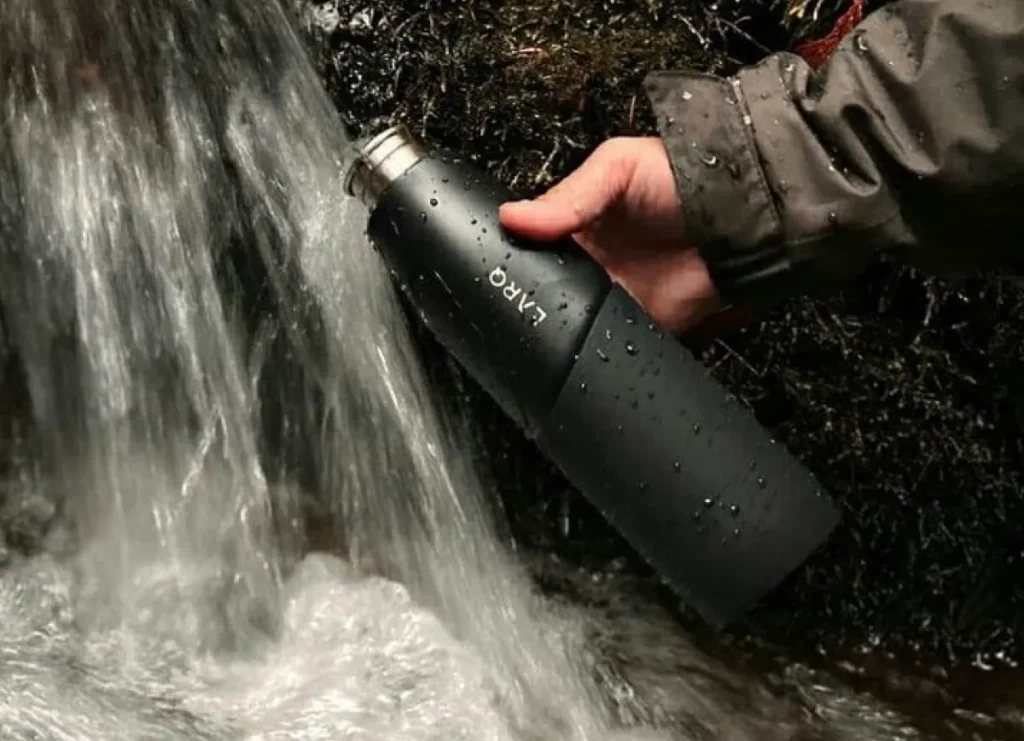 LARQ is known for making sleek, stylish reusable water bottles with filter options for any preference.
The LARQ PureVis UV Self Cleaning Water Bottle uses UV-C light to kill bio-contaminants and sterilize your water — but doesn't help with sediment, heavy metals, and other inorganic particulates. 
The LARQ Filtered Bottle, on the other hand, has a more traditional NanoZero Filter that removes heavy metals, chlorine, microplastics, and other particulates from your water — but does not remove bio-contaminants. 
Depending on the water you're drinking, the best LARQ Bottle will vary. Check out my in depth comparison to learn more. 
12. PureMax 4D by WAATR
WAATR's PureMax 4D Water Bottle is like the HydroCap but taken to the next level of water purification. It offers a UV-C purifying lid to kill microorganisms AND a multi-stage water filter to remove particulates. 
The PureMax 4D comes with an insulated bottle or can be added onto a Hydro Flask or similar style bottle.
The filters can be changed out and the UV lights are powered by rechargeable batteries.
It's really the best of both worlds, my favorite new filtered bottle on the market, and a great alternative to a LifeStraw. 
13. Boil Your Water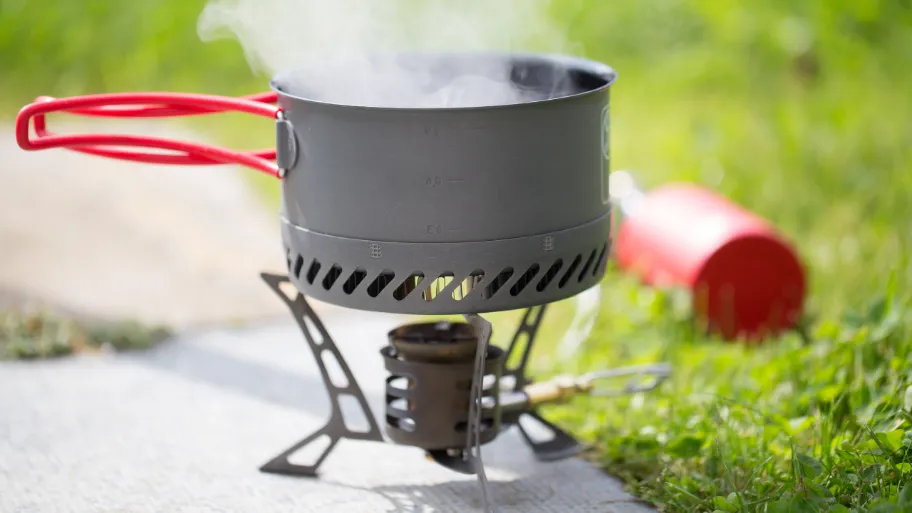 One of the simplest and most basic alternatives to the LifeStraw is simply to boil your water.
Having water under a rolling boil for 1 minute at sea level or 3 minutes at high altitudes will kill all the microorganisms in the water, making it safe to drink.
The downside to this method is you're then going to have to wait for the water to cool before you can drink it, it can be costly in fuel and also the silt and microorganisms won't actually be removed from the water.
Still, it's a great and straightforward way to access clean drinking water wherever you are.
14. Water Treatment Tablets
Water treatment tablets are great to have in your backpacking bag because they are lightweight and can be used to treat water and make it safe to drink if and when your LifeStraw or other filter fails.
Simply place a water purification tablet in your bottle and leave for around 35 minutes or so (check the label) before drinking.
This will kill microorganisms in the water and make it safe to drink.
The downside to this method though is the fact that it makes you water taste pretty awful. It's not something I like doing often, but I will do it if I need to.
15. Bleach
Yes, you can actually use bleach to treat water and yes you can actually drink it.
To do this simply use around 2-4 drops of bleach per 1 liter of water then wait 20-30 minutes for it to kill to microorganisms in the water.
Like the water treatment tablets up above this will make your water taste funny and it's not something I like doing. But if you have no other options this can work well.: