To help keep your Hydro Flask bottle clean you'll want to invest in a good bottle brush. The last thing you want is for your expensive Hydro Flask to get moldy because you didn't clean it properly.
If you're like me you'll want something that makes it quick and easy to clean your Hydro Flask. But also something durable enough to last a long time and strong enough to clean out tough stains and gunk from that time you left your Hydro Flask for a month without cleaning it.
So I've had a bit of a search over the web and below I've highlighted specifically bottle brushes that I believe are perfectly suited to Hydro Flask and other stainless steel bottles.
Why You Need a Bottle Brush For Your Hydro Flask
Over time your Hydro Flask can collect a lot of dirt, grime and mold and it's important that you clean it on a regular basis.
Because Hydro Flask bottles are quite tall it can be difficult to reach the inside of the bottle with a regular sponge. The standard mouth bottles you can only fit a few fingers in and even the wide mouth bottles are too small to fit in your entire hand.
A bottle brush can go inside the bottle and get to the hard to reach places allowing you to scrub it clean and avoid any mold or grime build up.
You should be washing your Hydro Flask bottle on a regular basis in warm soapy water using a bottle brush to scrub the inside. Click here to learn exactly how to clean your Hydro Flask properly every time.
What to Look For In A Hydro Flask Brush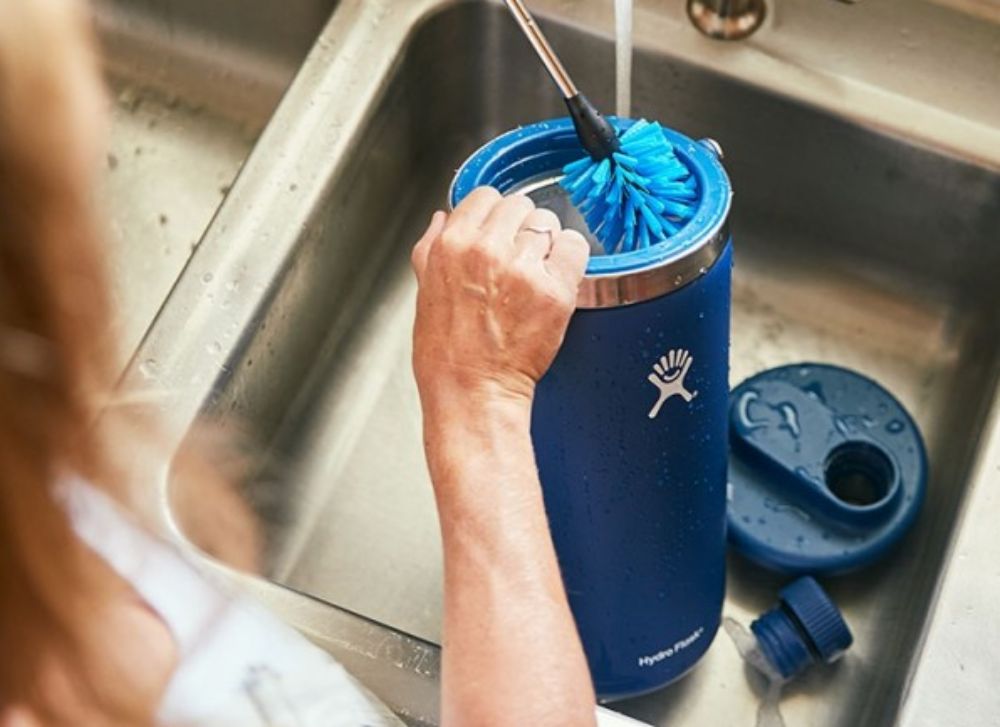 Hydro Flask bottles are tall and are made from 18/8 kitchen grade stainless steel which is a strong and durable material.
In order to clean it properly you'll need the right bottle brush. Here are some features you want to consider when choosing a Hydro Flask bottle brush.
Length
You need to make sure the bottle brush is going to be long enough to reach the bottom of your bottle.
Most Hydro Flask bottles are a similar height (see the Hydro Flask size chart) so you'll want your brush to be at least 10-11 inches in length in order to reach the bottom of almost any Hydro Flask Bottle.
Hard Enough Bristles
Some bottle brushes have extra soft bristles, and while this may be good for baby bottles it's not ideal for a stainless steel durable bottle like the Hydro Flask.
You're going to want a bottle brush with tougher and harder bristles than can firmly wash away any buildup your bottle may have.
Click here to learn how to clean mold, residue and smells from your Hydro Flask
Durability
An issue with cheap bottle brushes is that you use them just a couple of times and they go completely deformed and become useless.
Give your Hydro Flask will last you years (maybe even decades) you're going to want a bottle brush that you can use on a regular basis for a long period of time.
While the bottle brush is unlikely to outlast your Hydro Flask you still want it to last a decent amount of time.
Non-Slip Handle
Having a good rubber non-slip handle makes cleaning your Hydro Flask so much easier.
Often you need to apply pressure to give your bottle a good scrub so a non-slip handle makes it easier on your hands and wrist.
Small Cleaner For Your Lid/Straw
You may also want to get a smaller brush for your lid or straw (depending on what lid you have).
The lids can be one of the main areas hidden mold can build up so having a smaller brush to get into the hard-to-get grooves is extremely helpful.
Click here to learn how to clean every Hydro Flask lid
Dishwasher Safe
While Hydro Flasks are not dishwasher safe I personally want a bottle brush that I can throw in the dishwasher every now and then to keep it clean and to sterilise it.
1. Hydro Flask Water Bottle Scrubbing Brush
Hydro Flask Brush:
Hydro Flask make a high-quality bottle brush specifically designed for cleaning Hydro Flask bottles.
It uses durable nylon bristles that aren't too hard and aren't too soft and the 2 inch cleaning head is small enough to fit in all Hydro Flask bottles (even the Standard mouth bottles) but large enough for easy cleaning.
The Hydro Flask Brush is approximately 11 inches to the start of the handle so should reach the bottom of all Hydro Flask bottles. It is 15 inches in total so will reach the bottom of even the 128 oz Oasis.
See the latest price of the Hydro Flask Bottle Brush at HydroFlask.com
(or compare to the latest price of the Hydro Flask Bottle Brush at Amazon)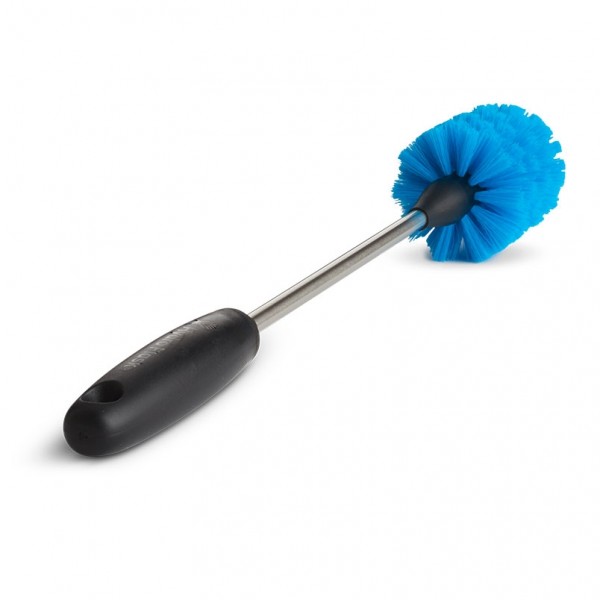 PROS:
Tough bristles clean well.
Made to fit all Hydro Flask bottles
Durable nylon bristles
Limited lifetime warranty
Non-slip grip
Dishwasher safe
CONS:
Quite expensive
Not as durable as you would expect for the price
2. BlenderBottle 2-in-1 Bottle and Straw Cleaning Brush
Price:
The Blender Bottle Brush has firm bristles, a long handle for reaching the bottom of your Hydro Flask bottles and it also has a non-slip grip.
Inside the handle is also a detachable mini-brush which can be used for cleaning the lid of your Hydro Flask and can also be used to clean the straw of your Hydro Flask.
It's not the cheapest bottle brush on the market but it has hundreds of positive reviews, it's dishwasher safe and it's more durable than a lot of the other options out there.
Buy the Blender Bottle 2-in-1 Brush at Amazon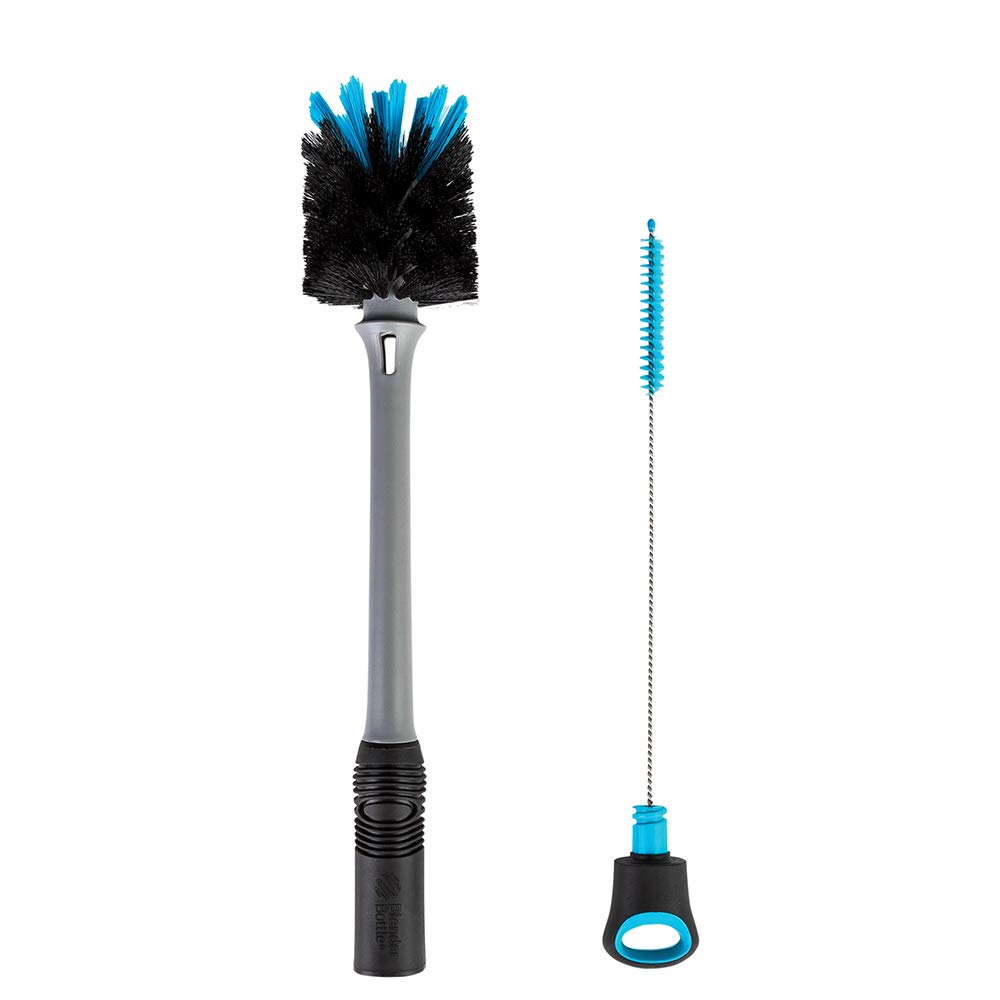 PROS:
Hard bristles allowing a tough clean
Built in straw brush for the Hydro Flask straw lids
Non-slip grip
Dishwasher safe
CONS:
Larger than you would expect making it difficult to store easily
Having the straw cleaner stored in the handle may keep it wet and breed mold
3. OXO Tot Bottle Brush with Mini-Cleaner and Stand
Price:
The OXO Tot Brush is designed to have softer bristles in the middle and harder firmer bristles at the end so you can clean the bottom of your bottle really well.
The head of the brush is flexible which gives you a bit more control over how you use it.
Inside the handle is a mini brush which is perfect for cleaning the lids of your Hydro Flask.
This also comes with a convenient stand for storing it that collects the dripping water so it doesn't go all over your bench.
Get the OXO Tot Bottle Brush at Amazon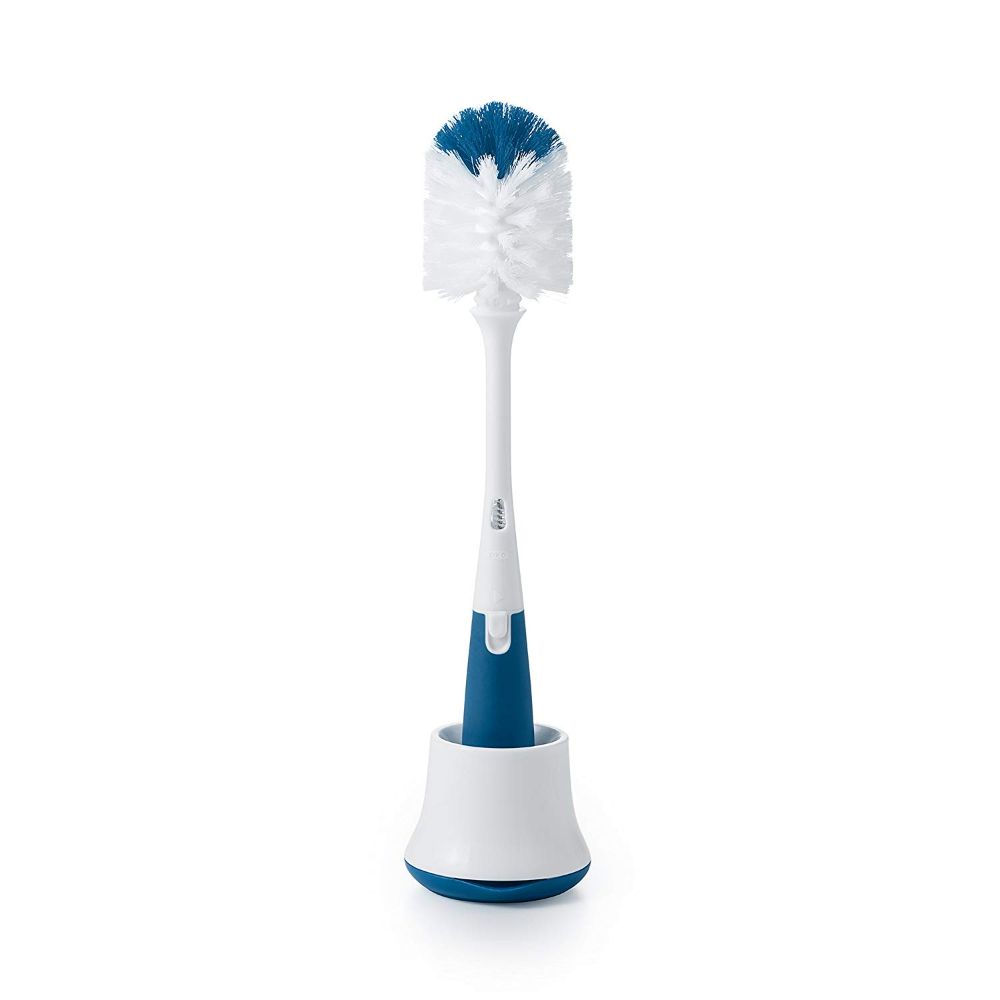 PROS:
Hard and soft bristles for versatile cleaning
Mini-Cleaner to help clean lids
Comes with a stand
Dishwasher safe
CONS:
Large head is harder to fit into standard mouth Hydro Flasks
Not very durable, bristles will flatten when regularly used
4. BUDGET PICK: Dr Brown's Bottle Brush with Mini-Cleaner
Price:
This is the best budget bottle brush for your Hydro Flask. It features a curved sponge on the end to wipe your bottle clean easily as still white bristles on the side to firmly clean off any residue.
At the base of the brush is a mini-brush which you can use to clean out your lids and it comes with a stand for storing.
It has a non-slip handle and is dishwasher safe. It doesn't have the longest handle when compared to other cleaning brushes on this lids but it's still long enough for most Hydro Flask bottles.
If you want to save some money and don't want to spend too much then this is a good option.
Get Dr Brown's Bottle Brush at Amazon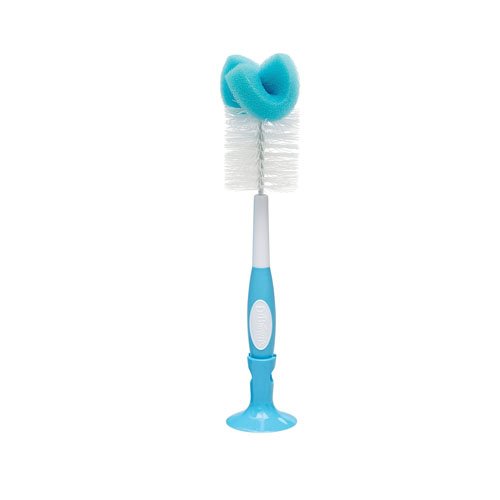 PROS:
Combined sponge and bristles for easy cleaning
Non-grip handle
Head is not too big so fits in all sizes Hydro Flasks
Mini-Cleaner to help clean lids
CONS:
Water tends to pool in the suction cup
No hard bristles for tough cleaning
Sponge will start to discolor and bristles wear out in about a month of regular use
5. Silicone Bottle Brush
Price:
If you're not a fan of the nylon brushes or feel they wear out too quickly then this silicone bottle brush is a good alternative.
It's more durable and less likely to deform than the hard bristle nylon ones but the downside is that the silicone bristles are quite soft so if you have stubborn grime it may not do the job.
The handle is long enough to clean almost all Hydro Flask sizes, it's quick drying and it comes in a bunch of different colors. It's also quite affordable compared to the Hydro Flask brand.
Get this Silicone Bottle Brush at Amazon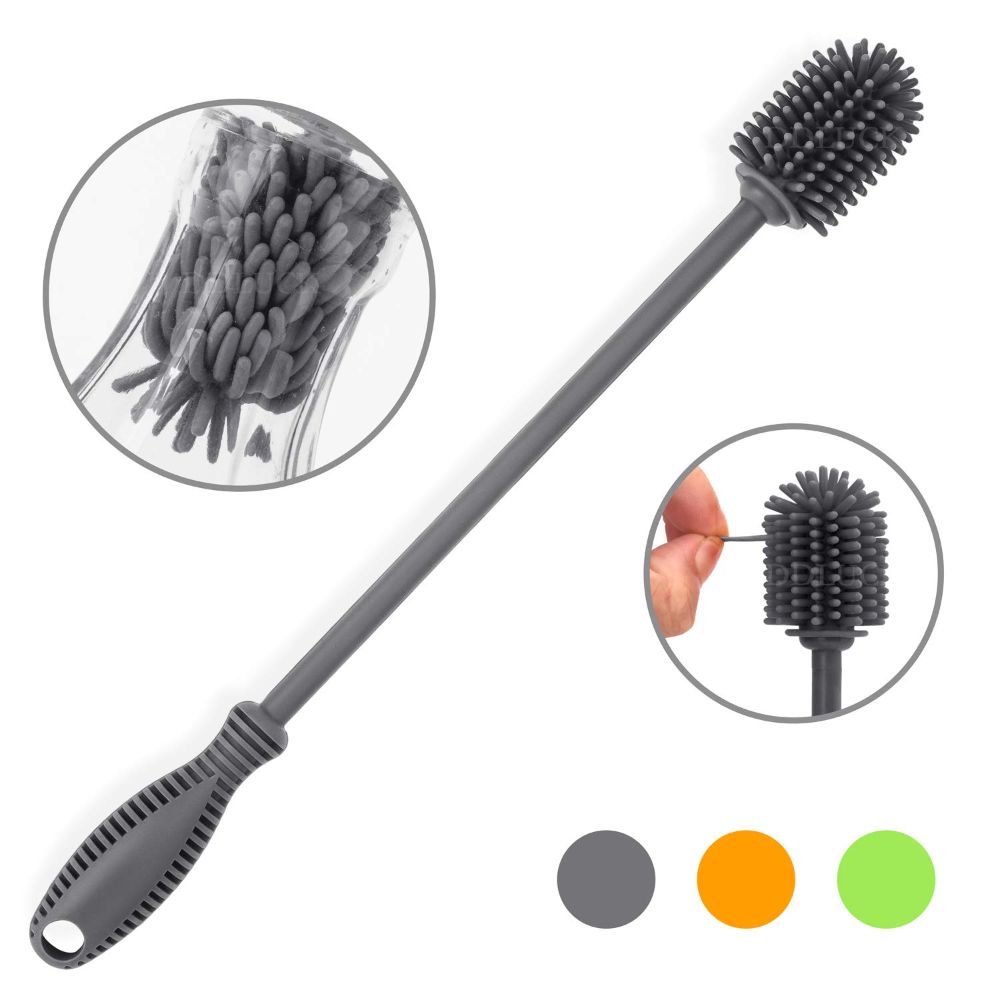 PROS:
More durable than nylon bristle brushes
Very long handle to reach the bottom of all Hydro Flasks
More environmentally friendly material
Dishwasher safe
CONS:
Bristles are soft so it's harder to clean stubborn grime
6. Philips AVENT Bottle Brush
Price:
I really like this style of bottle brush with the shorter bristles so you can scrub harder and get a better clean.
The curved brush head makes it easy to clean the bottle of your bottle and to get into the curves down the bottom.
The shaped end is also useful for cleaning out dirt and mold build up that can occur in the lids of our Hydro Flask bottles.
The major downside to this brush though however is the length. It's only 11 inches in length toal and while this is fine for the shorter Hydro Flasks it's not great for the taller ones.
Buy the Philips Avent Bottle Brush at Amazon

PROS:
Shorter bristles for a stronger clean
Dishwasher safe
CONS:
Too short to fit in taller Hydro Flask bottles
Handle is thin and end of handle can poke your skin