A nice collection of folding chairs is more or less mandatory if you plan to host backyard barbecues, pool parties, or any other outdoor get together.
But the trouble is finding a place to keep all those chairs once the party's over. Sure you can stack them in the garage but that takes up valuable floor space. I much prefer to hang the up out of the way.
Hanging them from a wall in the basement or garage is an easy way to keep them out of the way, but what's actually the best way to do so?
Classic folding chairs, beach chairs, and suspension chairs can be hung from a wall using a wall-mounted organization rack, storage hooks, or bungee cords. Folding camping chairs can be hung with a camp chair sling or from heavy duty command hooks.
If you're low on wall space, adding some overhead storage to your basement or garage may be an even better option. With a trussed ceiling, you can simply lay a sheet of plywood across two trusses to act as a shelf. Otherwise, you can install an overhead storage unit instead.
If you want even more space-saving ideas to store your folding chairs, be sure to check out my list of ways to store beach chairs and ways to store camping chairs for some inspiration.
Hanging them from a wall is far from the only option.
1. Use A Chair Hanging Rack
The easiest way to hang your folding chairs from a wall is to simply buy a wall-mounted organization rack.
I really like this Wallmaster Organization Mount because it's quick and easy to install, can hold up to six or eight chairs, and the hooks are adjustable, meaning any spare hooks can be used to hold shovels, rakes, or whatever else you want to hang.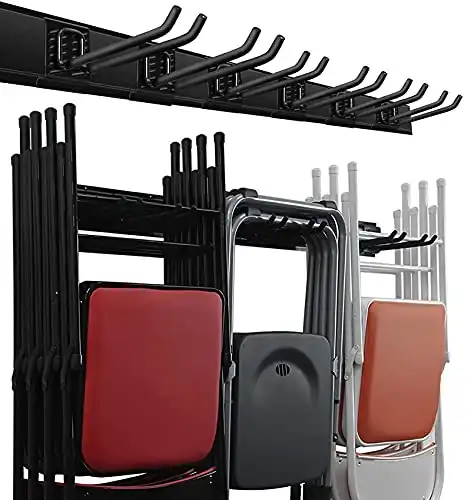 2. Use Storage Hooks
If you don't have enough space for an organization rack or want something even more customizable, you can install your own storage hooks instead.
Just measure the width between your folding chair's inner legs, subtract a couple of inches, and install your hooks that far apart.
Longer storage hooks can be used to hang two or three chairs at once. Or if you don't want your chairs jutting too far out from the wall, you can install shorter utility hooks to hang single chairs instead.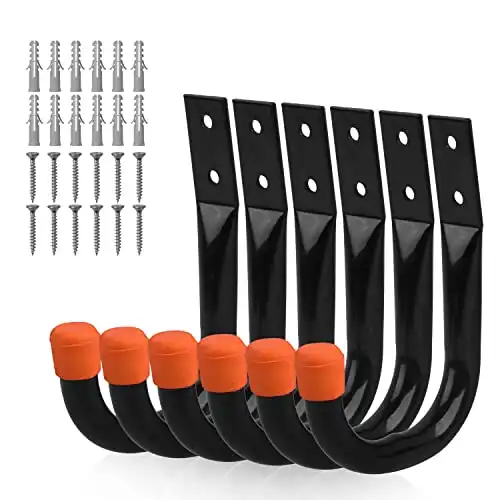 3. Use Bungee Cords
Hanging folding chairs from bungee cords has a couple of distinct advantages over simply using storage hooks or a rack.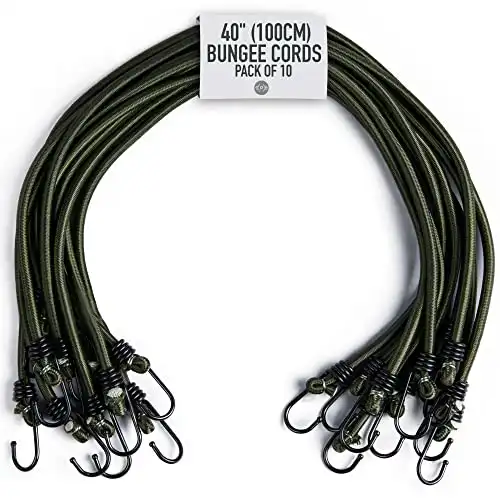 Pluvios 40" (100cm) Heavy Duty Bungee Cords with Hooks
$17.99
$16.50 ($1.65 / Count)
Designed to withstand heavy usage, these robust bungy straps with hooks are engineered with an 8mm woven polypropylene cord accompanied by heavy-duty plastic coated steel hooks on either end, which won't bend under loading.
Stretch to DOUBLE their length and have a maximum load capacity of 30kgs
Buy Now at Amazon
For starters, when your chairs aren't hung, the cords can be tucked away out of sight instead of being an eyesore on your wall.
Second, you can also hang more chairs at once. Hooks and racks normally hold two (or occasionally three) chairs per stack. With a couple of bungee cords, stacks of four or five are pretty easily manageable — just be sure to double check the weight limit of your bungee cords and hooks compared to the weight of your chairs.
To hang them, just install a couple of J hooks at the top of your wall near the ceiling (around 18 inches apart), thread two bungee cords through your chair's cross bar, and connect the cords to the hooks. 
Alternatively, if your basement or garage has a trussed ceiling, you can simply wrap the bungee cords around a truss near the wall instead of using hooks.
4. Hang Camping Chairs With A Camp Chair Sling
Because camping chairs fold in two planes and are normally quite a bit lighter than beach chairs and other folding chairs, you have even more options on how you can hang them.
A nylon camp chair sling, like this one by Tymedration, is super easy to install, hangs completely flat and out of the way when not in use, and can hold up to four camping chairs with no problem.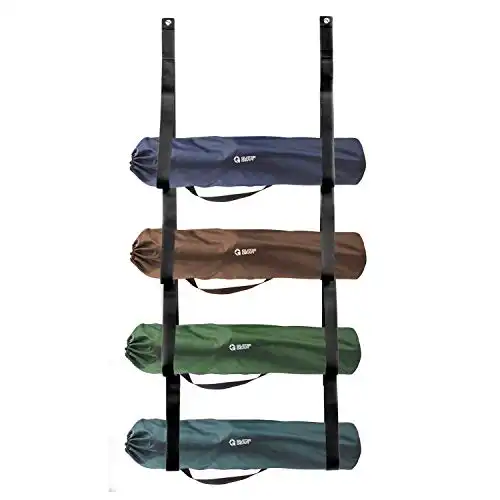 5. Hang Camping Chairs With Command Hooks
Surprisingly, most camping chairs are light enough to hang from heavy duty command hooks.
Many camping chairs will have small fabric loops you can hang them from or you can simply stick the chair in its storage bag and hang it by the string or handle instead.
If your chairs don't have either, you can always pick up a few camp chair storage bags on Amazon for less than ten bucks each.  
6. Hang Your Folding Chairs Overhead
If wallspace in the basement or garage is an issue, adding some overhead storage space is the next best thing.
If you have a trussed ceiling, it's super easy. Just use a solid sheet of plywood draped across two trusses to act as a shelf.
If not, you can buy an overhead storage unit instead. It's not the easiest to install, but once it's up it adds tons of extra space for folding chairs or whatever else you need to store — completely up and out of the way.