When I took the family out for an awesome week of camping last summer, we bought an entire set of new chairs to use around the campfire. 
The only problem was, once we got home, I had to figure out what exactly I was supposed to do with 5 new camp chairs. After some brainstorming, I came up with a few ideas.
The best ways to store camping chairs are to:
Hang them on a wall using a camp chair storage sling.
Hang lightweight camp chairs from heavy duty command hooks.
Keep them in a storage bin.
Suspend them from the rafters in your garage or basement.
Store them in the shed.
Get a deck box.
Keep them in the attic.
Weatherproof them and store them in a crawl space.
Slide them under the bed.
Keep them in the trunk of your car.
Tuck them in the back of a closet.
The ideas on this list work best for camp chairs that fold in two planes, into what's essentially an elongated cylinder.
If you're looking for storage ideas for more classic single-fold beach chairs, lounge-style beach chairs, or suspension chairs, check out my complete list of beach chair storage ideas instead.
1. Hang Your Camping Chairs From A Wall
My favorite way to store my camp chairs is to hang them from a wall in my basement or garage.
The easiest way is to pick up a wall-mounted chair sling. It only takes a few minutes to install and keeps the chairs pretty well out of the way.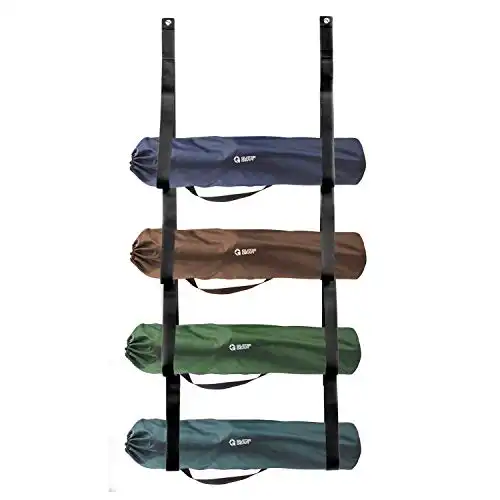 If you're hanging single-fold chairs, you'll need to use a wall-mounted chair rack instead. Or you can check out my complete guide on how to store folding chairs on a wall for a few other options.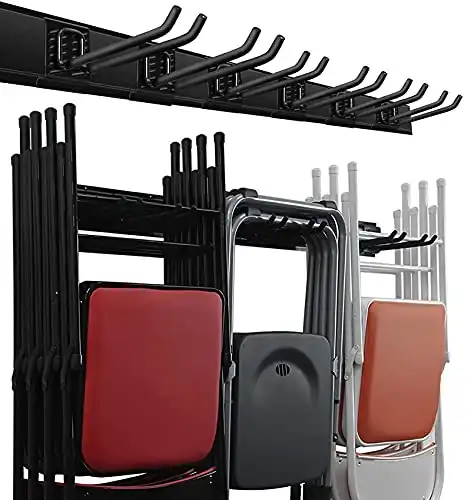 2. Hang Lightweight Camp Chairs From Command Hooks
If your camping chairs are on the lighter side, heavy duty command hooks are an even easier way to hang them from a wall. 
Just stick your chair in its storage bag and hang it from the command hook by the string.
If you don't have storage bags for your chairs, many will have sewn in fabric loops that can be used instead. Or if not, camp chair storage bags can be purchased on Amazon fairly cheaply. 
3. Keep Them In A Storage Bin
A simple plastic storage bin can hold four to six camp chairs depending on its size (measure the length of your folded chair vs the length of the bin), then tucked or stacked away neatly in a basement or garage.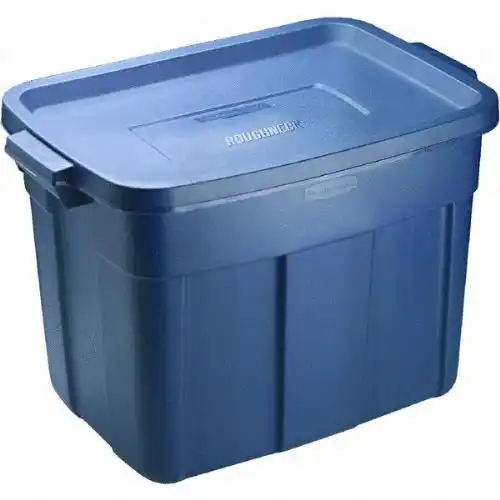 Rubbermaid Rough Neck Tote Storage Bin (18-Gallon)
This ultra durable 18 gallon tote is great for all your storage needs. The rugged design makes these boxes shatter resistant up to 0ºF/-18ºC. The snap on lid stays tight and keeps contents dry and dust free. All units are stackable, saving you valuable storage space.
Buy Now at Amazon
If you're using bins for storage anyway, this is probably the simplest, fastest, and most convenient way to store your camp chairs. Just store them along with the rest of your bins.
4. Suspend Them From Your Rafters
Hanging camping chairs from the rafters in your basement or garage will keep them out of the way even more than simply hanging them from a wall.
Individual camp chairs can be hung from garage hooks on your rafters using bungee cords, paracord, or whatever else you have lying around that will bear the weight.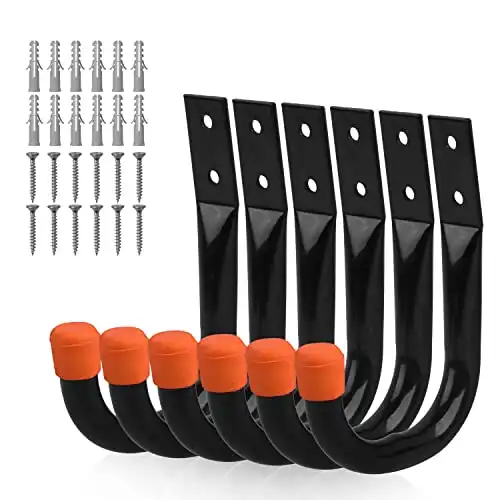 If you're storing multiple chairs, you're better off bundling them up with some nylon strap and suspending them all together. Just be sure to use storage hooks rated for the heavier weight. 
The only downside is that the chairs will be a little more of a challenge to store and retrieve using this method, so I'd really only recommend it for longer term storage — like when you're done with them for the winter.
5. Keep Them In The Shed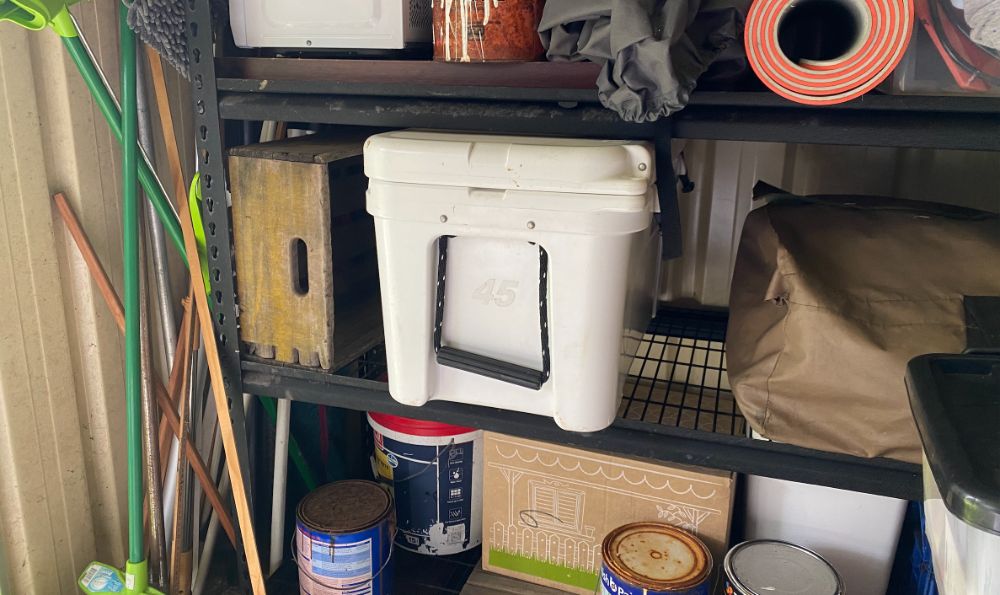 The shed is the perfect spot to store your camp chairs, at least as long as you're sure they'll keep dry.
Even though camping chairs can handle the elements fairly well, most aren't quite as equipped to deal with moisture as beach chairs.
If they get wet in storage and remain wet for weeks or months, mold and mildew are still very likely.
So, if you have any issues with moisture in your shed, you'll just want to weatherproof your chairs first — either by sticking them in a well-sealed storage bin or sealing them in a watertight storage bag.
Better safe than sorry.
6. Get An Outdoor Storage Box
If you're anything like me, the shed, garage, and basement are already packed full of camping gear, coolers, tools, and who knows what else. It can be tough to find any extra storage space, especially when you want to store a full family's worth of camping chairs.
A simple solution is to grab a deck box to add some extra storage space to your backyard.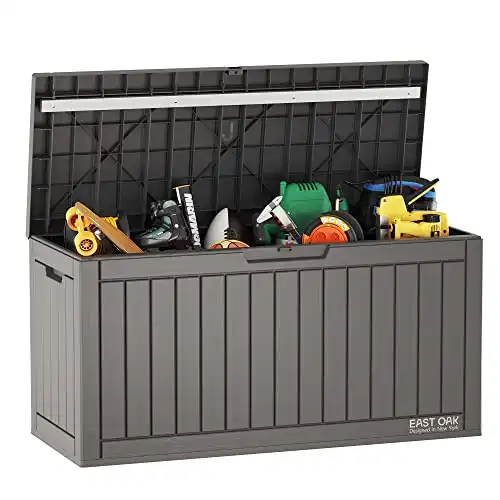 And as an added bonus, you'll probably have some spare room to stick a couple of skimboards in as well.
7. Stick Them In The Attic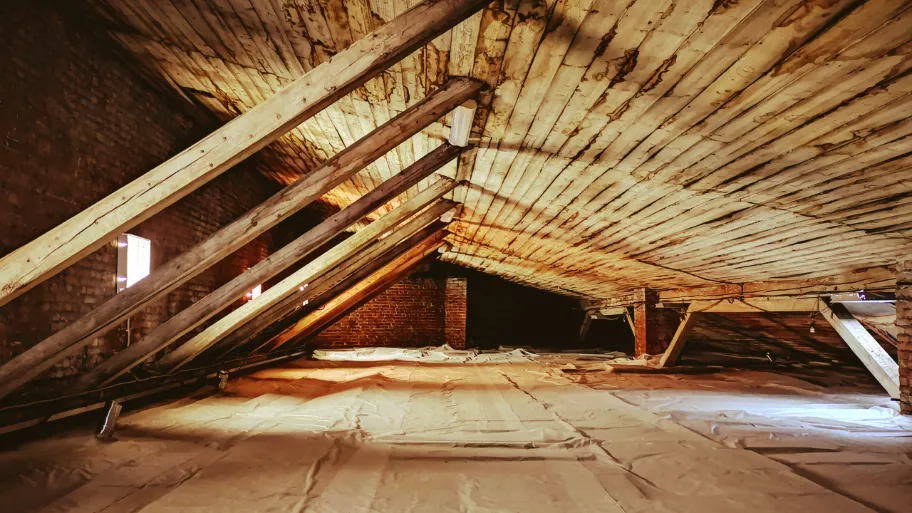 The attic is a part of my house that I often overlook, but it's the perfect spot for storing camping chairs — since the dust and heat aren't really that big of a concern for them.
This is where we stored all of our camping gear back when I was a kid. My dad used to climb up into the attic through a man hole to get the gear down every year we went camping.
Just be sure to keep them in their storage bags or sealed up in a bin, to keep all that fiberglass insulation from sticking to the cloth seats.
8. Take Advantage Of Your Crawlspace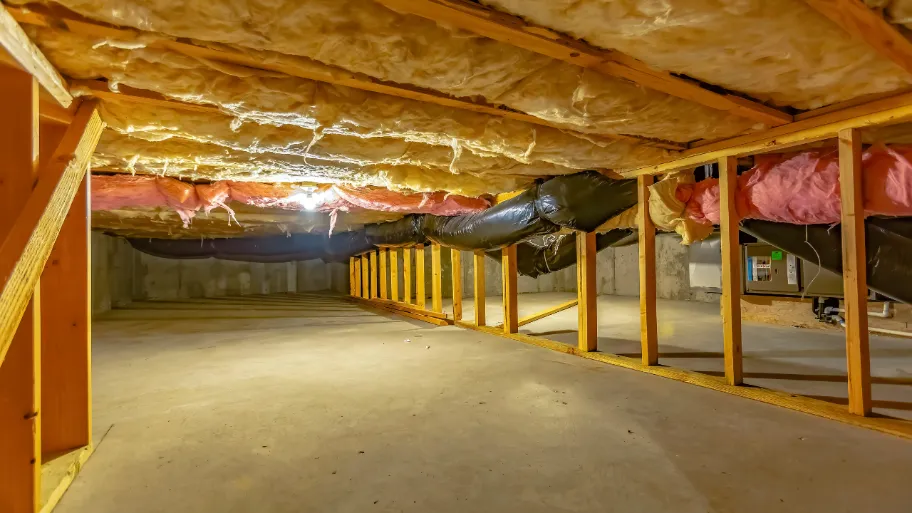 If your house doesn't have a basement, you're probably hurting for space already. But many homeowners don't realize that they can actually use their crawl space for storage.
You'll definitely want to weatherproof your chairs in a watertight bin first though, since it's very common for rainwater to flow into crawl spaces.
9. Tuck Them Under A Bed
Camping chairs fold up small enough to comfortably slide under most beds — which is nice because it keeps them easily accessible while still being out of the way and out of sight.
If you have a rarely used guest bedroom, even better.
10. Store Them In The Trunk Of Your Car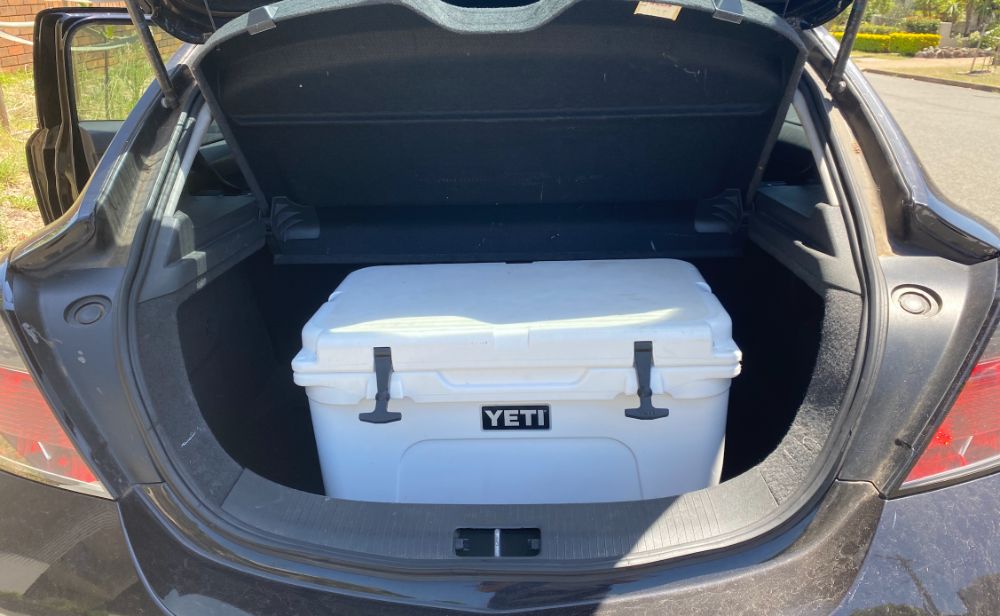 If you always seem to have spare room in the trunk of your car, it's not the worst idea to just keep your camp chairs in there.
The heat isn't likely to be an issue (unless you have very cheap chairs and park in an extremely hot, sunny spot).
Plus, who knows when having a portable chair might come in handy?
11. Stick Them In A Closet
While it's not anything groundbreaking, simply sticking your camping chairs in a closet works great.
It can be easy to overthink organization. But at the end of the day, if you just have a few chairs that you want to store, they won't take up all that much space in the back of a closet.