Finding a convenient spot to store your beach chairs can be a lot harder than it sounds.
They may fold up, but they're still relatively bulky and heavy, especially when compared to camping chairs.
But the good news is, with a little creativity, it's possible to find (or create) enough storage space for your beach chairs — no matter how little space you're working with.
The 9 best ways to store beach chairs are to:
Keep them in an outdoor storage box.
Tuck them in a bench with built-in storage space.
Stick them in the shed.
Hang them from a wall in the basement or garage.
Add some overhead storage space to your basement or garage.
Keep them in a utility closet.
Stick them in the attic.
Slide them under your bed.
Use them in the backyard instead of storing them.
The ideas on this list work best for classic folding beach chairs and folding lounge-style beach chairs. If you're looking for ideas on how to store camping chairs, check out my complete guide on storing camping chairs instead. 
1. Get An Outdoor Storage Box
One of the biggest problems with storing beach chairs is how much sand gets caught up in every nook, cranny, and seam.
This makes storing them inside the house a bit of a pain — unless you're thoroughly hosing them down or sticking them in a sealed bin or bag before bringing them in.
And let's be real, who really wants to deal with all that after a relaxing weekend at the beach?
That's why I pretty strongly prefer storing my beach chairs somewhere outside my home if I can help it.
One of the easiest ways to add some extra outdoor storage space to your yard is to pick up an outdoor storage box.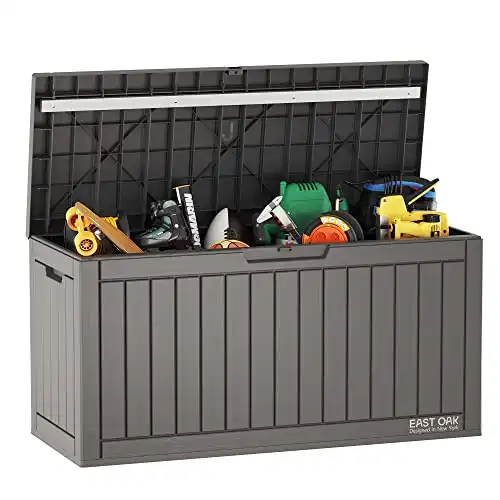 Installation is quick and easy, you'll have plenty of room for an entire family's worth of beach chairs, and will probably have some extra space for your boogie boards to boot.
2. Get Outdoor Benches With Built-In Storage
If your yard's small and you don't want to give up the space for a storage box or you're concerned that most of them are honestly pretty ugly, you can install a few benches with built-in storage on your deck or patio instead.
They're less of an eyesore and can replace regular chairs and benches, making more functional use of the space.
The easiest way is to buy a couple of storage benches off of Amazon or, if you want to go all out, you can have some custom storage benches built instead.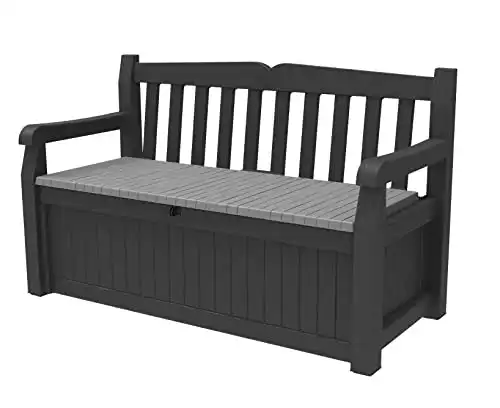 3. Use Them In The Backyard Instead Of Storing Them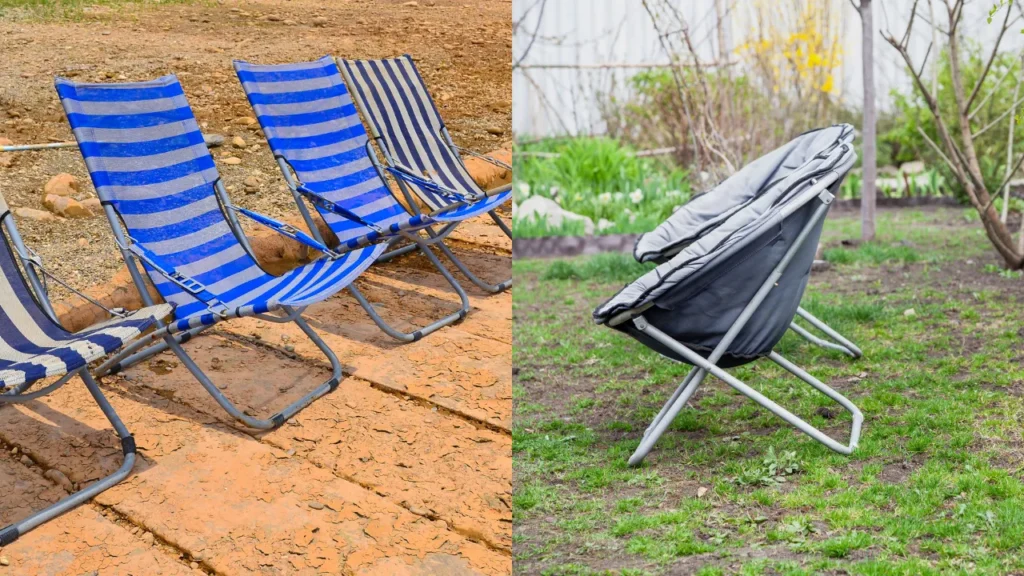 Instead of storing your beach chairs, consider simply using them in your backyard instead.
Beach chairs work great at pool-side, on a patio, or around the fire pit and, because they're designed to handle the harsh conditions of a beach, can be left out year round in most climates (just be sure to cover them or stick them in the shed if it's going to snow).
The only real downside is that you'll likely need to replace your beach chairs a year or two sooner due to the weather and sun damage.
But, on the other hand, it also saves you from having to buy patio chairs. 
4. Keep Them In The Shed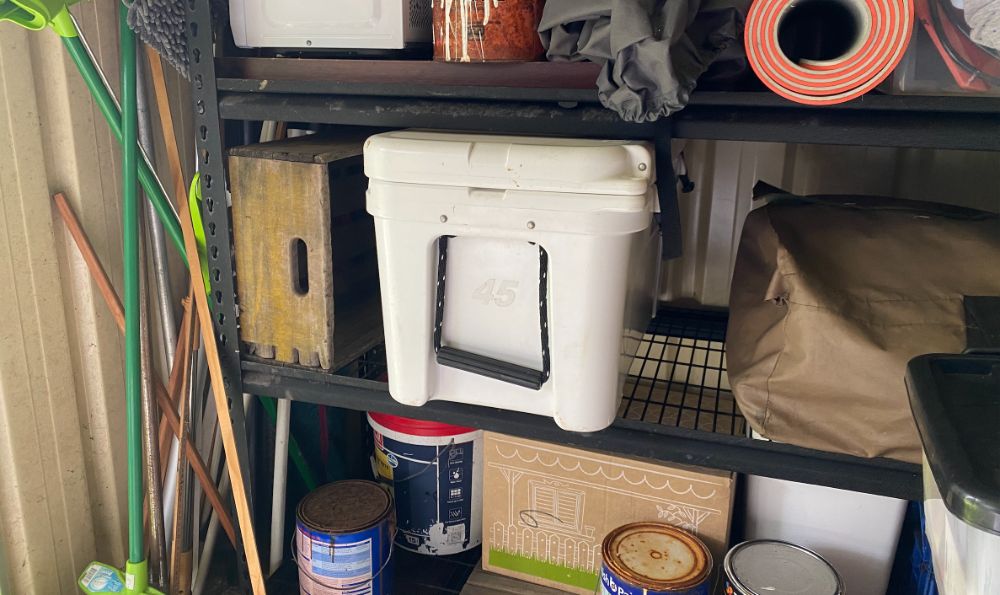 The shed makes another great place to store your beach chairs out of the house. It's also a great place to store coolers and other camping gear.
Just stack them up or lean them in a corner. Or if you're already hurting for space, install a couple of storage hooks to hang them up and out of the way. 
Make sure the spot you choose stays pretty dry. Even though beach chairs can handle moisture better than camping chairs, you may save yourself the headache of having to scrub mold and funky odors out the next time you go to use them.
5. Hang Them From A Wall In The Basement Or Garage
If you have space in your basement or garage, hanging your beach chairs from a wall is super convenient.
The easiest way is to install a simple wall-mounted folding chair rack. They're pretty easy to set up and can hold up to six beach chairs with ease. 
Be sure to also check out my deep dive on hanging folding chairs from a wall for a few other options.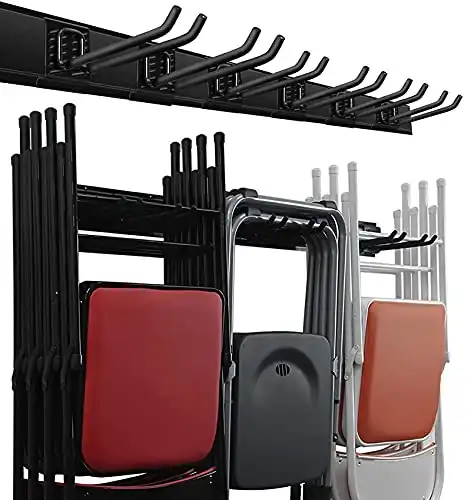 6. Install An Overhead Shelf In Your Basement Or Garage
Having trouble finding space in your basement or garage for your beach chairs?
The good news is, it's actually pretty easy to add some overhead storage space.
If you have an unfinished truss ceiling, cut a sturdy sheet of plywood and slide it over two trusses to act as a shelf for your chairs.
If your basement or garage has an exposed rafter or drywall ceiling, you can install an overhead storage rack instead.
In either case, you'll have plenty of room for your beach chairs and a bit of extra space for whatever else you want to store. 
7. Stick Them In A Utility Closet
If you live in an apartment or condo, finding a spot to keep your beach chairs that's out of the way and out of sight can be tricky.
Before we bought our house, my partner and I would just stick our beach chairs in the utility closet of our apartment, propped up between the washer and water heater.
It's nothing fancy, but it does the trick.
8. Store Them In The Attic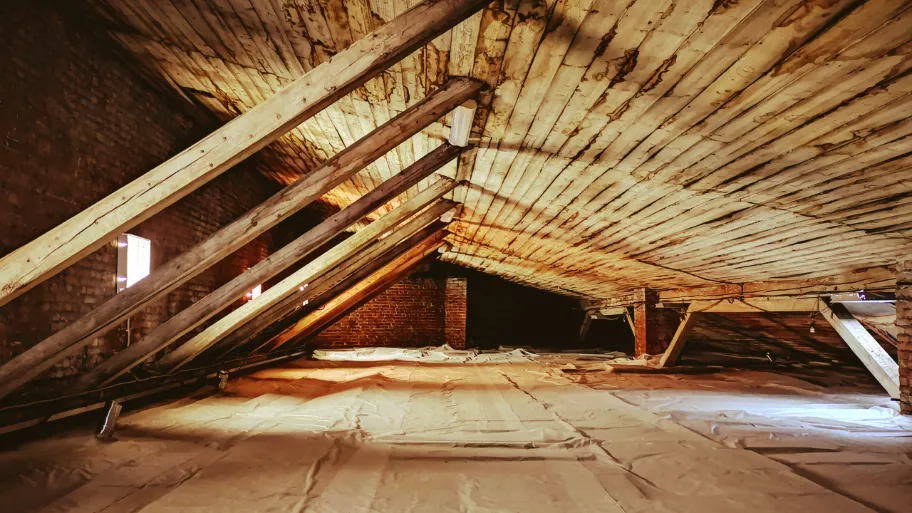 If you're going to the beach every weekend, the attic may be a bit too inconvenient. But it's the perfect spot to store your beach chairs longer term, like over the winter months.
Once beach season is done, mine go straight to the attic to wait for next summer.
9. Slide Them Under A Bed
If all else fails and you really just can't find a better spot, keeping your beach chairs under your bed (or guest bed) isn't the worst idea in the world.
They typically fold up flat enough that a few chairs stacked up on top of one another can comfortably slide under a standard bed frame.
Just do yourself a favor and hose them down thoroughly to remove as much sand as possible before dragging them through your bedroom. I learned the hard way. 
Learn more about how to store camp and beach chairs for the long term