If you're looking for a reliable propane-fueled camping stove, the Eureka brand offers 2 solid models: the Ignite and Ignite Plus. Made from rugged stainless steel, both models are suitcase-style stoves that latch closed making them convenient for transporting.
However, if you're a fan of the Eureka brand you might wonder which stove is best for your needs.
The Eureka Ignite and Ignite Plus both have the same BTU rating of 10,000 per burner making them equally powerful. However, the Ignite is smaller, lighter and better to transport.
The Ignite Plus is larger and offers 2 inches more cooking space per burner so you can comfortably cook with 2 x 12-inch pans at a time. It also has adjustable rubber feet for additional stability.
Since a lot of standard camping cookware is 10 inches and this model is $35 more expensive, I'd only recommend the Ignite Plus if you have larger cookware and like to cook on 2 burners at a time. Otherwise the Eureka Ignite is going to be the better buy for most people.
With the Ignite and Ignite Plus being pretty similar, it's a good idea to compare their specs before making a buying decision.
What Are The Differences Between The Eureka Ignite and Ignite Plus?
At first glance, the main difference between the Eureka Ignite and Ignite Plus is the color. The Ignite comes in a pleasant muted green (Quiet Green) while the Ignite Plus has a bold blue color (Mediterranean Blue).
They're both made from high quality stainless steel and latch closed for easy transportation.
If your main consideration is looks, your decision is easy because you could choose between blue and green.
Beyond this, both stoves offer 10,000 BTUs per burner (20,000 BTUs per hour in total), run on 1lb propane tanks and offer autoignition.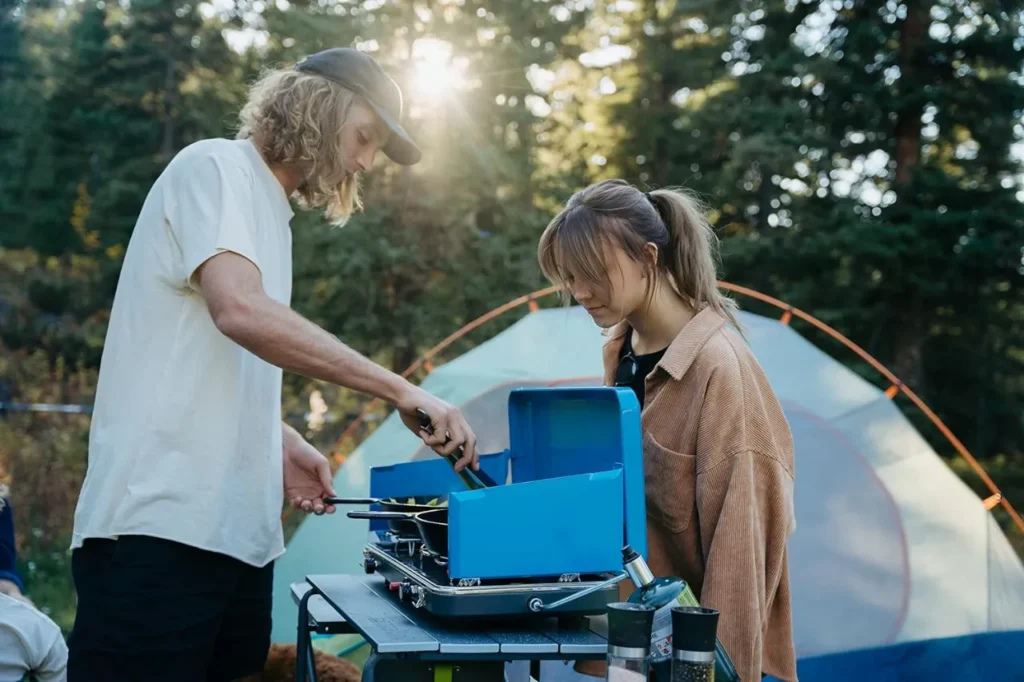 A 1lb propane tank is usually enough for a weekend camping trip for 2 people, but a couple may be needed if you're using both burners on high for longer than 60-90 minutes.
Also, with a suitable adaptor, you could run both models on butane or isobutane giving you more flexibility.
Both of these Eureka stoves also have a nifty feature – JetLink compatibility – that allows you to connect to another Eureka stove's output but as someone who camps often, I don't see that I'd ever really use this feature.
Let's delve into what sets these stoves apart from each other:
Cooking Area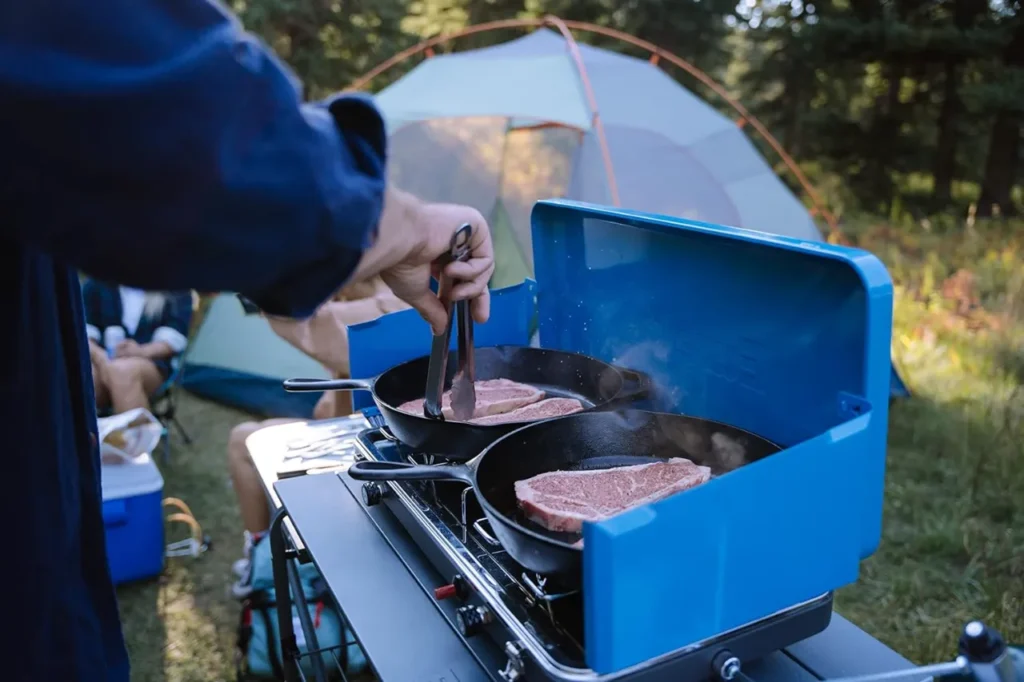 The Ignite Plus is the clear winner when it comes to cooking space because it allows you to use 2 x 12-inch pans simultaneously while the Ignite only has enough room for 2 x 10-inch pots.
I don't know about you but when I cook on my camping stove, I usually only use one pot or pan at a time so the Ignite would therefore give me more than enough space. For instance, I cook a pot of rice and add some veggies and meat later on.
On the rare occasions that I do cook with 2 pans on my stove, one of them is typically smaller so again, a 10-inch burner space is perfectly adequate.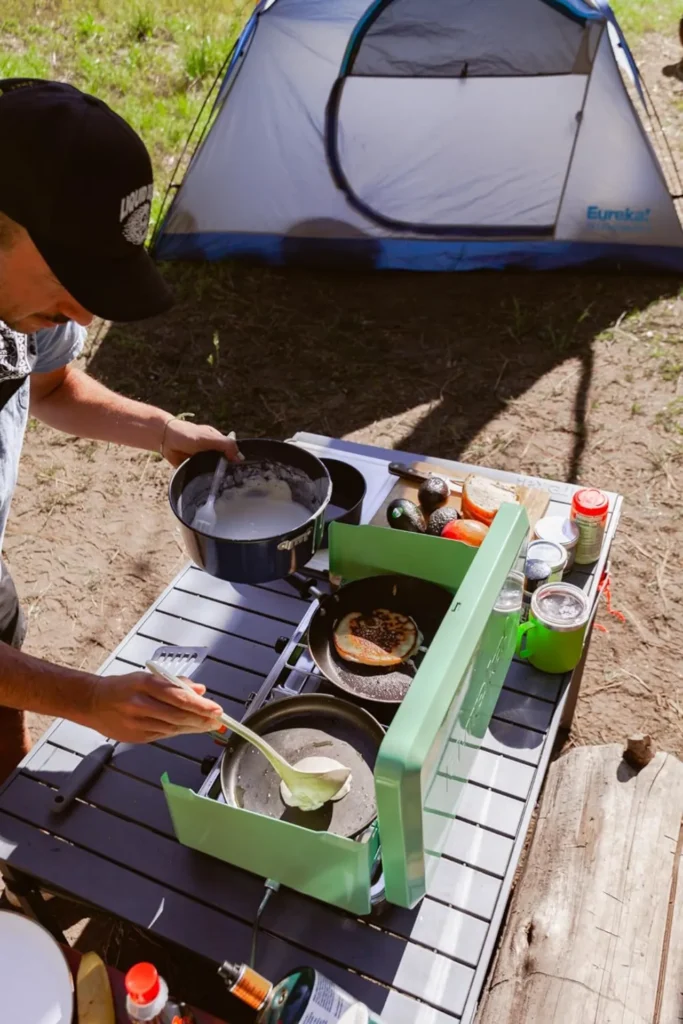 That said, I would consider the Ignite Plus if:
You like whipping up gourmet camping meals and not the usual scrambled eggs or soup and would need to use both burners.
Your camping cookware is larger than 10 inches and you often cook for large groups (more than 4 people).
Size and Weight
Size and weight is where the Ignite comes into its own. When I camp, space is at a premium and every square inch counts.
Here's how the Eureka Ignite and Ignite Plus compare in terms of size:
Ignite: 236.8 sq inches
Ignite Plus: 294.4 sq inches
The Ignite is also 2 pounds lighter than the Ignite Plus which weighs 12lb. The extra 2lbs could really make a difference if you have to carry your stove to your campsite.
Price
If you're on a strict budget, the Ignite is definitely your best option because it's $35 cheaper than the Ignite Plus.
However, if you're dead set on the Ignite Plus and not in a hurry, you could wait for it to go on sale or even buy a gently used model.
What's Better? The Eureka Ignite or the Ignite Plus?
The better option between the Eureka Ignite and Ignite Plus is the Ignite because:
The only difference between the 2 models is the color, overall size, cooking area size and the fact that the Ignite Plus has rubber stabilizing feet.
The rubber stabilizing feet are great but I find that when I have a full pot on my camping stove that naturally adds weight and stability to the stove, making the rubber feet simply a nice-to-have feature.
Even if you like the extra cooking space on the Ignite Plus, do you really need it?
For example, consider this decent sized camping pot from Amazon. It has a diameter of 8.27 inches and can accommodate 4-6 people, meaning it will easily fit on the Ignite even if you used the same pot on both burners.
A downside to having the extra cooking space that the Ignite Plus offers is that this stove is 57.6 sq inches larger than the Ignite and 2lb heavier. This means extra weight and less space for your other stuff when camping.
Of course, even if the Ignite's cheaper price tag is still too pricey for you, you could always consider a less expensive but similar model like the Coleman 2-burner stove.
Coleman is arguably the most popular camping gear brand, offers excellent quality stoves and this model gives you slightly more heat output at 22,000 BTUs (as opposed to 20,000 BTUs with the Eureka stoves).