If you're a hiker like me you'll know that your shoes can take an absolute beating. Or sometimes your everyday shoes just happen to have the sole break away from the main part of the shoe.
Luckily, I discovered that instead of throwing away an expensive pair of active shoes because of a loose sole or seam, I can easily repair it. Gorilla Glue can be a great option that has allowed me to breathe new life into multiple pairs of shoes over the years.
You can use Gorilla Glue on shoes because it's inexpensive, dries clear and forms a strong bond within 30 seconds. It's also flexible and the glue bond won't break as your shoe moves. 
However, it takes 24 hours to dry fully so you may need to reapply it if you need to use it in an emergency.
If you're willing to spend more, consider Shoe-Fix Glue which is used by professional shoe repairers and creates a stronger bond due to the cyanoacrylate content. 
When your shoe is broken, there are many products (including Gorilla and Shoe-Fix Glue) that can repair it. Understanding how each one works can help you choose the right product.
Why Gorilla Glue Works Well for Shoe Repairs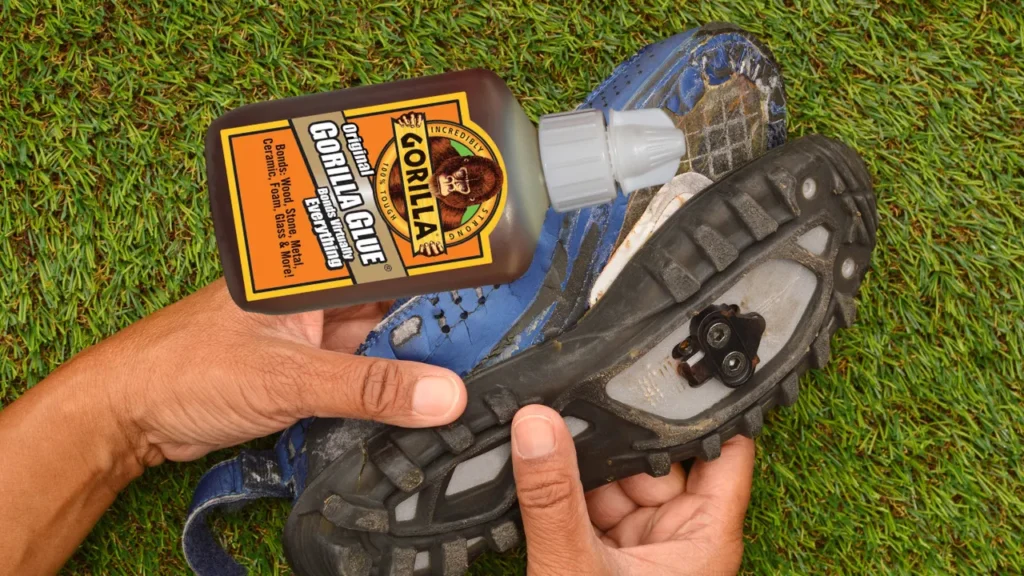 Gorilla Glue is one of the strongest shoe glues on the market and forms a durable bond on leather, canvas, rubber and foam but not plastic.
There are different types of Gorilla Glue and the best for shoes include:
Both products are easy to apply and form a hardly noticeable transparent layer when dry. 
You could use other types of Gorilla Glue because they're all made from flexible polyurethane but not all of them dry clear and the non-clear varieties will look unsightly.
Here's why Gorilla Glue makes a great shoe repair product:
Gorilla Glue is made from flexible polyurethane. Unlike epoxy-based glues (e.g. super glue) which don't accommodate movement, Gorilla Glue's bond will flex with your shoe's movement and won't feel stiff or unnatural.
It's highly durable and creates a permanent bond. However, you just need to allow it to cure for 24 hours. 
It works fast. After applying Gorilla Glue to your broken shoe, a strong bond will form within 30 seconds and you can use your shoe immediately in an emergency.
Since it takes 24 hours for the glue to dry fully, it's best to wait a day if you can to avoid having to reapply the glue.  
Gorilla Glue is convenient to carry with you. You can buy Gorilla Glue in small tubes and I always try to remember to put one in my backpack when hiking just in case because I can use it to glue almost anything together.
It comes with a precision applicator for a neat repair and you don't need special tools to apply it.
Gorilla Glue creates a waterproof and temperature resistant layer so you don't have to worry about walking through puddles or the glue bond weakening when you're in direct sunlight or walking in snow.
How To Properly Use Gorilla Glue To Fix Your Shoes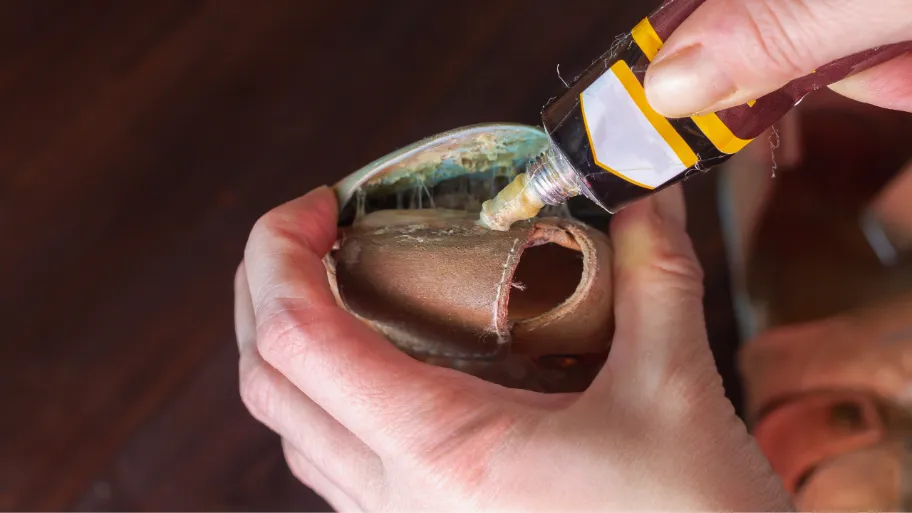 Need to do a shoe repair with Gorilla Glue? Here's how to do it:
1. Identify the area you need to glue and remove any dust or dirt so the Gorilla Glue can create a strong bond.
2. Slowly and carefully apply a thin layer of Gorilla Glue and gently press the 2 parts together. Remember that Gorilla Glue tends to expand once applied so less is definitely more and will save you from making a mess.
If you apply too much, wipe away the excess with a clean tissue as soon as possible.
3. After 30 seconds, the Gorilla Glue will have formed a durable bond and will start drying. If you need your shoe fixed in a hurry, you can use it after 30 seconds but you may need to redo the application later since it won't have enough time to cure properly.
If you're more of a visual learner, the video below shows how to use Gorilla Glue to fix shoes:
Common Mistakes To Avoid When Fixing Shoes With Gorilla Glue
Here's what not to do when using Gorilla Glue to fix shoes:
Applying too much usually means that the glue doesn't bond as strongly as it should and takes longer to dry. It will also make a mess and make your shoes look untidy.
Not waiting for 24 hours before it cures completely. While you can use your shoe 30 seconds after repairing it with Gorilla Glue, I only do this in an emergency because you need a day for it to dry properly.
Using it on plastic or dirty surfaces. I get it – when you're hiking your shoes can get pretty dusty and dirty but if you need to fix them, give them a quick wipe with a tissue and then an antibac wipe (if you have one).
If you need to repair a plastic shoe part, you're better off with Shoe-Fix Glue which is a stronger glue specifically designed for shoes and used by professional repairers. 
What Else Can I Use To Repair Shoes?
If you can't get hold of any Gorilla Glue, below are some other good products to consider:
Shoe-Fix Glue. Like Gorilla Glue, this product contains flexible polyurethane but you can also use it on plastic. 
If you don't mind the steep price, Shoe-Fix is highly recommended because it's also used by professional shoe repairers and forms an even stronger bond than Gorilla Glue because it contains cyanoacrylate, a substance used by shoe repair shops.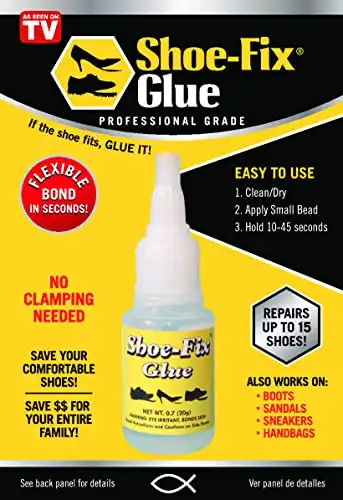 Shoe-Fix Shoe Glue: Instant Professional Grade Shoe Repair Glue
Professional strength shoe glue that bonds almost instantly with no clamping. Compatible with faux leather, vinyl, polyurethane, leather, rubber, plastic, wood, fabric and more.
REPAIRS ALL TYPES OF FOOTWEAR: boots, athletic shoes, climbing shoes, dress shoes, high heels, sandals, cleats, hand bags, sneakers, and much more.
Buy Now at Amazon
Shoe Goo. This product is slightly more expensive than Gorilla Glue but the bond will last longer because it's made from silicone which is more flexible than polyurethane, giving it a more natural feel and finish. 
You can buy it in clear or black to suit your shoes but you should take care to only apply a thin layer. 
Gear Aid Aquaseal Shoe Glue. This is a great option if you want to create waterproof sections on your non-waterproof shoes. The glue dries clear and forms an unoticeable waterproof layer on your shoes but also does a fantastic job of repairing.
Shoe Repair Tape. If you want a product that allows you to use your shoes immediately after repair, this strong double-sided shoe repair tape is your best bet.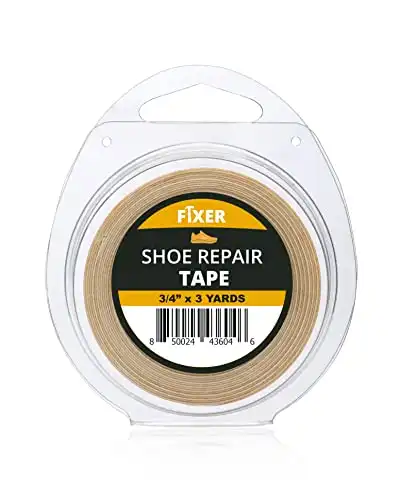 It also doesn't dry out like glue and you can keep it for years.
Super glue. I would only use super glue in an emergency and if I didn't have any flexible clear glue with me. Super glue is epoxy based and the bond will eventually break after wearing your shoes for a while. 
However, it's dirt cheap and good to have as an all-round glue when camping or hiking.