Summer nights are perfect for relaxing around the fire pit, but chopping logs or searching for firewood is time-consuming. Duraflame logs are a great alternative to natural wood, but can you use them in a fire pit?
Yes, you can use Duraflame logs in a fire pit. All Duraflame logs can be used inside or outside, and they even created their Outdoor logs specifically to use in a fire pit.
However, Duraflame logs are designed to be burned one at a time and the same is true for outdoor firepits. The exception to this is the Duraflame Outdoor logs which are designed to be burned 2 at a time and you can add a log every 1-1.5 hours to keep the fire going all night long.
Is It Safe to Use Duraflame Logs in a Fire Pit?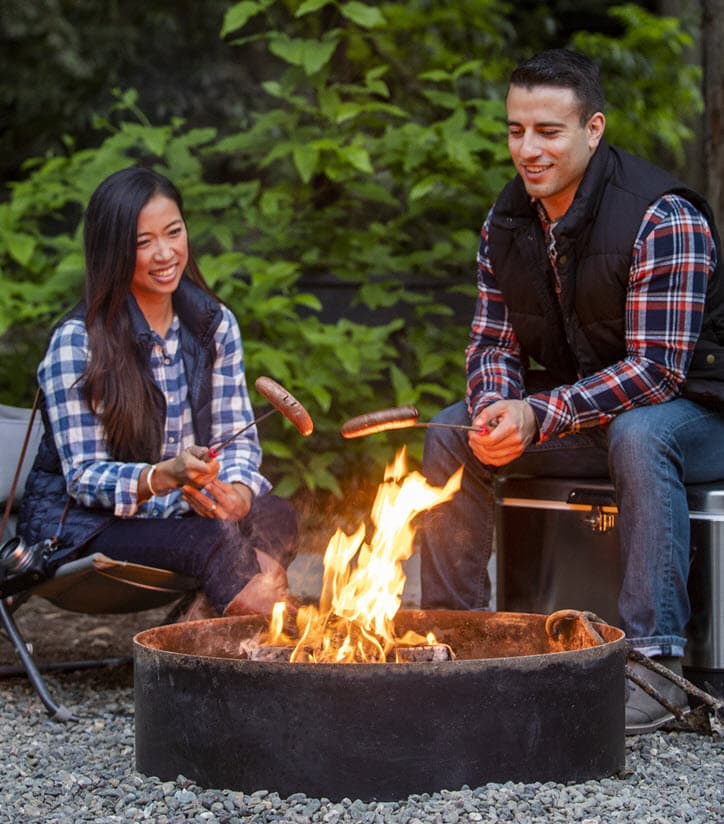 Not only is it perfectly safe to use Duraflame logs in your fire pit, but it may also actually be better for the environment to burn them instead of real wood. 
Duraflame logs are made of a blend of natural ingredients, including sawdust, agricultural biomass, plant-based waxes, and oils. 
Since all of their ingredients are from either recyclable or renewable sources, they use 80% less raw material per pound than burning wood.
They also release a lot less carbon emissions when compared to regular wood and due to their burn profile they are less likely to smoke.
NOTE: Only the Duraflame Outdoor logs are safe to roast marshmallows over and you should not cook over Duraflame indoor logs.
How Do You Use Duraflame Logs in a Firepit?
Most Duraflame logs are meant to be burned one at a time. Their proprietary blend allows them to burn twice as hot as a regular piece of wood so that once you have the fire lit, you won't have to mess with it again. 
This means you can light it and not have to stoke the fire all night or add wood to it until it burns out. If you want a hands off outdoor fire this can be ideal.
However, some of us like to manage a fire and find it a soothing and fun thing to do.
Duraflame understands that their customers sometimes enjoy having a custom fire, so they created two variations just for that purpose- Crackleflame logs and Outdoor logs.
You still won't have to manage them like you would a regular fire, but you can burn more than one Duraflame log at a time which is nice.
Crackleflame Logs
Crackleflame logs start with the same blend as other Duraflame logs, but they also have seeds in them to give you the crackling sound of a real wood fire.
You'll still want to start with just one piece of wood, but you can add a second piece to the fire toward the end of the burn to extend your fire.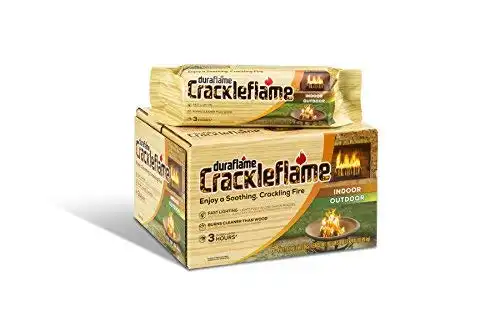 Duraflame Crackleflame 4 lb Firelogs (6 Pack)
These gorgeous firelogs crackle just like traditional wood fires, but without the "pop" you get with wood. Lights quickly in less than 5 minutes, burns 80% cleaner than wood and can be used in indoor, open hearth fireplaces or outdoor fireplaces or fire pits.
Buy Now at Amazon
Outdoor Logs
Outdoor logs are a bit smaller than other Duraflame logs, but they're meant to be burned simultaneously.
When you use this product, you'll want to start out with two logs in an "X" formation. As you near the end of the burn, you can add another log to the fire.
You can add up to one log every hour, but make sure you don't disturb the logs that are already burning. Otherwise, the logs might crumble and reduce their burn time or potentially flare up.
Another cool thing about the Outdoor logs is that they were created specifically to be safe to cook over. That makes them perfect for roasting hotdogs and marshmallows, which makes them my go-to log for the fire pit if the kids are enjoying the fire with me.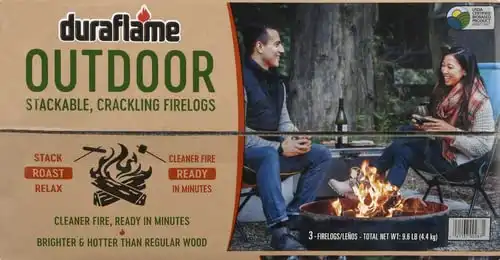 How Long Will Duraflame Logs Burn in a Fire Pit?
Each type and size of Duraflame log has a different burn time. As such, you'll want to consider how long you want your fire to last when choosing your product.