Whether you've got a long commute, are trying to increase how much water you drink or just think bigger is better you might want to know what's the biggest water bottle that fits in a cup holder?
We all hate it when a water bottle is too big and too wide that it doesn't fit in your cup holder because where the hell do you put it? Straddling it between your legs is annoying while putting on the floor and guaranteed to have it roll away just as you try to reach for it.
So what are high-volume and large water bottles that can easily fit into the cup holder of a car?
For plastic water bottles the biggest that fits in a car cup holder is the Gatorade 32 oz Squeeze bottle. The Cheeki 1L (34oz) stainless steel bottle is slightly larger but thin enough to fit in a cup holder. However, my most recommended is the Hydro Flask 24 oz Standard Mouth bottle as it's insulated and will keep your water cold or your coffee hot for hours.
Biggest Stainless Steel Bottle

Cheeki 1L Single Wall Stainless Steel bottle
Capacity: 34 oz
Price: See at Amazon
Biggest Plastic Bottle

Gatorade Squeeze Water Bottle
Capacity: 32 oz
Price: See at Amazon
My Favorite Water Bottle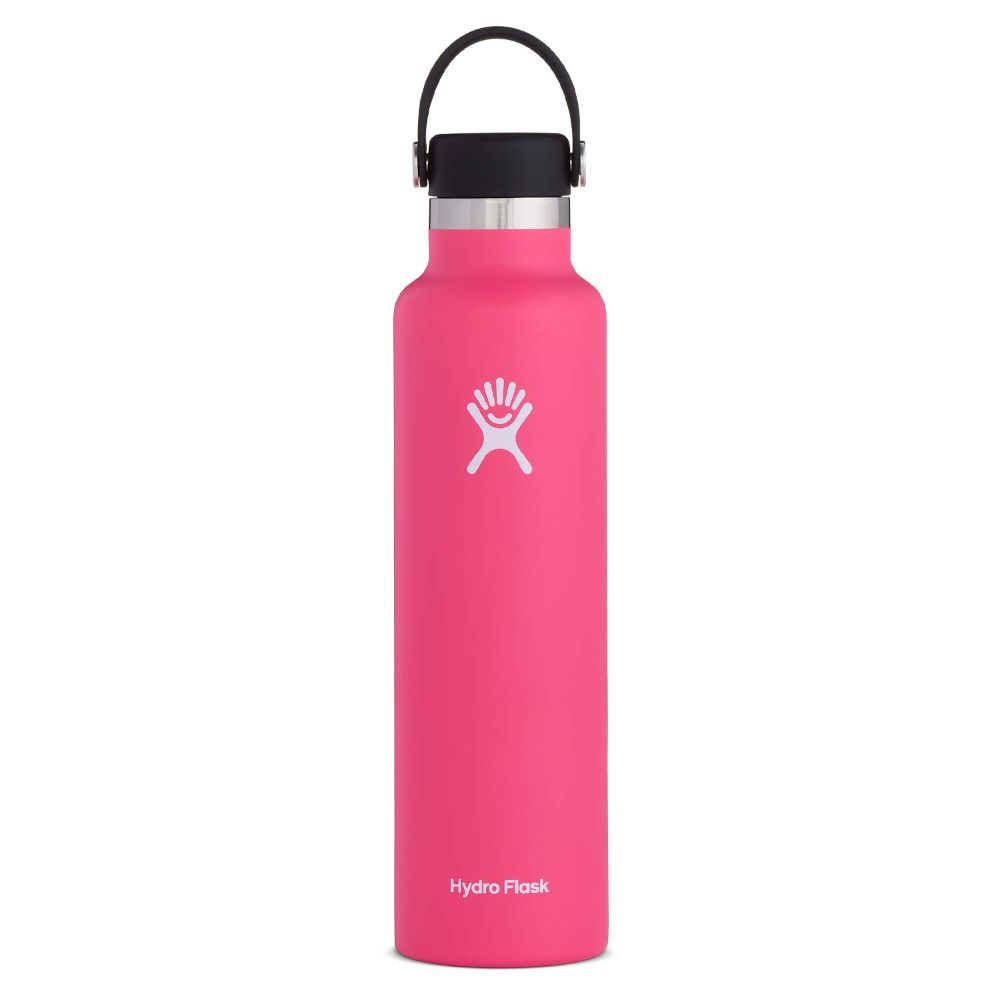 Hydro Flask Insulated 24 oz Bottle
Capacity: 24 oz
Price: See at Amazon
I Spent Hours Hunting Down The Biggest Bottle For Your Car Trip
Finding the biggest bottle that fits in a cup holder wasn't easy. I had a few bottles that I could test myself in my cup holder and I ran a detailed test on whether or not Hydro Flasks fit in a cup holder.
I also scoured the web, read reviews, looked at other people's recommendations from places like Facebook, Reddit and other forums to find you the biggest and the best.
Considerations When Choosing a Big Water Bottle For Your Car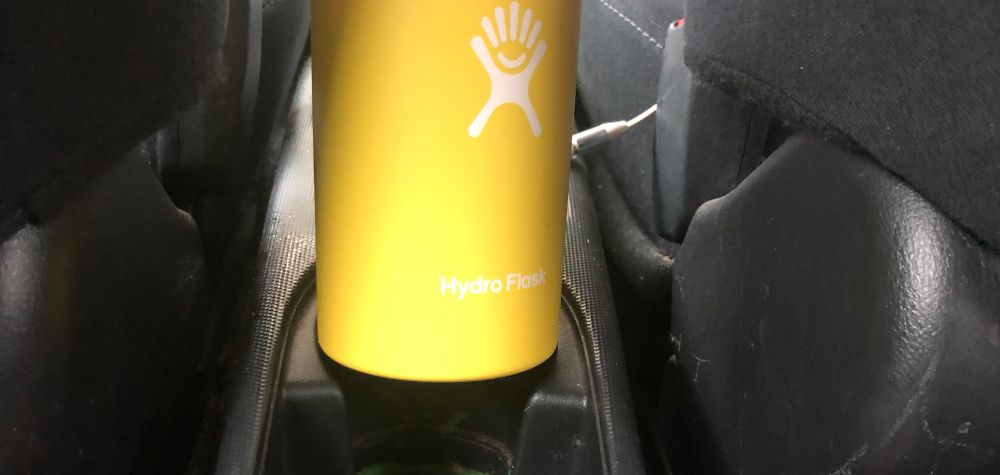 When you're looking for a big water bottle to fit in your car cup holder it isn't just a matter of going out there and buying the tallest, thinnest water bottle on the market. There are a few things you need to consider.
Center Console vs Front Console Cup Holder
A center console cup holder (between the two front seats) is ideal for large water bottles. These cup holders are usually wide and deep and have no height restrictions.
Front cup holders on the other hand can be difficult. In my small car not only is the cup holder smaller and shallower than the center console on my girlfriend's car but it has limited height.
A water bottle that was too tall would hit the center console where the radio/aircon buttons are and just wouldn't fit.
Tipping
If your water bottle is too tall and the cup holder is not deep enough then this can cause a full water bottle to tip over or fall out when you're driving.
So you don't want the bottle to be too tall or it'll defeat the purpose.
Snug Fitting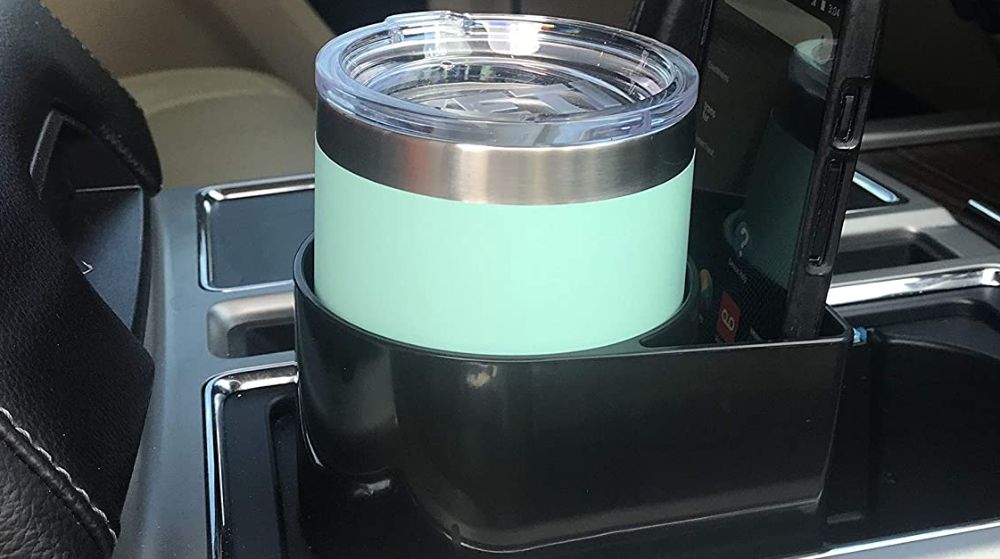 If your water bottle has a snug fit then it's less likely to fall over as friction holds it into place.
Plastic water bottles have the ability to move and flex so you can get a tighter fit, stainless steel and glass water bottles don't so you need to make sure you get the right size.
Small vs Large Cup Holders
Different cars have different sized cup holders. You need to make sure you work out if you have a smaller, medium or large sized cup holder.
Most of the bottles on this list will struggle to fit in a very small cup holder, but will be fine in medium-large cup holders.
Cup Holder Expanders

You can also get cup holder extenders or expanders that turn your small cup holder into a much wider cup holder so you can fit bottles like the 32 oz Hydro Flask which seems to be the most popular size.
I wrote a full article on the best extra large cup holder adapters if you want to check them out otherwise I'll link up to the one I recommend the most below.
See the latest price of the PFCC Cup Holder at Amazon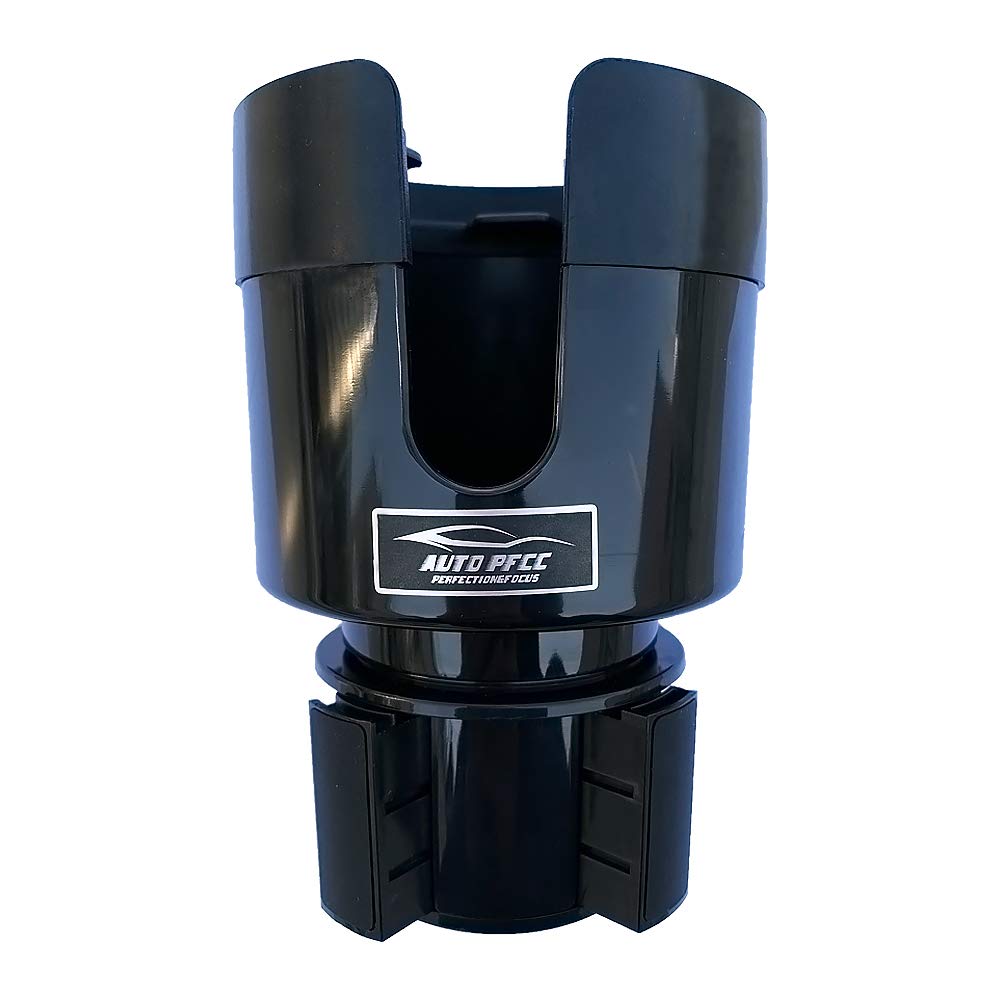 LARGEST: Cheeki 1L (34oz) Single Wall Stainless Steel Bottle
The Cheeki 1L (34oz) single wall stainless steel water bottle is the biggest water bottle I could find that will fit into a cup holder.
Look at what this customer had to say at Amazon:
This fits perfectly in the standard cup holders in my car and the water bottle pocket on my backpack.
This tall slim design gives you maximum capacity but also fits in a regular cup holder.
It's not an insulated stainless steel bottle, it's only single walled. So this means it won't hold ice for long periods of time like a Hydro Flask and it will sweat.
But the fact that it's single wall gives you more capacity in less space because you don't need room for the insulation.
The perfect bottle if you don't want to drink out of plastic but you want the biggest water bottle that fits easily in a cup holder.
See the latest price of the Cheeki 1L (34oz) Bottle at Amazon

LARGEST PLASTIC: Gatorade 32 oz Squeeze Water Bottle – Plastic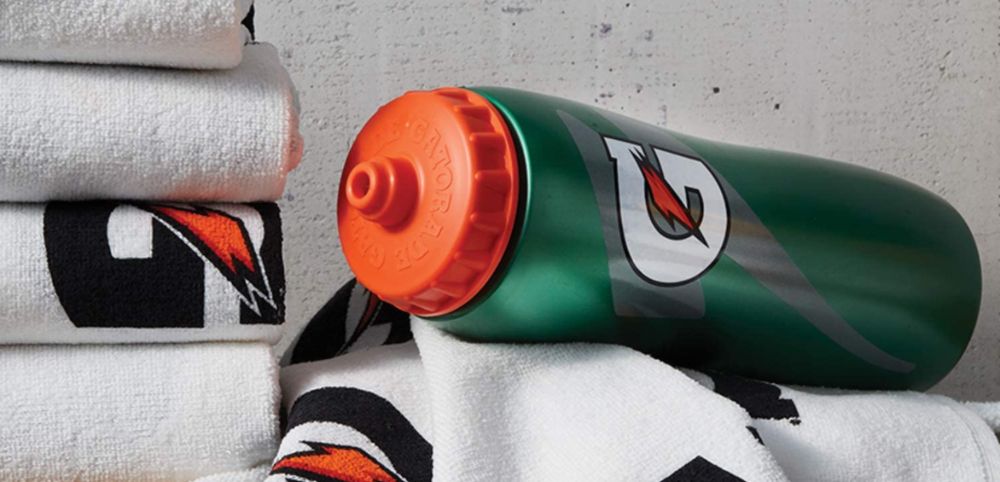 This bottle was recommended by people on Reddit who said it fit perfectly into their cup holder without any issues.
It's a big 32 oz size and has a high-flow valve at the top that stops leaks and spilling when you're not using it but allows you to drink quickly when you want to.
You've likely seen this water bottle being used by sports players on TV as a big squeeze makes it easy to get a lot of water quickly.
It's BPA-free and has a clear strip down the side so you can see how full it is without having to open it.
It's also super affordable and will cost somewhere around the $5 mark. It's also got thousands of positive reviews.
See the latest price of the Gatorade Squeeze Bottle at Amazon

RECOMMENDED: Hydro Flask 24 oz Insulated Bottle – Stainless Steel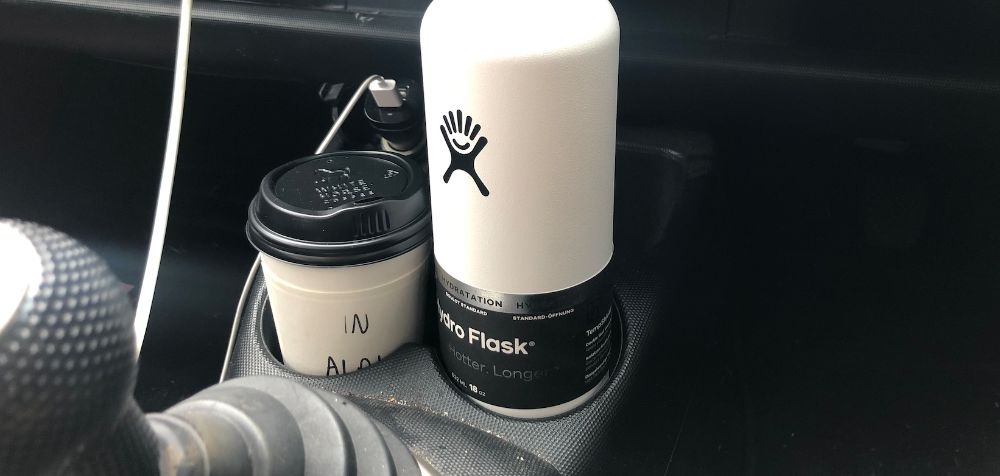 The Hydro Flask 24 oz is the largest sized Hydro Flask that fits in a cup holder. I did a full write up of what Hydro Flasks fit in cup holders if you're interested to see my research there.
The 24 oz is 2.87 inches in diameter (7.23cm) which is just slim enough to fit in almost every car cup holder. The only ones it struggles to fit in is really small cup holders designed more for kids in the back of the car. But even those it fits in just enough that it won't fall out.
These are vacuum insulated and are able to hold ice for 24+ hours and they also don't sweat so they won't leave water marks or make your car wet.
Add the standard mouth straw lid to it for easier sipping whilst on the go. Otherwise the regular lid is completely leak proof but does require you to undo it in order to drink from the bottle.
I own multiple Hydro Flask bottles and highly recommend them. If you want the biggest insulated bottle that'll fit in a cup holder then this is the one for you.
See the latest price of the Hydro Flask 24 oz at Amazon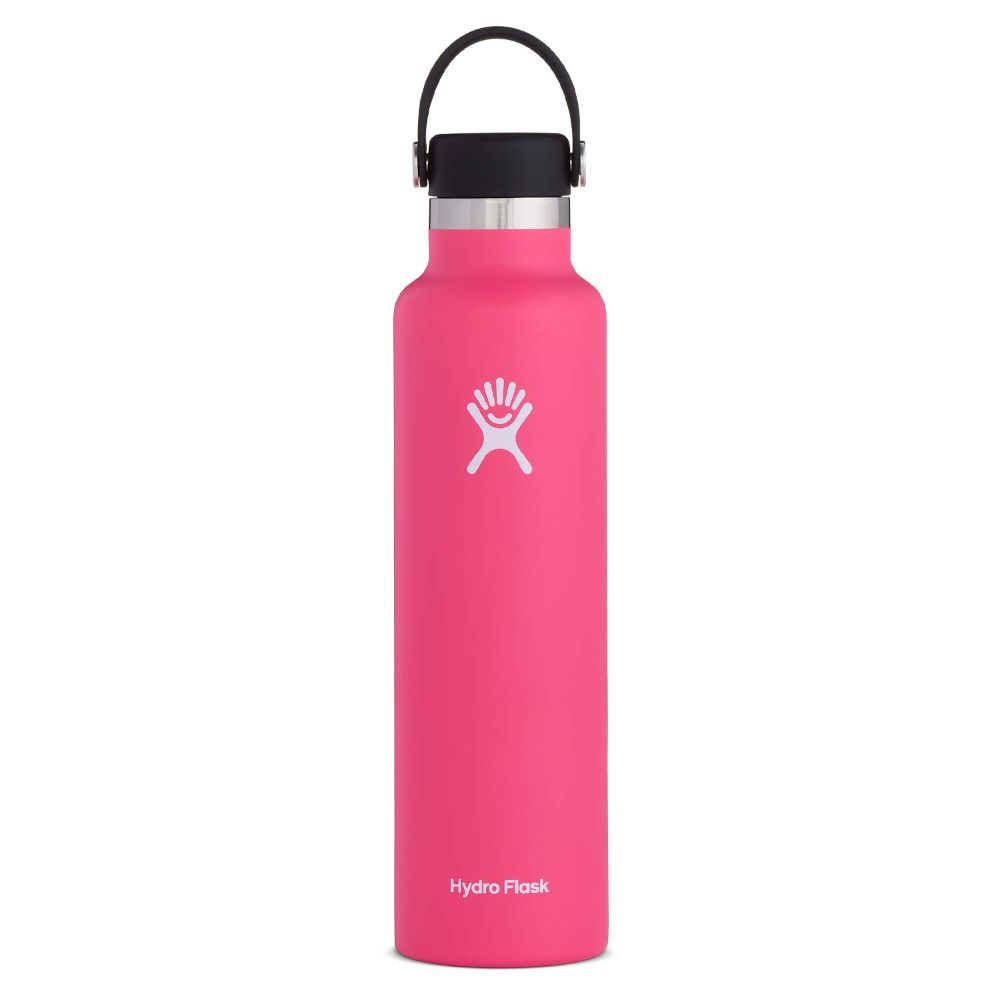 Contigo Jackson 30 oz + 24 oz – One Handed Drinking
The Contigo Jackson water bottle is thin enough to fit in a cup holder but comes in the large 30 oz size or the more regular 24 oz size.
It's made of plastic and it's BPA free and it comes in a variety of different colors from black to purple to green or blue.
It has a single hand use flip top lid. Simply press the button and the lid flips open.
It has a wide mouth opening for easy drinking in the car and it's backed by a lifetime warranty.
It's also very affordable.
See the latest price of the Contigo Jackson water bottle at Amazon

Embrava 32 oz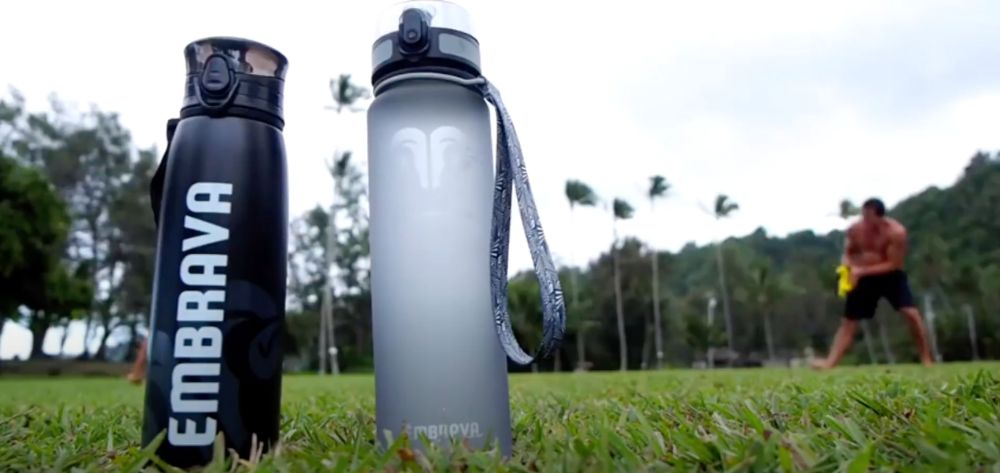 The Embrava 32 oz water bottle is a plastic see through water bottle that comes in shades of black, blue, white and pink.
It's got oz and mL measurements on the sides plus a dust proof and leak proof lid that can be operated with one hand.
It's shatter resistant and slimlined so it will fit into a regular car cup holder.
It also comes with a full money back guarantee if you aren't happy with the product. But with nearly 6,000 reviews (and most of them positive) it seems that's unlikely.
This bottle has a nice trendy design that I know a lot of people are going to love.
See the latest price of the Embrava 32 oz Bottle at Amazon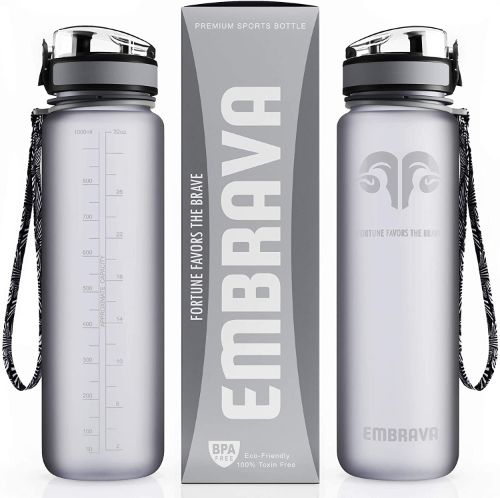 Thermos Intak 24 Ounce – Straw Lid For Easy Sipping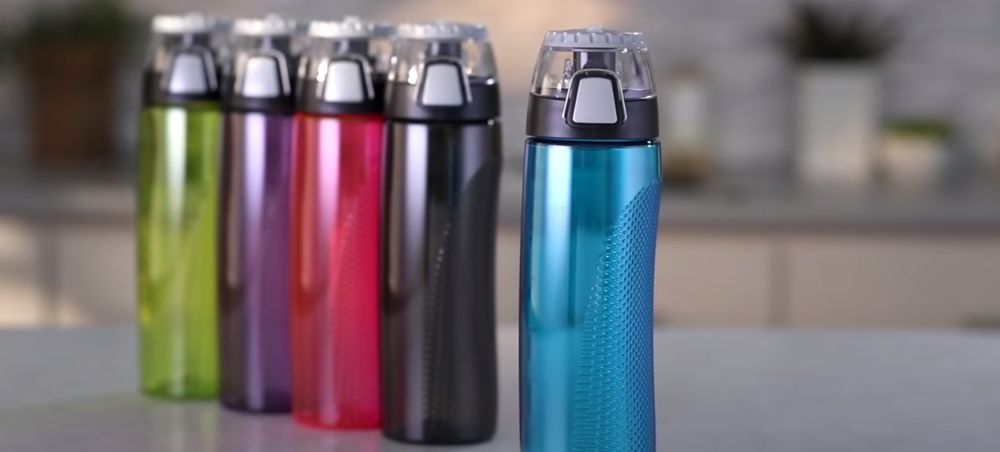 While not the biggest bottle that'll fit in a cup holder this 24 oz bottle from Thermos comes highly recommended and still has a good sized capacity for most people.
It's BPA free, resistant to impacts and is dishwasher safe.
It's also got a unique rotating meter on the lid that allows you to monitor your daily intake of water, so you can easily keep track of how many bottles you have drunk during the day.
The lid has a one handed push button which is perfect whilst driving and it has over 4,000 reviews which are mostly positive.
It comes in a variety of colors to suit your style.
See the latest price of the Thermos Intak Bottle at Amazon

BIGGEST GLASS: Takeya Glass Water Bottle – 22 oz

If you want to ditch the plastic and don't like stainless steel then glass is a great option. It doesn't leech chemicals or flavors into your drinks and it's better for the environment and more easily recycled.
The Takeya 22 oz Glass Water bottle comes with a protective silicone sleeve to stop it from breaking easily, but leaves space so you can see how much is left in your bottle.
The lid is BPA free and there is a carry hook so you can easily clip it onto your bag when it's not in your cup holder.
This is one of the biggest glass water bottles you can fit in a cup holder.
See the latest price of the Takeya 22 oz Glass Bottle at Amazon