If it's your first time buying or using a wetsuit, or maybe you've just purchased a new one, you might be wondering what exactly do guys wear under their wetsuit? Whether it's for comfort, or warmth or not wanting to be embarrassed there are a few different options for what you can wear under a wetsuit as a man.
The most common thing for men to wear under their wetsuit is y-front swimmers as they cover you when changing and don't bunch up inside your wetsuit. Wearing nothing under your wetsuit is also common for males and sometimes insulated rash vests or full body rash suits are worn under a wetsuit for extra warmth.
In this article we'll look at the pros and cons for each under-wetsuit option so you can work out what's best for you.
Best Garments To Wear Under a Wetsuit for Men
When it comes to what to wear under your wetsuit the choice is yours, but some options are much better than others.
What are the most common things people wear under their wetsuit when they go scuba diving, snorkeling, surfing, swimming or doing some other water sport?
Swimmer Briefs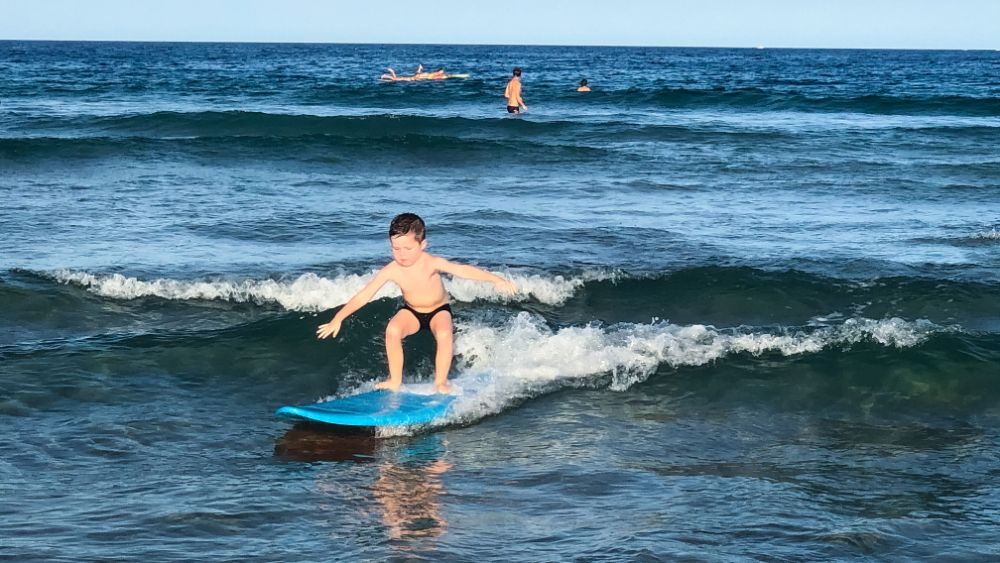 Speedo or swimmer briefs provide better protection for your private parts. In addition, swimmer briefs offer decent coverage when changing into or out of your wetsuit in public.
Ideally you want to choose y-front swimmers as these have the least fabric and they are tight and won't bunch up under your wetsuit. Avoid the boyshort or boxer style swimmers as the extra material on your legs can bunch up and become uncomfortable.
Swimmer briefs is the go to for most people who use a wetsuit and it's the most common option.
If you're really unsure what to wear under your wetsuit as a man then go with swimmers.
Nothing At All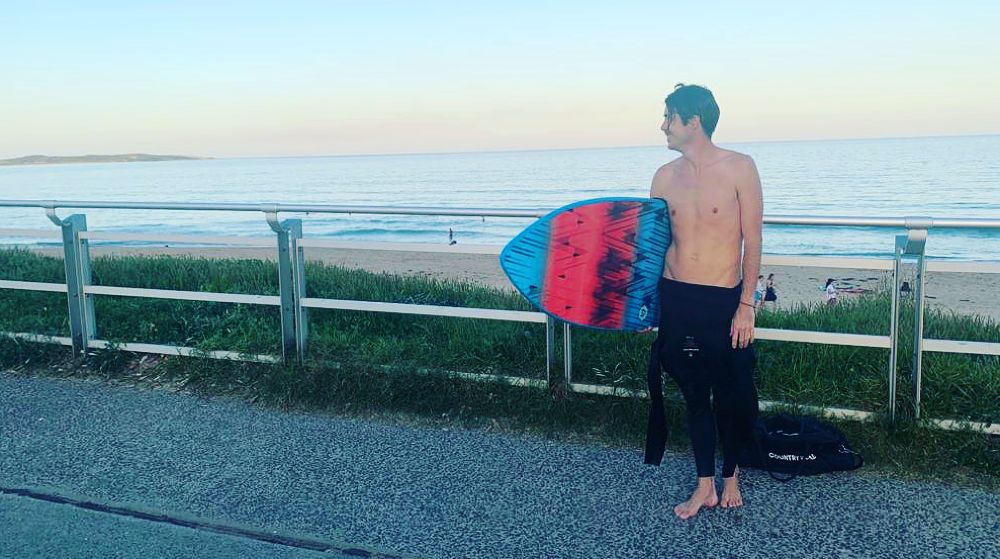 Most of the time there is really no need to wear anything under your wetsuit at all as your wetsuit covers your body giving you privacy and they are usually very tight fitting so they hold everything in place.
I personally prefer to wear swimmers under my wetsuit as it makes changing in and out of my wetsuit much easier (no need to wrap a towel around me whilst changing). However, if I don't have my swimmers and only have underpants or board shorts I'll most likely opt for wearing nothing under my wetsuit at all.
You might think being naked under your wetsuit would be uncomfortable or maybe cause chafing but I've personally never had these problems.
The only main downside of going full monty under your wetsuit is that a tight wetsuit (especially when wet) can mold to the shape of your body. This means you can get quite a defined shape in your crotch area depending on your size. This may make some people feel awkward so it's something to be aware of.
Insulated Rash Guard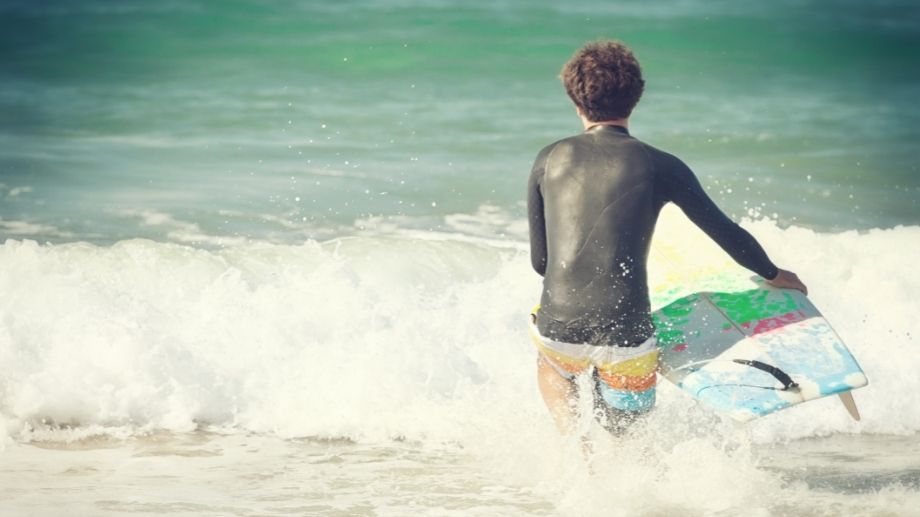 Insulated rash guards can often be worn under wetsuits to add an extra layer to keep you warm and also to help a wetsuit that is a little too lose to fit better.
If you want to stay warm in your wetsuit then you'll want to wear a rash guard that has some sort of insulation/neoprene as a regular rash vest won't keep you warm, it'll just add water weight to your wetsuit making it harder to paddle or swim.
Rash guards can also protect you against wetsuit chafing that can irritate your armpits, however they can also add to chafing if the material gets loose under your wetsuit.
It's worth trying if you're experiencing chafing however it's not guarantee that it'll fix the problem.
Getting the wetsuit on without the rash vest bunching up can also be a pain. You'll ideally want a long rash vest and hold the sleeves while you pull your wetsuit on.
Men's Diving Shorts
Diving shorts are light, making them suitable to wear under a wetsuit since they won't limit your movement in the water.
Choose tight fitting diving shorts made from Lycra or neoprene materials.
These offer better insulation to help keep you warmer but also are very tight to your skin so they are unlikely to bunch up under your wetsuit.
Full-Body Jumpsuit
All of the options above protect only a part of your body. However, going underwater for long periods may require full coverage, especially in extremely cold waters.
A full-body jumpsuit is a fantastic base layer to wear under your wetsuit in this case, and it'll keep you warm under the water.
A good choice would be a thin neoprene full-body jumpsuit, as it provides more insulation without adding much extra weight.
Some ice divers swear by wearing polyester long johns under their wetsuits to help keep them warm.
Generally speaking you're often better off getting a thicker wetsuit that fits you properly rather before going to a full body suit under your wetsuit. But if you're short on cash or going in really cold water the full body suit can help keep you warm.
Read the guide on how to get a perfect fitting wetsuit
Underwear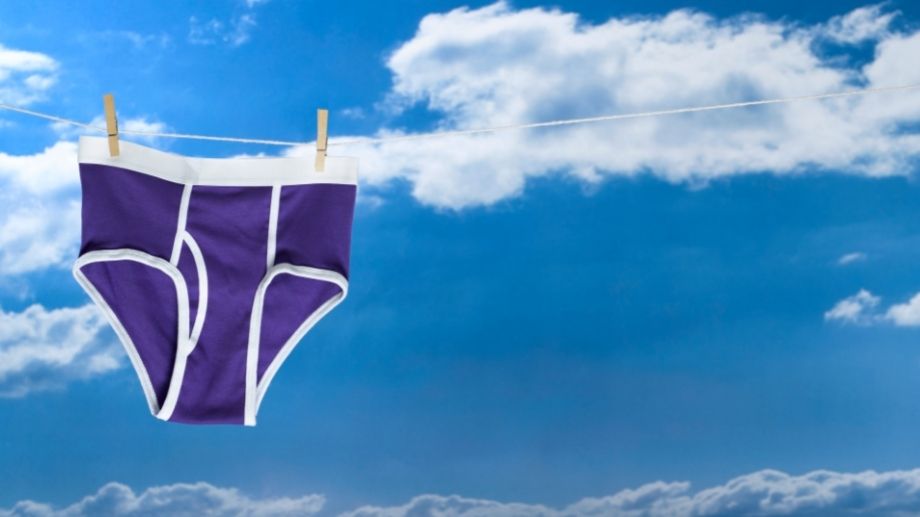 When you're lacking other better options and you don't want to go nude under your wetsuit then simply wearing your underwear under your wetsuit can work similar to swimmers.
Ideally you want to choose y-front underwear as they are tighter and less likely to bunch up under your wetsuit.
When I was younger I used to wear boxer briefs under my wetsuit but these would always bunch up no matter how hard I tried and really I would have been better off going naked, I was just too nervous to do that at the time.
You also have to be careful with underwear (white especially) as it can go see-through, potentially showing off more than you would like.
Benefits of Wearing Undergarments Under a Wetsuit
Here are some good reasons to consider wearing something under your wetsuit:
Swimwear undergarments can prevent wetsuit chafing. Your knees, crotch, neck, and armpit are more vulnerable to rubbing and chafing when you wear a wetsuit for long periods. Due to this, a rash guard is a good undergarment option to prevent irritation.
Layering up can help you stay warm.It's crucial to always maintain an ideal body temperature to keep your body functioning properly. Spending long hours in the water can lead to a drop in your body temperature and make you cut your session short. You can prevent this by wearing a base layer before donning your wetsuit.
What NOT To Wear Under Your Wetsuit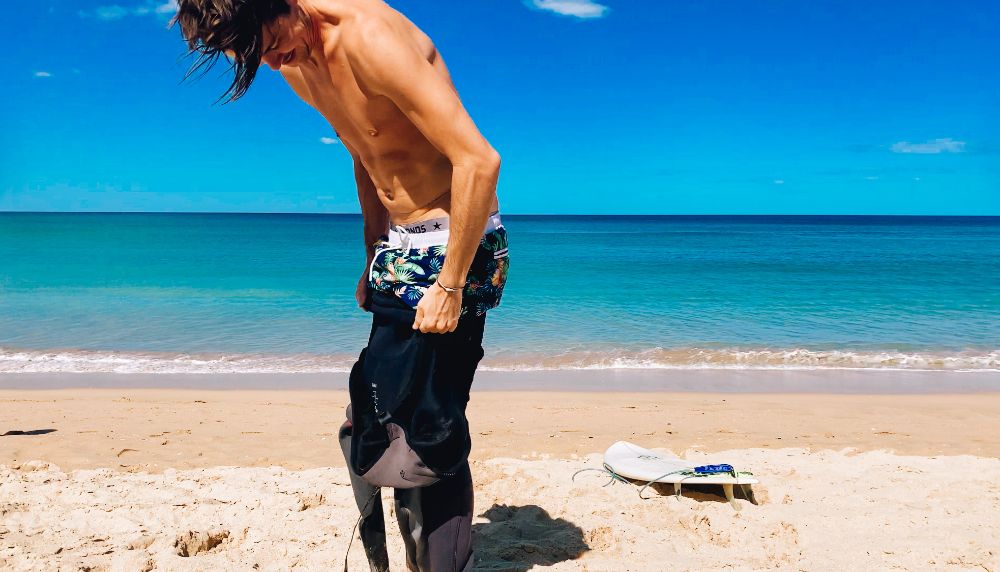 There are some common mistakes people make when it comes to what they wear under their wetsuit.
You should avoid wearing any loose clothing under your wetsuit. Board shorts, boxer briefs and even rash vests have a tendency to bunch up underneath your wetsuit making your wetsuit uncomfortable. It's also almost impossible to fix the bunching due to how tight wetsuits are.
I've done a full write up on why you shouldn't wear board shorts under your wetsuit. While I have done this in my younger years it's honestly never really worth it. If you don't have tight undies or swimmers then it's usually best to go nude under your wetsuit instead of wearing loose clothing.
You should also avoid clothing that is going to retain a lot of water and weight when in your wetsuit. Wetsuits do not keep you dry so anything you wear under your wetsuit is going to get wet also.
Is It Okay To Wear Nothing Under a Wetsuit?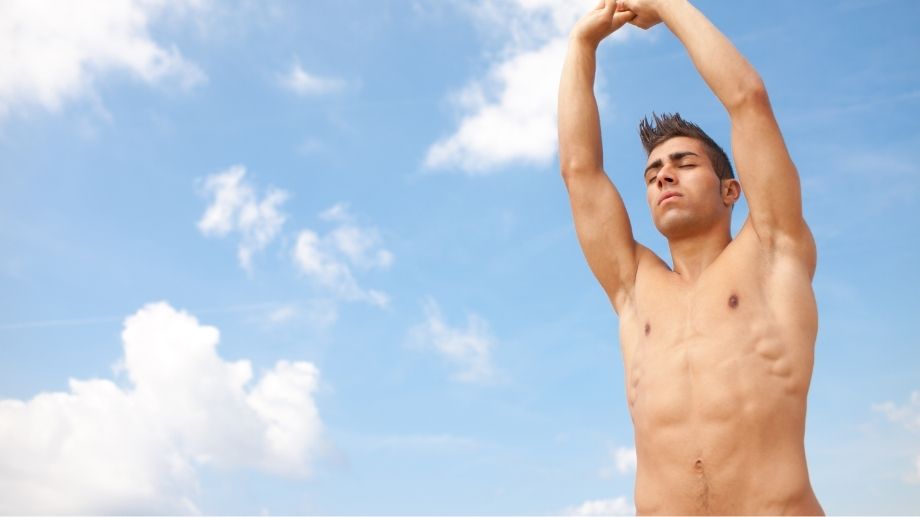 You probably heard the phrase, "going commando."
It means not wearing any underwear. In this case, it refers to wearing a wetsuit with nothing underneath so the wetsuit has direct contact with your skin. But is it okay to wear nothing under your wetsuit?
It is okay to wear nothing under a wetsuit. Many divemasters and surfers don't wear anything under their wetsuits when diving or surfing. Wearing something under a tight-fit wetsuit design can be uncomfortable for some people, and it's not uncommon for some to choose to wear nothing.
You want to focus on the water sport or activity at hand and not fuss about your swimwear. So, it's okay to go commando if wearing something under your wetsuit makes you uncomfortable. Understandably, not everyone feels decent in a wetsuit with nothing underneath, and this isn't a solution for some. But for me if I want to look good in my wetsuit going commando is the second best option to wearing swimmers.

If you are comfortable with this idea, keep in mind that it can be difficult to find a private area on a public beach when putting on or removing the wetsuit, and you'll need a way to properly cover yourself.
However, you can't be sure a wetsuit is very clean if you rent it. For hygiene reasons, it's usually best to wear something underneath a rented wetsuit.
Can You Wear Your Regular Underwear Under a Wetsuit?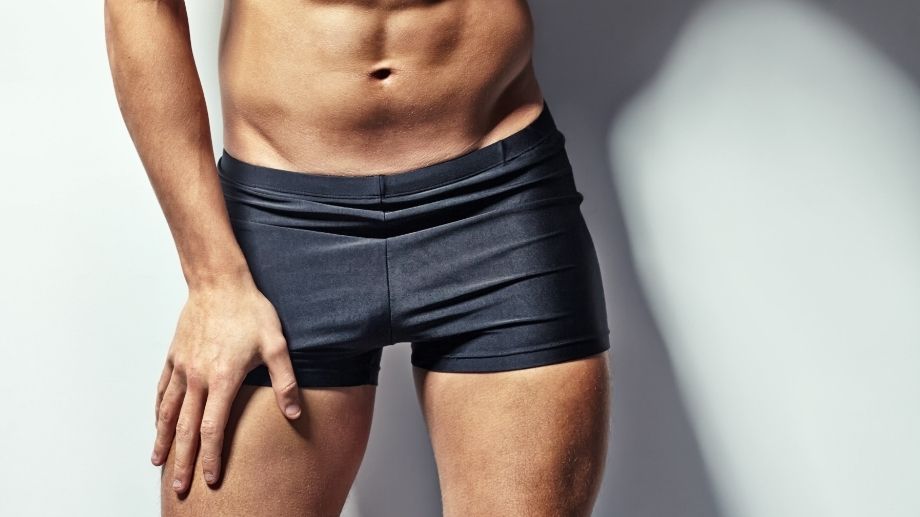 You can wear your regular underwear under a wetsuit, provided it keeps you comfortable during your time in the water. However, normal underwear materials will likely soak up lots of water when you use them for water activities. A better option is to use swimwear undergarments.
Swimwear undergarments are designed to not soak up water, which is why they're great for surfing, snorkeling, scuba diving, and other water activities.
On the flip side, your normal underwear is much more absorbent and can feel heavy after a while in the water.
Whatever you do, avoid wearing a pair of board shorts under your wetsuit. Board shorts may be great for beach sports and surfing, but they're not your best pick when it comes to something to wear under a wetsuit. Apart from riding up and pressing into your skin, these shorts can cause chaffing if you wear them under your wetsuit.