So, you've gone through the cold of winter and you still have some firewood that hasn't been used. The question is, how do you store the firewood to last you the rest of the year or even until next winter?
I find that every person that keeps firewood stocked has their own answer to this question, but there are some generally smart practices to follow in summer and throughout the year that will help maintain the wood.
So should you cover firewood in the summer? What's the best way to season firewood in warm months?
You should cover the top of your firewood in summer to protect it from rain while still allowing for good airflow. Firewood can be uncovered during a dry season to speed up the drying and seasoning process, but it's best to elevate and cover the wood if heavy rain is predicted.
I like to leave wood uncovered if I know there won't be much rain (dealing with the tarp can be annoying), but you will run into some trouble if there are repeat rain storms and you leave the wood uncovered.
Is It OK To Leave Firewood Uncovered in Summer?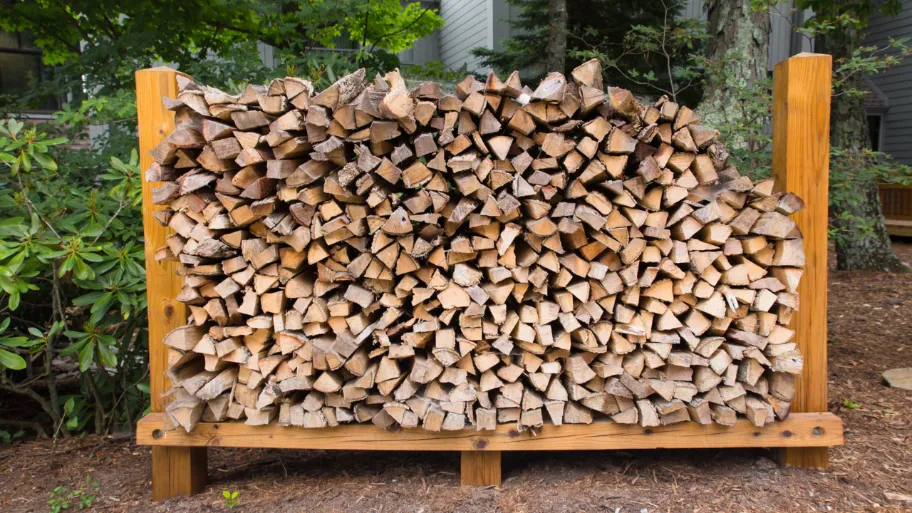 Ventilation is the biggest key to seasoning firewood throughout the year. This helps prevent mold while drying the wood simultaneously.
Direct sunshine can help speed up this process as well, drying out the wood faster. However, you should never risk wood getting wet in an effort to give it more sun.
A little bit of rain shouldn't slow the drying process too much, especially if there is a lot of sunlight. But prolonged rain and heavy downpours can cause your firewood to become damp and in large piles the center of your stack can struggle to dry out.
This is why I suggest keeping firewood elevated and covered (top-side only) throughout the summer.
Being elevated will help ensure that the wood doesn't soak in moisture from the ground whilst allowing for ventilation from underneath and drainage of any water that does get inside. Also, a top-only cover will protect your stock from rain while still allowing for ventilation.
While leaving it covered is the safe solution, things can change if you aren't expecting rain, as leaving your wood uncovered and soaked in sunshine and breeze will really give it a nice crisp to be burn-ready when the time comes around.
The "true" solution will really come down to where you are.
If you live in an area with high moisture and sporadic weather, you're likely going to need to leave your firewood covered year-round. It just isn't worth the risk.
Moisture is your biggest enemy when it comes to maintaining wood, as it can seep into the logs and create several problems including mold.
If you live in an area that gets little rain, occasional summer rain will not hurt your wood, especially if you aren't planning to burn it any time soon.
Sunshine and fresh air will dry the wood within a couple of days, so if you hate dealing with a tarp and want to leave it uncovered, it should be fine.
If you don't want the hassle of creating a routine for firewood, the most guaranteed solution will be elevating the wood, covering it while still allowing airflow, and giving it as much sunlight as possible.
How to Store and Season Firewood In Summer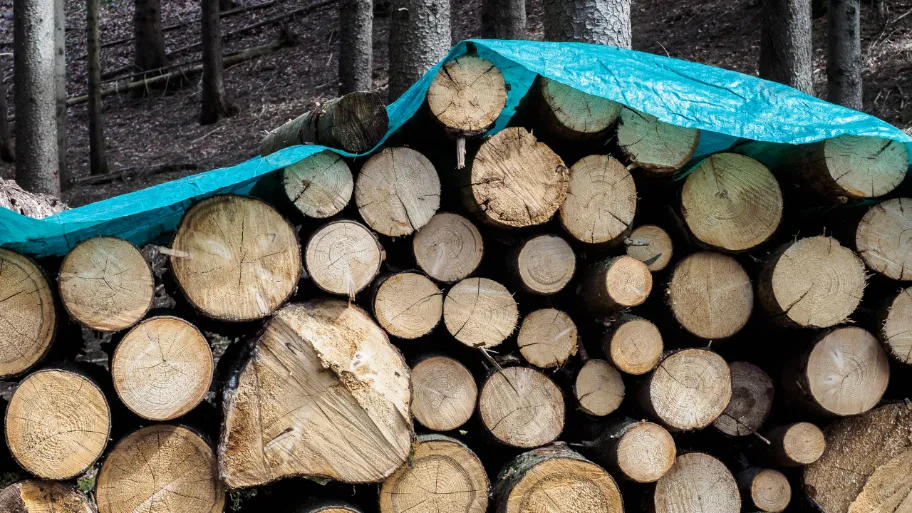 Storing your firewood in summer to allow proper seasoning will come down to four variables; airflow, elevation, cover, and sunlight.
You should start by finding a sunny spot near your home that will allow your firewood to soak in rays while still being close enough to grab it conveniently (especially if you're trudging through snow).
After you find your spot, you'll need to either build or purchase a rack that will keep the wood off of the ground. Building your own will require treated 2x4s and firewood brackets, but the process itself is straightforward and quick to do at home.
I also like the Artibear Firewood Rack from Amazon as it's conveniently sized to fit any yard and won't break the bank, but it still stores plenty of firewood and has a structure that makes covering easy.
Once you have your rack and have your wood piled, all that's left is to cover the wood. This can easily be done using any cheap tarp as long as the sides are left uncovered to promote airflow.
Leaving the edges of your firewood uncovered, especially in summer, will help the logs to soak in sunshine and breeze and really season them for the colder months.
Following these steps will help keep firewood dry and last you for years, while still being seasoned to get the most out of each log in the winter.