I love using the small disposable 1 lb propane tanks on my stove when I go camping but I don't like how expensive they are compared to the bigger tanks and I don't like how much waste they cause.
Also, larger tanks (like the 5-40 lb ones) last much longer than the 1lb ones for the cost.
Wouldn't it be great if there was a way to refill these 1 lb propane tanks so you can save money and use them over and over again?
Luckily, there's a safe way to refill small refillable propane tanks. But you should only do it with 1 lb tanks made to be refilled. The disposable ones don't have valves made the the same safety standards as refillable ones.
To refill a 1 lb propane tank, you'll need a larger propane tank to get the propane from plus a refill adaptor. Put on safety gloves and glasses and make sure your small propane tank is refillable (many aren't). 
Connect the 2 tanks with the refill adaptor, place the large tank upside down and open the valve. When the hissing sound stops, your tank is full and you can close the valve, place the big tank upright and remove the adaptor. 
NOTE: You should only ever refill 1 lb propane tanks designed to be refilled. You should NOT refill disposable propane tanks. Yes it's possible to do it but it's not advised as they aren't made to the same safety standards and (in my opinion) are not worth the risk of refilling.
Just purchase a couple of refillable 1 lb propane tanks like these 1 lb refillable tanks from Flame King and you can refill them safely knowing they won't leak or explode on you.
When you know how to refill 1lb propane tanks safety, you can save a lot of money and hassle – definitely a skill to learn.
1. Have a Larger and Full Propane Tank Available
Before you start, you'll need a propane source which is one of the larger tanks that range in size from 5 lb to 100 lb. 
Before using it, do a quick inspection to ensure it's safe to use and has no rust or dents, which could indicate a leak.
To make sure you have enough propane, weigh your large tank using a propane scale or use an inline gauge. 
2. Ensure Your 1 lb Propane Tank Is Refillable
Just like you, I'd love to be able to refill those disposable 1 lb mini propane tanks you buy from the local camping store. Unfortunately, these just are NOT made the the safety standards required for refilling.
While it is technically possible to do (and there are many guides online showing how to do this) for me the danger of a single tank failing is nowhere near worth the cost savings you get.
Not all 1 lb propane tanks are refillable and refilling a non-refillable one can be highly dangerous and sometimes illegal depending on your location. That's why I recommend being 100% certain that yours can be refilled before starting. 
If you want a safe refillable propane tank, buy one that is DOT (Department of Transportation) certified to be refilled. Currently the 1lb Flame King tanks are the only 1 lb ones that I know of that the DOT advises you can safely refill and transport. 
While you technically can refill the 1lb Coleman propane tanks, they aren't certified by the DOT and the tank label also states that you're liable to a fine or imprisonment if you refill them and then transport them.  
The video below explains more about the dangers of refilling non-refillable cylinders:
3. Place Your 1lb Tank In The Freezer for a Few Hours (Optional)
I sometimes put my refillable 1 lb propane tank in the freezer for a few hours before refilling it because the propane moves between the 2 tanks through pressure and if they are different temperatures, it can make refilling quicker and more efficient. 
However, this step is optional and not freezing the bottle should only take a few minutes longer.
The YouTube video below demonstrates how someone refills a 1 lb propane that has been in the freezer and how it took just over 1 minute to refill: 
4. Put on Safety Gloves and Glasses
Since you're working with pressurized gas, I recommend wearing safety glasses and gloves just in case there is a sudden surge of propane out of one of the tanks or (in extreme cases) an explosion.
If you're worried about your work surface getting dirty, place a tarp or some newspaper underneath.
5. Get a Refill Adaptor and Attach It To Both Tanks
To connect your small tank to your larger one, you'll need a refill adaptor like this one that you can buy from Amazon. 
Once you have your adaptor, use a screwdriver and gently poke the safety valve in the middle of the small tank to make sure there is no residual gas left.
Make sure the gas valve on the large tank is securely closed and then use the adaptor to connect the 2 tanks together.
6. Place the Large Propane Upside Down and Open the Valve
After connecting the 2 tanks, you'll need to place the larger propane tank upside down. This is because the propane in the tank is in liquid form and gravity will help it move from the big tank to the smaller one.
After placing the large tank upside down, open the gas valve onthe big tank fully so that the propane can flow freely.
7. Wait for the Hissing Sound To Stop and Close the Valve
As the propane flows from the big to the small tank, you will hear a hissing sound. The propane transfer should only take a minute or two and the small tank will be full once you no longer hear the hissing.
As soon as the hissing stops, close the gas valve to prevent spillage and an unnecessary pressure build up as propane exerts a lot of pressure on the tank walls, the reason these tanks are so thick and robust.
8. Turn the Large Propane Tank Upright and Disconnect the Small Tank
Now you can place the larger propane tank upright again. Once done, twist the smaller tank so that it disconnects.
Be sure to leave the adaptor on the bigger tank so that the propane doesn't go shooting out and spray you in the face.
As the small tank becomes detached from the bigger one, it's normal to hear a sharp hissing sound as some of the propane fumes escape (this is another reason why it's important to wear safety gloves and glasses).
Remove the adaptor and then use your propane tanks as normal.
How To Check If Your 1 Lb Propane Tank Is Full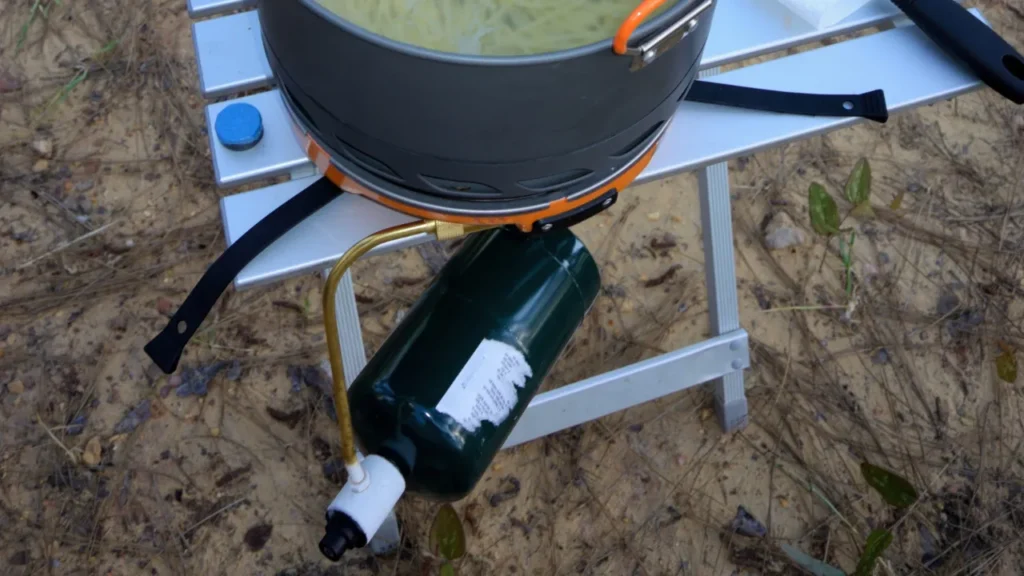 If there is too much gas inside the 1 lb propane tank, it can prevent the liquid propane from moving into it efficiently. As mentioned above, you can purge some of the gas by gently poking the safety valve in the middle with a screwdriver. 
However, a more accurate way of checking that your tank is full is to use a digital kitchen scale:
1. To get an accurate measurement, I recommend weighing your tank just before refilling it (an empty tank should weigh just under 1 lb). Take note of the empty weight and proceed with refilling. 
2. Once full, weigh the propane bottle again. A full propane bottle should weigh around 2 lb and last a few hours, depending on what you use it for. 
If you only have a little bit of propane left, how long it will last also depends on the usage. 
If you don't feel like messing around with a scale, you could get a propane gauge that will give you a level indicator.
Alternatively you can pour hot water on your tank and then feel the side of the tank. Where the metal goes from hot to cold is approximately where the propane level is at.