Rash vests have been quickly growing in popularity the last few years. And for good reason.
I used to only wear one when I surfed, but lately I've found myself throwing one during my bushwalks and waterfall swims, going to the pool, paddle boarding and all kinds of other outdoor activities — thanks to their wide range of benefits. 
Rash vests are primarily used to prevent chafing and provide UV protection when swimming or doing watersports. But they can also good at keeping you warm in the water, keeping you cool when you're not, providing more coverage than a swimsuit, and can be stylish to boot. 
Below I'll show you the six main purposes of rash guards, explain why each is so beneficial, and teach you when you should wear one.
The Main Purposes of A Rash Vest
The main purposes of a rash vest are to provide UV protection and prevent chafing, but additional modesty, warmth, and style are nice added benefits.
1. Sun Protection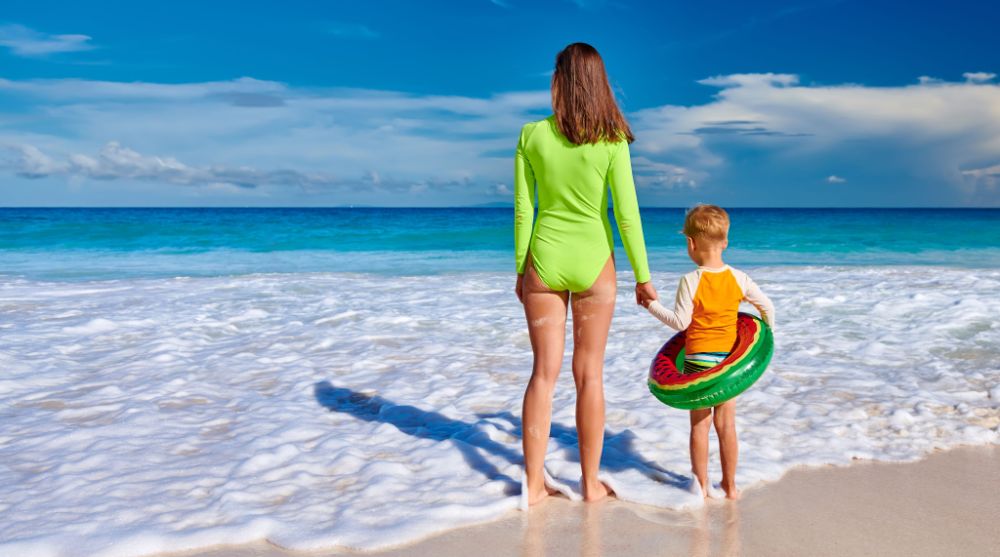 One of the biggest advantages to wearing a rash guard is their ability to protect you from the sun's UV rays.
Most rash guards have an Ultraviolet Protection Factor (UPF) of 50 or more — meaning that only 1/50th (2%) of the UV radiation that you're exposed to will make it through to your skin.
To put that into perspective, a standard cotton t-shirt will have a UPF somewhere around 5, allowing 20% penetration.
| | | |
| --- | --- | --- |
| UPF Rating | Type of Garment | UV Transmission |
| 5 | Regular T-shirt (not rated for UV protection) | 20% |
| 15 | Garments Rated 'Minimal' UV Protection | 6.67% |
| 30 | Garments Rates 'Good' UV Protection | 3.33% |
| 50 | Rash Guards ('Excellent' UV Protection) | 2% |
To maximize protection, choose a rash guard with more coverage. A long-sleeve, high-neck rash guard will provide more protection than a sleeveless, v-neck rash vest.
Just keep in mind, while it's a big help, wearing a rashie on its own isn't enough to prevent damage and keep your skin healthy.
In addition to wearing a rash guard:
Apply sunscreen liberally to any exposed skin (no need to apply anywhere your rashie covers). The higher the SPF, the better.
Reapply sunscreen regularly and more frequently if you're in the water.
Invest in a pair of shades with UV protection.
Always wear a hat when outside in the sun
Avoid sun exposure during lunchtime hours (11am-2pm) when the UV levels are at their highest
2. Rash Protection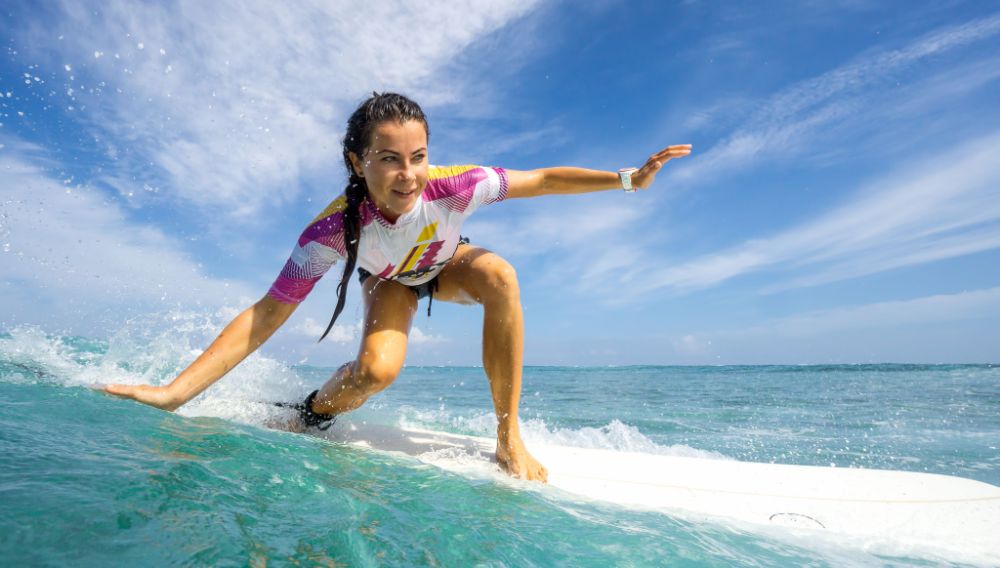 Surf rash (or board rash) are abrasions caused by the friction of your salt-water-softened skin rubbing against the surface of your boogie board or surfboard while paddling.
If you've ever had it, you know just how much it sucks. Is especially bad on foam surfboards but happens on regular fiberglass surfboards as well.
I once got board rash so badly that my skin was completely bleeding and I ended up with giant scabs on my stomach that lasted weeks.
Rash guards are designed to provide a protective barrier between you and your board, limiting or preventing chafing entirely.
Standard rashies will only protect your upper body. These work great as it's usually just your stomach (and maybe chest) that gets rashes from boards.
However, if you experience chafing on your legs, try a full-body rash guard or get some board shorts to cover your legs.
If you're experiencing chafing from your wetsuit, wearing a rash guard underneath your wetsuit may help.
When I'm surfing a lot I'll often end up with chafing under my arms and sometimes around the neckline of my wetsuit. Sometimes rash guards can stop this chafing and allow me to keep surfing without the pain.
3. Modesty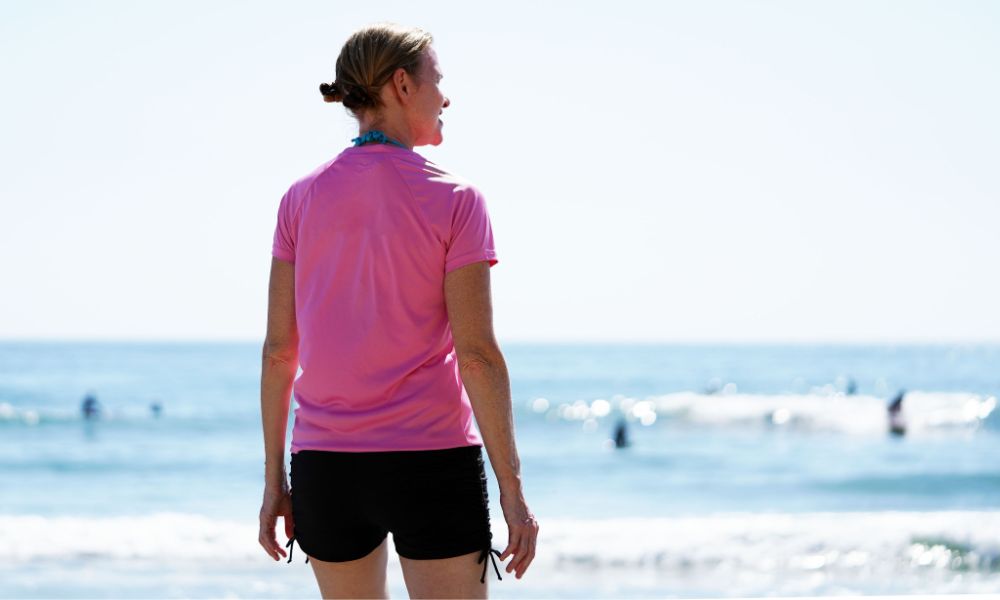 If you want more coverage than a swimsuit provides, a rash guard is the perfect solution (ladies, don't forget to wear a bikini top or swim bra underneath for extra support).
Some people prefer to not have their full body exposed to the world when swimming at the pool or the beach.
My partner used to wear a rash guard as she felt more comfortable in this at the beach and my youngest son chooses to wear a rash guard when he does swimming lessons because he feels more comfortable in it and doesn't want to go shirtless.
You can wear rash guards swimming and it's extremely normal for people to be wearing rash guards at the pool or the beach. So they are a great way to be modest while still being able to swim to your hearts content.
If you want even more modesty than a typical form-fitting rash guard provides, surf tees and swim tees offer the same benefits with a looser cut.
Just don't be that guy wearing a t-shirt on the beach — a rashie offers better UV protection and won't get water logged and all stretched out like a regular t-shirt will.
4. Warmth
While standard rash guards aren't intended to keep you warm, they'll still do an okay job at it on warm days with little to no breeze.
Insulated rash guards, on the other hand, are very effective at retaining your body heat on those days where a wetsuit would be overkill.
These are great in spring and summer months where it's not quite cold enough for a wetsuit but it's a bit too chilly to wear just your boardshorts.
5. Wick Moisture
Moisture wicking is the ability of a fabric to move moisture to the exterior of the garment where it can dry quickly.
When water is moved away from the body to evaporate, small amounts of heat are transferred as well — similar to how sweating cools us.
While rash guards can sometimes help keep us warm in the water, they also help keep us cool and dry when we're not. 
Moisture wicking also causes the rash guards to dry much quicker than t-shirts and other clothes do meaning they are perfect for swimming in.
6. Style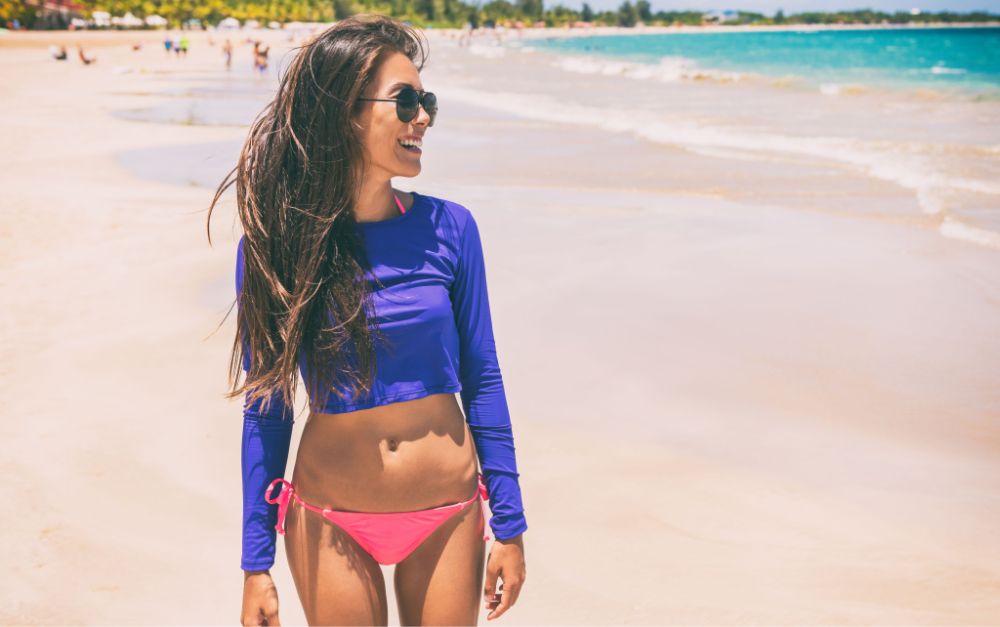 Thanks to their growing popularity, companies have been making an effort to make rash guards look more stylish. I've especially noticed this when it comes to female rash guards.
Gone are the days of nothing but plain black rashies everywhere you look.
You can find rash guards in just about any color, in a ton of different patterns, in a bunch of different cuts.
From hooded rashies to ruffled skirts, it's easier than ever to find a rashie that matches your vibe.
When Should You Wear A Rash Guard?
Rash guards are most commonly worn on the beach to prevent surf rash. But they're also great to wear during any outdoor activity, thanks to their ability to protect against UV rays and wick moisture.
For me personally I choose to wear a rash guard on hot summer's days when I know I am going to be out in the sun and swimming for an extended period of time. In summer I'll choose a rash guard over a wetsuit so I can get UV protection without the insulation of a wetsuit (which would make me too hot).
The rash guard beats sunscreen because sunscreen can wash off in the water and need to be reapplied.
I choose not to wear a rash guard in the colder months where the sun's rays aren't as strong and I know I won't be out in the sun for extended periods of time. Short exposure to the sun can be great for Vitamin D levels so I don't always want to cover myself up completely.
With kids it's even more important that they wear rash guards more often. Their skin is much more likely to burn and they will likely swim a lot more and fail to reapply sunscreen when it's neede.
Final Thoughts
Rash guards are great for any outdoor activity — especially in or near the water. The main uses of a rash vest are to:
Provide UV protection
Prevent surf rash and chafing
Provide more coverage than a swimsuit
Keep you warm in the water
Wick moisture to keep you cool
Look good