Wetsuit shampoos are a great option but whether you want to save money or just want to use something more natural there are a variety of wetsuit shampoo alternatives that you can use to keep your wetsuit clean.
There are a lot of great wetsuit shampoos out there but they all seem to have one thing in common…they are extremely expensive on a per-wash basis compared to things like laundry detergent.
Cleaning your wetsuit regularly is important to keep it in good condition and ensure it doesn't deteriorate faster than it should. While a good rinse is sometimes enough every now and then you'll want to give your wetsuit a thorough cleaning.
If you are looking for a cost-effective, easy, convenient, and environmentally friendly way to ensure your wetsuit stays in good condition, you have come to the right place.
Read on for natural ingredients you can use to clean your wetsuit.
1. Vinegar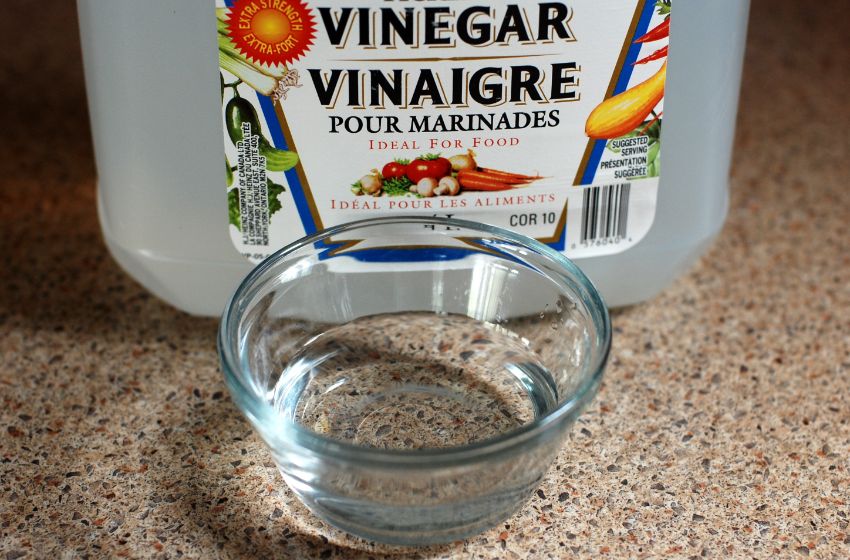 It might surprise you that vinegar is a good natural alternative to commercial wetsuit shampoos. Vinegar is acidic, making it a great household antibacterial agent for cleaning your wetsuit. Also, white vinegar is colorless and will not stain or bleach your clothing like harsh chemicals. 
Vinegar is a natural cleaner and mold killer that can be used for a variety of different purposes. Including cleaning your wetsuit. It's also extremely affordable and most of us have some lying around the house or if you don't you can pick up a big bottle of it for a couple of dollars.
To clean your wetsuit with vinegar using the following steps.
Pour 2-3 cups of vinegar into a bathtub full of water or a big bucket. If your wetsuit is extra stinky then use more vinegar to make the mixture stronger.
Place your wetsuit inside out in the bucket or bathtub and move it around with you hands. Make sure to rub problem stinky areas like underarms and the crotch.
Leave your wetsuit to soak for 30-60 minutes. This will help to kill mold and bacteria that causes the bad smells.
After soaking give the suit a good rinse (so you don't smell like vinegar next time you wear it) and leave it to air dry.
However, you should avoid using vinegar when machine washing your wetsuit (yes some people do that and sometimes it's ok) as its acidity can damage some materials in your washing machine. It's usually best to handwash your wetsuit anyway to avoid damaging the fabric. 
2. Baking Soda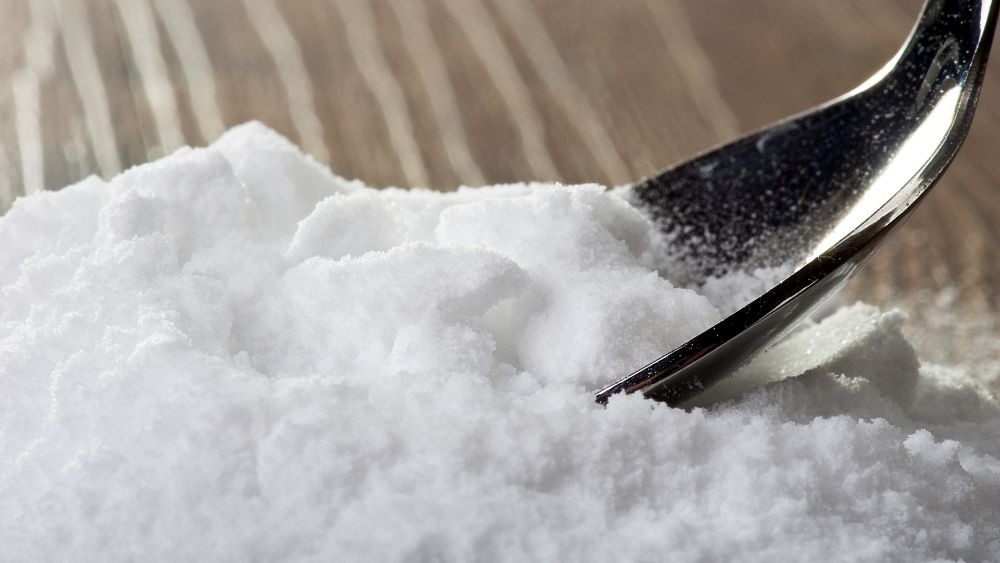 Baking soda is a great cleaner and great deodorizer that is safe to use on wetsuits.
Baking soda is alkaline and has anti-bacterial properties and it can also break down oils and wax that can build up on your wetsuit. This makes it overall very effective for cleaning your wetsuit and removing bodily oils, wax and smells from your wetsuit.
There are a few different ways to use baking soda to clean your wetsuit.
Make a Baking Soda Paste and Scrub Your Wetsuit
For extra funky smelling wetsuits or ones that need a good solid deep clean making a baking soda paste and attacking those problem areas with some sort of brush or even just using your hands can be a very effective way to clean the stinkiest areas.
Rub the paste onto the wetsuit and then let it sit for a couple of hours before rinsing it off with warm water and letting it air dry. Check out some of the best wetsuit dryers to dry your wetsuit faster and reduce smells.
Soak Your Wetsuit in a Water/Baking Soda Solution
Mix 2 cups (473 ml) of baking soda into a bucket or tub of water and completely cover the wetsuit. 
It's a good idea to stir or knead the wetsuit in the water to make sure you have covered it completely and the baking soda has reached all parts of the wetsuit.
It's also a good idea here to use safety gloves when doing the mixing as some people have sensitivities to baking soda.
You can also a toothbrush or other small soft bristle brush on the zippers and closures to remove excess waste and dirt from small areas.
Let the wetsuit soak for 10-15 minutes or for a few hours for really smelly wetsuits before rinsing the excess baking soda thoroughly off your wetsuit and hang to dry. Be sure to hang the wetsuit away from direct sunlight.
Spinkle Dry Baking Soda To Deodorize a Wetsuit
If your wetsuit is clean but has developed a bad smell you can't seem to get rid of then spinkling dry baking soda onto the inside of your wetsuit can effectively remove smells. This is one of my favorite wetsuit hacks and it really does help.
Baking soda is both a natural absorber of bad smells (making it good to deodorize fridges too).
After leaving the drying baking soda in your wetsuit for hours (or overnight) you'll want to rinse it off before jumping back into it and going for a surf.
3. Mild Soaps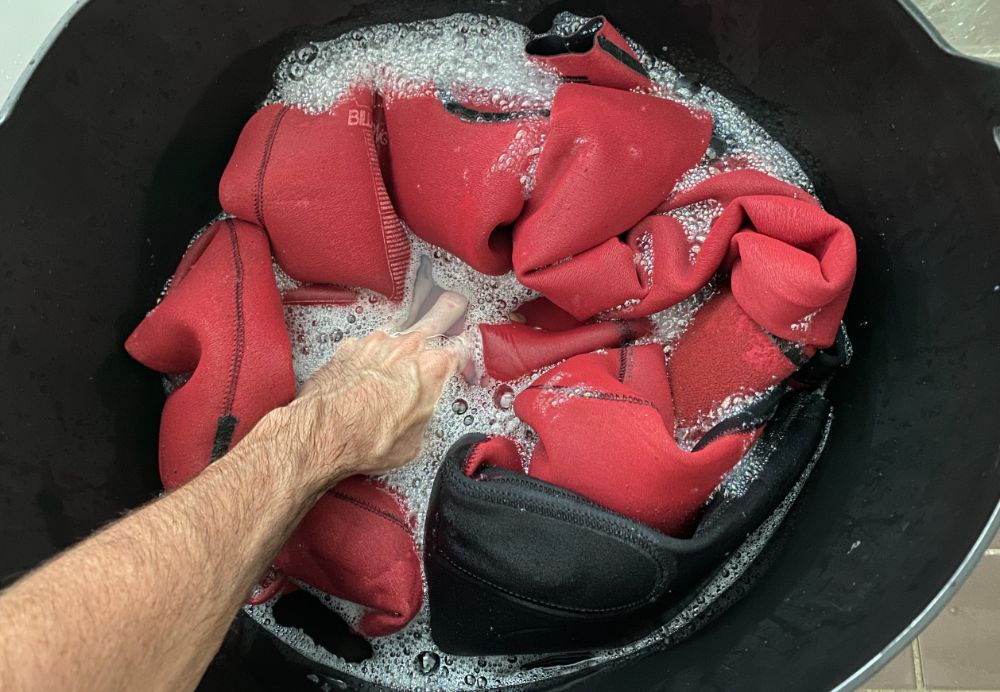 Unlike laundry detergents, mild soaps do not contain harsh chemicals that are likely to ruin your neoprene wetsuit.
Even "fabric-safe bleach" is too harsh and will ruin your wetsuit, making it age faster, and you will have to shell out more money to buy a new suit. 
But mild soaps like dishwashing liquid, bodywash, hand wash or even a bar of soap can be used to clean your wetsuit.
Here are the steps on how to hand wash your wetsuit using mild soaps.
Rinse your wetsuit thoroughly and with cold or lukewarm water.
Soak it in a mixture of cold water and dishwashing soap or a mild soap for five to ten minutes.
Knead the fabric gently to wash the suit inside and out.
Rinse with clean water to remove any soap residue.
Hang to dry away from direct sunlight. 
4. BABY SHAMPOO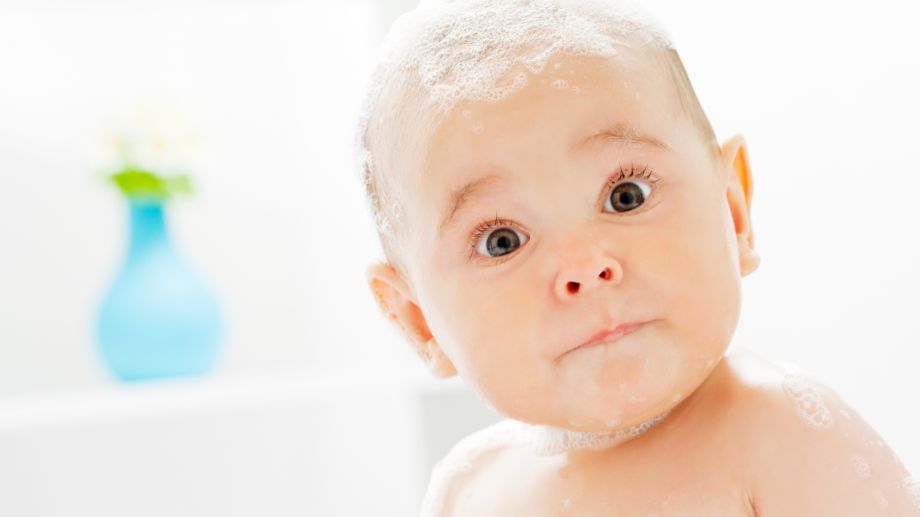 Baby shampoo is another good wetsuit cleaner alternative as it's very mild but still smells great and can remove odors.
To wash your wetsuit with baby shampoo simply place your rinsed wetsuit inside-out in a bucket of water with some baby shampoo and leave it to soak for 30-60 minutes.
Use a brush or your hands to rub the wetsuit focusing on problem areas like the underarms and groin. You can even use a toothbrush to clean zippers (if you have any) and seams.
Make sure to thoroughly rinse your wetsuit afterwards and hang to dry.
Click here if you want to learn how to dry your wetsuit super fast.
5. Mouthwash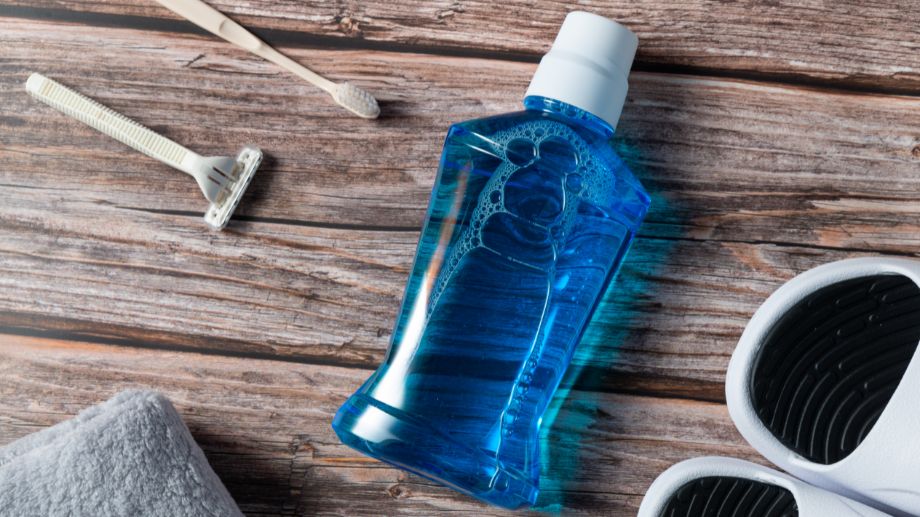 Mouthwash is an antibacterial agent with a strong minty smell to it that can kick almost any wetsuit funk.
The key to using mouthmash to clean your wetsuit is to use it sparingly. Add just a small amount (a cap or 2) to a full bucket or water and leave your wetsuit to soak in it for 30-60 minutes.
Then rub your wetsuit together or give it a scrub with a brush and rinse it and leave to dry.
The mouthwash will make your wetsuit smell fresh and amazing.
6. Dish Soap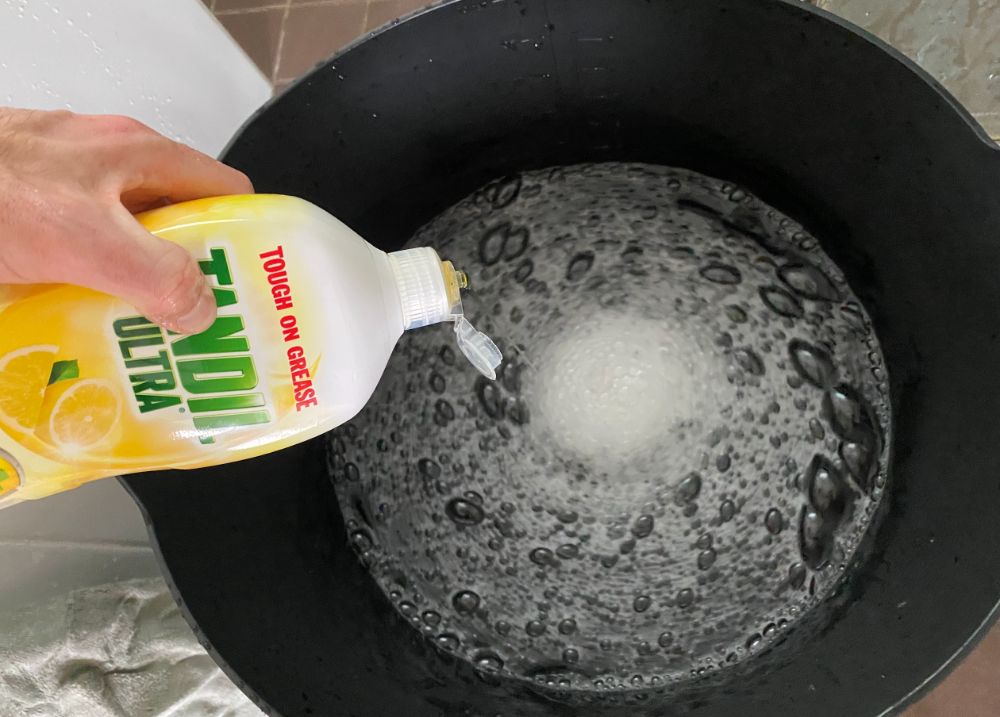 Dishwashing liquid is great a breaking down grease and oils that can build up on your wetsuit and a delicate dishwashing soap shouldn't damage the neoprene suit.
I use a small amount of dish soap to was my wetsuit on a regular basis and have not noticed any damage.

firemedic1050 – ScubaBoard
Dish detergent is fine, I know dive shops that use it and also friends who have been diving for years and using that in a wash tub and their gear is still fine. My gear is also going well, and I use a bit when washing also.

Sas – ScubaBoard
Like other methods fill up a large bucket with cold or lukewarm water and add a small amount of dishwashing liquid. Don't use too much.
Give the wetsuit a soak for 15-30 minutes and then rub it together or scrub it for a good clean. Finally rinse it out well and hang to dry.
7. Deodorizer
If you're looking at tackling the nasty smells coming from your wetsuit then a deodorizer may be the best solution for you. You can get it in both powdered and spray form and you can apply this to problem areas, or the entire wetsuit before washing it.
You can also use a deodorizer spray between serious washes if you're lazy like me and just rinse your wetsuit with each use and only wash it on occassion.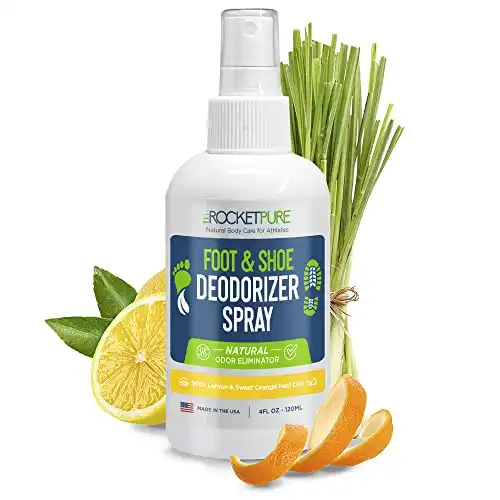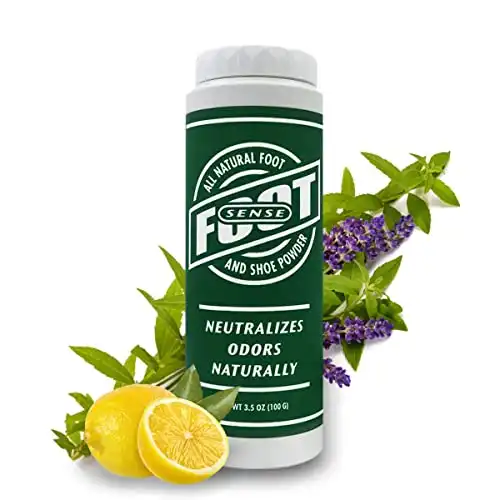 Why You Should Still Consider Pre-Made Wetsuit Shampoos
Neoprene was developed from rubber to be lightweight and flexible and keep you warm while surfing, diving or doing other water sports.
The tightness of the wetsuit is important and you want to use a wetsuit shampoo that won't stretch your wetsuit or cause it to shrink (making your wetsuit too small). You also don't want the rubber to become stiff and brittle as this can lead to cracking, tears and a stiffness that makes it harder to move.
Some high-quality wetsuits can be pretty expensive and to maintain the integrity of the material (and the value of your money) you will need to take proper care of your wetsuit.
This can make the pre-made wetsuit shampoos worth the investment, as you can be extra confident it won't cause any damage to your suit.
There's a good selection of environmentally friendly wetsuit shampoo that avoid the spread of harmful chemicals to the ocean and water life.
They are convenient and available in retail stores and online.
I've done a full writeup on the best wetsuit shampoos on the market and which are most effective (and cost effective). But here's my #1 recommendation:
O'Neill Wetsuit Cleaner and Conditioner. This product is safe for the environment. It claims to "extend the life" and "improve the flexibility" of your wetsuit. It also has easy-to-follow instructions and has high customer ratings.