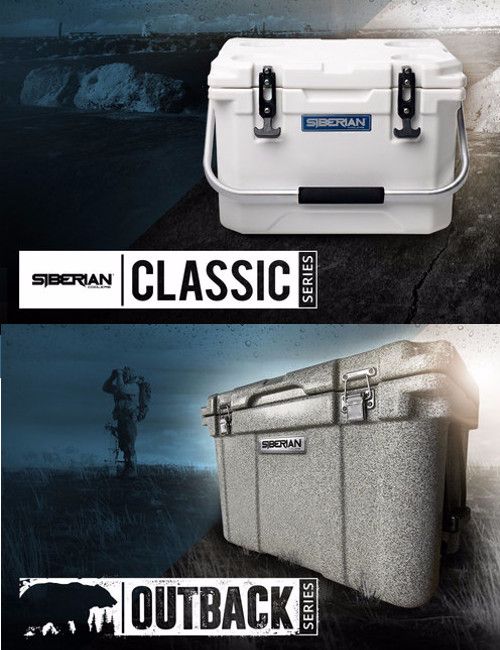 Siberian coolers are a newer entry to the market. Released in 2015 these promise comparable strength and ice retention to the Yeti but for a fraction of the price. But is the Siberian cooler worth buying and what are they like?
In this Siberian cooler review I'll go into detail about the two versions of Siberian coolers (yes there are two versions).
I will discuss their performance against other cooler brands of comparable quality and price as well as the features that set Siberian coolers apart.
I'll also try to answer once and for all whether Siberian coolers are worth buying.
Who Are Siberian Coolers?
You're forgiven for not knowing much (if anything) about Siberian coolers. They only entered the roto-moulded cooler market in 2015 and they have minimal distribution compared to other cooler brands.
Originally they entered the market as the cheapest roto-moulded coolers out there but recently they have raised their prices and made themselves comparable to other roto-moulded cooler brands like Pelican and Canyon, though they are still cheaper than Yeti.
Nothing really exciting to tell about Siberian the company, but as you'll see in this review they make some pretty great coolers.
Ice-Retention and Insulation
Let's start with the all important topic of ice retention. The main reason you're going to spend hundreds of dollars on a cooler is because it can keep ice longer than a regular cooler.
Well how does the Siberian cooler stack up in terms of ice retention? Actually surprisingly well.
The Siberian coolers easily keep ice for at least 4-5 days and you can likely expect up to a maximum of 7 days ice retention from each of these coolers.
As a whole they perform roughly equal to the Yeti coolers, which have become the benchmark against which all coolers are tested. Sometimes the Siberian performs above the Yeti and sometimes it performs below the Yeti.
With a thick roto-moulded shell and up to 2 inches of pressure injected foam insulation in the walls this ice chest packs a punch in terms of insulation.
It isn't the thickest insulation in the industry, but thickest doesn't always equal best.
Check out this video on how the Siberian 85 performed against the Yeti 45
The gasket on the lid is made of foam whereas most other coolers have rubber gaskets. Why they have done this I have no idea but it seems to do the job fine and doesn't have the gaps that some rubber gaskets have so that's a plus.
Pricing
When looking at a cooler similar to Yeti pricing plays an important role. Chances are you're a smart shopper and thus you want to get the best bang for your buck.
The good news is you're going to save a lot of money with the Siberian. Check out the comparison chart below and see how much you can save buying a Siberian instead of a Yeti
As you can see the Siberian cooler is substantially less than the Yeti cooler. However it's good to note that the price is very similar to that of other roto-moulded coolers like Pelican, Engel and Canyon all coming in at around the same price give or take around $20 depending on model size.
Features
Both ranges of Siberian coolers have a similar feature set to other models, with some slight variances and some cool additions
Classic Range
The Classic range comes with 4 recessed cup holders in the lid. I really like this feature as it means your drink (probably beer) is less likely to get knocked over or spill in your boat or on a hill. A really cool feature.
Outback Range
My favorite thing about the Outback series is the reversible feet. Most coolers come with non-slip feet which can be great if you don't want your cooler moving around.
However, some customers want to slide their cooler into their truck or want to slide it around once full (because once full these things are heavy). Siberian have made their feet reversible so they can either be non-slip or easy-slip depending on your needs. This is a really cool feature.
Latches
Classic – The classic range has rubber latches not to disimiilar from the Yeti. The only difference is they latch over a peg instead of using a ball and socket latch like the Yeti Coolers.
Outback – The outback range uses stainless steel latches that clip over the lid and then push down to secure the lid in place. I prefer these from the rubber latches and they seem pretty easy to use.
Range
One of the things that is great about Siberian coolers is they have an incredible range of sizes. Between their classic range and the newer revamped Outback range there are 10 different sizes of cooler.
In classic the sizes are – 22, 30, 40, 64, 85 and 116-Quart and in the Outback range the sizes are 30, 50, 82 and 125-Quart.
One of the downsides of their range is a lack of colors. Their coolers come in just 1 or two colors. Generally all that is available is either slate grey or marine white so if you want a cooler with a unique color (like this Pink Pelican Cooler) then Siberian probably isn't for you.
Accessories
Every good cooler needs some good accessories. Primarily I like to see baskets to keep things dry and dividers.
Almost all coolers have baskets but not all coolers have dividers. But the Siberian does. They have dividers that double as cutting boards (genius) and these start at just $15.99.
They don't have a bottle opener accessory, which saddens me deeply but they do have seat cushions starting at $99.99 for those of you who like to enjoy the finer things in life.
Replacement Parts
One of the things that sucks about a lot of the brands of coolers out there is the difficulty in getting replacement parts in something breaks.
I want to know that if a latch breaks or I lose my drain plug I can easily get another one. Well lucky for us Siberian has thought this through.
Drain plugs, rope handles and extra latches are all available for sale in the unfortunate event that you need one.
Warranty
Siberian coolers all come with a lifetime warranty which gives you peace of mind knowning that if there is something wrong with your cooler it will be fixed or replaced for you.
Now generally these lifetime warranties only refer to the main cooler itself and doesn't include things like latches and rope handles which can wear down and break more easily. But as mentioned previously these parts can be purchase for a small price if need be.
Are Siberian Coolers Worth Buying?
Siberian coolers offer a great cooler at a great price. If you are looking at buying a roto-moulded cooler and want to save some money then Siberian is definitely one of the brands you want to look at.
With the new outback series offering thicker insulation, reversible feet and those stainless steel latches I would definitely choose this series over the classic one as I believe it will do a better job of keeping ice frozen longer.
Siberian have only been in the market since 2015 and they have already released an update to their cooler range and have a massive range of 10 different coolers. We don't see iteration and improvement like this from many companies. I look forward to seeing how Siberian continue to improve their coolers in the future