The Shurhold Deluxe Bucket is a good affordable bucket with useful accessories. It comes with a padded seat lid, non-slip rubber base as well as a perforated removable caddy tray and a bucket grate for keeping your brush out of the dirt.
In this Shurhold bucket review we'll look in detail at the Shurhold bucket and it's accessories and compare it to some other options out there so you can better decide whether or not this is the cooler for you.
Shurhold Bucket:
Shurhold Bucket + All Accessories:
Affordable Price
I discovered the Shurhold Deluxe Bucket when I was having a look at what buckets are similar to the Yeti Bucket. The Shurhold bucket came up as a cheaper alternative and had some similar accessories.
The bucket itself is affordable and not too different in price from other similar 5-gallon buckets. I also really like that it has improved the handle by providing a rope handle that won't break or rust.
The accessories are also much more affordable than the similar Yeti LoadOut Bucket accessories. The Shurhold caddy organizer for example is about half the price of the Yeti caddy.
Below you can see a comparison between the Shurhold and Yeti Bucket and accessories.
SHURHOLD BUCKET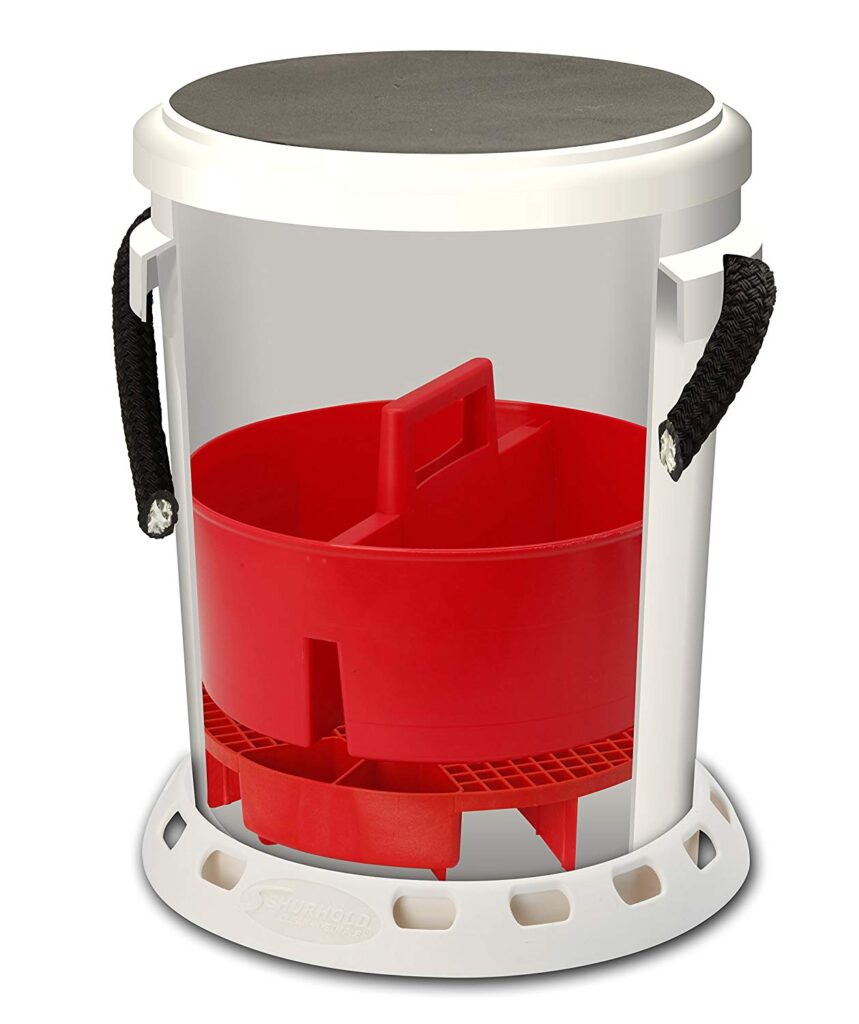 Shurhold Bucket:
---
Shurhold Lid:
---
Shurhold Caddy:
---
Shurhold Grate:
---
Shurhold Base:
YETI BUCKET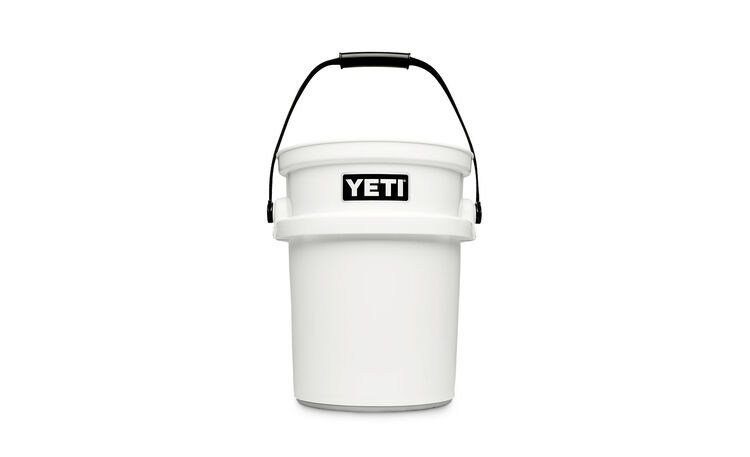 Yeti LoadOut Bucket:
---
Yeti LoadOut Lid:
---
Yeti LoadOut Caddy:
---
LoadOut Utility Belt:
Tough Construction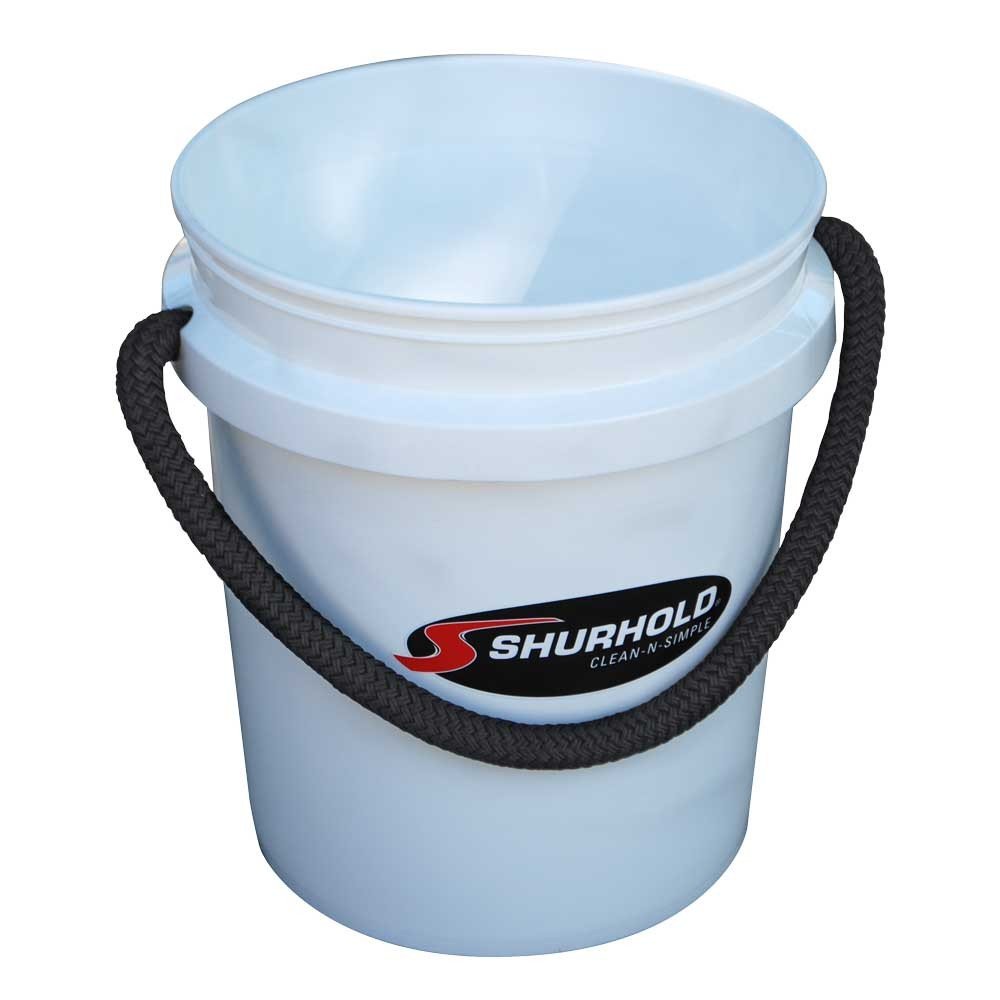 The Shurhold bucket has a tough construction and is made of HDPE plastic, which is the same plastic pretty much every 5-gallon bucket is made out of.
It has a reinforced upper ring which gives the bucket more strength and rigidity and means it won't bend when you're carrying it or when it is completely full.
The ring also doubles as a good place to carry the bucket with 2 hands if the bucket is too heavy to simply use the rope handle.
The bucket is also UV resistant which means it won't deteriorate quickly if left out in the sun. You should get years out of this bucket.
Comfortable Rope Handle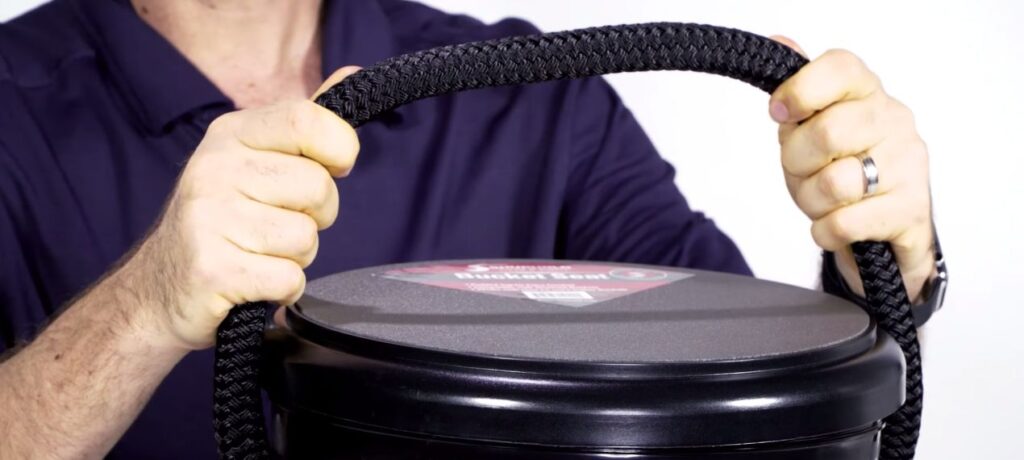 One of the biggest issues with many 5-gallon buckets is the metal handle. The thin metal is prone to breaking, usually by popping out of the side and the plastic grip is so small and thin that carrying a heavy bucket really hurts your hands.
Also over time the metal will rust, especially for people on boats out on the salt water.
The Shurhold bucket has replaced the metal and plastic handle with a thick and strong 3/4 inch nylon rope handle.
This rope handle will never rust and won't pop out or break like the metal handles do. It's also nice and thick so it is more comfortable on the hands when carrying a heavy bucket.
Bucket Seat Lid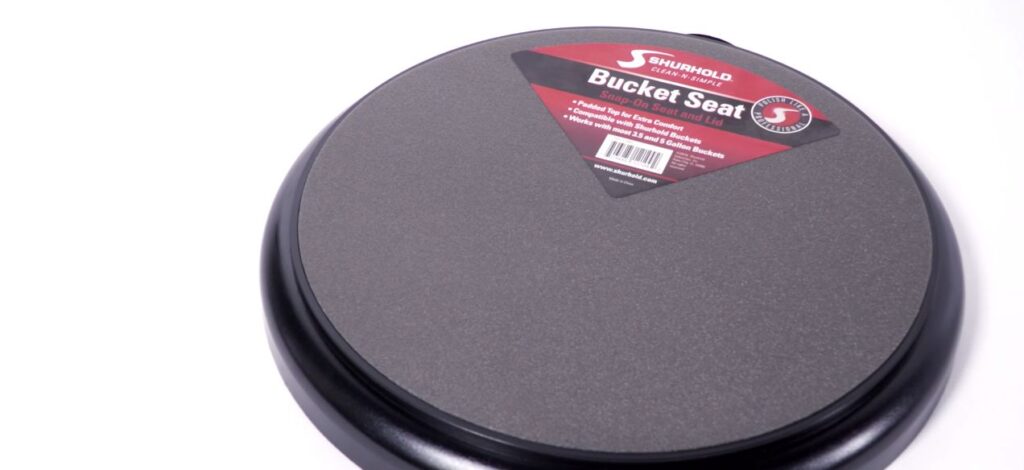 The Shurhold bucket seat lid snaps on nicely to the top of your bucket, stopping the contents of your bucket from spilling out onto the floor.
It's not completely waterproof or airtight so if your bucket is full of water it can still leak some water out of the top.
The lid also has a layer of foam on top which makes it a comfortable cushion for sitting on. It is built tough and is strong enough to either sit or stand on.
Non-Slip Bucket Base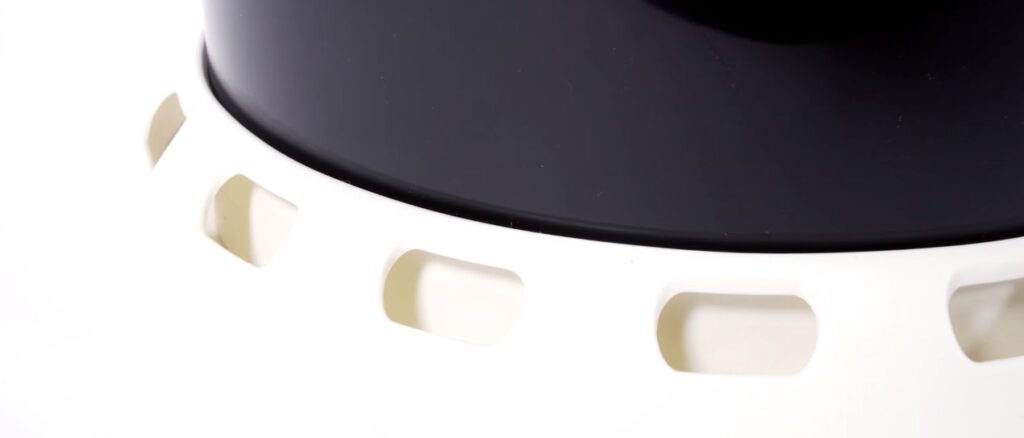 The bucket base is made of a soft pliable plastic that grips to any surface you place it on, wet or dry.
You can simply place your bucket into it or you can fit it onto the bottom of your bucket so it's always there.
This is a non-slip and non-marking plastic ring so you can comfortably place your bucket on the deck of your boat, back of your truck, nice floor or table and not worry about it moving anyway or scratching anything.
Perforated Organizing Caddy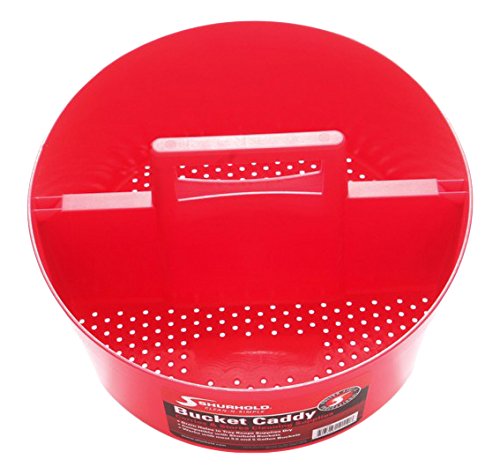 The red perforated caddy is great for organizing smaller items and being able to easily access them without having to dig for them.
The caddy is split into 2 compartments and both compartments have holes in the bottom so any water can drain and the caddy won't retain moisture, keeping your items dry and clean.
The Shurhold caddy slides into the bottom of the bucket so you can either put items underneath it or stack items on top of it.
I prefer the Yeti Caddy which is designed to stay at the top of the bucket, but this is a good affordable alternative.
Bucket Grate + Measuring Cups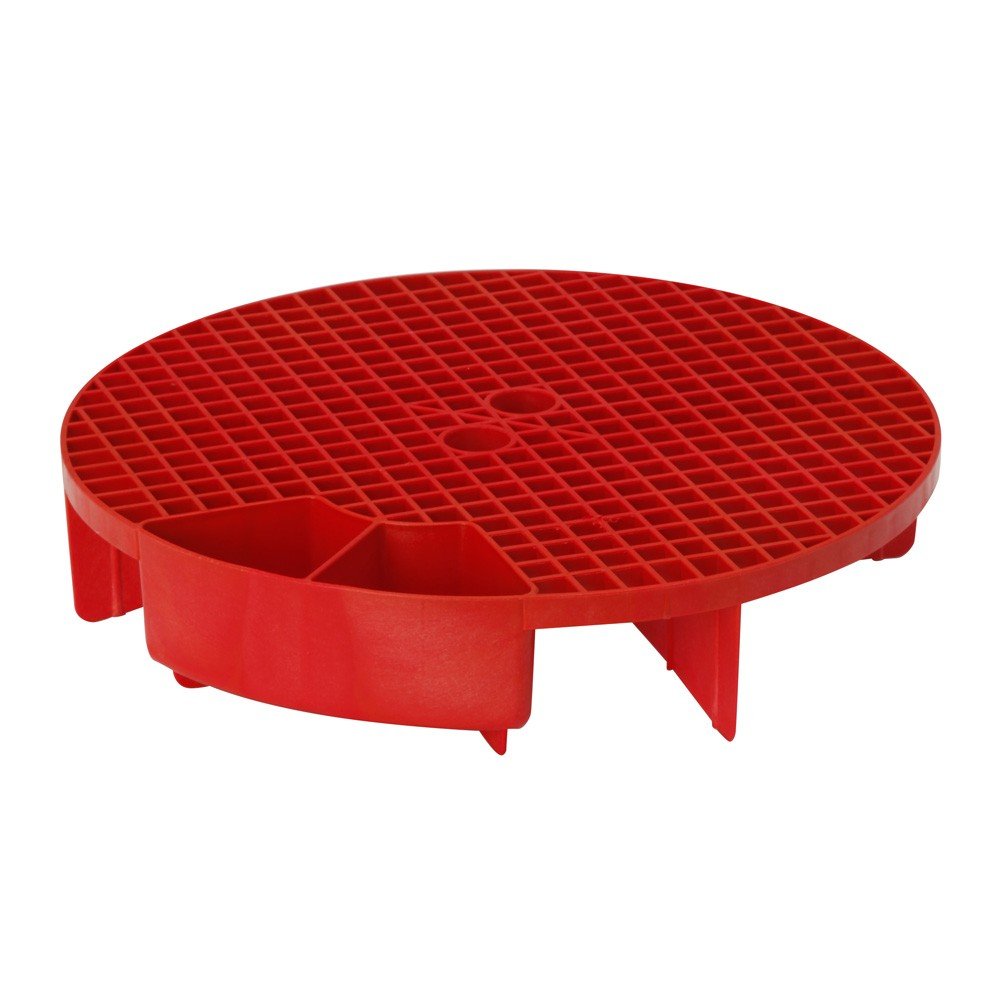 The bucket grate is a raised platform that is designed to go at the bottom of the bucket and keep your brushes or other items up out of the dirt.
So as you're washing your boat the dirt will naturally fall to the bottom of the bucket under the grate and your brushes will sit above it and stay clean.
It has channels underneath designed to direct water in a way that it won't splash up the sides of the bucket and it also has 2 built in measuring cups that you can use to make sure you're using the right amount of soap.
As Shurhold sells cleaning products for boats this is a good addition if you already use their products.
Accessories Can Be Used With Any 5-Gallon Bucket

One of the major benefits of buying a Shurhold bucket with it's accessories is that you can chop and change and use the accessories with other 3.5, 5 and 7 gallon buckets.
So if you already own a few buckets then maybe you'll use the dirt gate in one, the caddy in another and the seat on a third. Mix and match however you want.
Alternatives To The Shurhold Bucket
As you can see the Shurhold is a good affordable bucket with some cool accessories that make your bucket even more practical.
But maybe this bucket isn't exactly for you and you want something a little bit better. Well here are some alternatives to the Shurhold bucket.
Yeti LoadOut Bucket

In my humble opinion the Yeti LoadOut Bucket is the best 5-gallon bucket on the market.
It is 3x thicker than normal 5-gallon buckets and is virtually indestructible. It is strong enough that it can hold the weight of a truck!
It has a strong canvas handle that can hold up to 350 lbs and a thick plastic grip for comfortable carrying.
It has a non-slip base, is completely food safe and at around $40 it's a premium bucket, but it's won't break the bank.
The extra accessories (a lid, caddy and external utility belt) are all extremely high quality and make the Yeti LoadOut Bucket even more practical.
Click here to read my full Yeti LoadOut Bucket review
Yeti LoadOut Bucket:
Huck Bucket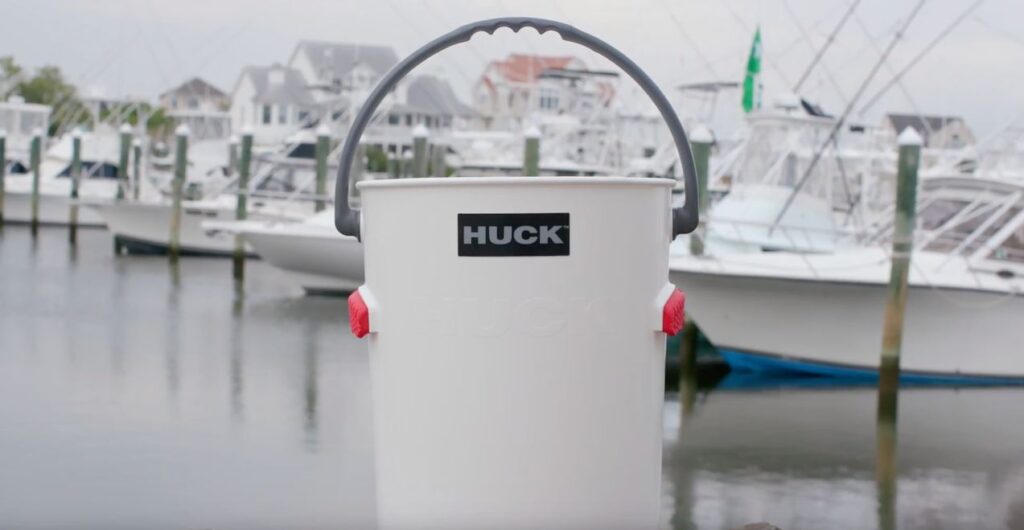 The Huck Bucket is as premium as you get in the bucketing world. At over $100 this bucket doesn't come cheap, but it is built to last anything and everything.
It's 2x thicker than a regular bucket but instead of being made with the stiff HDPE like the Yeti LoadOut and other buckets it's made with a performance polymer plastic called Sprytech. This plastic can flex and won't crack or break.
They even dropped it full of water from 2 stories high and it didn't break at all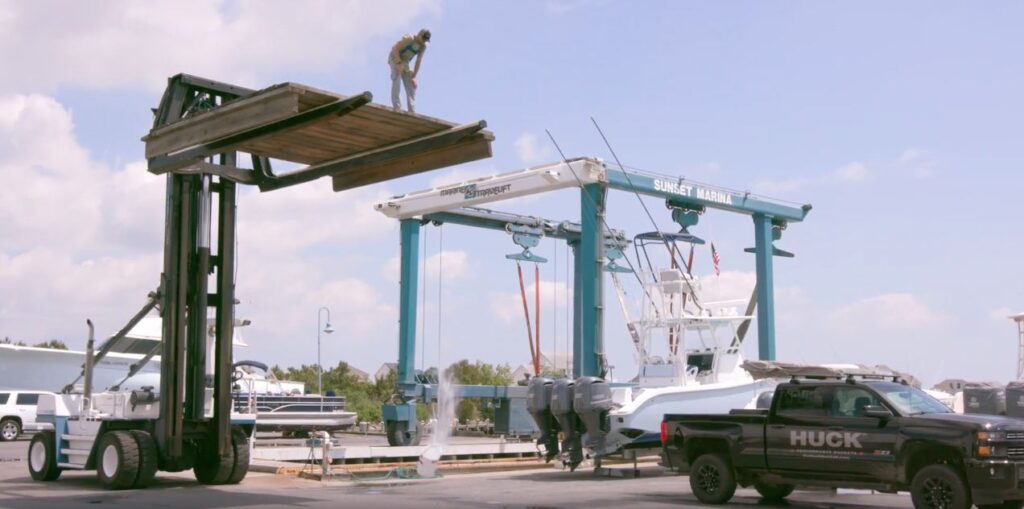 The handle is thick and super strong and can hold up to 600 lbs of weight without breaking.
It has non-slip feet with finger grooves which give you more control when scooping or pouring and it has 2 side handles for easy carrying.
One of the best things about the Huck Bucket is that it comes with a Lifetime Guarantee. If you aren't happy with it for any reason they will replace it or refund you.
Click here to read my full Huck Bucket Review
Huck Performance 5-Gallon Bucket:
Any Bucket With Accessories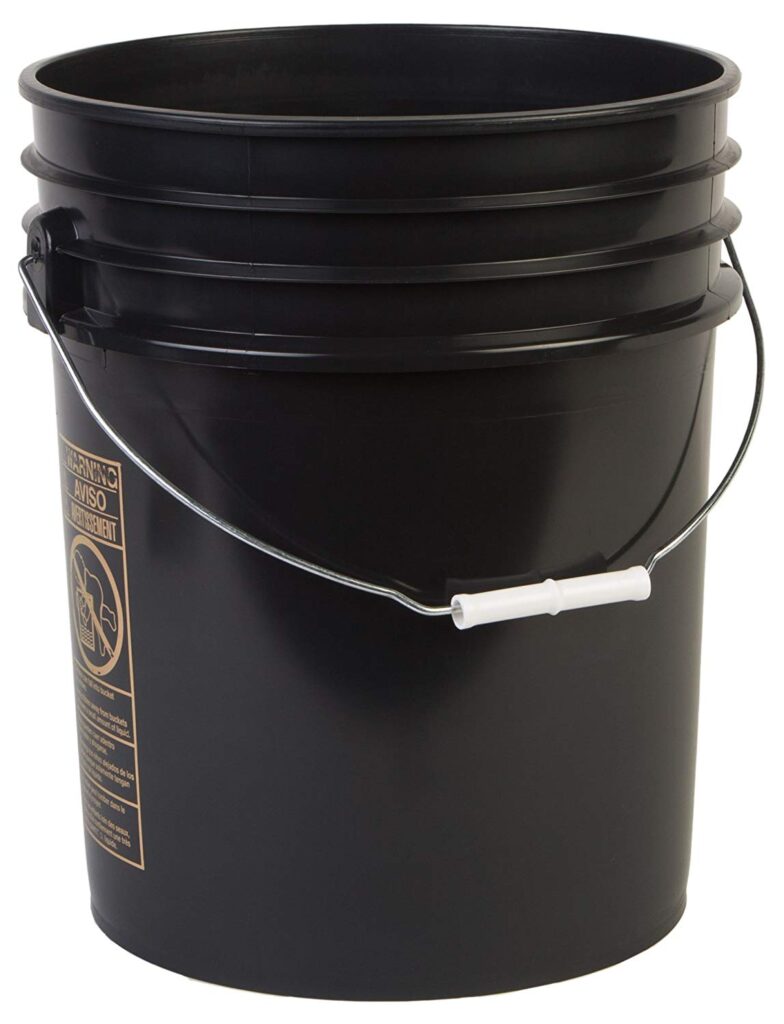 At the end of the day the Shurhold is just a pretty basic 5-gallon bucket with a rope handle instead of a metal handle. So you could just buy any regular 5-gallon bucket instead.
Shurhold also aren't the only company selling caddies, dirt traps, seat lids and other accessories.
In fact there are so many different accessories out there and some of them are super cool.
Click here to see a full list of 5-gallon bucket gadgets and accessories
See other 5-gallon buckets on Amazon
Where To Buy a Shurhold Deluxe Bucket
You can buy a Shurhold Deluxe bucket from a variety of fishing and boating specialty stores.
You can also buy them from Shurhold's website or you can buy them from Amazon and likely get free shipping depending on where you live.
Click the price links below to see the Shurhold Bucket at Amazon.
Shurhold Bucket:
Shurhold Bucket + All Accessories: