For me, there are very few things that can put a damper on a day spent hiking, but one annoying thing that comes to mind is ticks.
Ticks are nature's curse on hikers. These nasty parasites like to come out more during warmer months, during which they sit in tall grass or brush looking for a host to latch onto.
I use my time outdoors to relax, so naturally I don't like having to worry about coming home with a few of these pesky little guys attached to my back or neck. For this reason, I like to use a couple methods of repelling ticks while I'm hiking.
Touch wood, I haven't been bitten by a tick in years despite spending many of my weekends in the great outdoors in areas known to have ticks.
The easiest ways to repel ticks while hiking include:
Treating your clothing and gear with permethrin based products.
Using topical tick repellent that includes effective ingredients including DEET.
Wearing long clothes to deter ticks from getting to your skin.
Using natural oil solutions that are known to repel ticks (Lemon Eucalyptus)
Ticks are some of the most stubborn and seemingly inevitable creatures on the planet, but with the right precautions and products, they are avoidable.
I've heard plenty of natural remedies and "folklore" methods for at-home tick prevention, but nothing really works as effective as the tried and true methods covered below.
Repelling ticks and avoid them biting you in the first place is much better than having to pull them out of you or your pet after they have already latched on.
1. Treat Your Clothing and Gear with Permethrin
Permethrin will be your absolute best friend when it comes to keeping ticks away. You'll find this to be true for just about anyone who has had to deal with ticks in their life, and even the CDC recommends it. 
Permethrin is mainly available as a fabric spray that can be applied to your clothing and gear. It's long lasting, highly effective, and is widely known to be the most effective repellent in combating ticks.
Permethrin. That stuff is the best way and you treat your clothes instead of rubbing it on your skin. Get the biggest bottle you can find.

I stilll DEET my face and hands just to be extra sure but After 4 days out I was the only person with no bug bites So I can certainly attest to its efficacy.

Reddit: Gregoryv022
The only caveat with permethrin is that it's a moderately toxic pesticide, and as such is pretty much limited to being used on gear or clothing. 
It's safe once dry but when wet can be a neurotoxin to cats and can be extremely harmful and even deadly to them. So if you have pets you want to be ultra-careful with permethrin.
You'll want to make sure to let fabric dry for 2-4 hours after spraying, and keep it far away from any kids or pets (it can be HIGHLY lethal to cats).
Once it dries it's pretty much harmless to humans and pets, and I like that the one spray coat keeps me protected for multiple weeks.
Sawyer Permethrin Spray is a favorite as it lasts up to 6 weeks and comes with an easy-to-use spray nozzle, and you can click here see the latest price of a bottle on Amazon.
2. Use A Topical Tick Repellent (DEET)
DEET fills in where permethrin is lacking, in that it will do a great job of repelling ticks directly from your skin.
Diethyltoluamide, or DEET, is actually the most common ingredient in insect repellent, and it's safe to be applied topically.
It does however eat through synthetic materials, which makes it pretty much the opposite of permethrin (they work great as a pair).
OFF!'s DEET spray does a good of repelling ticks and it lasts up to 8 hours, which means you shouldn't have to reapply for a day of hiking. I like that it comes in an easy to carry bottle as well, as will take care of any other insects at the same time.
Just be sure to keep the stuff off of any gear or clothing, and make sure to always avoid your eyes, mouth, or inhaling DEET when applying.
3. Wear Long Clothes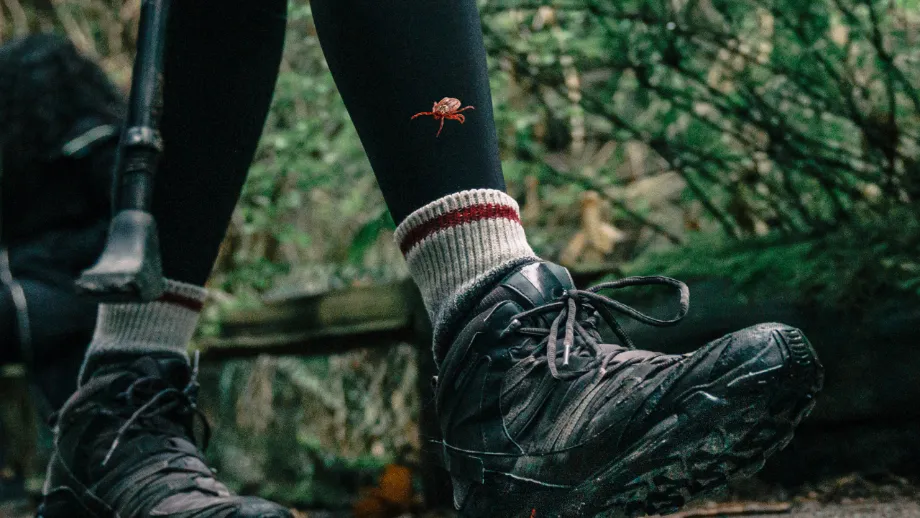 Although it doesn't literally repel ticks, wearing long sleeves is one of the most effective methods to keep ticks away from your skin while in the outdoors.
I hate hiking about in sweaty clothes as much as the next guy, but there's really not a more surefire way of keeping ticks off your skin than wearing a long sleeve shirt, and at the very least a long pair of pants.
If you want to be extra protected, tuck long socks over your pants to protect your ankles and legs. Ticks can only get onto your skin by crawling, so naturally you'll want your lower half to be the most protected.
Ticks might still get on you but they can't bite through clothing so this means they are much less likely to be able to attach to your skin and bite you. Treat that long clothing with permethrin and your remaining exposed skin with a DEET spray and you'll be extra protected.
Check yourself and your clothing regularly for ticks and remove any you find. Also give yourself a good check over before getting back in your car after a hike. Otherwise you can end up with ticks in your car.
4. Use a Natural Oil Repellent
I'm a bit wary of natural solutions, as there isn't as much evidence to back that they're strong enough to repel persistence of these stubborn crawlers, but one natural oil that the CDC does recommend is the oil of lemon eucalyptus.
Lemon eucalyptus oil is a natural deterrent to ticks, and it can provide protection for several hours while you're hiking.
There isn't much research to support it's effectiveness, but if you're looking to avoid chemicals like DEET or permethrin, it can be tried as a substitute. I wouldn't however recommend it as your main line of defense against ticks.
See the latest price of Murphy's Naturals Lemon Eucalyptus Oil Insect Repellent Spray on Amazon.
There are also natural products such as Cedarwood oil that work very well to prevent ticks while being completely safe for pets and kids.
These products use natural deterrents and no dangerous chemicals.