Yeti coolers are some of the best coolers out there. They are built super tough, last for years and can keep ice for 5+ days and sometimes even over a week.
But I know it can be hard to decide whether or not it's worth investing your money into a Yeti cooler. They are great, but they aren't cheap. See the latest price for Yeti coolers at Amazon.
There are a lot of reasons not to buy a Yeti cooler but there are also a bunch of reasons you should buy a Yeti cooler and it will be worth investing your money into.
Some of these reasons are practical, like it keep ice for a long time thus being more convenient and saving you money in ice, and others just make you feel good. Some of these reasons may resonate with you and some may not.
It's up to you whether or not you think a Yeti cooler is right for you, but her are 11 reasons you SHOULD buy a Yeti cooler.
1. They Can Keep Ice For Over a Week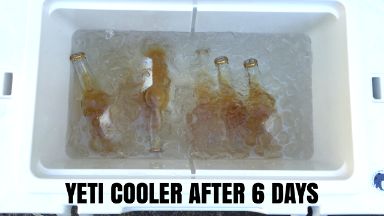 Traditional coolers, you know the cheap ones you get from hardware store, are lucky if they keep ice a full day or two. If you're on a long trip then you are constantly topping up ice and your food often becomes warm and gets ruined.
One of the major benefits of Yeti coolers is that they can keep ice for days. My Yeti ice test challenge showed that these coolers can keep ice for 10+ days. However, that was great conditions and the cooler was 100% full of ice.
Regular use (I live in a Campervan with my Yeti) showed that Yeti coolers can keep ice for 3-5 days easily when using them normally.
One of the benefits of this is that you have less ice you need to buy. This is a small saving but over time it adds up and the larger your cooler the more ice (and thus money) you are saving.
I didn't live in the van long enough to save enough ice to offset the cost of the Yeti, but it was good to know that over time I am saving money.
But the real benefit of it keeping ice so long is how convenient it is.
You rarely have to think of buying ice, and it not only keeps the ice cold for days but I find the contents in my cooler stayed colder too when compared to a cheaper cool.
This means my milk, meat, eggs and other perishable goods are less likely to go warm and then go bad.
2. They Are Built Insanely Tough
Yeti coolers are roto-molded and built insanely tough. They have a thick outer and inner wall of plastic, using the same materials they build kayaks out of, and the interior of the cooler is filled with hard-set foam which adds to it's strength.
A single stainless steel pin hinge adds to it's strength and the lid is just as thick and strong as the rest of the cooler.
I've seen people throw these coolers, drop them out of moving cars, run a car over them and even have them attacked by bears and the cooler continues to hold up.
With regular coolers you need to be careful with they so they don't break and if you drop them (especially if they are full) then they are likely to crack, leak and become useless.
It's great knowing that my Yeti is basically unbreakable and I can use and abuse it without worrying whether or not I am going to crack it.
3. They Are Bear Proof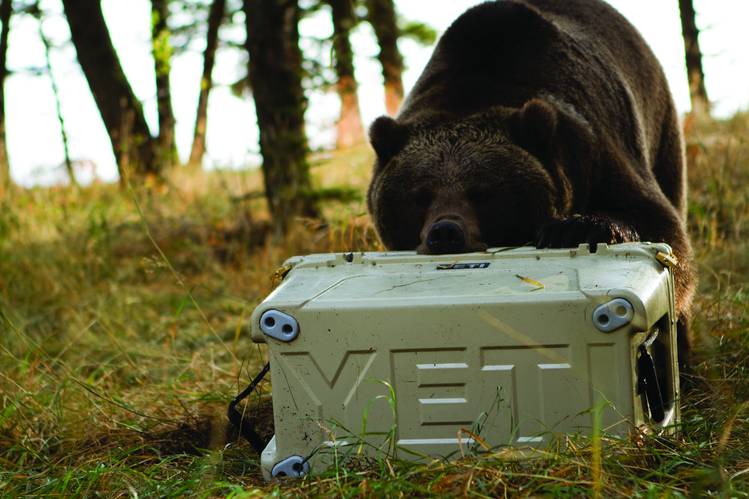 Yeti coolers are so tough that they are completely bear proof when locked.
By padlocking the front two corners of the cooler bears can try all they want and not get into the cooler.
They can't break open the lid, they can't break the hinge and they can't chew or claw their way through the plastic. The coolers are just too tough.
So if you're going to be out in bear country and you want a cooler that a bear isn't going to be able to open then Yeti's are a great option.
Learn more about how Yeti's are certified bear proof.
4. They Are a Lifestyle Brand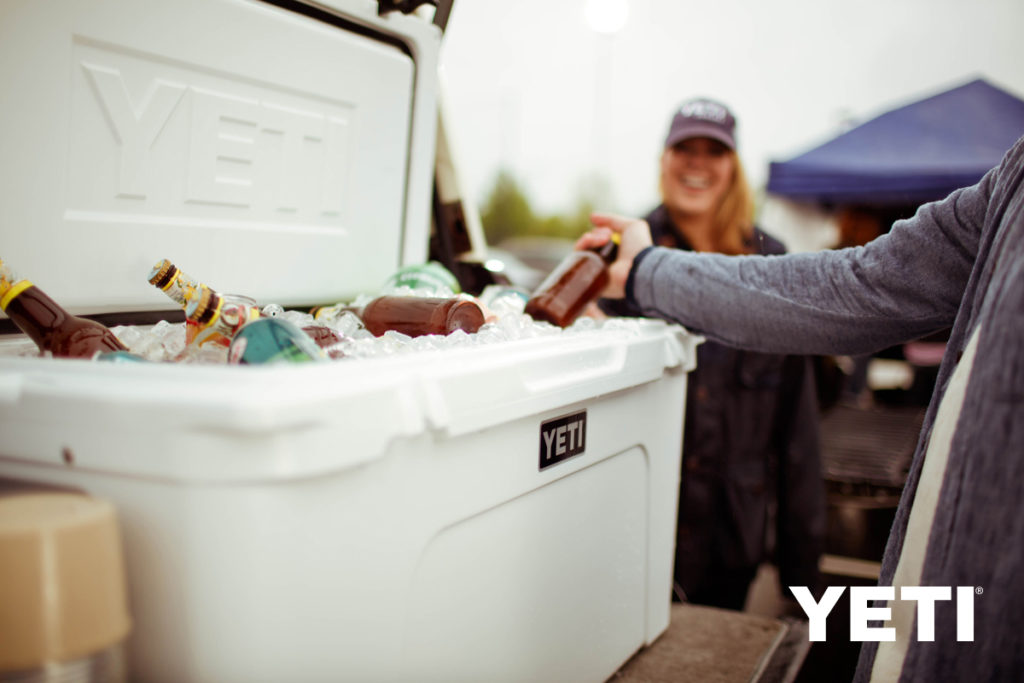 Since Yeti pioneered the high-end cooler market in 2006 there have been a lot of copycat products come along.
A lot of these brands make good coolers and some even perform better than Yeti coolers – like the Kong cooler.
But what none of these coolers have been able to replicate is the lifestyle brand that is Yeti.
Yeti isn't just a cooler company, it's a brand for outdoor enthusiasts worldwide.
While other companies market "quart sizes" and "holding ice an extra day" or "being cheaper" Yeti is out there marketing their brand with ambassador deals and amazing videos inspiring people to get out in the great outdoors.
It kind of reminds me of a brand like Nike. They encourage people to do something – for Nike it's exercise and for Yeti it's outdoor adventuring – and if you're going to be doing it you may as well have the best products.
I love the Yeti brand and owning a Yeti is something you can be proud of and something you can aspire to.
5. Waterproof and Airtight (Almost)
Yeti coolers have a freezer grade rubber gasket around the lid as well as pull down rubber latches that holds the lid tight to the body of the cooler.
This creates an almost airtight and waterproof seal keeping the cold air in the cooler and the warm air out adding to the ice retention of the cooler.
It also means that if the cooler is to fall over or if it has water in it and you're driving around it's less likely to spill water everywhere.
6. They Have a 5-Year Warranty and Good Customer Service

All hard sided Yeti's come backed with a 5-Year warranty so if anything is wrong with the cooler you can get it fixed.
The warranty only covers manufacturing defects like warping and breaking and doesn't cover breakages to the cooler by accidents or general wear and tear.
Customer's have reported that Yeti customer service is pretty good, organising coolers to be fixed or to be replaced when broken or sending out replacement parts free of charge.
It's not the best warranty in the industry as there are a whole bunch of coolers with lifetime warranties but 5 years is still a good time and your Yeti is likely to last much longer than that.
7. Thousands Of Customers Have Left Positive Reviews

If you look on Amazon you will find thousands of positive reviews of the Yeti cooler from customers who have bought the product and loved it.
Sure there are some negative reviews of ice melting too quickly (generally there is a reason why your ice is melting quickly in your Yeti and it can be fixed) or other issues but the overwhelming majority is largely positive and Yeti coolers are often rated 4.4 stars or higher.
See more Yeti customer reviews at Amazon
8. The Colors and Finish Is Awesome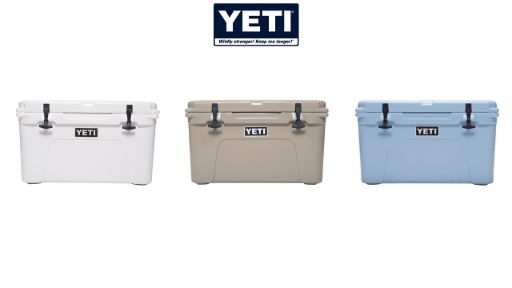 This is something that is really hard to explain in an article or even show in video but the coolers and the finish of the Yeti just feels more premium compared to other coolers.
I have purchased multiple coolers to review and looked at everything from the Yeti to the Pelican to the Engel to the cheap (but surprisingly good) Coleman Xtreme.
No cooler I have seen to date looks quite as nice as the Yeti.
The white on the Yeti felt like a more premium white and the body of the cooler had little to no errors or rough spots, it was just smooth and well crafted.
Other cheaper coolers have been see to have rough spots where the roto-molding didn't go exactly right and this makes them look a bit cheap. But you rarely if ever see that on a Yeti cooler.
9. The Non-Slip Feet Work Great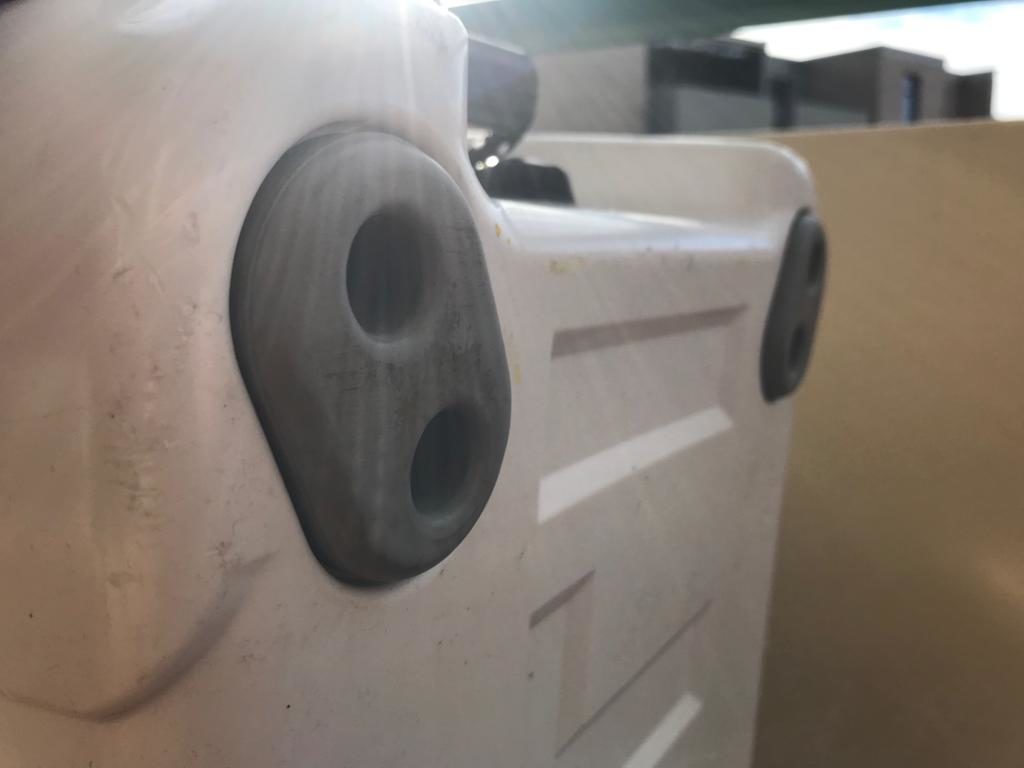 The rubber non-slip feet on the bottom of the Yeti actually work way better than I expected and this is great for a number of reasons.
Firstly when travelling the Yeti is unlikely to move around in your car/truck/van. I personally had it in the back of my Campervan and I didn't even have to strap the cooler down the non-slip feet worked so well.
Secondly it is great for stability. I personally use the Yeti for a step into my van and my kids also love climbing on it and jumping off it etc. The non-slip feet mean that even when empty the cooler isn't going to slide out from under them.
Also the feet are non-marketing rubber so you don't need to worry about it marking the floor at all.
10. More Sizes Than Any Other Brand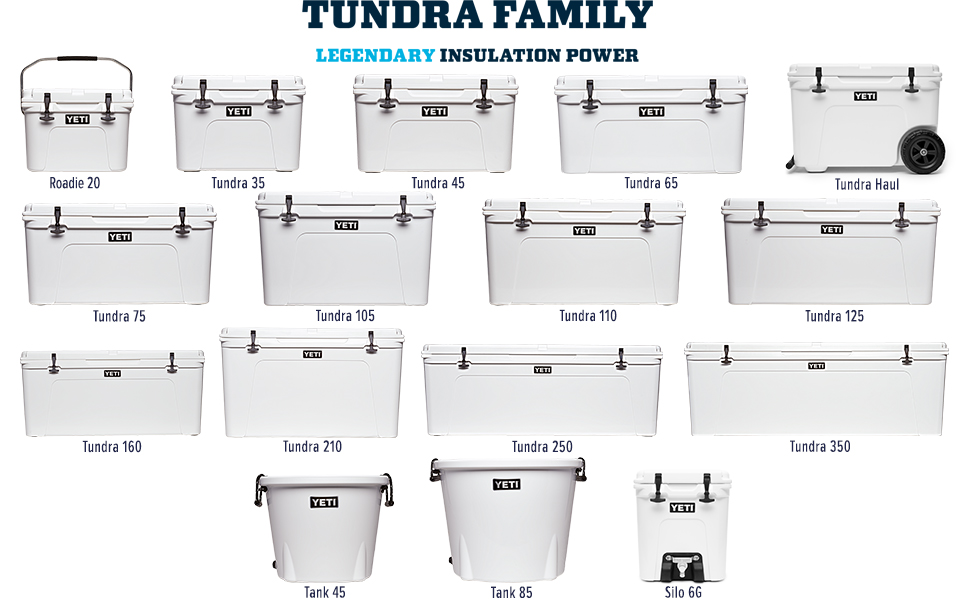 Yeti have more sizes available than any other brand of cooler out there. There are 12 primary sizes of Yeti coolers plus then you have the Yeti Haul, which has wheels, as well as other soft sided coolers, lunch bags and even a drink dispenser.
Yeti soft sided coolers start at around 8 Quart with the Yeti Hopper Flip 8 and go up to a 30+ Quart capacity and the hard sided coolers start at around 20-Quart and go all the way up to 316-Quart.
So whatever size cooler you need you can likely find it in the Yeti range.
See all Yeti cooler sizes at Amazon
11. It Could Last You a Lifetime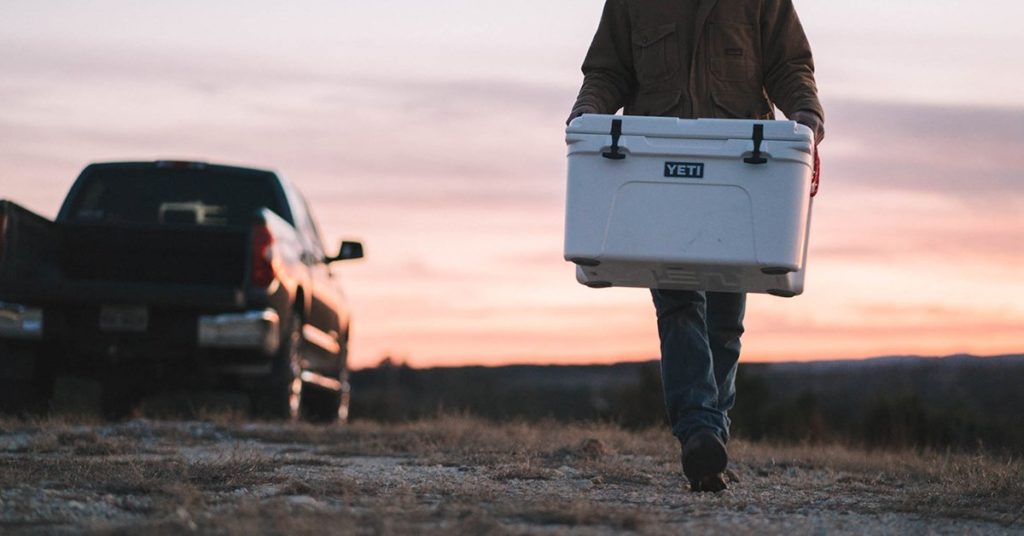 This is one of the main reasons you should buy a Yeti. They coolers are made so well that it'll likely be the last cooler you ever need to buy.
My Yeti is now 3-4 years old and it's still in amazing condition. Apart from some scratches and marks from wear and tear and camping and kids it's in a similar condition to when I bought it.
I full expect that in 10-20 years this cooler will still be in great condition and will still be keeping ice for days.
In fact the only reason you'll likely buy another cooler is that you want a different size.
I would love a Yeti Roadie for day trips in the car and well as a Yeti BackFlip 24 for treks in the national park and going to the beach.
Should You Buy a Yeti Cooler?
So should you buy a Yeti cooler?
Ultimately it is up to you whether you think a Yeti cooler is worth the money and if you're going to get enough use out of it to justify the purchase.
I love my Yeti and highly recommend it but there are also a lot of great coolers out there that are like Yeti but cheaper.
If you can afford it then I recommend buying a Yeti cooler as you are highly unlikely to regret it. I love my Yeti and it's still one of my favorite coolers out there because it looks great, works well and has the lifestyle brand that inspires me and makes me feel great about my purchase.