Grizzly coolers are made in America, come with a lifetime warranty, and have been in business for years. They were one of the first American made competitors to Yeti.
It's easy to see why they're so popular amongst outdoor enthusiasts, but Grizzly coolers aren't perfect (no cooler is) and they do have some of their own problems.
The main problems with Grizzly coolers include that they are heavy, expensive, and exclusively sold in the USA. Grizzly coolers do not have a wheeled version and come with few accessories. Plus, there are other coolers that offer similar features but much better ice retention.
Don't rush out and buy a grizzly cooler just yet. I'm not here to say Grizzly coolers are bad (they aren't – they are actually really good) but I think it's important to be aware of any downsides or issues a cooler has before you go out and spend your hard earned money.
Here are 10 problems with Grizzly coolers you should know about before placing your order.
1. Ice Retention Is Good But Not Nearly The Best
When considering one of the high end coolers on the market superior ice retention is something you want to look out for.
Usually you pay extra for the coolers for their durability but also for their ability to keep ice for a REALLY LONG TIME.
Grizzly coolers do keep ice for a very long time and can easily keep ice for 3-5 days at a time, it's just there are other coolers out there that keep ice longer.
Even Yeti coolers (who most brands compete against and try to be better than) seem to perform better in ice test challenges when compared to the Grizzly and Yeti are no longer the best coolers for ice retention.
On the list of the best coolers for holding ice the longest Yeti comes in around #10 on the list. So there are just a lot of new and better options out there now.
Grizlly is pretty comparable to Lifetime Coolers, which retain ice for 5-7 days but are a fraction of the cost. And our top-ranked coolers, like Kong Coolers, can keep ice for 6-10 days at a time – which is a significant performance increase.
2. They Are Expensive
Grizzly coolers are similar in price to Yeti coolers but, unfortunately, don't have the same brand recognition or quality of construction. This makes them one of the more expensive coolers on the market today.
While Grizzly coolers are well-made, they lack some of the finesse of brands like Kong and Yeti while still charging a similar price.
If you want to be sure that your cooler is made in the USA, there are other brands. You can see the full list of the best USA made coolers.
For example, Lifetime coolers are certified bear-resistant and have up to 8 days of ice retention. Their 65-quart cooler is over $100 cheaper than the comparably sized Grizzly 60-quart.
3. It's Heavy
While we appreciate durable construction in our coolers, Grizzly coolers are heavier than other coolers of comparable sizes.
I remember Pelican coolers used to have this problem until they changed their design a few years ago and made their coolers lighter. My guess is it comes down to the type of insulation they use in their coolers. Maybe Grizzly uses a slightly heavier insulating foam I'm not sure.
Let's compare some hard-sided cooler weights:
| Cooler Size | 20 quarts | 40 quarts | 60 quarts | 75 quarts |
| --- | --- | --- | --- | --- |
| Grizzly | 16 lbs | 24 lbs | 30 lbs | 34 lbs |
| Kong | 15 lbs | n/a | n/a | 70 qt, 38 lbs |
| Yeti | 24 qt, 12.8 lbs | 45 qt, 23 lbs | 65 qt, 29 lbs | 34 lbs |
| Lifetime | n/a | 48 qt, 20.8 lbs | 65 qt, 25.5 lbs | 77 qt, 29.95 lbs |
| RTIC | 19 lbs | 45 qt, 29 lbs | 65 qt, 36 lbs | n/a |
Both Yeti and Lifetime have lighter coolers for the size, and even Kong has a more lightweight, smaller cooler.
If you're worried about the weight of your cooler before you've put anything inside, it may be worth checking out some of the lighter options.
4. Returns Are Very Expensive If You Have Issues
Because of the weight of the Grizzly coolers, it can be costly to return them. People who have purchased Grizzly coolers through Amazon have found that the non-refundable shipping cost can be up to 25% of the cooler itself.
Grizzly's return policy also requires you to return your cooler within 15 days for a full refund or up to 30 days for store credit. Unfortunately, both original and returning shipping costs are non-refundable.
It's important to note that the 15-day window of returns starts from the ship date, not when you receive the cooler. So if you have any delays or issues with receiving the cooler, you may not be able to return it within the window to receive a full refund.
5. No Wheeled Version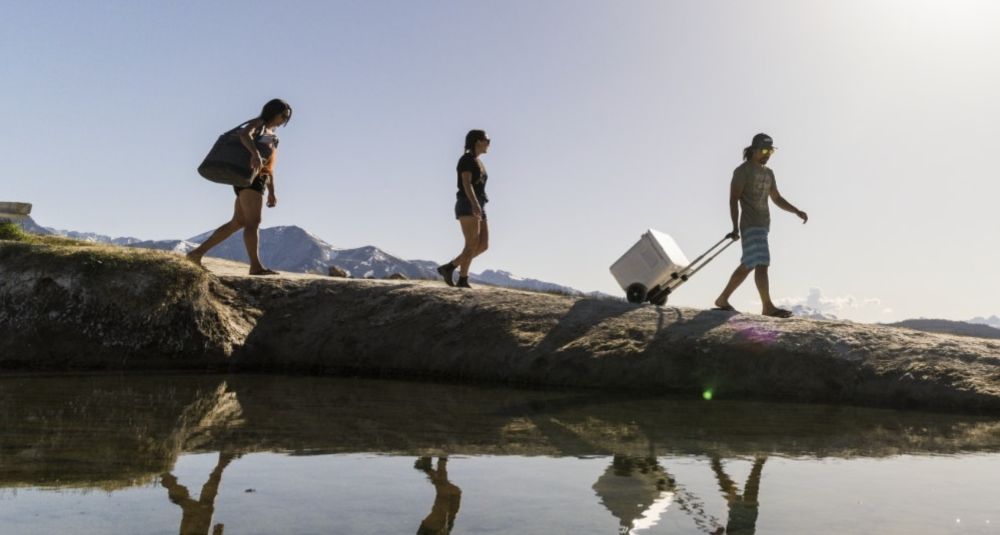 Most coolers have wheeled versions available these days, especially for larger sizes.
Yeti offers their Roadie coolers in both 48- and 60-quart wheeled versions, while Lifetime has 55- and 65-quart wheeled options.
When you consider that Grizzly's bigger coolers can weigh 30 to 35 pounds empty and much more than that when full, not offering a wheeled version limits the usefulness and portability of the cooler.
6. Only Sold In The USA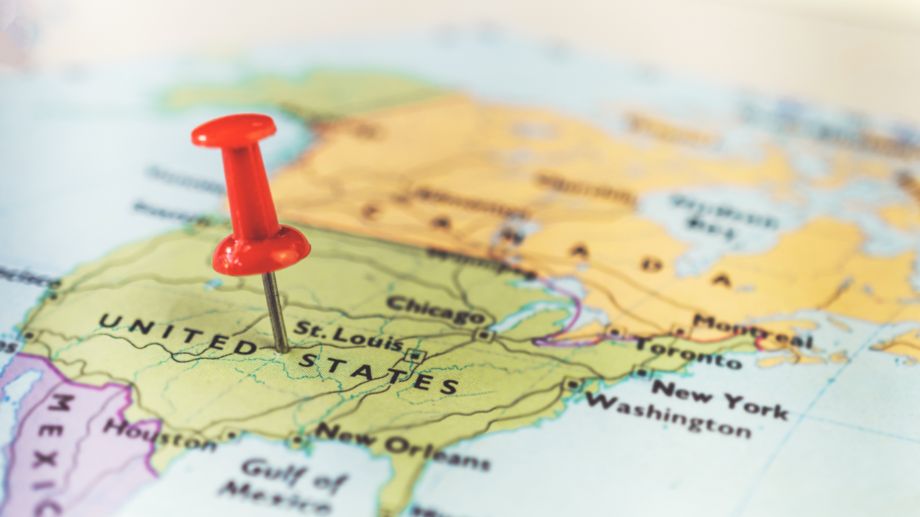 While Grizzly has recently dipped its toes into international shipping, and you can purchase Grizzly coolers on Amazon, their shipping and marketing are focused on the United States. They offer free and flat-rate shipping within the US.
However, if you ship to Alaska, Hawaii, or internationally, you're not eligible for free or flat-rate shipping. If you need to pay LTL truck freight costs, you could be paying up to a quarter of the cooler's price!
See the latest price of Grizzly Coolers at Amazon
7. Not As Good As A Yeti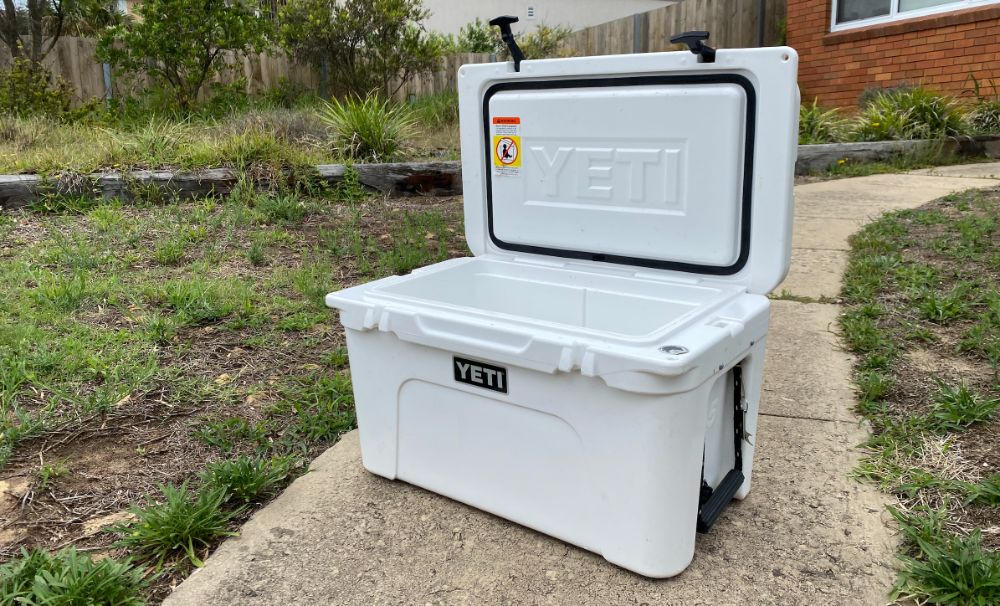 Grizzly coolers are comparatively priced to Yeti coolers, but do the features stack up?
In terms of warranties, Grizzly coolers have a far superior warranty.
Grizzly offers a limited lifetime warranty that covers most manufacturer defects, including seal and gasket problems. This does make them one of the best coolers with a lifetime warranty.
In comparison, Yeti only offers a 5-year warranty. However, Yeti customers have reported that Yeti is very generous when it comes to repairing and replacing their coolers. My Yeti cooler is now going on 6-7 years and has surpassed it's warranty period so I really hope this is true.
While both coolers are roto-molded, the Yeti cooler has a smoother design that's easier to clean. The handles are also molded and don't stick out from the sides, which can help you save space when packing your cooler.
In essence, the Yeti cooler outperformed in construction and ice retention for a reasonably comparable price.
If being made in the USA is a deal-breaker for you, Grizzly might be the way to go. But if you don't mind your cooler potentially being made in the Philippines, then Yeti may be a better bang for your buck.
8. Kenai Coolers Are Made By The Same Company But Are Cheaper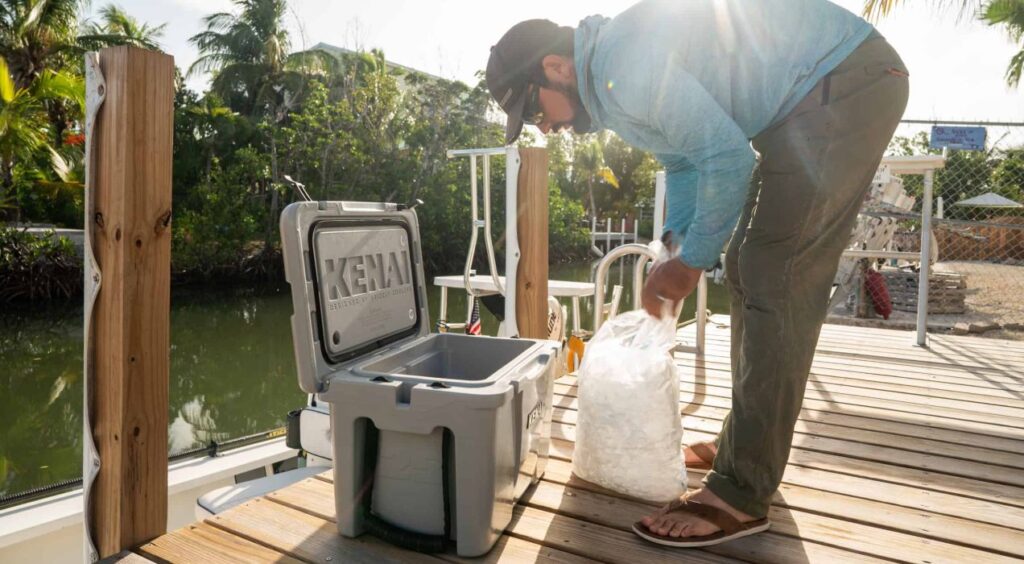 Grizzly is very proud to be entirely made in the USA and understands that their coolers can be pricier. However, they decided to challenge other high-quality coolers by releasing the Kenai cooler!
Kenai coolers are also roto-molded and well-insulated. And though they're not bear-proof, they have excellent ice retention!
Retention tests filled the 45-quart cooler with ice cubes and an ice block and left it in 90-degree weather. 5 days later, there was still a bit of ice left. If the cooler had been kept in the shade, it likely would have lasted a whole week.
The Kenai 45-quart cooler is currently over $100 cheaper than the Grizzly 40. When considering the Grizzly cooler you have to ask yourself – why not buy a Kenai cooler instead? It's made by the same company and is nearly as good but offers a decent cost saving.
If you're on a budget then the Kenai might be a good option if you're not worried about bears!
See the latest price of Kenai Coolers at Amazon
9. Very Few Cooler Accessories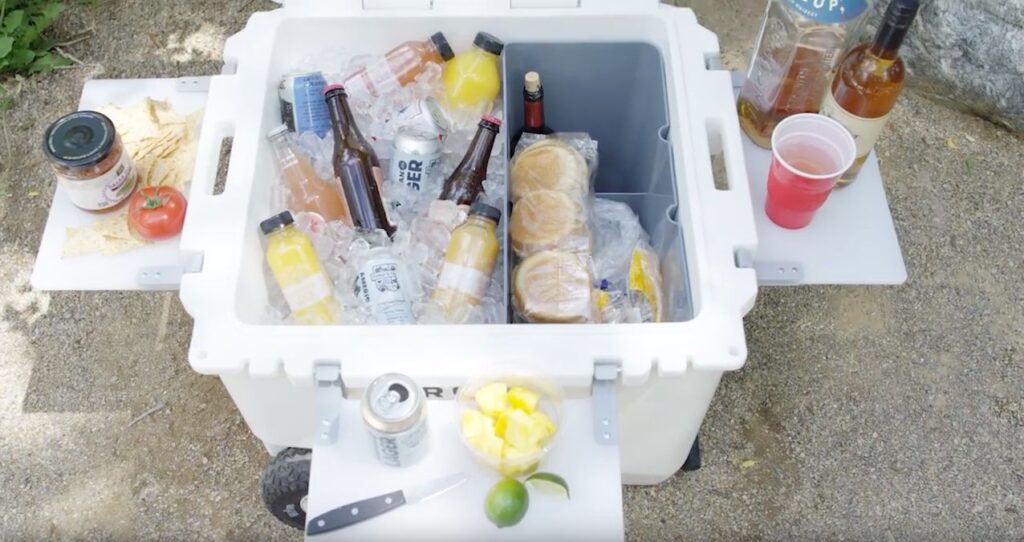 While Grizzly coolers have expanded its accessory offerings recently, they still offer fewer accessories than comparable brands like RTIC and Yeti.
Yeti, for example, offers almost 60 different accessories for their various coolers plus there is a wide list of aftermarket Yeti products that allow you to hack your cooler and make it even better.
Grizzly, by comparison, only offers 15 accessories.
And while they provide an Ice Divider that works like an ice pack, it's comparatively expensive and relatively bulky, making it less versatile than Yeti's coolers. See my list of the best ice packs for coolers.
When it comes to accessories I would have to say the RovR cooler seems to have the most accessories and functionality. Read my RovR vs Yeti comparison and see all the functionality the RovR has built into it.
10. You Need to Pre-Chill Your Grizzly Cooler For It To Work Properly
We've talked about the importance of pre-chilling coolers before. Many coolers need to be pre-chilled to offer maximum ice retention.
However, because Grizzly coolers are already less effective at ice retention than other similar coolers on the market, it's necessary – not just recommended – to pre-chill your Grizzly cooler for at least 24 hours before filling it. Click here to learn how to pre-chill a cooler.
When comparing the Grizzly cooler ice retention of 5 days to Yeti's 7-10 days, you have to wonder if it's worth it!
Are These Problems Deal Breakers?
Grizzly coolers are popular for a reason. None of these issues are deal breakers when it comes to purchasing a Grizzly cooler.
For example, Grizzly coolers are made fully in the USA, which is a massive deal to some people. And while other coolers offer similar features, Grizzly also provides a lifetime warranty.
The Grizzly has many similar features to other coolers and is priced similarly to the Yeti cooler. And while I might recommend some other coolers over the Grizzly, the Grizzly is still a great option!
Coolers Similar to Grizzly
Several coolers are similar to Grizzly in size and quality, though they may differ in price.
If you want to see what else is out there compared to Grizzly here are a couple of good options:
Kenai Coolers
As we discussed earlier in the article, Kenai coolers are made by the same company as Grizzly coolers and offer many similar features. While they aren't bear-proof, they're made with the same high-quality construction as Grizzly coolers.
They also have a lifetime warranty and are priced at factory-direct prices. And of course, much like Grizzly coolers, they're coolers made in the USA. So if you're looking for a cooler with many similar features while costing substantially less, Kenai coolers may be a great option!
See the latest price of Kenai Coolers at Amazon
Orca Coolers
Honestly, I can't say enough about the Orca coolers – they are hands down one of the best coolers on the market in terms of quality, performance, appearance and warranty. It's hard to fault them.
Orca coolers are also made in the USA, like Grizzly coolers! They also have a lifetime warranty like Grizzly coolers do. Orca coolers are also consistently ranked as some of the best coolers available.
Orca coolers are bear-proof and look great as well. However, some people have complained that Orca's customer service is hard to get a hold of. Sometimes it's a challenge to get them to honor their warranty or get repairs depending on where you purchased the cooler.
See the latest price of Orca Coolers at OrcaCoolers.com
(or compare to the latest price of Orca Coolers at Amazon)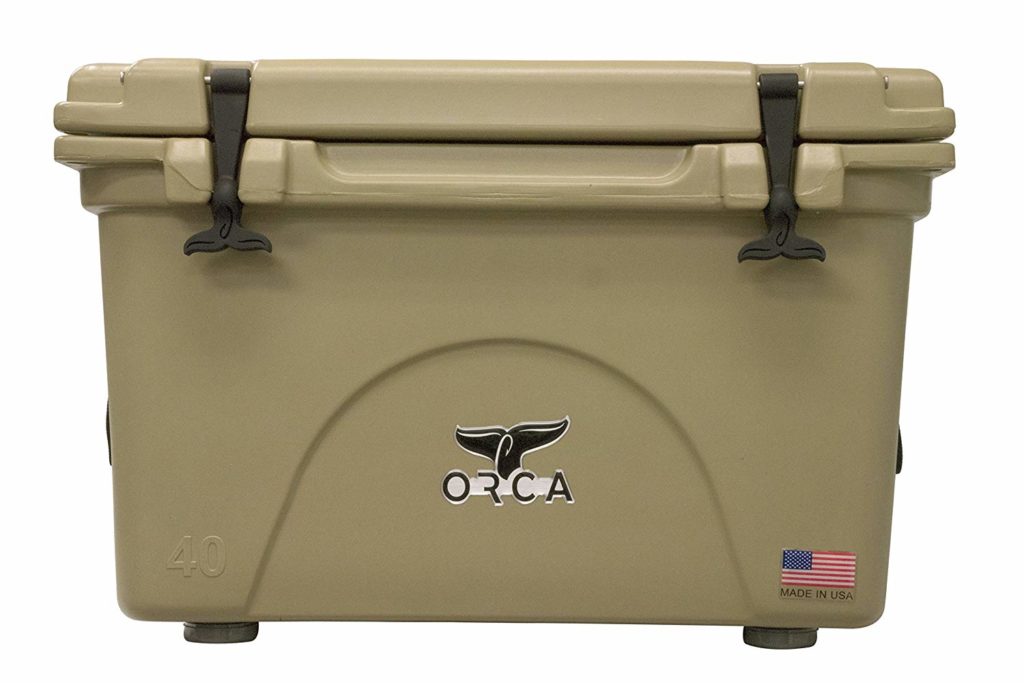 Summary
Although there are many benefits to having a Grizzly, there are also several problems with grizzly coolers, such as:
Expensive
Too Heavy
No Wheeled Version
Few Accessories
Only Sold in the USA
Not the Best Ice Retention
Must Pre-Chill Cooler