Driveways that turn into ice rinks could be great fun, but more often than not they are dangerous for both people and vehicles and you're left with the painful task of de-icing and cleaning up your driveway.
Using preventive measures can help prevent the ice from forming in the first place and can keep your driveway safe to use throughout the winter. But how do you prevent ice on your driveway?
You can prevent ice from forming on driveways by applying an ice melt on top of your driveway before a snow storm. Alternatively covering your driveway with a tarp, installing a driveway heating system or using driveway heated snow mats can melt snow on your driveway and stop ice from forming.
Preventing ice from forming on the driveway can sometimes be easier than trying to remove stubborn ice from a driveway after it's already formed. Stopping the ice from forming in the first place also means the driveway will remain safe to drive and walk on at all times and you reduce the risk of slips.
There are a few proven methods to stop ice from forming on your driveway. You can try any one of these or for best results try a combination of these methods in unison.
1. Rock Salt and Other Ice Melts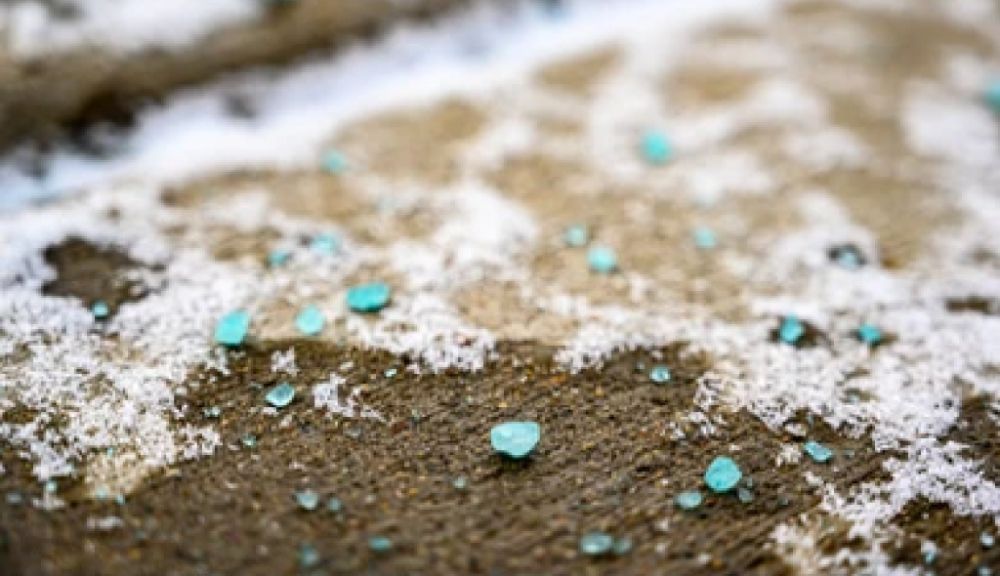 This is the most commonly used method of preventing ice from forming on driveways because it is cheap and easy to use.
Unfortunately, it also happens to be one of the dangerous methods because of the harsh chemicals that it contains. All forms of salt ice melt have the potential to cause damage to concrete and the more you use the more damage that is likely to occur.
Also, salt ice melts can be harmful to animals and plants.
Salt ice melts are better used after snow as applying before snow can be ineffective if temperatures drop too low, winds blow the ice melt away or heavy snow fall dilutes the ice melt too much.
Despite all this, rock salt is commonly used on roads, driveways and paths to prevent ice from forming or to make the ice easier to remove. The best part is using rock salt is very easy. Simply sprinkle the surface of your driveway before it begins to snow.
A wet ice melt solution can spread more evenly and is less likely to be blown away by wind.
2. Salt-Free Deicer
If you'd rather not use salt on your driveway then a salt-free deicer can an excellent alternative as it is safe for the environment and is effective at preventing snow (as long as temperatures don't drop too much).
Salt-free deicers like Safepaw (available at Amazon) are made up of glycol instead of salt, so they are non-toxic, biodegradable, safe for animals to walk on and shouldn't damage your plants with their runoff.
While they claim to be safe for driveways I would still be careful using this product on concrete driveways. Even if the chemicals used don't deteriorate concrete (and I'm not sure if they do) then the exacerbation of the freeze/thaw cycle could still lead to concrete damage.
3. Liquid Deicer
Unlike your most common deicers that are sprinkled onto the surface, Potassium Formate deciers come in a liquid form.
The liquid is super safe for plants and animals and can provide a more even and effective spread when compared to dry salt granules.
The liquid is sprayed and spread on the driveway, where it creates a layer of freeze-resistant brine that covers the surface of the driveway.
4. Shovel Regularly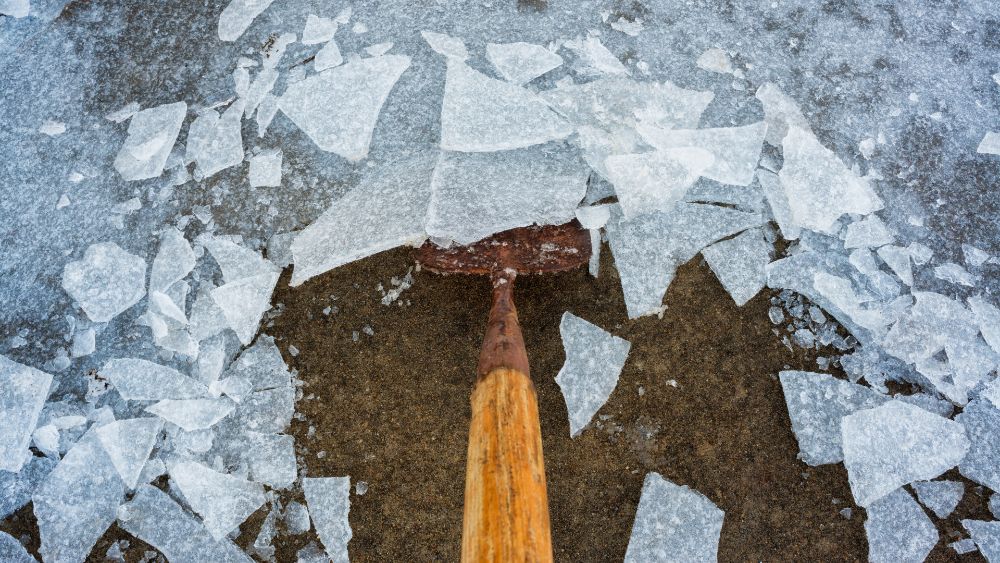 On top of using deicers before the snow arrives, a great way of preventing ice from forming is to shovel the snow regularly.
I know that sometimes the last thing you want to do on a cold day is shovel snow, but the best way to prevent ice from forming is to get rid of an accumulation of snow on the driveway.
Ideally, you want to shovel the snow as soon as it has hit the ground.
Aside from the trusty shovel, machines can now help you shovel snow more efficiently or can be used to more easily prevent the buildup of snow and thus stop ice from ever having a chance to form on your driveway in the first place.
Below are some machines that I recommend you try.
Cordless snowblower
This nifty machine can clear up to 6-inch deep snow, and the battery lasts around 30 minutes. If you have a small driveway and a medium amount of snow, then this machine will do the job nicely and save the back work that is required when using a manual shovel.
When you're done, simply recharge with the provided charger and start again.
Single-Stage Snow Thrower
If you're looking for a traditional snowblower but one that is not going to wake the neighbors, try the electric snow thrower.
Snow throwers can move more. This is seriously impressive if you want to get your snow shoveled quickly and quietly.
Three-stage snowblower
This beast of a snowblower is excellent for large and dense piles of snow accumulated on driveways, which is why it comes with such a hefty price tag as opposed to the others.
5. Cover Your Driveway With a Tarp
Another great way of preventing ice from forming on your driveway is to cover the area with a tarp. Do this before it begins to snow, and remove it after it has finished snowing.
You may need someone to help you remove the tarp as the snow that is collected on the top can get quite heavy.
How to cover the driveway with a heavy-duty tarp:
Unroll the tarp across the entire length of the driveway. Use two if one does not cover the whole driveway.
Weigh down the sides of the tarp using heavy boards or bricks.
Once the snow has stopped, remove the weights and pull the tarp off the driveway.
Any heavy-duty tarp will work, but for your ease, there are businesses that make winter driveway tarps specifically for snow removal and ice protection.
6. Install a Heated Driveway (or Use Heating Mats)
This is a relatively new preventive method for ice formations, but it also happens to be the most expensive option, which is why I included it last.
Like your indoor floor heating and heated towel racks, you can now have your driveway kitted out to warm up and prevent ice from forming and melting the snow at the same time.
There are two different ways to do this. You can use heated mats or a built-in heater system.
Heated Mats
This is a portable solution so if you ever move house you can take it with you. They are often made with slip-resistant rubber and are easy to install. In between the layers of the mat are a heating element and a moisture-proof power cord.
Simply place the mat on the driveway, plug the cord into the nearest electrical outlet and adjust your heating settings.
Make sure you purchase high quality mats specifically designed for driveways as the ones designed for footpaths can't handle cars driving over them.
Built-in heating system
This is a permanent solution where electrical cables are installed underneath the driveway surface in a grid pattern. This way, the driveway is heated evenly.
This is the more expensive option out of the two but also the best option.
You can get tracks installed just for the wheels of your car of an entire heated driveway solution. These work great, check out the timelapse videos below for proof.
Learn more on how to melt ice on driveways
There is no 100% guarantee that you won't get any ice on your driveway, or perhaps you didn't prepare enough in the first place, and now you've got ice.
Try some of the other methods of melting ice on your driveway without salt.