The Otterbox Trooper LT30 is one of the best, if not the best, backpack cooler on the market.
Offering more capacity and versatility than the Yeti BackFlip 24 it can keep ice for up to 3 days and can easily go wherever you go with both backpack straps and a shoulder strap for easy carrying
What makes this backpack cooler one of the best is class is how simple it is to open and pack. The LT stands for "Large Top" and with the clam shell opening accessing the contents of your cooler is a breeze.
In this review we are going to look in detail at the OtterBox Tropper LT30. We'll look at it's performance, build quality, features and even talk about the problems with this cooler.
After reading this review you should have a much better idea as to whether or not this cooler is for you.
If you're interested in purchasing this cooler I will link to the product on Amazon where you can see current pricing and other customer reviews. These links are my affiliate links so a big thank you if you use them.
See Otterbox Trooper LT30 on Amazon
Ice Retention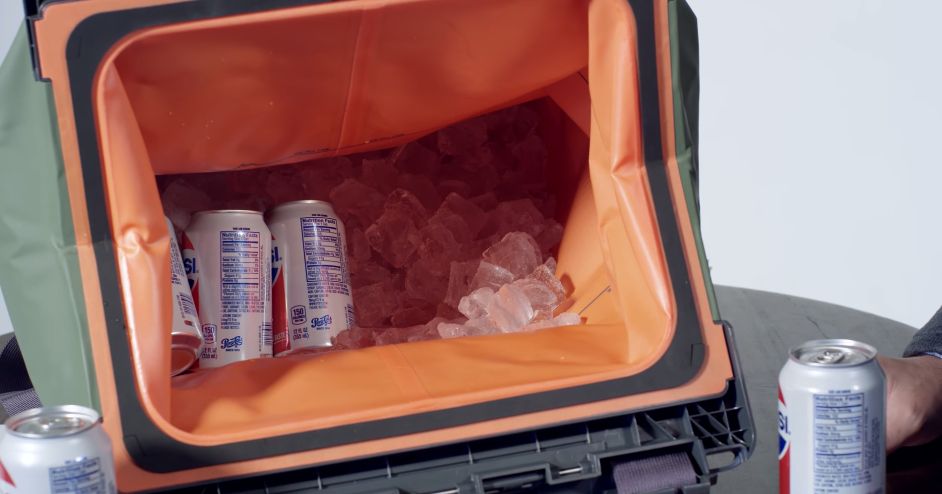 Soft sided coolers don't keep ice as long as their hard-sided counterparts (see my review on the Otterbox hard sided cooler). But they can still keep ice longer than a traditional cooler.
The OtterBox Trooper can keep ice for 2-3 days during everyday use, or even longer if it's completely filled up with ice.
This should be more than long enough for your trip to the beach or you weekend hike with your buddies.
It achieves this by using premium thermal grade insulation that keeps the cold in and keeps the heat out.
The leak proof top also keeps out any warm air that may get in and melt your ice.
Overall this backpack cooler keeps ice just as long as the other best backpack coolers on the market.
Price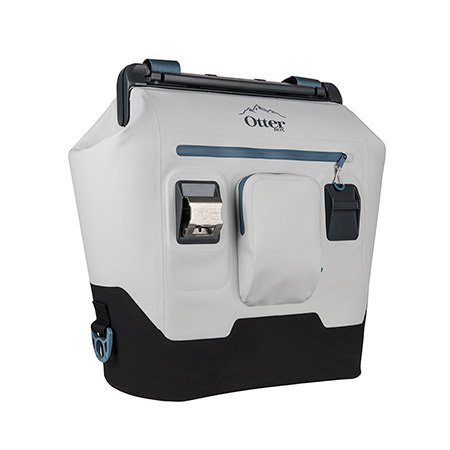 The OtterBox Trooper is a premium backpack cooler and thus comes with a premium price tag.
At the time of the writing the RRP for this cooler is $239.99 and it can be purchased directly from OtterBox or on Amazon.
See Otterbox Trooper LT30 on Amazon
This is cheaper than both the Yeti BackFlip 24 ($299.99 RRP) and the IceMule Boss ($299 RRP) which are the other best backpack coolers money can buy.
Given the build quality as well as the fact that is has more flexibility and features than other premium backpack coolers I believe it is well worth the cost.
If you're interested in this cooler then click the link below to see the latest price on Amazon:
See latest price on Amazon (my affiliate link)
Durability/Quality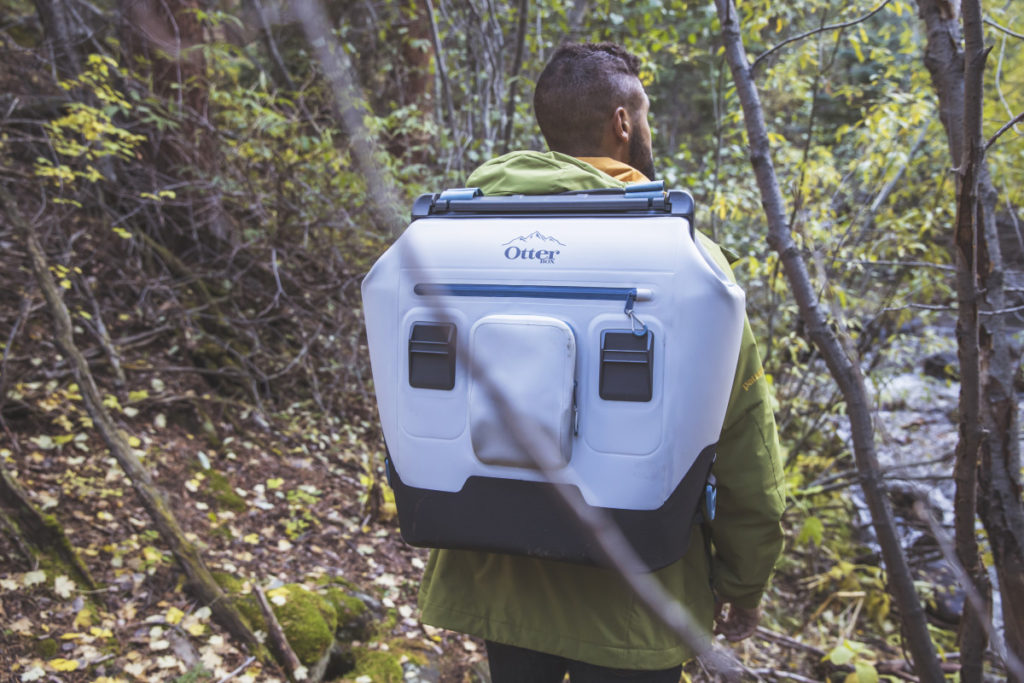 OtterBox are known for building tough and durable stuff. From mobile phone cases to dry boxes to their hard-sided roto-moulded cooler they build good stuff that lasts.
The Trooper LT30 is no exception to this.
It is made with a TPU coated nylon exterior that makes it both water resistant and scratch/tear resistant. It also has a reinforced base so you can don't have to worry about tearing a hole in the bottom when you throw this in your truck, drag in along the floor or place it down on the ground multiple times a day when you stop for breaks.
It is build to last for years and OtterBox believe in it so highly they have it backed with a limited lifetime warranty.
The lid of the Trooper is completely watertight. It has a seal that runs around the lid so when the clasp is closed no water is going to get out.
This means you can throw it in your car, in your van or truck and not worry about it potentially falling over and spilling water everywhere.
You also don't have to worry about water sloshing around and then splashing onto your back as you carry this cooler. It is completely watertight and no water is going to get out as a long as the lid is closed. This is really great construction indeed.
Size/Colors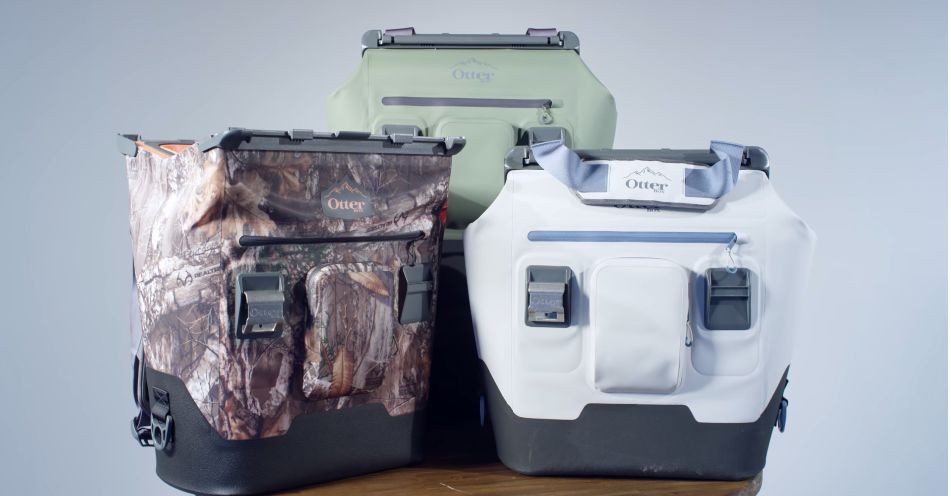 The OtterBox Trooper backpack comes in just one size – the LT 30 which has a 30-Quart capacity. This means you can fit up to 50 cans inside this backpack…if your back can handle that many.
This is one of the largest backpack coolers on the market in terms of capacity. The only other cooler that has a capacity this large is the IceMule Boss.
It comes in 5 different colors:
Hazy Harbor (Grey + Blue – Green Interior)
Alpine Ascent (Green + Black – Orange Interior)
Forest Edge (Realtree Edge Camo + Black – Orange Interior)
Shoreside (Blue + Black – Blue Interior)
Desert Oasis (Tan + Black/Orange – Orange Interior)
Comfort
When carrying a 30-quart cooler full of ice and beverages you need that cooler to be comfortable on your back.
The OtterBox is a fairly comfortable cooler but lacks some of the back supports that other high-end backpack coolers have.
Wide Backpack Straps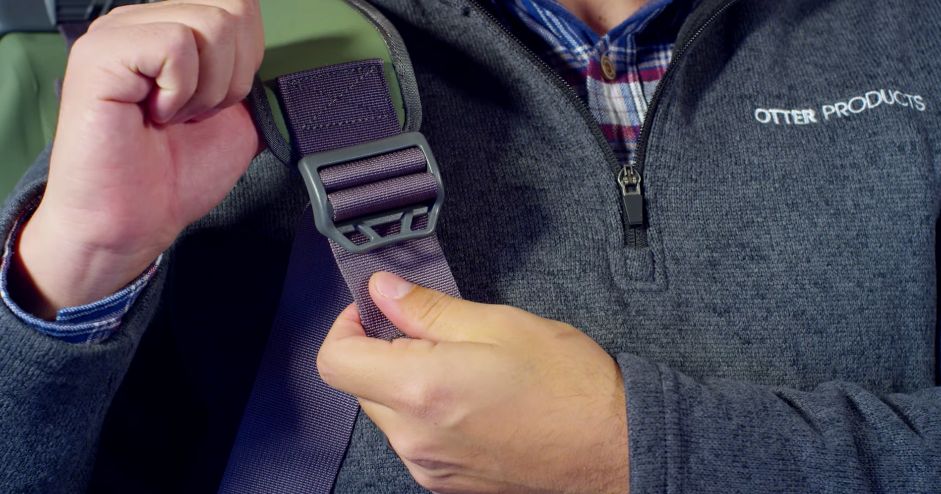 The OtterBox has wide backpack straps that disperse the weight across your shoulders. Thin straps can dig into your skin and be quite painful so these nice wide straps are a good feature.
Single Shoulder Strap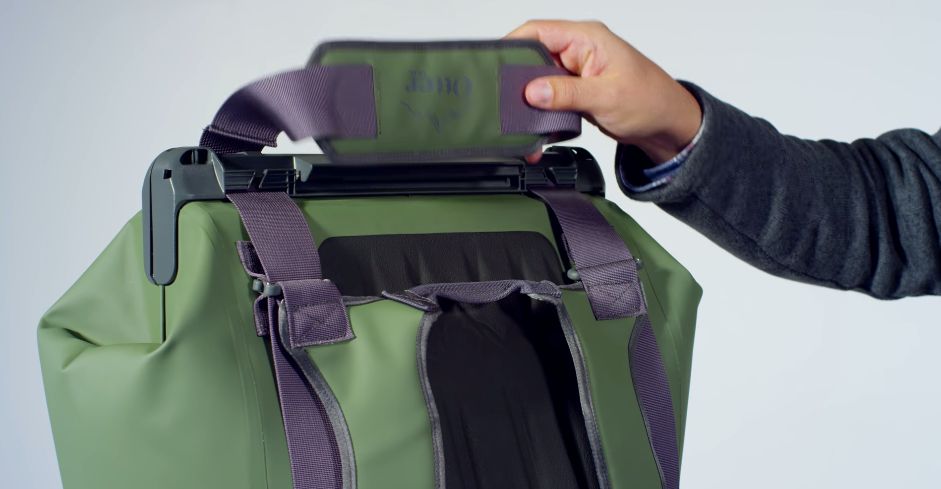 This cooler also has the option of a single shoulder strap. It takes a little bit of adjusting to change from the backpack carry mode to the should strap carry mode but overall it's pretty easy to do.
The single shoulder strap is great for when your cooler isn't extremely full or you are just moving it a short distance (eg. From your car to your campsite).
It's a really nice feature that other backpack coolers don't have.
No Hip or Sternum Supports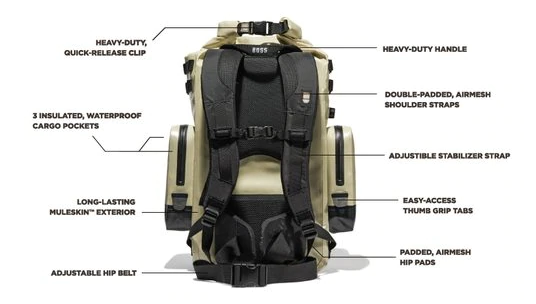 Some other high-end backpack coolers have a hip strap to take some of the weight off your shoulders as well as a sternum buckle to stabilise the straps when the backpack is extremely heavy.
I'm slightly disappointed that the OtterBox doesn't have the features as carrying something this large and this heavy can definitely cause some discomfort for a lot of people.
Style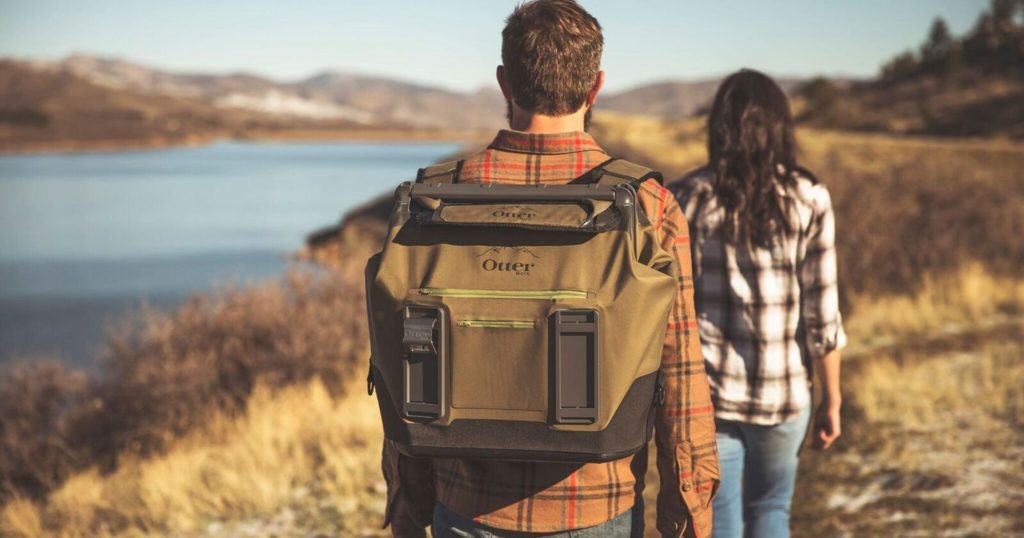 Beauty is in the eye of the beholder and the OtterBox trooper is definitely a unique design.
It doesn't really look anything like a traditional backpack or a traditional cooler for that matter.
I honestly don't know if I love it or I hate it.
It's extremely wide, which is very different to the Yeti BackFlip 24's tall and thinner design. It almost looks like a smaller soft-sided cooler like the Yeti Hopper, only with back straps.
My favorite color is the the white or the blue and it is the utility of the product I care about more than the design.
It looks well built, rugged and clean cut. But it isn't winning any design awards for the most beautiful backpack in the world.
Accessories and Features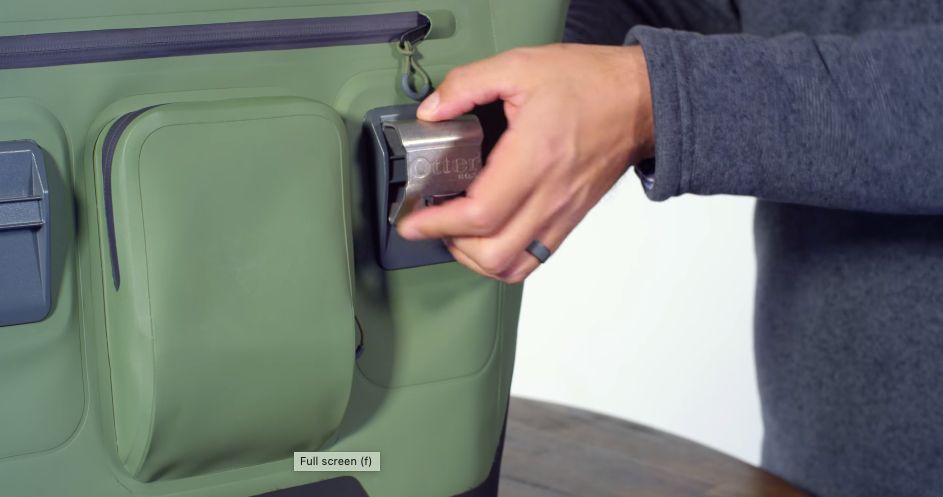 The OtterBox has a lot of great accessories and features that make it a really practical backpack cooler.
One thing I don't like about the yeti backflip 24 is the fact that it has no features at all other than the caller itself. It has no external pocketsOf any kind.
However are the OtterBox has a few unique features that I want to highlight to you.
Clam Shell Opening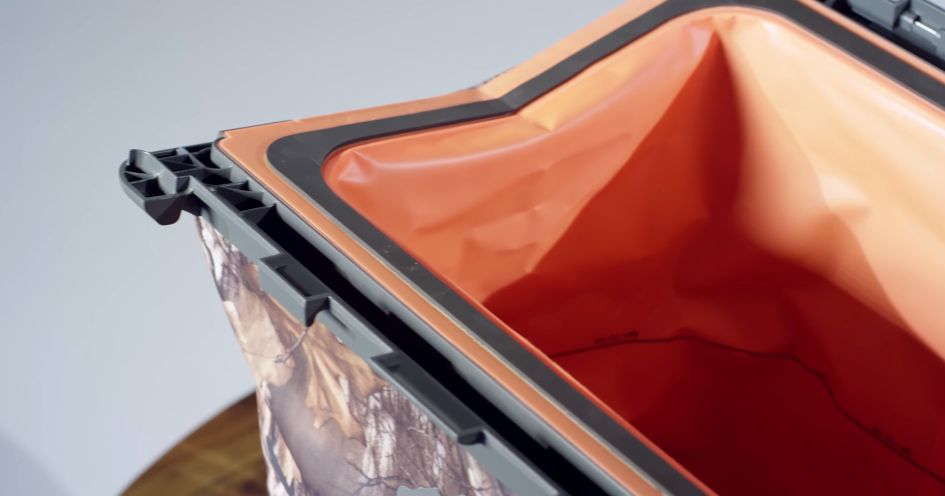 I really love the clamshell opening design of the OtterBox. It allows you (with some practice) to open the backpack cooler with just one hand.
It also allows the cooler to open up really wide. Wider than any other backpack cooler on the market. This allows you to pack the cooler really easily and also gives you full access to the contents of your cooler without having to dig around through a small little opening.
The interior has a fill line so you know how much you can fill up the cooler and still close it easily.
When closed it becomes completely leakproof and the opening is less likely to break when compared to something like the Yeti zipper which needs to be constantly lubricated in order to use it.
2 Water resistant front pockets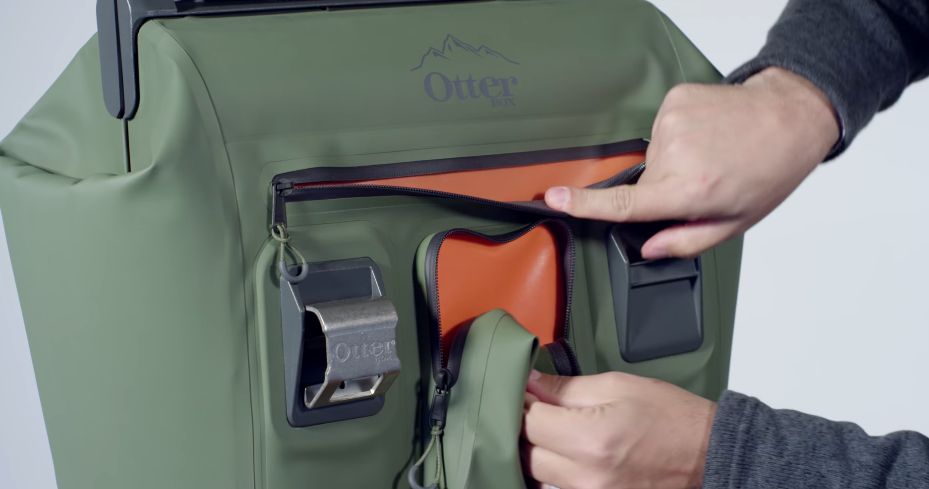 The OtterBox has a small water resistant front pocket that can easily fit a smart phone as well as a larger water resistant pocket behind that.
Having these pockets is really useful because it allows you to put things like your phone and wallet in there or you can keep things like dry food that you don't want to get wet in the cooler.
2 Clips for Accessories – Bottle Opener Included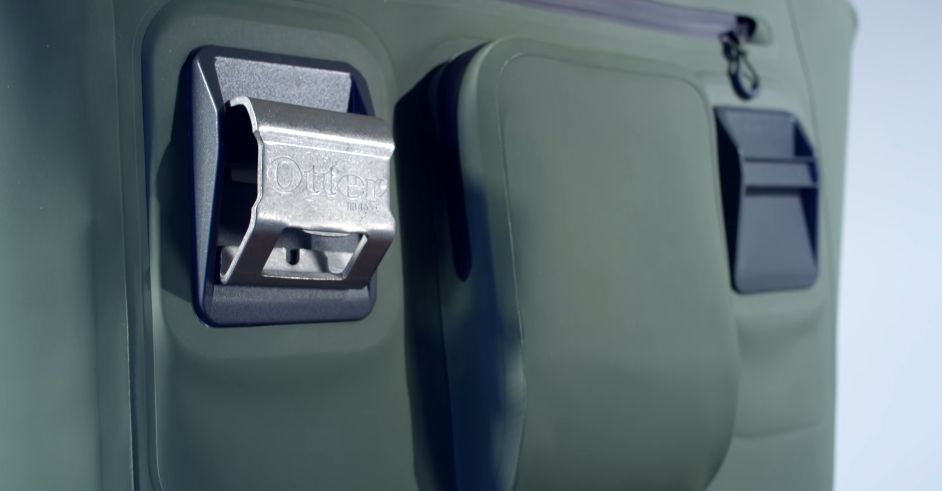 There are two clips on the front of the backpack that are designed for OtterBox accessories.
This sounds useful but there are very few accessories that fit this particular clip and they all have to be exclusively purchased from OtterBox.
Having said that the cooler does come with a free bottle opener so that's a nice thing to have.
1 Hand Opening/Closing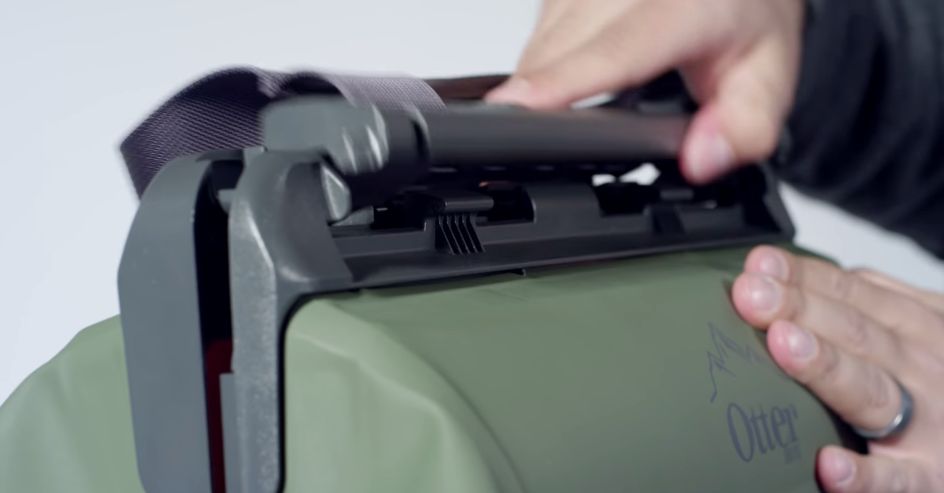 The single hand opening and closing design is very unique and I haven't seen it on any other cooler on the market.
It's not something that is intuitive to use and you may get frustrated with it at first. But once you work out how to use is actually really quite simple to do and you'll learn to absolutely love it.
Tie Down Points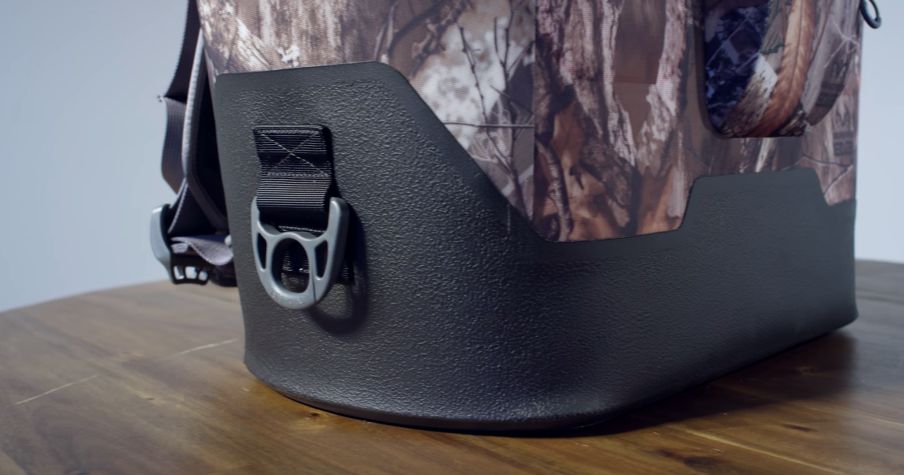 The cooler also has to tie down points on the sides. This allows you to tie down the cooler in the back of your truck or your car or to tie down on your boat so it doesn't fall over.
If however it does happen to fall over, it is 100% leakproof so you don't have to worry about water leaking everywhere.
Video
Warranty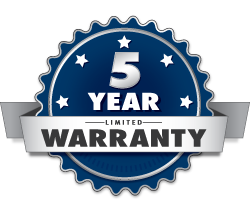 OtterBox offer a limited lifetime warranty on all of their coolers but this is actually a bit of misleading statement.
On their website OtterBox say that, for their outdoor collection products, a lifetime of a product is only five years from the original date of purchase.
So this means the product only has a 5-year warranty, not a "lifetime" warranty.
Problems
The OtterBox Trooper isn't a perfect cooler and has some problems that you should be aware of before purchasing.
Extremely Heavy When Full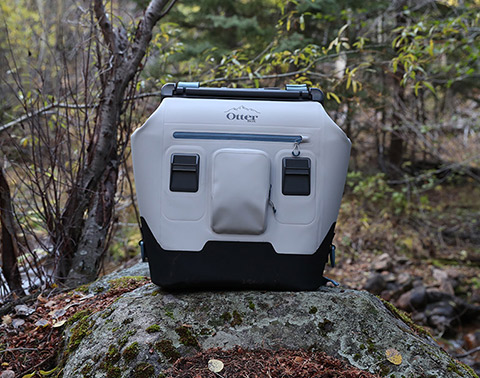 The 30-Quart Capacity is great because it means you can carry a lot of different items in this cooler. However, this means when the cooler is completely full it is also extremely heavy.
This may be fine if you're extremely strong, but for a regular person like myself or for a smaller woman this could be extremely difficult to carry.
No Hip Strap or Sternum Support
Given how large and heavy this cooler can be I kind of expected hip strap as well as a sternum support buckle to help take the weight off the shoulders and lower back.
Unfortunately the OtterBox Trooper doesn't have either of these, which means it's not as ergonomic to carry as something like the IceMule Boss.
Only Keeps Ice 1-2 Days When Less Than Half Full
While this cooler can keep ice for up to 3 days, that is when it is mostly full of ice. If you were to only partially filled this cooler, which would make it lighter to carry, ice retention is going to suffer.
Tests done with a 10 pound bag of ice showed that this cooler only held the ice about 1 to 1.5 days. After this time the ice was completely melted.
So if you're hoping for a full 3 days of ice retention you will need to fill this backpack up at least half full with ice.
Otterbox Trooper vs Yeti Backflip 24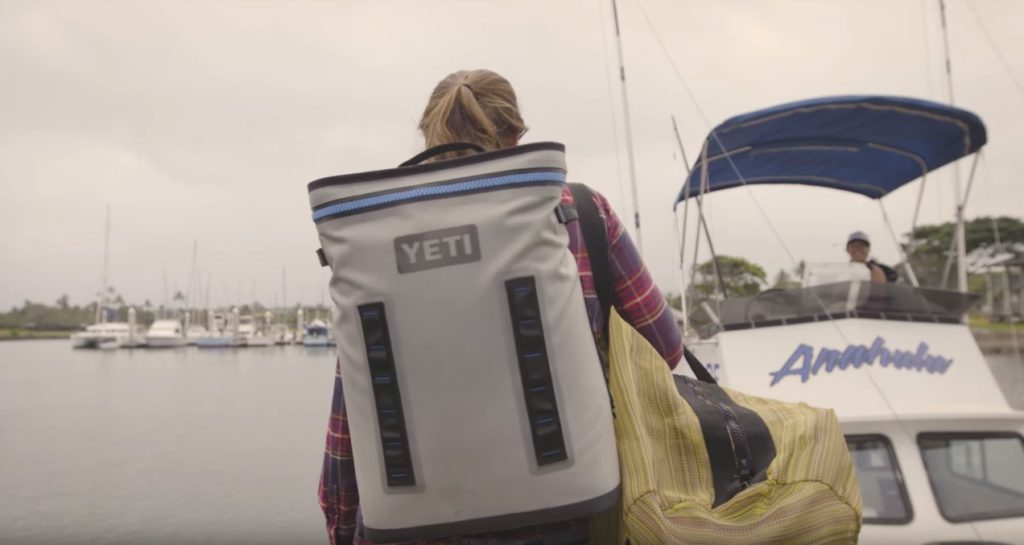 The OtterBox Trooper and the Yeti BackFlip are similar in that they are both high-end, extremely durable backpack coolers that can keep ice for 2-3 days. But they do have some differences.
OtterBox is Bigger
The OtterBox has a capacity of 30-Quart, while the Yeti only has a capacity of 24-Quart.
Yeti Is Slimmer
The Yeti has a taller, slimmer design which apparently makes it easier to carry when completely full.
The OtterBox has a much wider design.
The Yeti Has Support Straps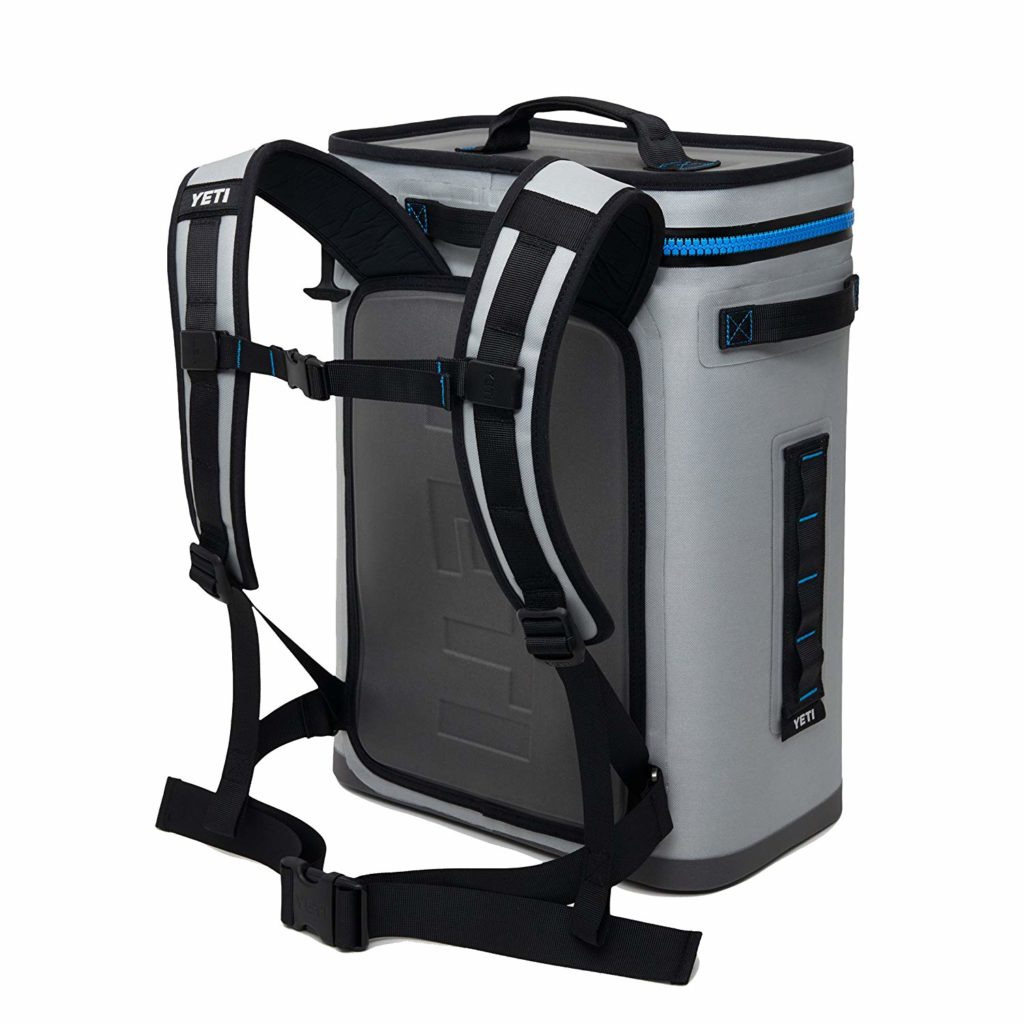 The Yeti has support straps to help take the the weight off your shoulders and back.
It has a removable hip strap as well as a sternum strap.
Yeti Has A Zipper
The opening on the Yeti is a zipper that runs around the full length of the cooler.
This gives you easy access to load your cooler as well as access what's inside without having to dig around.
The zipper is right to use and needs to be opened and closed with force. You also need to keep the zipper lubricated otherwise it will break.
It is leak proof just like the OtterBox lid.
The Yeti Doesn't Have Pockets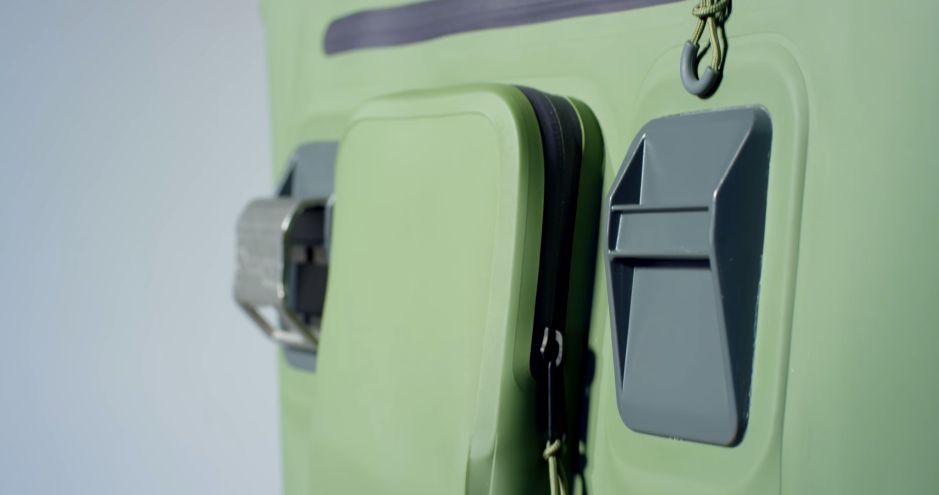 The OtterBox has 3 water resistant pockets on the front as well as the accessory clips.
The Yeti doesn't have any pockets at all. It is literally just a cooler with backpack straps.
You can purchase the Yeti SideKick Dry for a further $50 and this can attach the the Hitchpoint Grid System on the front of the cooler.
OtterBox is Cheaper
The Yeti has a RRP of $299 while the OtterBox has an RRP of $239. So you can save yourself around $60 by going with the OtterBox Trooper over the Yeti.
See OtterBox Trooper on Amazon
See Yeti BackFlip 24 on Amazon
Other Similar Backpack Coolers
There are a few other good quality backpack coolers on the market that you should consider.
These backpack coolers are similar to the OtterBox:
Yeti BackFlip 24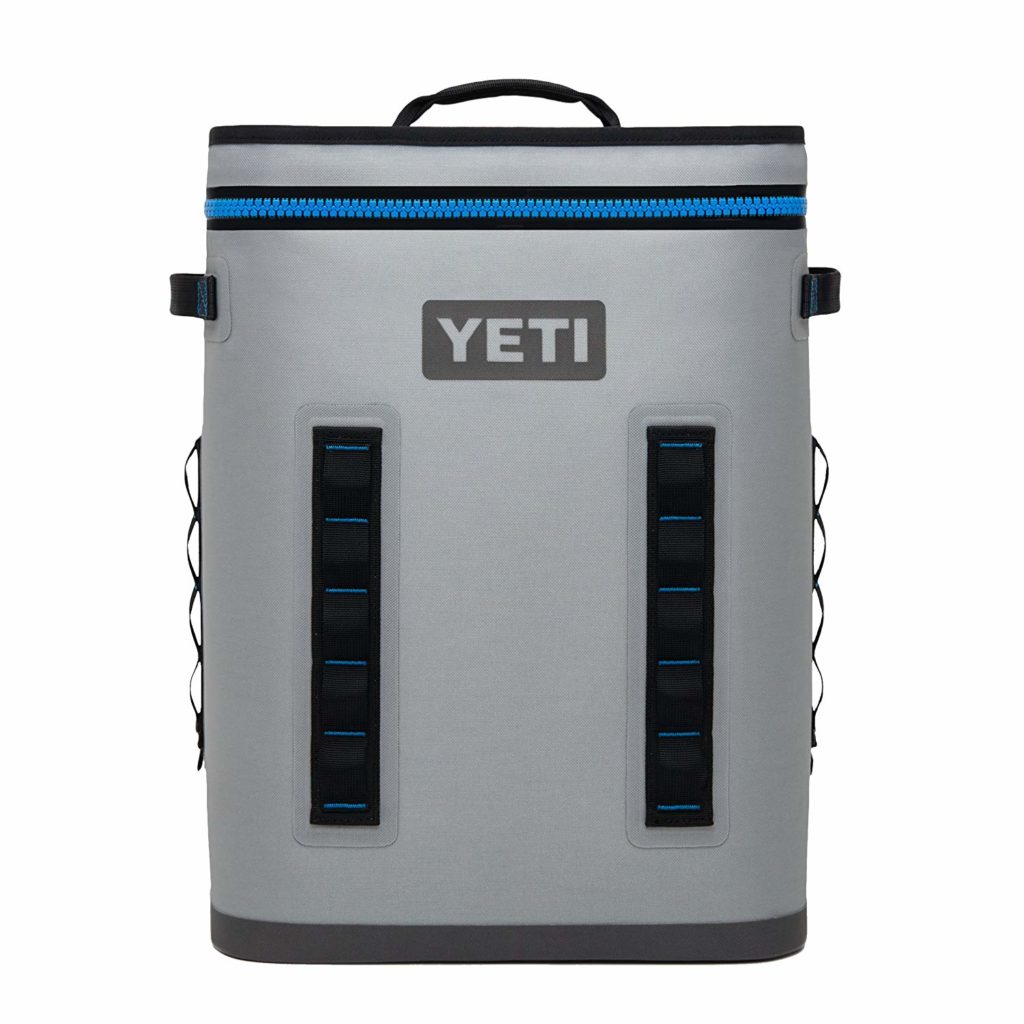 Yeti are known for making great coolers and the BackFlip 24 is no exception.
It's a very basic design and is basically just a soft-sided cooler with backpack straps.
24-Quart capacity it doesn't have any external pockets at all but it does have a removable hip strap as well as a chest (sternum) strap for extra support.
Read my full Yeti BackFlip 24 Review
See Yeti BackFlip Pricing (on Amazon)
IceMule Boss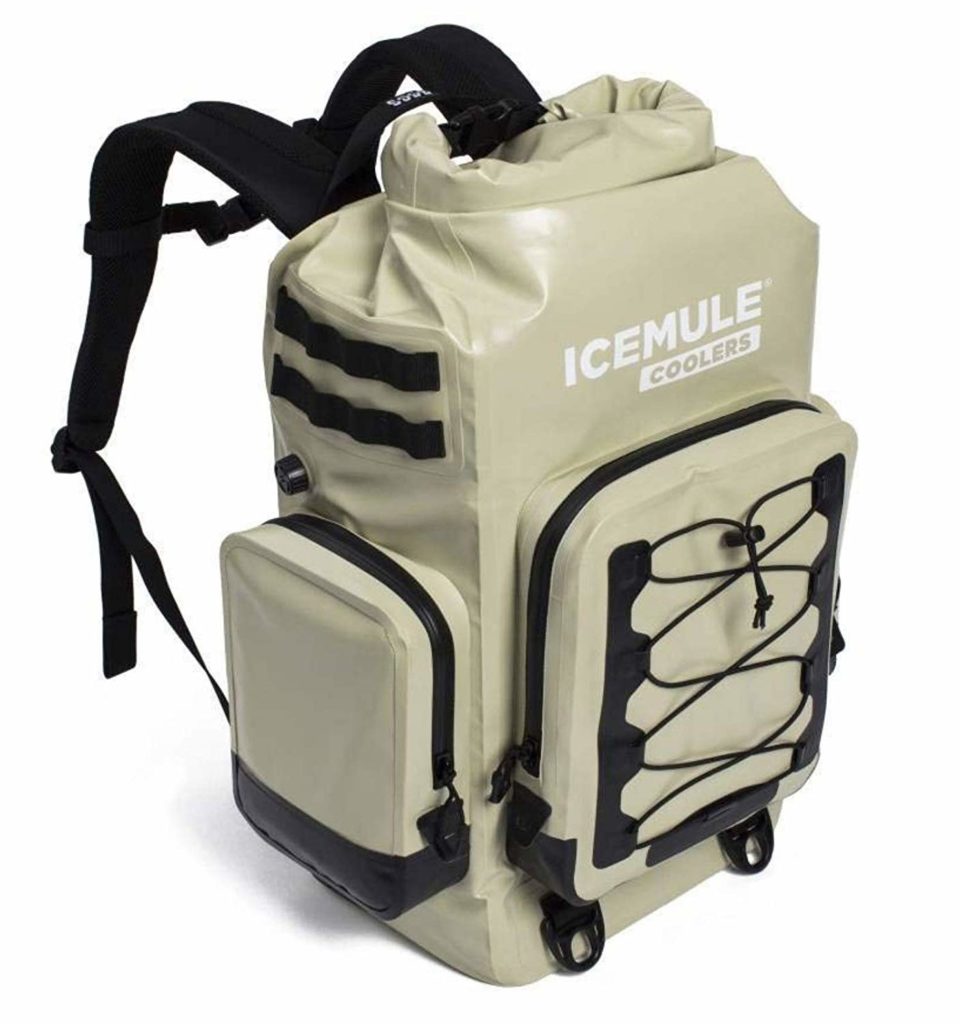 This is my favorite backpack cooler on the market.
It has a capacity greater than that of the OtterBox and has 3 external waterproof pockets, one on the front and one on each side.
The design actually looks like a backpack and it is built extremely tough.
The one downside of this cooler is that the top uses a roll down design which is much less convenient to open and close when compared to the OtterBox or Yeti
Read my full IceMule Boss Review
See IceMule Boss Pricing (on Amazon)
Orca Podster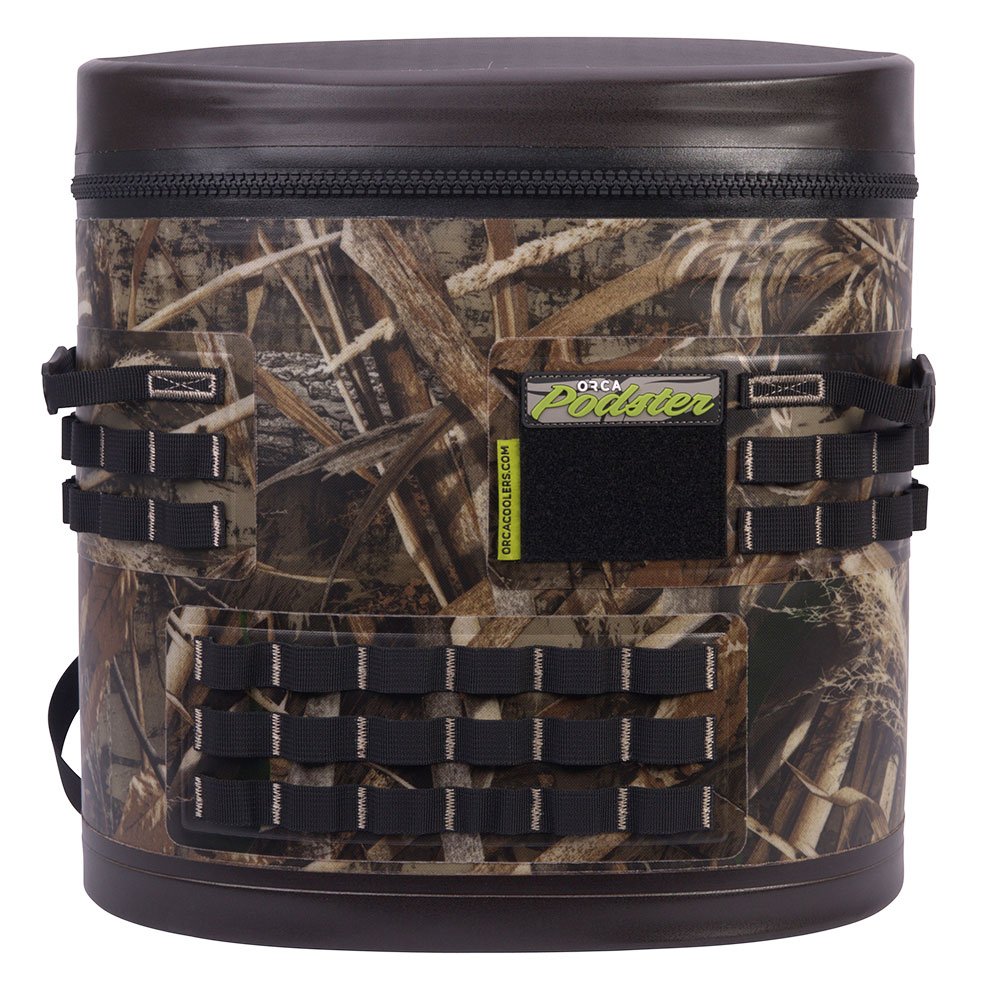 The Orca Podster is similar to the Yeti BackFlip only it has a rounded design rather than a rectangular design.
It's not as comfortable to wear as the other backpack coolers, but the straps do allow you to make adjustments to increase your comfort level.
It also has Molle webbing on the outside so you can easily add any Molle attachments to this cooler. Anything from bottle holders, to bottle openers, to phone chargers and external pockets. I love this feature.