Orca are known for making some of the best roto-molded coolers on the market and the Orca Pod and smaller Orca Podster and extremely durable backpack coolers with good ice retention and some great features.
Backpack coolers can be a great option due to how portable they are. Try hiking with a hard-sided cooler and you won't get very far. But with a backpack cooler keeping your food and beverages cold for a day or long weekend becomes really easy.
In the past backpack coolers weren't very good. They would hold ice maximum of a few hours, have a very small capacity and often wouldn't be watertight.
The Orca Pod and Podster are not like this at all. They are good sized cooler, with supportive back straps that can keep ice for days and are completely water tight.
Great Ice Retention (For A Soft Sided Cooler): Approximately 2-4 Days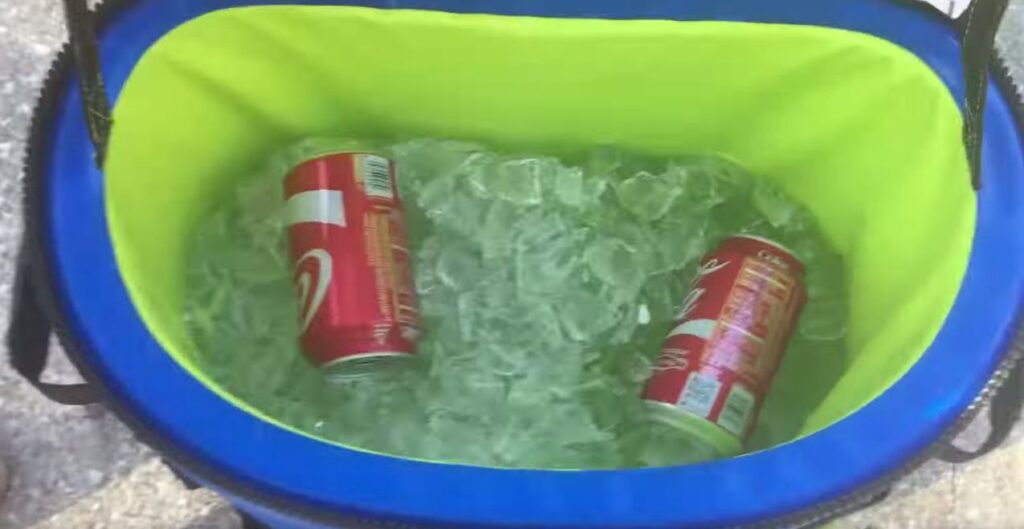 The Orca Pod can keep ice up to 3 full days and the smaller Podster can keep ice around 2 days.
This ice test challenge shows the Orca Pod holding ice for a full 3 days in extremely hot conditions.
The cooler is insulated with 1.1 inches of meta polymer insulation which helps to keep the ice cold. This is more insulation than the Yeti BackFlip which has just 0.75 inches of soft foam insulation and while I couldn't find any head to head tests between these two coolers I would expect the Orca to have similar, if not better, ice retention than the Yeti.
Soft sided coolers don't work as well as hard sized coolers because they aren't as well insulated, but this means they are lighter and more comfortable to carry. Soft sided coolers (including these backpack coolers) are better suited to day trips or shorter trips where you don't need to keep ice as long.
Unique Sizes, Shapes and Colors
Jellybean Shape Is Like No Other Cooler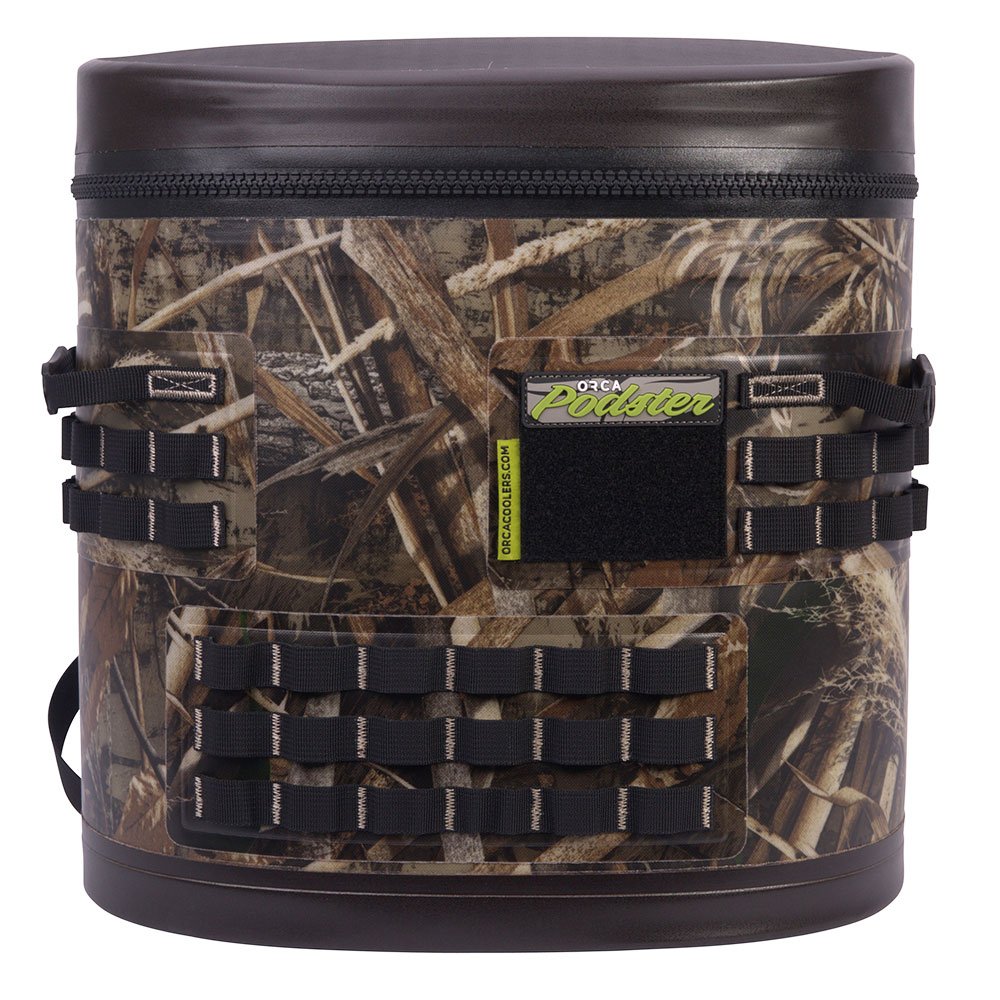 The Orca Pod has a very unique jellybean style shape. It is rounded like an oval but what a flat back where you carry the cooler.
The flat back allows it to sit nicely on your back and the shoulder and hip straps offer excellent support. It is rigid enough that you won't feel anything inside the cooler digging into your back.
The shape of the cooler allows you to open the zipper easier than a rectangular cooler like the Yeti BackFlip, however it can make packing the cooler awkward due to the strange shape of the interior.
Comes in Two Sizes
There are two main sizes with the Pod being 28.5-Quart and the Podster being half the size with a capacity of 14.25-Quart.
The Orca Pod can take a maximum load of 59.5 lbs and the Podster has a maximum load of 28.5 lbs
ORCA POD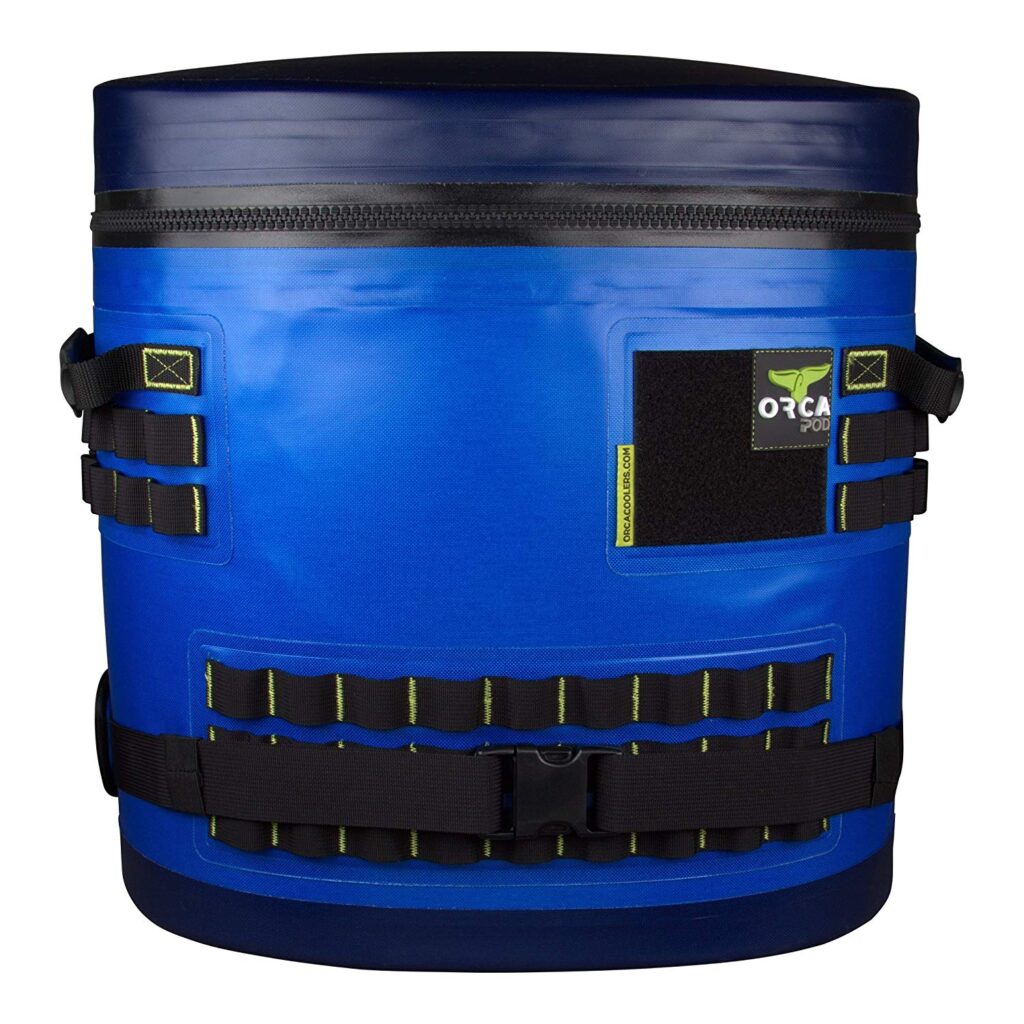 Capacity: 59.5-Quart
---
Empty Weight: 6.6 lbs
---
Orca Pod:
ORCA PODSTER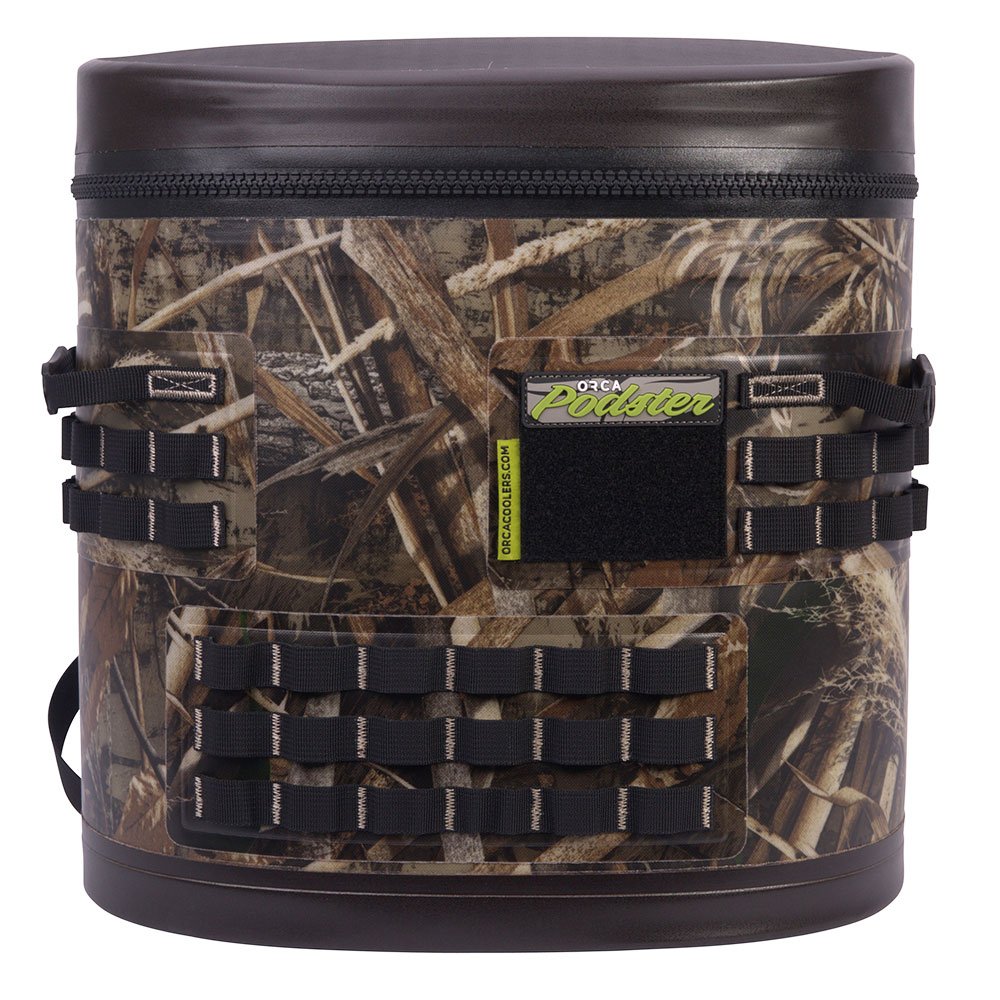 Capacity: 28.5-Quart
---
Empty Weight: 3.6 lbs
---
Orca Podster:
A Couple of Funky Colors
These backpack coolers used to be sold in multiple different funky colors but at the time of writing this I can only find two color variations for the Pod and the Podster and that is the "Realtree Camo" color and Blue color.
The Realtree Camo is a brown color with a black lid and base as well as black molle straps on the outside of the cooler.
Price
The Orca Pod and Podster are definitely premium backpack coolers and have a price to go with that.
The price is similar to that of other premium backpack coolers like the Yeti BackFlip 24 and the IceMule Boss, only it's a little cheaper.
The Pod, which is the more popular size, sells for around $239.99 and at the time of writing the Podster is currently on sale for an extremely low price. I'm not sure if this is because they are discontinuing the products or not.
Orca Pod:
Orca Podster:
Durability/Quality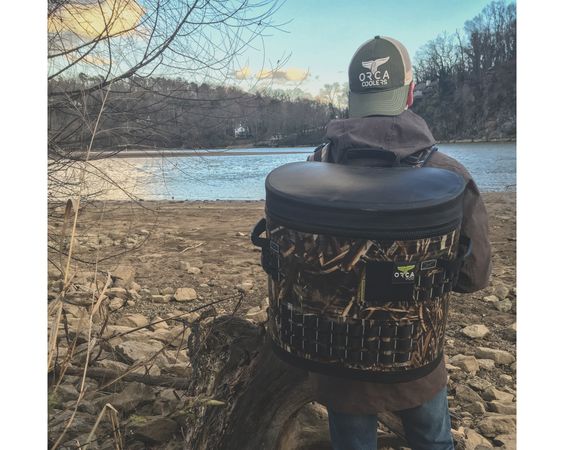 This backpack cooler is made tough. The exterior is made out of a strong 840-denier nylon that is TPU laminated and connected together with RF welding to allow for minimal sewing, making it even stronger.
This means the backpack is durable and resistant to heat as well as abrasion. Nylon is also great for reducing mould which is helpful for a backpack cooler.
The TPU lamination is an elastomer which gives the backpack further abrasion resistance, waterproofing and durability.
It also has a reinforced bottom, making that part of the cooler even stronger. So you can throw it around, drop it or leave in on any rough terrain and it'll be just fine.
Some Really Cool Features
The Orca Pod has some pretty cooler features that really make it stand out from other soft sided coolers and backpack coolers on the market.
Leak Proof Zipper
The top zipper is completely leak proof. This makes it a little tough to open and close but when it's closed you don't have to worry about any liquid spilling out.
You can even turn the cooler completely upside down and leave it like that and no water will come out.
This is a great feature and means your back won't get wet and you don't have to worry about water spilling in your car or in your tent.
Flip Top Lid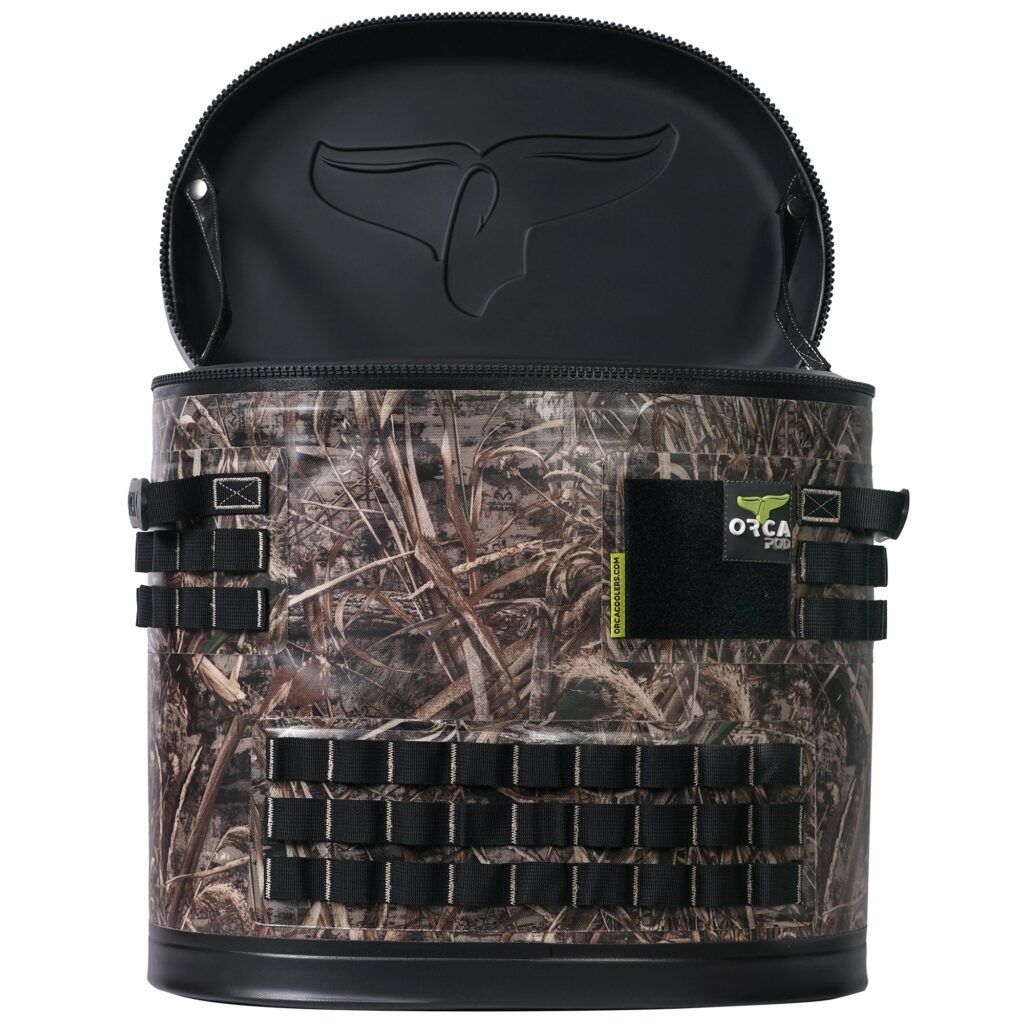 One issue with some soft sided coolers like the Yeti Hopper is that they have a very small opening to both pack the cooler and get stuff out.
This small opening makes it hard to pack your cooler and hard to see and access what's inside of it. It can even cause the zipper to hurt your skin when accessing the cooler.
The Orca Pod has a flip top lid. So the zipper runs around the outside of the cooler and the cooler lid can open a full 180 degrees.
This gives you a wide opening so you can easily pack your cooler and access your items. The flat bottom also gives the cooler complete stability when it's on the ground or a flat surface.
Backpack Straps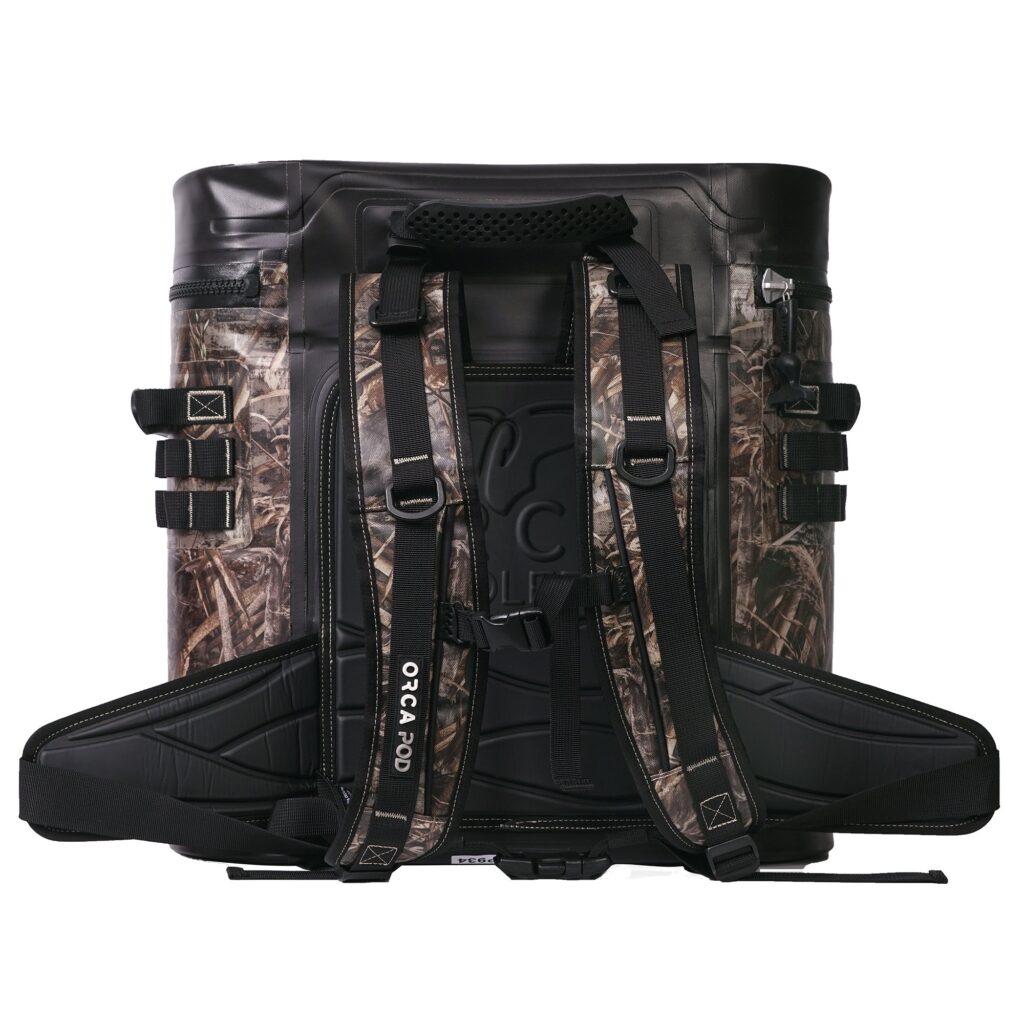 The backpack shoulder straps are wide and comfortable making this cooler quite comfortable to carry.
Thin straps can dig into your shoulders, especially when the cooler is completely full and heavy, so it's night to see they thought of this.
The short shape of the cooler means it is better suited to shorter people and those over 6 foot may find it a little uncomfortable on their back.
Carry Straps
If you're just moving your cooler short distances and don't want to wear it then there is a strong carry strap on top that allows you to easily lift the cooler and move it around.
There are also two carry straps on the side if you want to carry the cooler with two hands. This is especially useful when the cooler is full as it can become too heavy for single handed carrying.
Hip Strap and Front Strap For Stability
With a 28.5-Quart capacity this cooler can be extremely heavy if you completely fill it up.
The padded hip strap can help to take some of the weight off your shoulders and upper back making the backpack easier to carry and the front sternum strap adds further stability.
Molle Webbing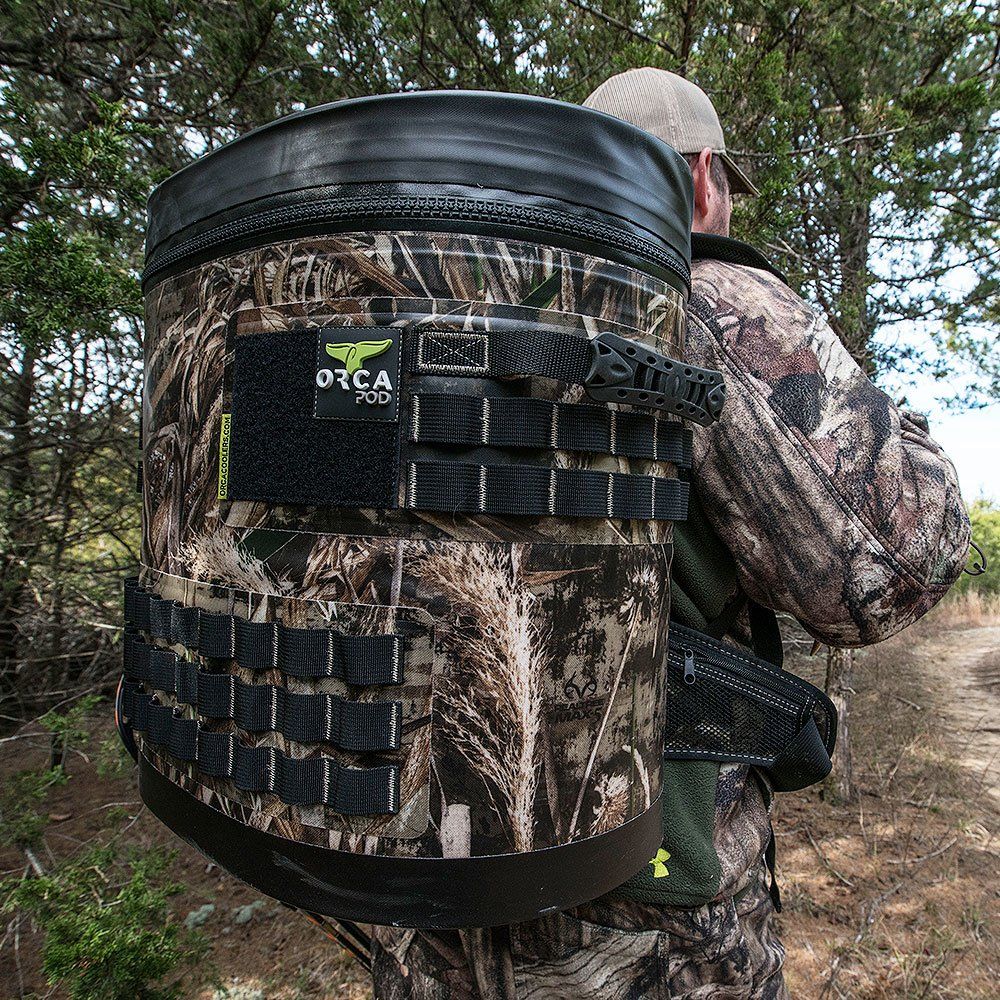 The Pod doesn't have an external pocket, which is one of it's downsides, but it does have Molle webbing all over the front and side of the cooler allowing you to add almost any accessory to the cooler.
Anything from bottle openers to waterproof pockets to cup/bottle holders. If it can connect to Molle webbing then you can use it.
Below are some accessories to get you started:
Molle Water Bottle Pouch:
Molle Multipurpose Pouches:
Molle Utility Belt/Phone Holder:
Comfort
The Orca Pod cooler is very comfortable to carry and feels a lot like a hiking backpack.
The way to padding is done on the backpack, shoulder straps and hip straps feels very secure and very robust and easy to carry.
There's so much insulation on the inside of the cooler that you're not going to feel that on your back when you're hiking or carrying this cooler.
When completely full this backpack cooler is going to be extremely heavy. Empty weight for the larger sized Pod is 6.6 lbs and it is rated to hold almost 60 lbs of weight. So all up it could get as heavy as 65 lbs which is going to put strain on your back and long periods of carry your shoulders will get sore.
The padded hip straps and the sternum strap do help to minimise that load on your upper back though.
Style
I would description the Orca Pod and Podster's style as "unique". They don't really look like traditional backpacks and they don't really look like traditional coolers.
They colors are also pretty extreme on these coolers.
Yeti BackFlip went for a far more neutral color scheme which I prefer, it looks more premium and sleek. The color scheme of the Orca…some interesting decisions there.
It's personally not really my cup of tea, but I'm sure some people will love the funky colors.
Warranty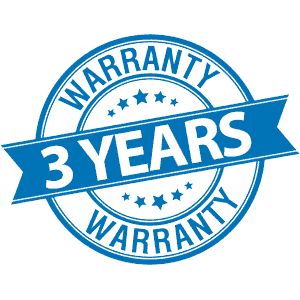 The Orca Pod and Podster comes with a 3-year warranty protecting you against manufactured defects.
If you have any problems with your backpack cooler then get in contact with Orca and they will either repair your cooler for you or completely replace it free of charge.
This does not cover damage that is caused through misuse or accidents and doesn't include normal wear and tear on the cooler.
Who Is ORCA?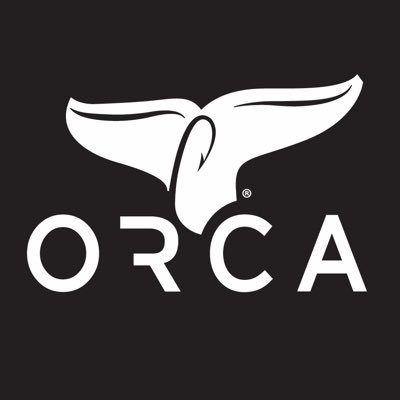 ORCA stands for "Outdoors Recreation Company of America" and was started in 2012 with the goal of creating a local cooler that kept ice longer than competitors on the market and put American workers back to work building something that is US made.
They have since grown considerably and have a reputation for high-quality coolers.
The company is owned by founder Cliff Walker as well as 4-5 of Walker's close family and friends. In late 2017 NFL icon Brett Favre invested into the company and has helped the company with licensing deals with the NFL.
Problems With Orca Pod Backpack Cooler
While this is a great performing backpack cooler it isn't perfect and it does have some problems that you should be aware of before purchasing. Many of these we have already talked about in this review, but I'll go over them again quickly.
Jellybean Shape Can Make Packing Hard
The jellybean shape of the cooler does make it easier to open the cooler and access all your items, but the strange shape can make it difficult to pack your cooler efficiently, especially if you are use square/rectangular ice bricks.
Zipper Is Tough To Open
The zipper is leak proof which is great, but it is difficult to open. You have to use a strong amount of force to open and close the zipper and you have to be careful not to break it.
Non-Neutral Colors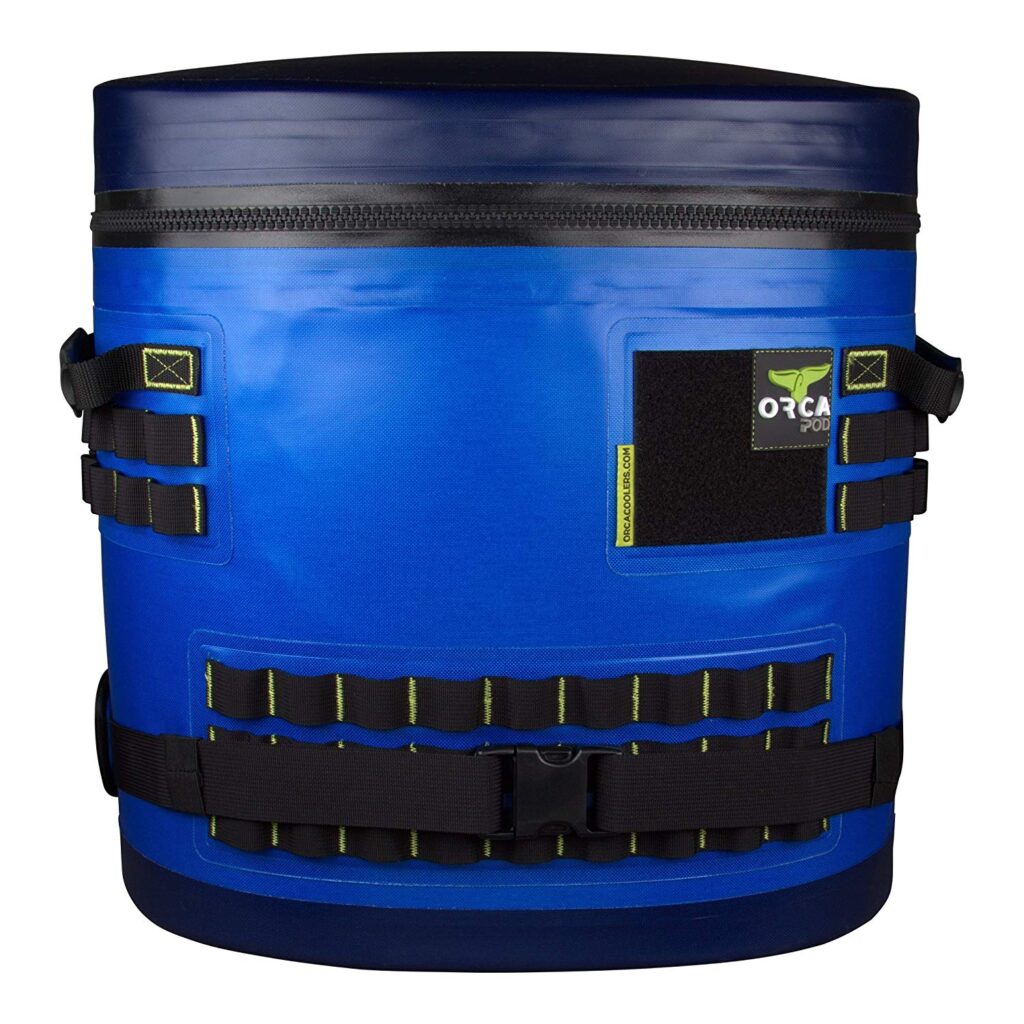 The Orca Pod comes in some bold colors and doesn't have any neutral color options.
For someone who doesn't want their backpack cooler to strand out this may be a problem.
No External Pockets
Freeing up your hands so you don't have to carry a cooler is really handy, but it would be really nice if the cooler had some external pockets for keeping items like your phone, wallet, keys or anything else you want to keep dry.
It does have the molle webbing so you can easily add pouches to the cooler and customise it to have it exactly the way you want it, but these accessories do come at an extra cost.
Orca Pod vs Yeti BackFlip 24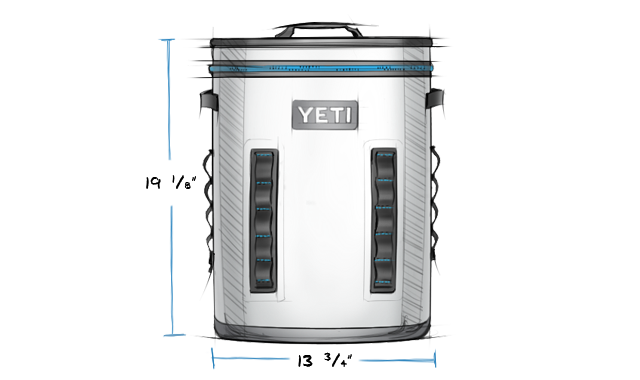 I'll do a full head-to-head writeup of these coolers in the future but I'll do a short summary here.
Their construction and build quality is extremely similar using similar laminated nylon exteriors and similar insulation.
The Pod has thicker insulation than the Yeti which means it may hold ice longer, but this is yet to be tested.
Yeti comes in just one size, the 24-Quart size, whereas the Orca Pod comes in 2 sizes, 28.5 and 14.25-Quarts.
The Yeti BackFlip 24 is taller, which can make for easier carrying when the cooler is fully loaded, but slightly more awkward carrying when the cooler is empty.
The designs are very different with Yeti having a rectangular design with a grey color scheme while Orca has a jellybean design with a bolder color scheme.
Orca Pod's are cheaper than the Yeti BackFlip 24 and you can save yourself a fair amount of money by purchasing an Orca over a Yeti.
Orca Pod 28.5-Quart:
Yeti BackFlip 24:
Other Similar Backpack Coolers
For a full list of other premium and budget backpack coolers check out my writeup of The Best Backpack Coolers.
Here are some of the highest rated and top performing backpack coolers that are similar to Orca Pod/Podsters.
IceMule Boss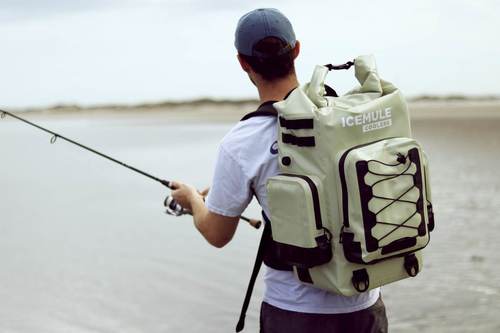 The IceMule Boss is my favorite backpack cooler at the moment because it has the biggest capacity, has external waterproof pockets and it actually looks like a backpack.
It also has good wide padded shoulder straps and a padded hip belt plus sternum clip for easier carrying.
It can hold ice for 3-4 days and has the largest capacity of any backpack cooler, with a capacity of 30-Quart.
If you're interested in this cooler check it out by clicking the Amazon price link below or go ahead and read my full review:
IceMule Boss:
Yeti BackFlip 24

The Yeti BackFlip 24 is another great soft sided cooler by Yeti and is their only backpack cooler.
It has a 24-Quart capacity and actually retails for the same price as their 18-Quart Hopper, which only has a shoulder strap.
I love Yeti products and while they cost more than other brands they are made extremely well and their design and branding is the best in the industry.
If you're interested in the Yeti BackFlip check it out by clicking the Amazon price link below or go ahead and read my full review:
Yeti BackFlip 24:
Read My Yeti BackFlip 24 Review
Otterbox Trooper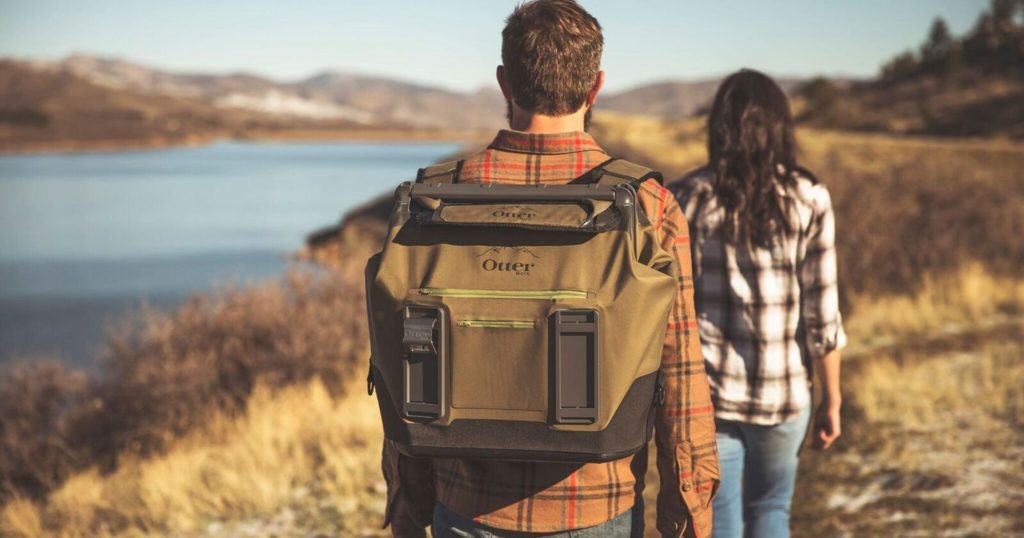 The Otterbox Trooper is another great backpack cooler that can keep ice for 2-3 days and is a similar price to the Orca Pod backpack cooler.
It has a larger capacity (30-Quart) and it has an external water resistant pocket as well as 2 attachment spots for accessories like bottle openers.
It uses a unique clam shell opening which allows you to easily open the cooler with one hand but still giving you a wide opening to access your items.
It's also leak proof and extremely high quality.
If you're interested in the Otterbox Trooper check it out by clicking the Amazon price link below or go ahead and read my full review:
Otterbox Trooper LT30: