For decades, Nalgene has been one of the most popular brands of reusable water bottles, especially among outdoor enthusiasts. And it's no surprise…they're simple, durable, and, above all, functional. 
Contigo is relatively new to the scene, but they're doing things a bit differently – focused on making some of the most unique and innovative lids on the market and providing a water bottle of similar quality to Nalgene at a similar price.
If you're stuck trying to decide between the two, I have four Nalgenes (and have owned plenty more over the years) and three Contigo Bottles. I've used them all and I also have 3 kids who have given the bottles a run for their money. So I've learned a thing or two about which works best for what. 
When comparing Nalgene vs Contigo Bottles: Nalgene bottles are simple, durable and backed by a top-of-the-line lifetime warranty. Contigo bottles have fun innovative lids which are great in the short term but over the long term attract hidden mold and are notoriously difficult to clean (meaning they need to be either pulled apart of discarded within 1-2 years).
For this reason I would always recommend a Nalgene over a Contigo – unless you're willing to put in the hard work of disassembling a complex lid multiple times a year so you can clean it and treat it for the harmful mold that will almost certainly grow in there.
While both Nalgene and Contigo Bottles have their benefits, Nalgene Bottles are much better suited to hiking, climbing, and other outdoor activities, whereas Contigo Bottles work best for normal, everyday use and are great for kids.
The biggest difference between the 2 bottles is actually their lids. While the increased functionality of the Contigo lids makes them look like the obvious winner – the complexity can lead to problems with leaking and mold down the line.
Nalgenes work well enough for everyday use and are durable enough for the trail or climbing gym. If I'm doing something active, it's my Ultralite Nalgene every time. I just sometimes wish they were insulated.
Contigo Bottles are perfect around the house, at the office, or in the car, but I'd never take one on a hike because the lids just require too much upkeep.
If I had to choose between one or the other, I'd go with a Nalgene. But really, why not both?
Price And Value
When considering which water bottle to buy price is always going to be a big factor.
You don't want to spend too much money or waste your money, but you also want something that's high quality and will last you a long time.
I personally would rather spend a bit extra if I get something that is higher quality and will last me longer.
Nalgene
A plastic Nalgene Bottle will typically set you back somewhere between $10 and $20, with stainless steel bottles running closer to $35.
Not a bad price for a solid reusable water bottle. It's super affordable for most people.
But when you factor in Nalgene's ridiculously generous lifetime warranty, you'll realize that Nalgene Bottles are actually an incredible bargain over the course of your lifetime. 
Not only does Nalgene's warranty cover defects, but it fully covers damage (not related to fire, freezing, and chewing) as well. 
I'm not even joking here. Nalgene as a company are notorious for INCREDIBLE customer service and replacing water bottles that really have no right being replaced by any company…yet Nalgene routinely replaces customers' broken bottles.
Dropping your bottle down a mountainside or running it over with your car are no big deal. They'll send you a free replacement with no questions asked. 
I've had to use their warranty a few times over the years, and it's been a quick, painless process each time. 
Contigo
Contigo Bottles fall into the same price range as Nalgene Bottles — with basic plastic bottles costing between $10 and $20, and stainless steel bottles closer to $35.
Which is somewhat surprising, considering that Contigo Bottles offer much more feature-wise than Nalgenes.
In fact, this two pack of Contigo AutoPop bottles is one of the best deals on reusable water bottles I've seen. 
Winner: Tie
Overall, Nalgene's lifetime warranty gives them the edge in terms of long term value — buying a Nalgene is truly buying it for life.
But Contigo comfortably takes the edge in terms of immediate value. They simply offer more for the same amount of money.
Features And Options 
Choosing what sort of features you want in your water bottle is also important. Convenient pop up lids make drinking more bottles of water easier for me and my kids and can be convenient when driving.
Nalgene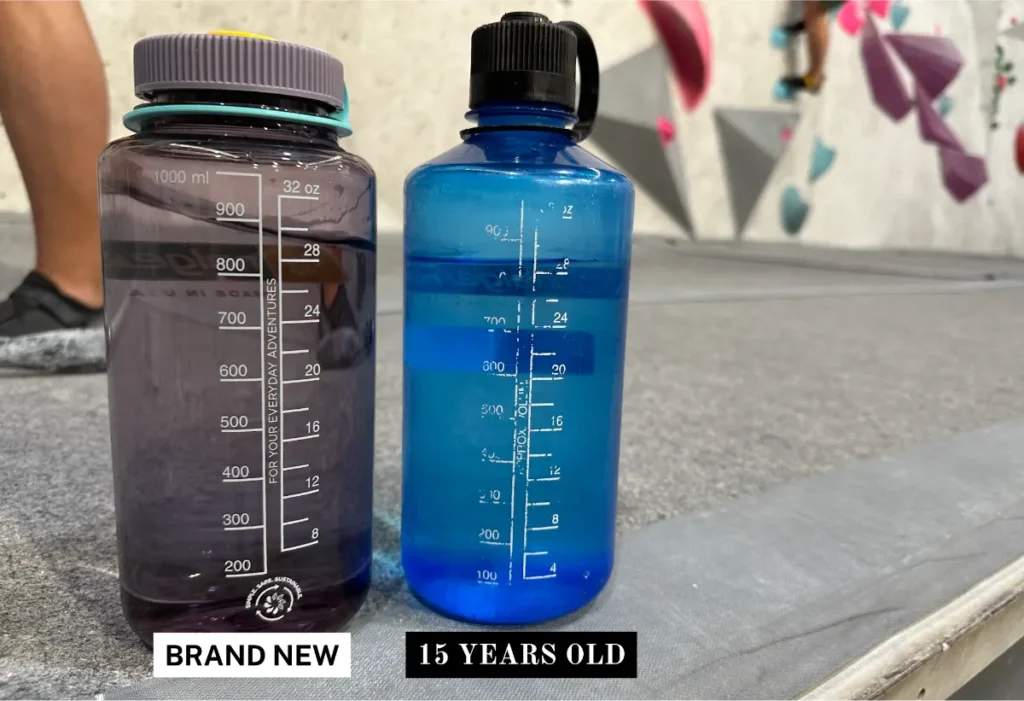 From the beginning, Nalgene has had a 'keep it simple' philosophy, offering basic bottles with simple screw-on caps.
While they've added a few new sizes and started offering stainless steel bottles, the classic 32 oz Nalgene has remained more or less unchanged since the 1970s.
You can choose between a wide mouth and a narrow mouth Nalgene but most people seem to opt for the same 32 oz size.
Nalgene does offer some different lids for their bottles but generally these are add on products and don't come with the bottle themselves.
They also only offer plastic bottles and just 2 stainless steel bottles – none of which are insulated.
It's safe to say the features and options for Nalgene bottles are limited. But the bottles they do sell seem to be a good size for most people.
Contigo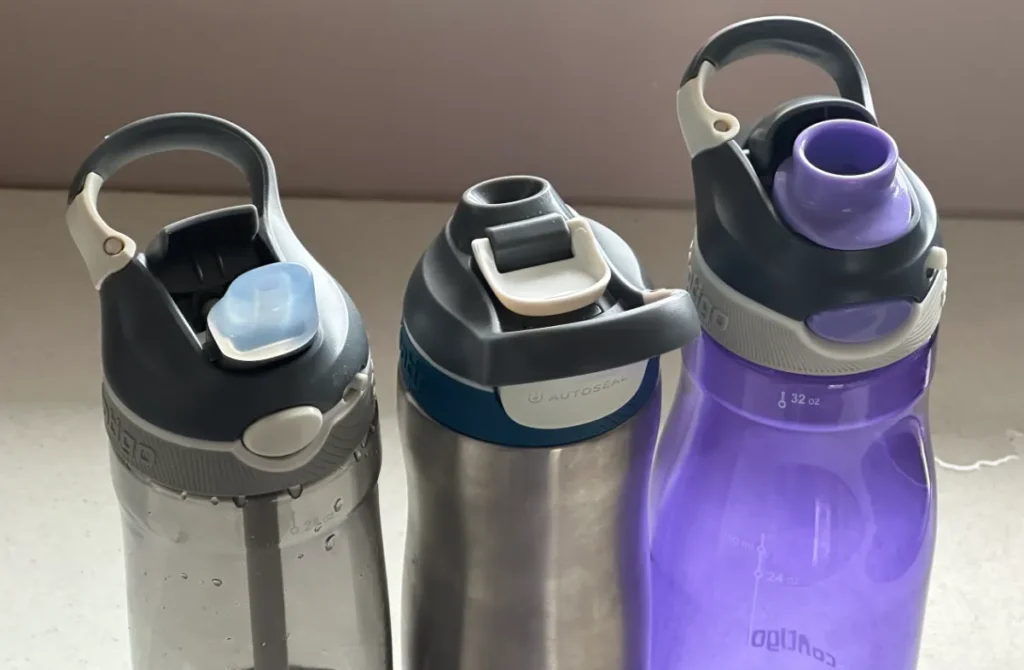 Where Nalgene aims to keep things simple, Contigo does anything but — offering a wide variety of sizes, materials, colors, and styles, with some of the most innovative lids on the market. 
The AutoSpout has a pop-out drinking spout with a push-button release.
The AutoSeal lid has a drinking slot that self-seals until you press and hold a release button.
The AutoChug and AutoPop lids have a push button release over a chug spout.
The AutoClose lid has a removable straw that slides into a self-sealing slot on the lid.
All of Contigo's lids are available on bottles made of Tritan Plastic (the same plastic Nalgenes are made of) or dual wall vacuum insulated stainless steel.
The lids are super fun to use and my kids fight over who gets to take which Contigo lid to school. Hey, if it encourages them to drink more Contigo bottles of water each day I'm not complaining.
That all might sound great, but let's be real. A few of Contigo's lids seem complex for the sake of being complex.
A push button release for a lid over a chug spout is a little unnecessary — especially when you consider that it makes the bottle a lot harder to clean and can hide a horrifying amount of mold (but more on that below).
Winner: Contigo
There's nothing wrong with a simple water bottle. In fact, sometimes it's even the preferred option.
But ultimately, it's hard to match all of the options Contigo offers. Even if it's sometimes a bit much.
Cleaning and Maintenance
This is where the cracks in Contigo's bottles start to show.
Overall they offer a well priced bottle that is feature rich with amazing lids. However, over the long term I have personally found that the upkeep and maintenance of the Contigo lids isn't worth it.
At the same time I have found the simplicity of the Nalgene lid (which some may consider to be a negative) has actually been a huge positive when it comes to cleaning and longevity.
Nalgene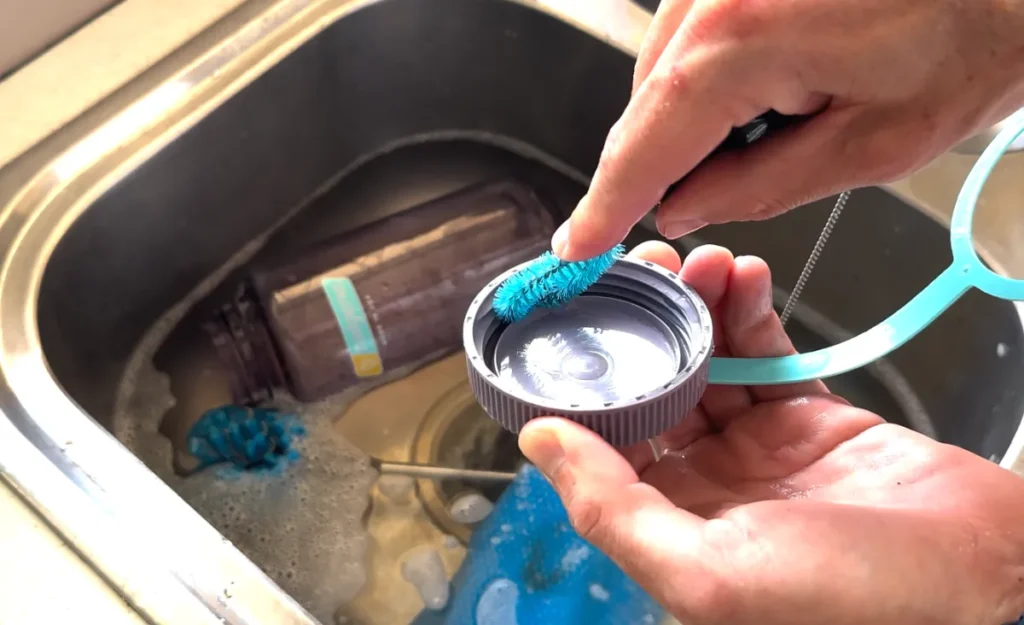 Because Nalgene bottles are so simple, they're also really simple to clean and maintain.
It's as easy as washing them after every use (or every few uses if you only use them for water), by hand or in the dishwasher. 
I feel much better leaving my Nalgene to rot in the bottom of my gym bag with a week old protein shake in it, because I know that cleaning it will be as simple as tossing the Nalgene in the dishwasher and moving on with my life. 
The lids are super simple and made from the same Tritan plastic as the bottles. What makes Nalgene lids unique to other brands is they don't have a rubber gasket. This means they are less likely to have the gasket problems that other brands have.
Contigo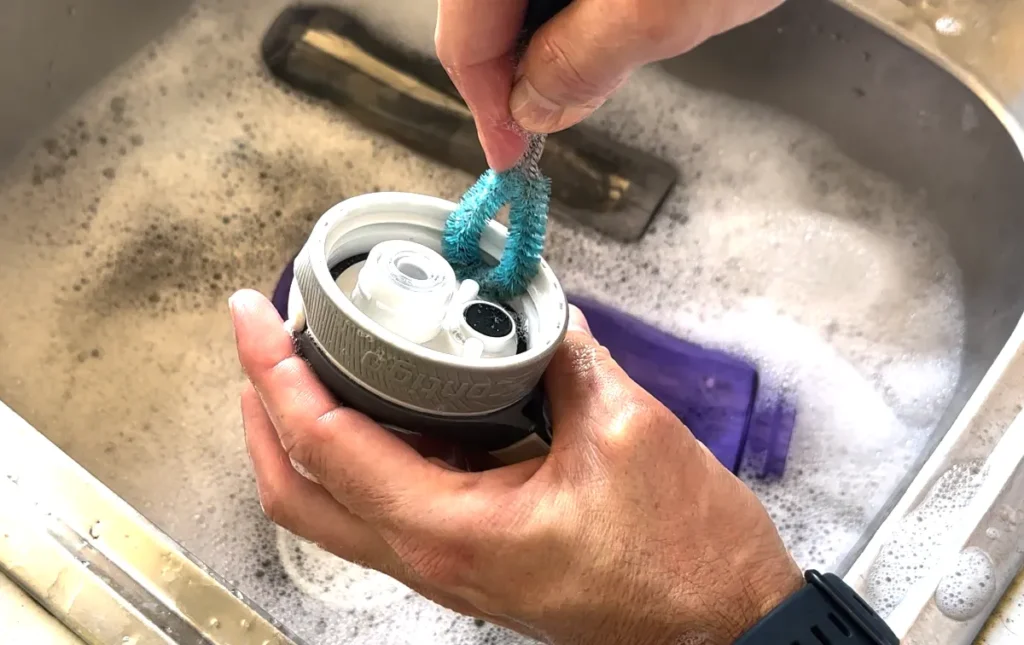 I can't say the same for my Contigo Bottles. In fact, these bottles are a NIGHTMARE to clean and are harbingers of hidden mold when used over the long term.
The complex lid designs have a lot of small spaces where mold and mildew can hide and their small moving parts can gunk up and stop working if too dirty. 
Drinking mold can be extremely dangerous to your health and personally I think this is a huge issue with Contigo lids.
Many people have reported finding mold in their lids to the point where some people have even considered lawsuits against Contigo for this very issue.
Check out the video below to see the mold growing underneath the Contigo lids in areas you can't see and can't easily access for cleaning:
Eventually the lid will get to a point where it either needs to be disassembled and deep cleaned or replaced. And you might as well call in a team of engineers at that point. 
Below I've done a video on how to pull apart one of the more popular Contigo lids and you can see just how difficult it is:
This is by far the biggest complaint I have with Contigo Bottles and for me it's ultimately a deal breaker for this bottle.
I love the lids but unless you can be bothered pulling them apart all the time to clean them you'll need to buy a replacement lid.
However, Contigo don't even sell replacement lids! Which means you'll need to buy a Nalgene or CamelBak lid in the end anyway (these lids fit on Contigo bottles).
But if you're going to do that you may as well just buy a Nalgene bottle or CamelBak bottle in the first place and save yourself the trouble.
See my Contigo vs CamelBak comparison
Winner: Nalgene
Nalgene wins by a country mile! This competition isn't even close and this is honestly the nail on the coffin for Contigo bottles for me. 
Nalgene bottles are extremely simple to care for and almost impossible to ruin, even if you let them get too dirty. You can always clean mold and get rid of bad smells from your Nalgene bottle – but it's much much harder to clean mold from a Contigo bottle lid (assuming you actually find the mold in the first palce).
Contigo Bottles are legitimately the worst bottle lid to clean and maintain that I own. And it's not even particularly close. 
Thermal Insulation
If you want your cold water to stay cold all day long then you're going to want to get an insulated bottle.
But what sort of options do these 2 brands offer in terms on insulated bottles?
Nalgene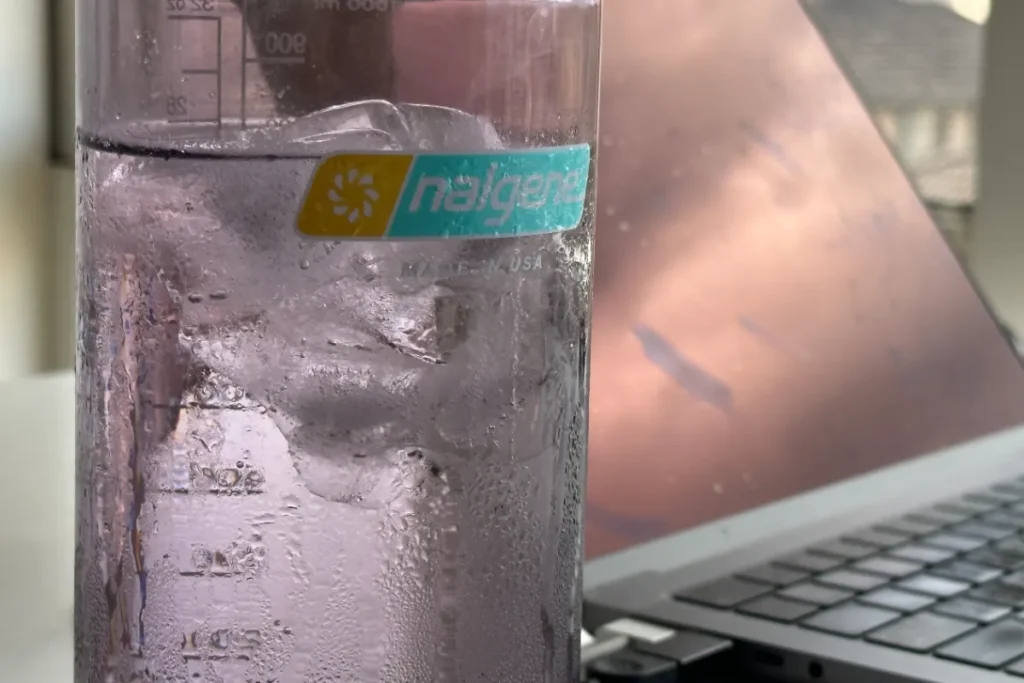 Staying true to their 'keep it simple' philosophy, none of Nalgene's bottles are insulated — not even their stainless steel bottles.
But that's not always a bad thing.
Non-insulated bottles make better hot water bottles, are more durable overall, and are typically lighter weight.
Their stainless steel bottles can even be used to boil water in and are a hikers and preppers dream bottle for emergency situations.
But, if ice cold water is a priority to you, a Nalgene probably isn't your best bet.
While there are plenty of tricks you can use to keep water cold for longer in a Nalgene, none really compare to a legit vacuum-insulated bottle.
Contigo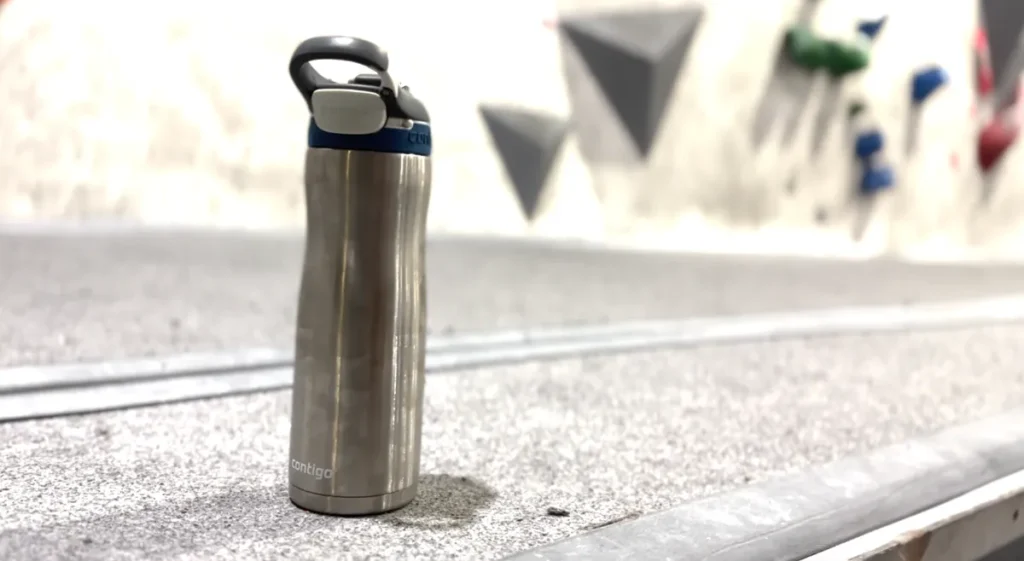 Speaking of vacuum-insulated bottles…
All of Contigo's stainless steel bottles are double-wall vacuum insulated to keep water cold for up to 24 hours and hot for up to 6 — nothing to write home about, but more than enough for normal use.
If I take one of my insulated Contigo Bottles out in the morning, the water is still crisp and cold by the evening. Just don't expect it to be on the same level as Klean Kanteen and keep water cold for days on end.
Like nearly all plastic bottles, plastic Contigo Bottles are also non-insulated and so are on par with the plastic Nalgene bottles when it comes to insulation.
Winner: Contigo
Contigo's stainless steel bottles give them an easy win in terms of thermal insulation, but it's more of a win by default considering Nalgene doesn't offer insulated bottles to begin with.
And if you want a plastic bottle, it's a tie. Neither Nalgene or Contigo make insulated plastic bottles.
Durability And Longevity
If you're investing in a good water bottle then you want that bottle to be able to last you a long time.
Nalgene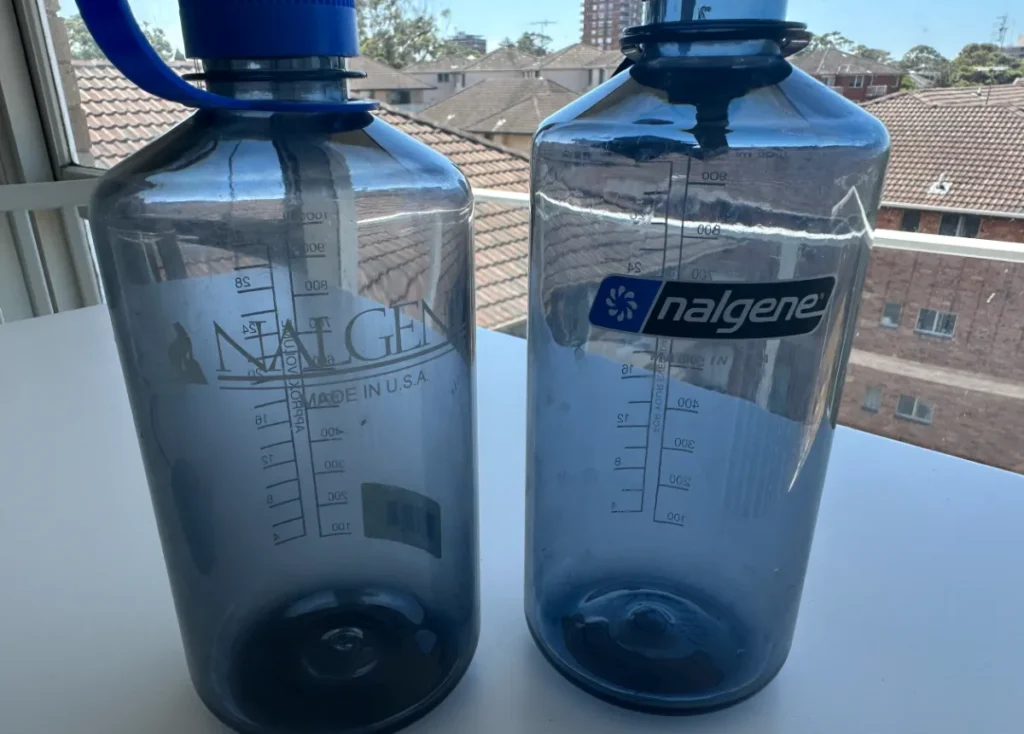 Nalgene's main line of bottles are made of Tritan Plastic, a surprisingly durable hard plastic. 
While they're far from indestructible, I've had a few survive some falls they really had no right to — down concrete stairs, onto jagged rocks, and even off a few 20 ft rock walls while climbing. 
Ultralite Nalgene Bottles are arguably even more durable.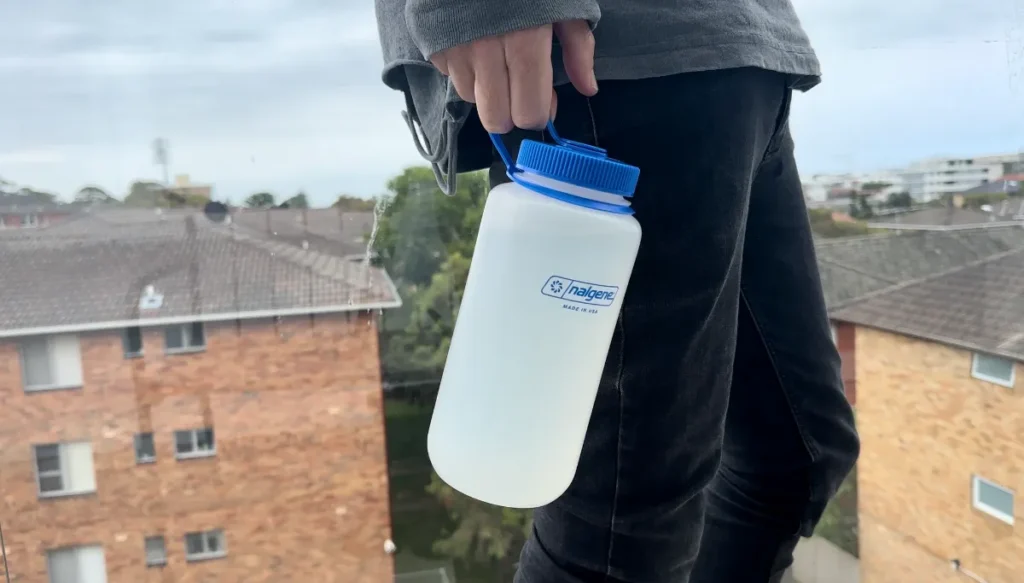 Because they're a bit malleable, they can flex to absorb impacts that most hard plastic bottles couldn't. And even if they dent, it can usually be popped out with no harm done.
Stainless steel Nalgenes take durability to a whole new level. Sure they'll pick up some dings and dents along the way, but it's hard to imagine one being damaged badly enough to be unusable.
Compared to the thin metal that Contigo stainless steel bottles are made out of, Nalgene bottles are much thicker and much more durable. In fact, they might just be the most durable stainless steel bottle on the market.
Mine looks like it survived the apocalypse, but still works just fine. 
Plus, even if you do manage to break a Nalgene bottle – the company will replace it for you free of charge!
Contigo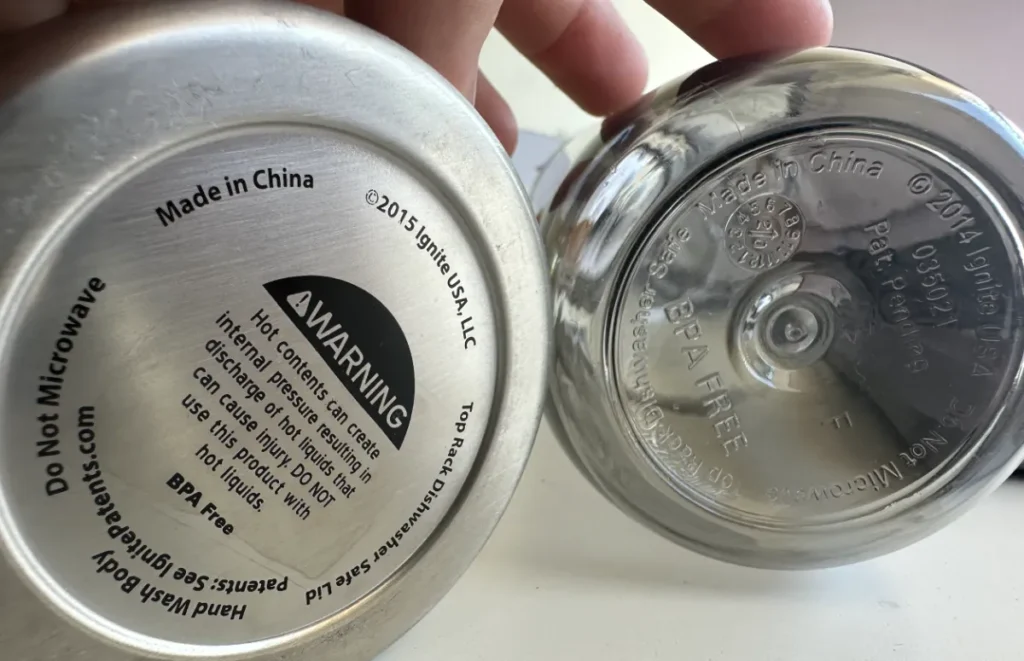 Like Nalgene, Contigo's plastic bottles are made of Tritan, so the bottles themselves are about equally as durable. 
Stainless steel Contigo bottles, on the other hand, are much more likely to be damaged than stainless steel Nalgenes because they're insulated and are made from a thinner stainless steel.
Vacuum-insulated bottles can lose their insulation (or I guess if you're an optimist, just become a non-insulated bottle) if the seal between the inner and outer walls is compromised. Drops and rapid changes in temperature are the most common causes.
But the biggest difference between Nalgene and Contigo Bottles is in terms of longevity.
Contigo's lids are innovative and super functional, but it comes at the cost of adding a lot more ways that something can go wrong with your bottle. Leaks are common place over time and with all the small moving parts eventually some part breaks.
If the leaks don't get you then the mold in the lid will.
And the worst part is, Contigo doesn't sell replacement lids. You have to replace the entire bottle if your lid is damaged or worn out.  
Winner: Nalgene
Nalgene Bottles take an easy win in terms of durability and longevity.
Breaking a Tritan or Ultralite Nalgene is tough, and destroying a stainless steel Nalgene is virtually impossible. Plus even if you do break it the almost-no-questions-asked lifetime warranty that Nalgene gives means the company is highly likely to replace your bottle free of charge.
Contigo Bottles, on the other hand, simply have more that can go wrong with them — like losing insulation or the lid mechanism breaking or wearing out.
Health And Water Safety
I drink a lot of water because I want to be healthy. So it's important to me that my bottle keeps me healthy and the water I am drinking from it is completely safe.
Nalgene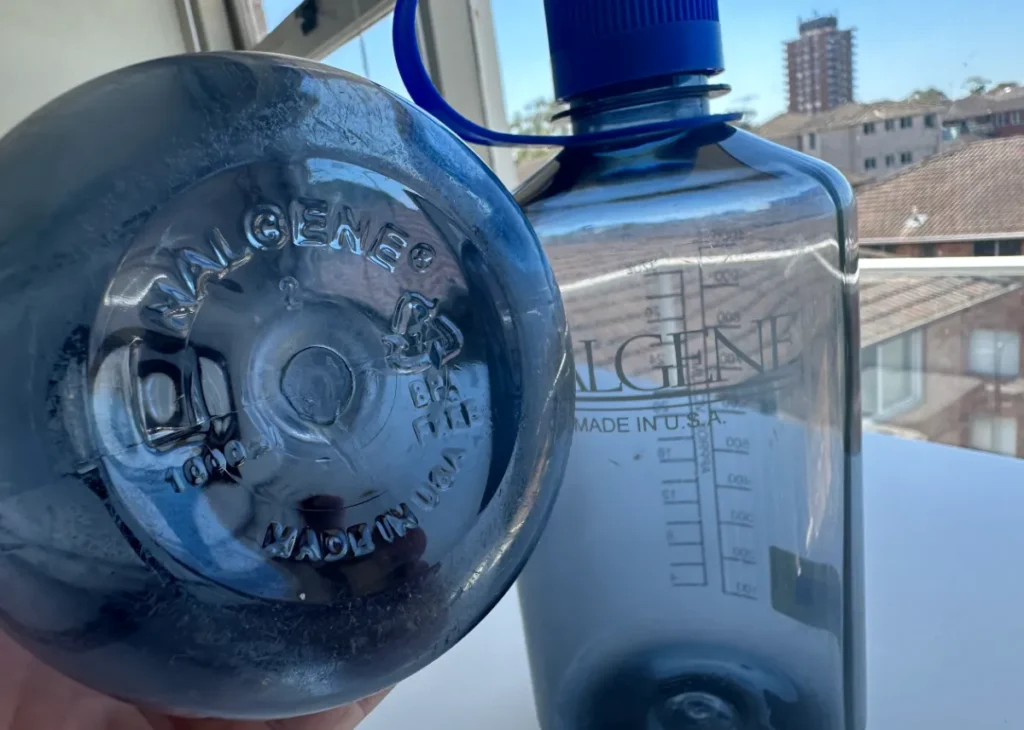 Plastic Nalgene Bottles are made of Tritan plastic, which is completely free of BPA and all other known hormone disrupting compounds — making them about as safe to drink from as any plastic bottle could be.
The problem is, there are still a lot of unknowns when it comes to plastic.
Some experts believe that there are many other chemical compounds commonly used in plastics that may be even more harmful than BPA. 
I'm still perfectly comfortable using my plastic bottles.
I just take a few precautions to minimize the risk, like only using them with cold drinks and not keeping my drink in them for any longer than is needed.
Contigo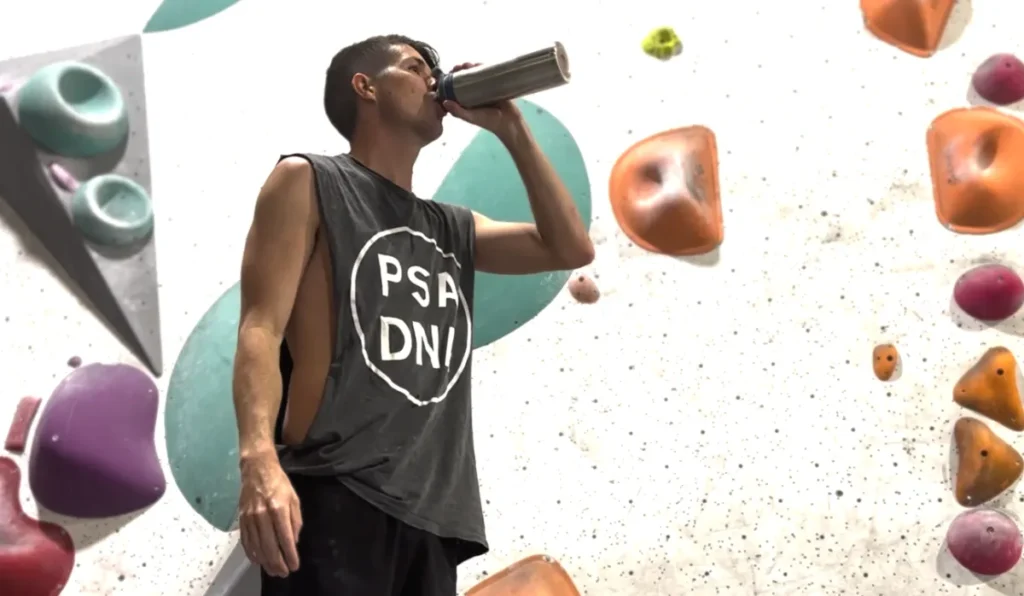 Like Nalgenes, plastic Contigo Bottles are made of Tritan plastic — so all of the same health risks apply.
But Contigo Bottles also have an additional concern when it comes to your health.
Mold.
While Nalgene Bottles (or any other bottle for that matter) can grow mold, Contigo Bottles are particularly prone to it because of all the small, hard-to-clean spaces in the lids.
However, Contigo does sell more stainless steel bottles. I personally feel these are better for my long term health so I do use my Contigo Autoseal bottle – I am just extremely diligent with cleaning it.
Winner: Contigo
If you want to minimize health risks, stainless steel is a much safer option than plastic, because there's no risk of chemicals leaching into your drinking water.
Contigo takes a slight edge in terms of water safety, thanks to their heavier focus on stainless steel bottles.
Just make sure you clean your Contigo Bottle thoroughly and frequently enough to prevent mold from growing under the lid.
Environmental Impact
If you care about the environment then you'll want to get a water bottle that is eco-friendly.
Nalgene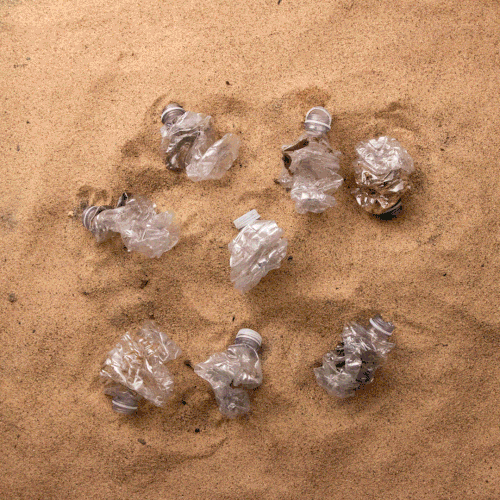 Nalgene puts every effort into making their bottles as environmentally friendly as possible.
They started making reusable bottles with the goal of reducing the number of single-use bottles in landfills. They're made of Tritan Renew, which is produced from 50% certified recycled materials. And all of their bottles are fully recyclable.
But no matter what, plastic bottles aren't "good" for the environment. Nalgenes are just… less bad?
Plastic is almost impossible to recycle efficiently, creates toxic byproducts during manufacturing, and breaks down into harmful microplastics. 
Nalgene bottles are also extremely unlikely to be recycled. Because Tritan plastic is a newer plastic most plastic recycling facilities are not set up to recycle this type of plastic.
The sad reality is that no type of plastic is a sustainable option.
Contigo
Stainless steel is a much better material for the environment.
It's fully recyclable, almost always made from recycled materials, and its production doesn't produce (many) harmful byproducts.
Contigo offers a much wider range of stainless steel bottles than Nalgene, with every style and lid available in both Tritan plastic and stainless steel varieties.
While Nalgene does have stainless steel bottles, they're aimed mostly at the hardcore outdoor crowd. Whereas Contigo's stainless steel bottles work great in any setting — from the office, to the trail, and everywhere in between.
Needless to say, Contigo's plastic bottles share all of the same environmental concerns as Nalgene's plastic bottles.
Winner: Contigo
Because Contigo offers a wider variety of stainless steel options, they take a slight edge.
Though, if the eco-friendliness of your bottle is a big concern, you should really look for a stainless steel Klean Kanteen bottle as 95% of their bottles are made from 90% recycled materials.
They are leading the way when it comes to eco-friendly water bottles.
See my Klean Kanteen vs Nalgene comparison
Nalgene vs Contigo: Which Bottle Would I Buy?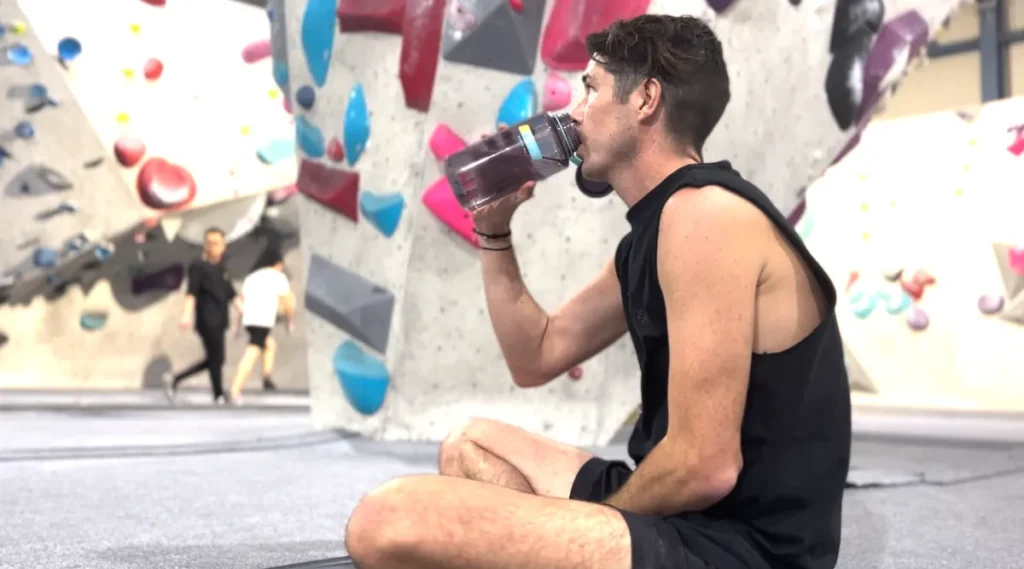 If my best friend was asking me which bottle I should buy, unless they were asking for their young child, I would tell them to buy a Nalgene bottle.
They are simple, super durable, a great size and they are going to last you a lifetime. $10-$20 well spent!
I would advise my friend to avoid Contigo unless they feel happy to tear down the lid a few times a year to clean it and treat it for mold.
The exception is for small kids. Nalgene bottles are too big for small children (though they do have an On-The-Fly range which is smaller and could work for kids).
Contigo bottles with their flip up small lids are great for toddlers and small children. Just make sure to clean the lids properly or replace them every 1-2 years (which you often do with kids bottles anyway).