Camping out in a tent is one of my favorite ways to spend a summer evening, but whether I'm camping by myself at a festival or camping with the kids I like to lock my tent at night when I'm inside it.
Locking your tent can help keep prevent theft, keep out any unexpected guests as well as prevent your toddlers from going on an early morning stroll.
There are quite a few ways to lock your tent from the inside and each option has it's pros and cons.
Safe and secure ways to lock a tent from the inside include:
Using a shoelace (or any cord). Simply thread the lace through each zipper hole and tie a knot to secure it. Tying the knot like a shoe will make it easier to undo if needed.
Twist ties, as in the ones that come with bread, work great as a quick yet secure way to lock up a tent by threading the two tent zippers together.
Use your keys! You can link the zippers on your tent together by attaching them via a keyring (a paperclip can also be used in a similar fashion, and will be easier to undo afterward).
Luggage locks and other padlocks can be used to hold your tent's zippers together, but it may present more inconveniences than other methods.
The goal of locking a tent is to add a safety feature for those accidental entries, human or not, but in no way does it make your tent a fortress.
Tents can be easily cut by those looking to steal valuables, and so with these tricks, the priority is ease of use while still being secure.
Each method will have different pros and cons, so be sure to read up on each below to determine which will work best for you.
1. Use a Shoelace, Paracord (or any string) to Tie the Zippers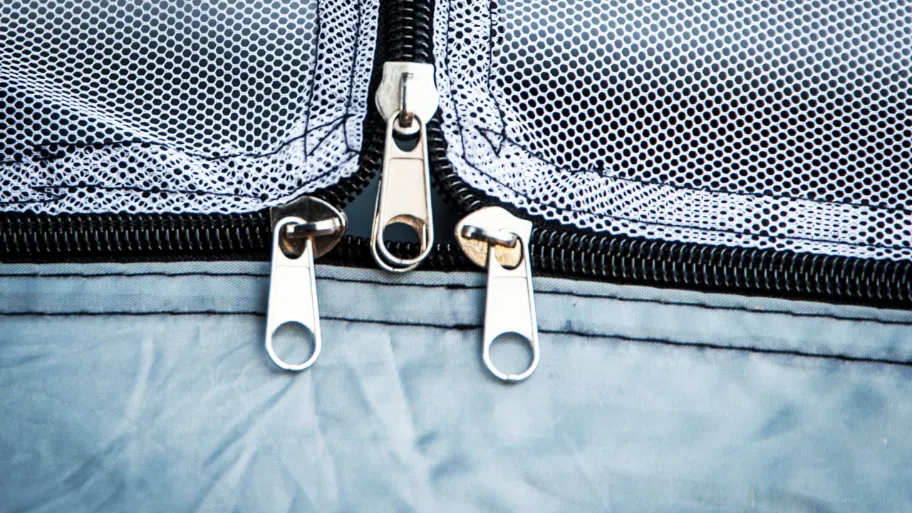 Using a shoelace or any other thin cord to tie your tent's zippers together is one of the easiest, yet effective ways to secure your tent at night.
First, you'll need to zip up the tent completely to bring the two zippers together.
Then thread your lace through the hole of each zipper and tie a simple knot to secure them together. I'd recommend tying the lace as if you were tying your shoes, as it'll make it much easier to undo when you need to leave (fidgeting with a knot is agonizing if you need a midnight bathroom run).
I prefer this method as it's pretty much free and it's also effortless to do when it's time to rest, and it's likely that you'll have a rope or at the very least a shoelace while you're out camping or at a festival.
2. Secure Zippers Using a Twisty Tie
Twisty bread ties bugged the crap out of me as a kid (and still do) but they make great use as a makeshift tent lock.
Start by zipping your tent up all the way so the two zippers meet, then thread your twist tie through the hole of each zipper.
Then simply twist the tie as if you were securing a bag of bread. Your zippers should be secured together so that when you attempt to move them, they move together.
These work great because while they're simple and light, they are surprisingly strong and hold their grip. They can also be frustrating to undo (as you may have experienced) which can be good for warding off burglars, but not so good after an early morning wakeup.
Still they aren't too difficult to undo yourself and can be kept on a single zipper when not in use so you don't lose it.
3. Link your Tent's Zippers Using a Keyring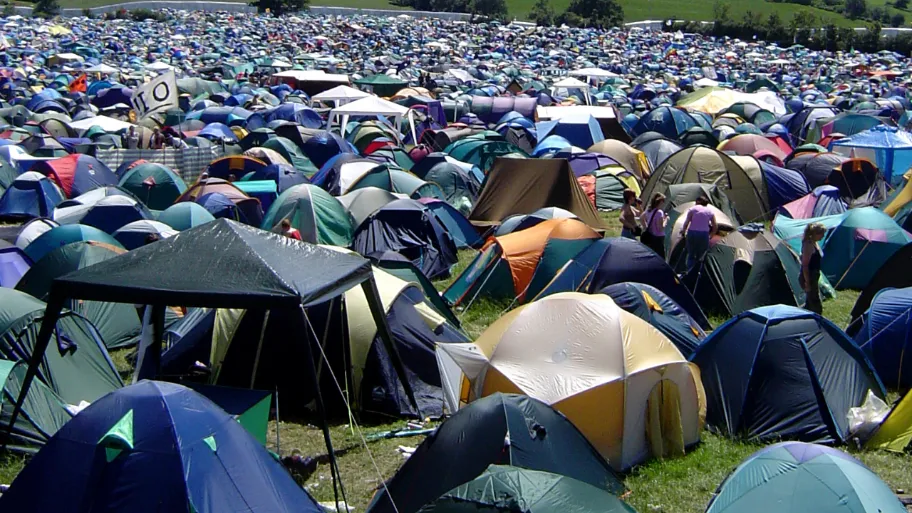 This is one of my favorite methods for securing a tent at festivals because if nothing else, you'll probably bring your keys along with you.
Like other methods, you'll start by zipping up your tent to join the two zippers together.
Then, as you can see demonstrated in the video below, simply attach a keyring to connect your zippers.
One Redditor pointed out that this method can be a little hard to undo, and substituting a simple paper clip can provide the same result but be much easier to remove in the case of an emergency.
I do love the keyring method for its effectiveness, and when I've forgotten anything else to lock my tent it does a great top in helping me feel more secure at night.
4. Use a Zip Tie
Zip ties have saved me a trip to the hardware store on countless occasions, and I usually have a few lying around in the garage for random purposes.
It turns out there is another use for them, as you can use a zip tie to secure your tent's zippers together from the inside.
Just like other methods, you'll thread your zip tie through each zipper and secure it. I'd definitely recommend leaving it loose, as you'll likely need to cut it when it's time to leave.
The obvious downside here is that, unlike other methods, you'll need a tool to undo the zip tie when needed. I usually carry a pocket knife when camping, but if you're at a festival a zip tie may not be your best choice.
It's also a bit wasteful to be using a fresh zip tie every time you want to get up and go to the toilet, or even every night.
You can bring a skewer and use that to undo it from the back so you can reuse the zip tie but this can be a bitter fiddly and I prefer not to have sharp things that could punch holes in my tent.
5. Padlock the Zippers Together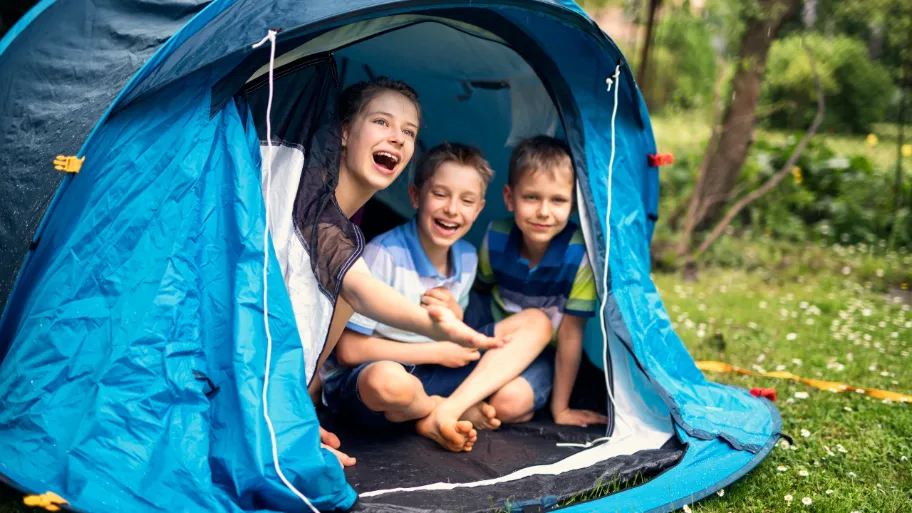 I personally like to use this method if my kids are sleeping in a tent by themselves. A coded luggage lock is something they can easily lock and unlock themselves and stops strangers coming into their tent in the night.
While it seems like the most secure option of them all there isn't really any truly "secure option" for locking a tent.
Tents can be easily slashed by anyone who is purposely trying to enter your tent and grab belongings, so when considering ways to secure your tent, the complexity of the actual lock isn't much of a factor.
For this reason, padlocks aren't usually the first choice when looking to secure a tent from the inside.
While they will do a great job of keeping your tent's door secured, the security that the padlock presents may end up backfiring in the case of an emergency or whenever you need to leave.
I don't like to use a lock with a key for this reason. It's possible to lock yourself inside your tent with the key outside (especially with kids who can lose keys). So combination locks are usually a better options.
If you're set on using a padlock, there are a few precautions you should take while securing your tent.
You'll start by zipping up your tent completely, then threading the lock through each zipper as with other methods. Luggage locks work best here since they are thin and can fit through most zippers. I personally like and recommend this Surelock Travel Luggage Lock with 3 number combination and easy push release.
The thin malleable cable is also great for passing through 2 or even 3 different zippers even if they are slightly far apart. Much easier than locks with solid metal U's.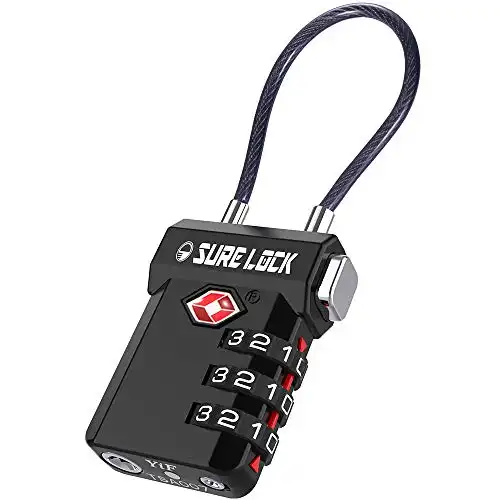 When setting the combination, I'd strongly recommend only changing one dial or even leaving the combination as is. This will make it much easier to exit when you need to.
In my opinion, there are much more convenient ways to lock up a tent at night, but a padlock can still get the job done when locking a tent from the inside.