A lot of people depend on the power of coffee to keep them going throughout the day. But if you're like me, you don't always have access to electricity to keep your coffee warm all day.
Whether it be a morning commute, school run, walk with a friend or maybe you're even hosting a picnic or party and need to keep large quantities of coffee hot to serve to your guests. But how exactly can you keep coffee warm when you are on the go or away from home?
The number one way to keep your coffee warm is insulation: start with a well-insulated cup, keep the lid on it to trap warm air, and add extra insulation with sleeves or other material. If you need to keep coffee warm even longer, then you might want to purchase a travel mug with battery power so you can actually heat your coffee when you are away from home.
Keep reading to discover all of my tips for keeping coffee hot without electricity.
They won't all work for you, some of them require expensive mugs or are better for large groups of people. While others will work great for your desk but will mean your cup can't fit in its cup holder in the car.
Find the tips that work best for you then combine them and you are almost guaranteed to be sipping hot coffee for a lot longer than before!
1. Always Use A Lid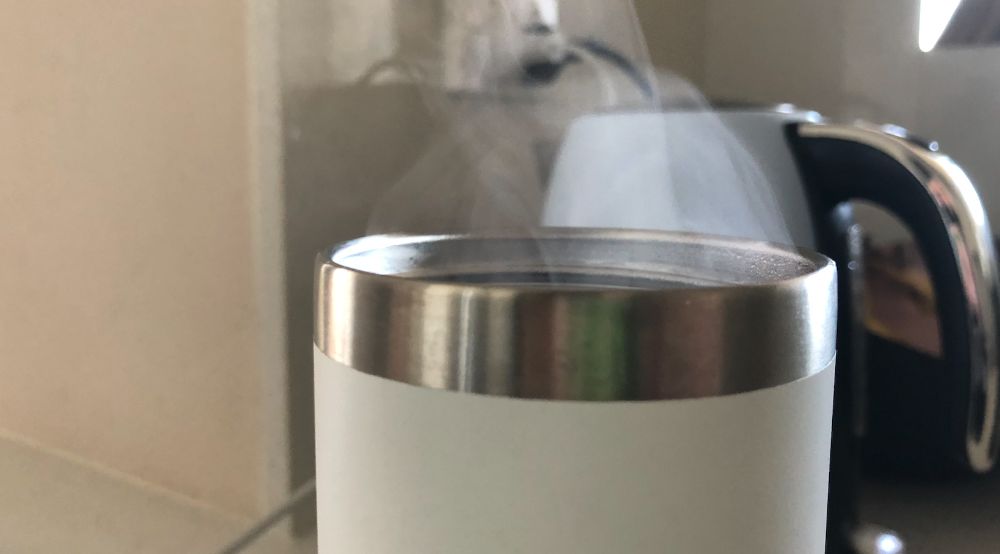 Interestingly, coffee actually loses a lot of heat through the air in the form of steam. As steam escapes your hot coffee it takes a lot of heat energy with it, cooling down your drink. This is especially the case if you are outside in cold or windy weather.
You can prevent this heat loss by trapping air in the cup with a lid. In fact the best vacuum insulated tumblers all seem to work extremely similar and it comes down to the lid that makes the difference in which keeps coffee hot the longest or drinks cold the longest.
Even if you don't have access to a real lid for your mug or disposable cup, using a plate or something else to cover the coffee when you aren't drinking.
A lid that stays on while you drink is the best (like the kind you'll find on a high end travel mug). But if your mug doesn't come with a lid then you can purchase lids that fit on nearly any cup and these will stop your coffee from losing heat to the surrounding air.
The best one that I have found and used is the Portavia Universal lid.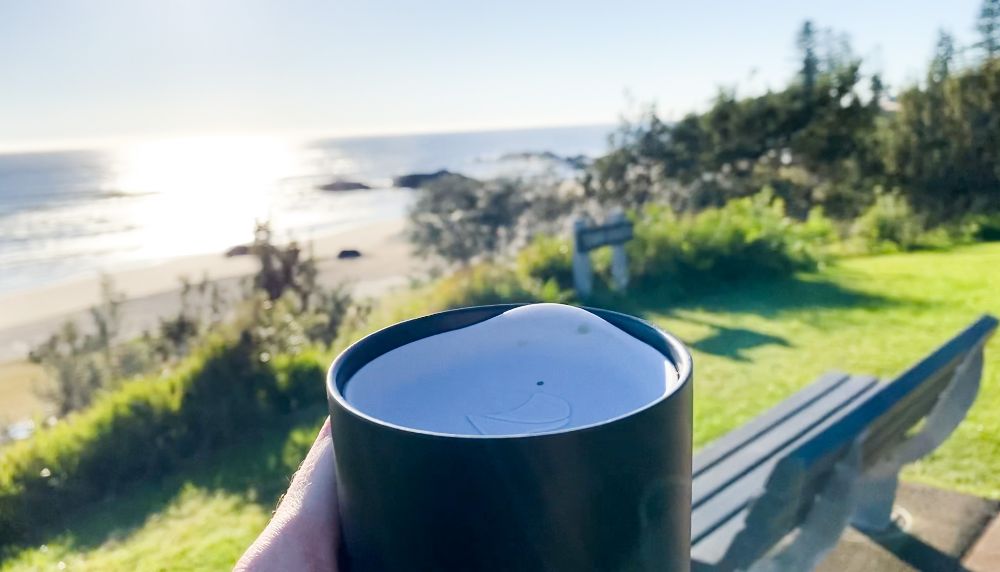 I've used is as a lid for my Ember Mug while I was traveling in my van and it worked absolutely great.
It's made from 100% silicone and is BPA free and safe to drink from. It slots snuggly into almost any mug and fixes itself in place.
You can even push it down far enough that your mouth doesn't have to touch the silicone and you can drink directly from the ceramic cup. So it doesn't affect the flavor or your drinking experience.
I highly recommend this lid if you're looking for one.
2. Only Take Lid Off Your Coffee If You Have To
Lids are great for keeping warm air in with your coffee, but only if you keep them on!
When I go hiking I'll often use a vacuum insulated water bottle to keep my coffee hot. But when I sit down for a rest if I leave the lid off the coffee will cool down pretty quickly.
Try to only open your coffee container as few times as possible. Each time you remove the lid to drink or pour yourself some coffee, a lot of heat will escape.
3. Wrap Something Around Your Coffee Cup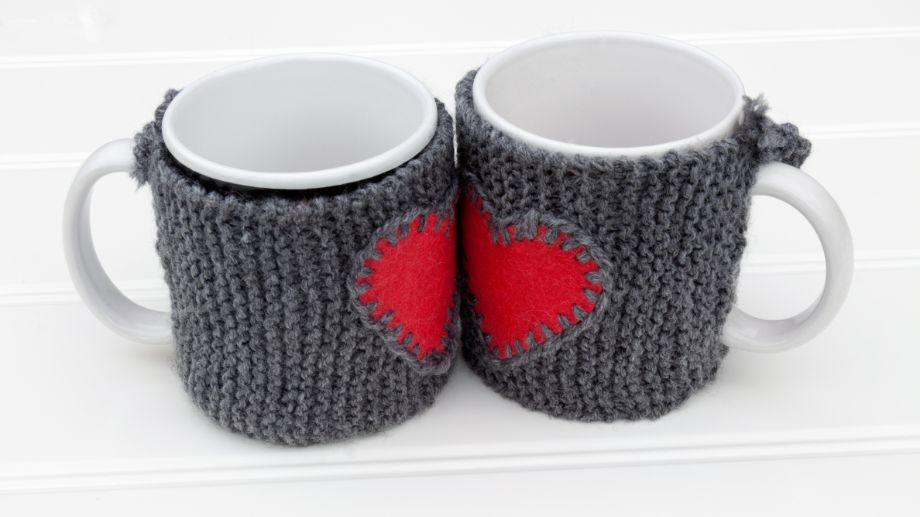 A simple way to keep coffee hot for a long time is to insulate it. This slows down heat loss from the outside of the cup, especially when it's cold outside.
This is why people put tea cosies on tea pots to keep it hot for longer. You can apply the same technique to your coffee cup and purchase tea cosies like the ones above from Etsy or you can makeshift some yourself.
A scarf is great to wrap around a coffee mug because they are usually just the right size and easy to adjust. You can also use other types of clothing or a blanket. Just be sure not to spill coffee all over your blanket.
4. Preheat Your Cup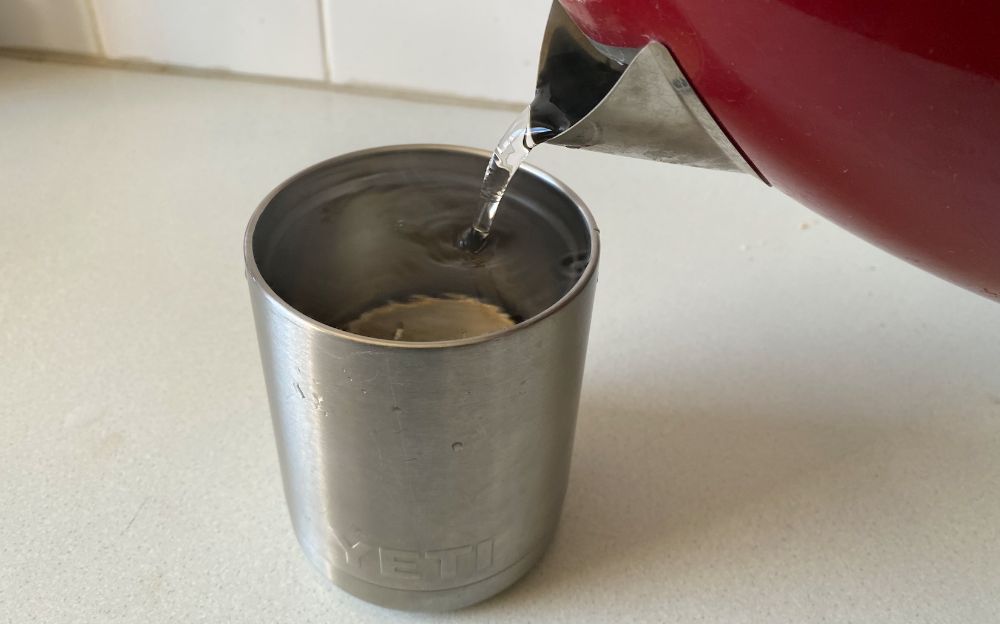 Warming up the cup itself before you put coffee in it stops the cup itself from drawing heat out of your coffee when you first make it. This will help to preserve some heat and keep coffee warm a little bit longer.
If you pour hot coffee into a cold cup, some of the coffee's heat will be transferred to the cup immediately. Preheating the cup will preserve this heat and extend the time your coffee will stay hot.
How do you preheat a coffee cup? The best way is to prepare some boiling water and put it in your cup for 30-60 seconds. Then simply dump the water out and replace it with hot coffee.
5. Carry More Coffee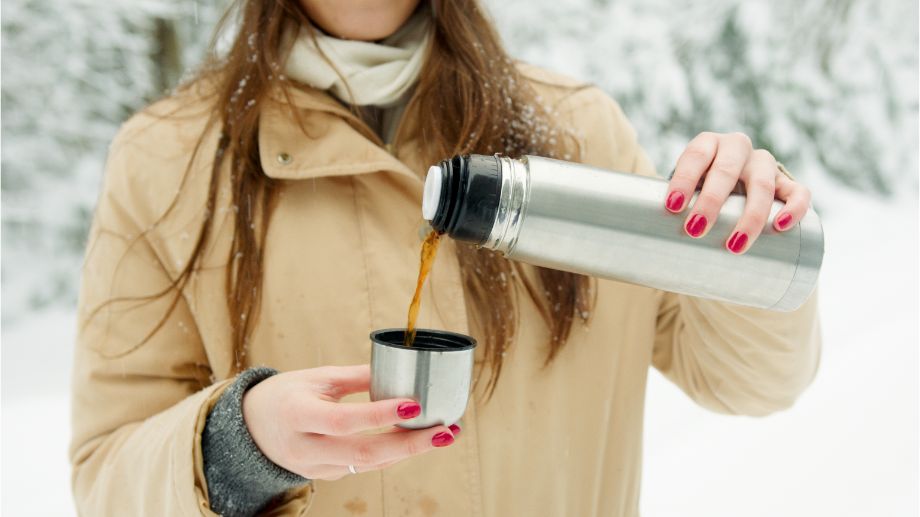 Greater volume of coffee means more stored heat – so carry a double batch of coffee with you to keep it hotter for longer.
If you usually use a 16-ounce travel mug, think about buying an extra-large cup that holds 32 ounces. More hot coffee means more heat in the cup, and it will be stay hot for a long time.
You don't have to drink it all but if the coffee it cheap this can be a good option so every sip you have is a hot one.
If you don't want to drink that much coffee at once, a large, insulated canister like a Thermos might be right for you. You can transfer just the amount you want to drink to your cup and the rest will stay warm for many hours.
6. Drink From An Insulated Tumbler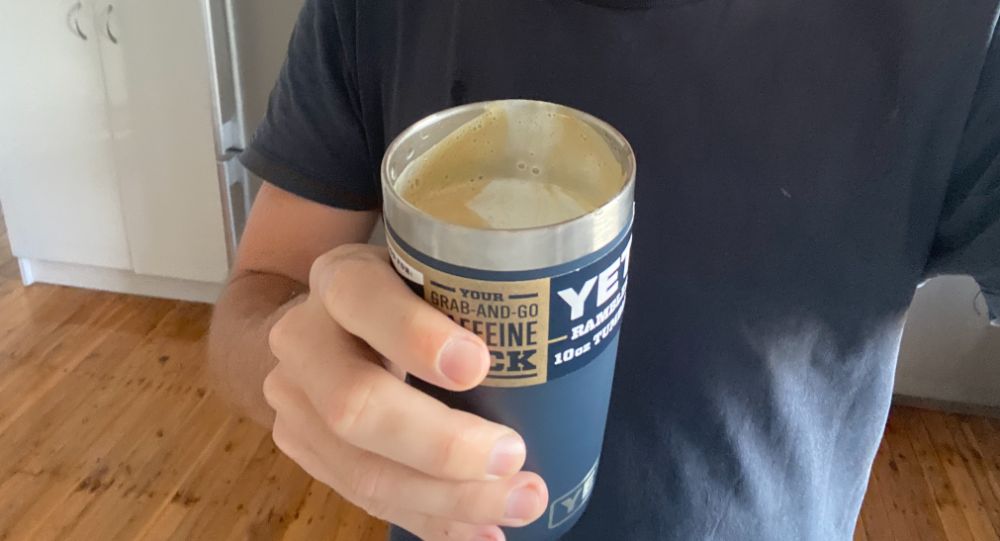 These days there are an endless number of insulated tumblers and mugs on the market (I've already ranked my top ten coffee mugs that keep coffee hot). Top of the list is vacuum insulated tumblers.
They use double-wall designs and vacuum insulation to prevent heat from escaping the cup.
Most quality mug brands perform just as well as the next, but the biggest name in the game is Yeti. They really set the standard with the Yeti Rambler Tumbler.
If you are comparing other brands, make sure to choose one that has a good lid, because that is really what makes the difference for keeping coffee warm. I like tumblers that slide or snap closed so no air is getting out of the lid – and the lid is spill proof, too.
My favorite Tumbler is the Yeti 10 oz Tumbler. It's got a sliding mag-safe lid to stop spills and it's thin design fits perfectly in your hand and in any cup holder.
7. Use An Insulated Canister (Thermos)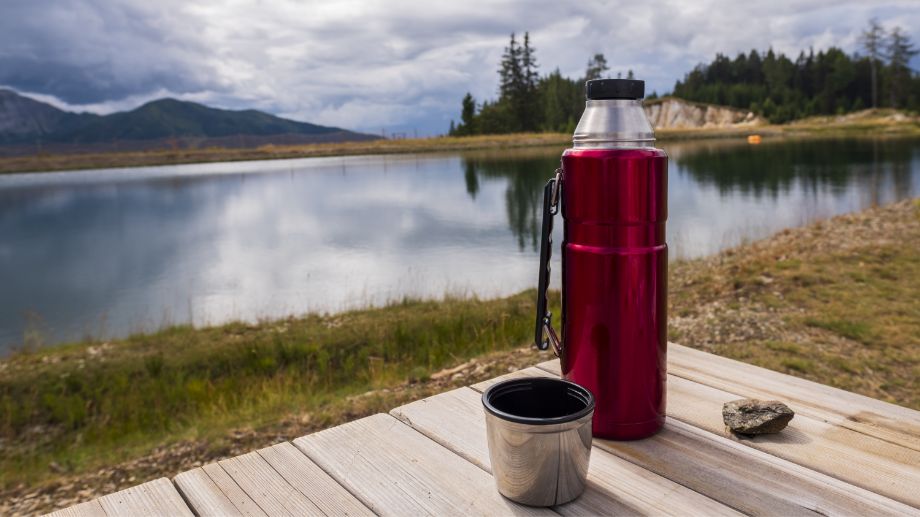 The oldest, and maybe the most trusted brand for keeping coffee warm without electivity is Thermos. Their insulated canisters are not designed to sip out of all day, but rather to store a large amount of coffee and keep it hot as long as possible.
If you are trying to store coffee for several hours later, rather than drinking it all day, then this might be perfect for you. Check out this 40-ounce vacuum insulated Thermos bottle, which will hold enough for multiple people to enjoy.
These things have been known to keep coffee warm for many hours, even days, through the power of their double-walled insulated design. If you pack the min a bag or wrap them up in another material, they will stay hot even longer.
While you can't sip directly out of the canister, the lid does serve as a handy drinking cup. I like to pair a Thermos bottle with a regular insulated mug and refill my mug a few times throughout the day.
8. Invest in a Smart Coffee Cup (Ember)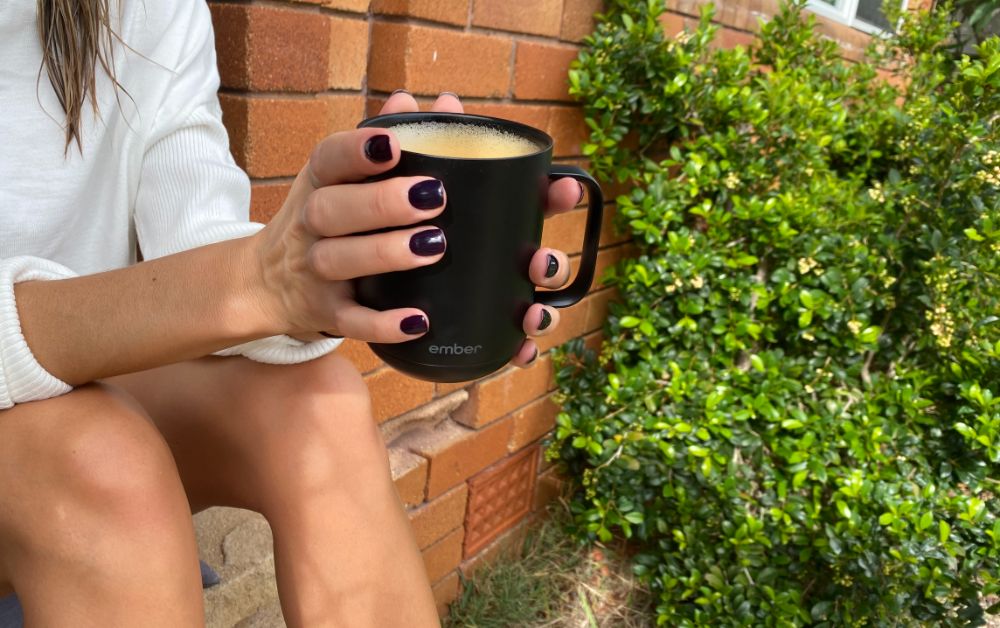 One of the greatest inventions for keeping your coffee warm is the smart coffee cup. These keep your coffee at a precise temperature indefinitely when they are sitting on a charger, but they are also battery-powered for when you are on the go.
One of my favorite smart cups is the Ember Travel Mug 2. This is a great all-day, every-day coffee cup because you can use it at home for perfect coffee all day and take advantage of that battery power when you leave.
You can expect about 1.5 hours of battery life to warm your coffee, depending on the temperature you set it at (you can control Ember mugs with the buttons on the mug or by using an app).
Don't forget, after the battery runs out the coffee will still be warm enough to drink and then it'll begin to cool down like a regular coffee cup.
9. Usa a Thermal Carafe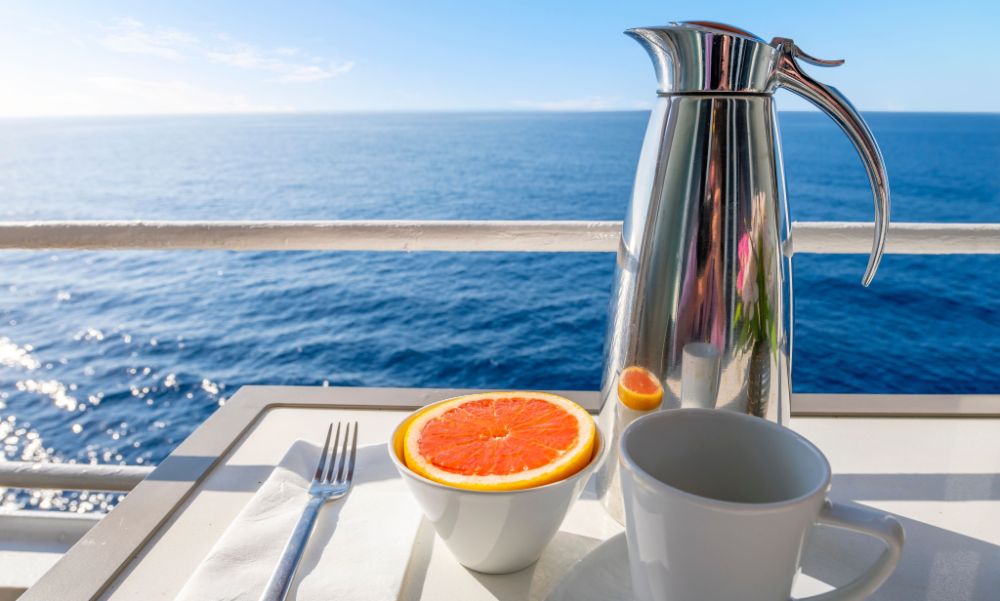 A thermal carafe is like a Thermos canister but it's designed for easier pouring. In addition to a double-walled, vacuum insulated design, the carafe usually has a handle and an easy-pour spout.
The easy pouring ability of this design makes it ideal for coffee that you want to share: it's great for pouring hot coffee neatly into multiple cups.
They are usually pretty large and can keep coffee warm without electricity for up to 12 hours, so if you want to pour your coffee into cups after taking it on the go, definitely check out the thermal carafe.
10. Use A Coffee Urn
When you're hosting a party or convention and you need to serve coffee to a lot of people then an insulated coffee urn is going to be your best solution.
These are like extra large thermoses or coffee carafes and feature double walled vacuum insulation and large capacities to serves tens or even hundreds of people at a time.
They also feature easy pour features that allow guests to serve themselves with ease.
The Zulay is a great coffee urn with extremely high customer reviews and backed by a lifetime guarantee.
10. Phase Change Cups
Phase changes cups like the Burnout Mug use vacuum insulation but take things to another level by also having a layer of phase change material that can absorb heat when your coffee is too hot and deliver it back to your coffee at just the right time.
The phase change material will melt when you pour boiling hot water into your mug and then once it reaches around 140ºF/60ºC it turns back into a solid and in the process it releases heat, which helps to keep your coffee hot.
For boiling hot coffee this is great to make it the perfect drinking temperature quickly and for barista made coffee (that starts out around 140ºF/60ºC) you can preheat the mug with boiling water and then discard it and pour your coffee in to keep it warm.
Made by literal rocket scientists this is a great way to keep your coffee warm without electricity.
11. Reusable Stainless Steel Coffee Beans
These reusable stainless steel coffee beans are a neat way to store some extra heat in your coffee and keep it warm without electricity. They work just like the phase change material inside the Burnout coffee mug but they work in any mug.
All you need to do is preheat the beans in boiling water before you drop them in your cup. Inside a stainless steel exterior is a phase change material that will absorb heat and then release it back into your coffee, keeping it the perfect drinking temperature for longer.
They're too big to swallow and easy to clean when you are done: just wash them with the rest of your dishes and you can reuse them as many times as you want.
12. Think About Styrofoam or Paper
Styrofoam provides some basic insulation and heat trapping for your coffee, especially when paired with a lid. It will keep coffee warm longer than a simple ceramic cup or mug.
However, styrofoam is not great for the environment since it is usually a single-use material and also there is some data to show styrofoam could increase your chance of cancer so I wouldn't recommend drinking from them directly. But you could put a styrofoam cup outside a regular cup and it would act as insulation.
Paper is an insulating material and paper cups do an ok job at keeping coffee hot. Stacking multiple paper cups (and including a lid) can help keep coffee hot longer than a regular cup would. Though it's not as good as styrofoam and definitely not as good as vacuum insulation.
Summary
When you're away from electricity for hours and need to keep your coffee warm, you really have a lot of strategies to choose from.
Remember the basic principles from this article and you should be enjoying coffee that's hotter-than-ever, even hours after your leave the house:
Use a lid and keep it closed
Start with more heat by preheating your cup and carrying more coffee at once
Invest in a well-insulated container that's right for you, whether it be a travel mug, canister, or carafe
Think about battery-powered coffee warming mugs or cup holders
Add insulation by wrapping a scarf around your coffee