Nalgenes are the perfect basic reusable water bottle. They're lightweight, durable, watertight, and affordable — features that also happen to make them great for a lot of other things you probably never even considered.
Some of the most interesting things you can do with Nalgene bottles are to:
Cook noodles or soup in them (ideally with a stainless steel Nalgene)
Use them as hot water bottles to keep warm while backpacking
Use them as ice packs
Store dry foods in them to organize your pantry
Use them as storage to organize your garage
Use them as an airtight trash can while backpacking
Keep important items safe and dry in them while hiking
Wash your clothes in them on the trail
Use them as a tent urinal on cold nights camping
Think twice before you throw away that old Nalgene or pass up on that second Nalgene you found on sale.
No matter how many Nalgenes I have laying around (and it's quite a few), I never run out of interesting ways to use them.
1. Cook In Your Nalgene
Any fast-cooking or instant noodles can be cooked right in your Nalgene bottle.
Just add the noodles to the pot, pour in some boiling water and a pinch of salt, seal, gently shake, and let sit for 5 or 10 minutes. 
It's saved me from having to carry around an extra bowl while backpacking for years.
Just keep in mind, while Nalgenes can handle boiling water pretty well, it may cause more chemicals to leach from the plastic. I'd recommend using a stainless steel Nalgene instead (which you can even boil water directly in).
Plastic Free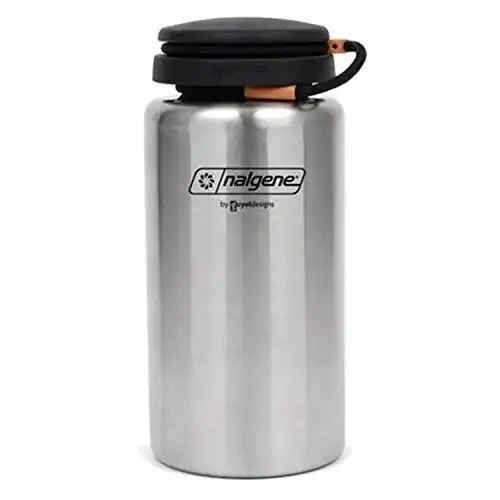 Nalgene Stainless Steel Water Bottle (38 oz)
Made from single wall surgical grade 316 (18/10) stainless steel and featuring the same size threads as the regular Nalgene widemouth this is the perfect bottle for those wanting the lifetime warranty and durability of a Nalgene without the plastic.
Comes with a rope pack loop lid attachment.
Buy Now at Amazon
2. Use Your Nalgene As A Hot Water Bottle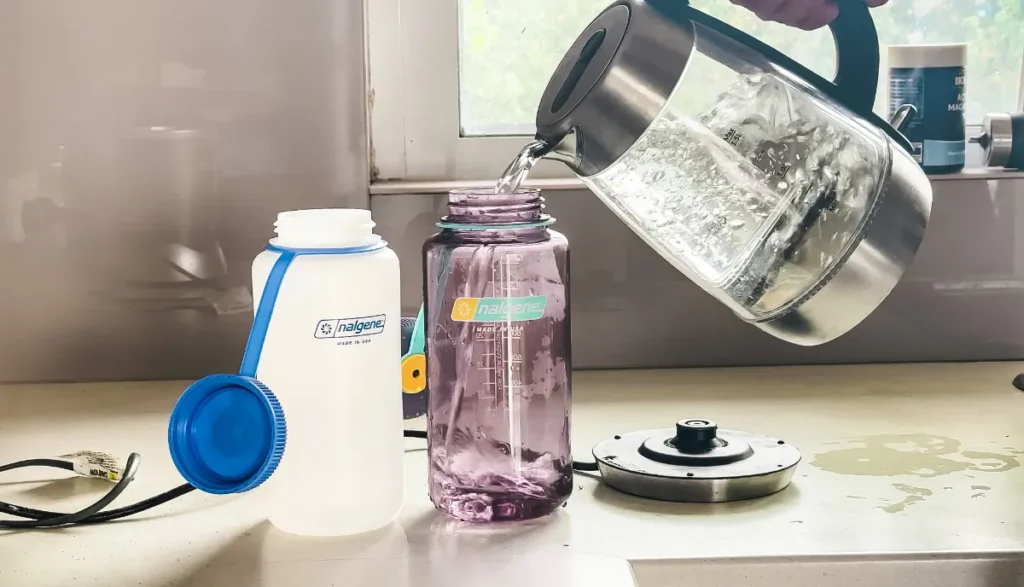 Nalgene Bottles make great hot water bottles to keep yourself warm while backpacking or camping in cold weather.
All you have to do is add some boiling water to your Nalgene, wrap it in a sweater or thick wool sock, and place it into your sleeping bag or under your jacket as you hike.
Just be sure to test the temperature of the bottle first so you don't burn yourself. Also be careful when using boiling water in the Ultralite Nalgene bottles as the bottles do get soft and it could potentially damage them.
I also avoid drinking cooled boiled water from my Nalgene because I know that boiling water can leach more chemicals from the plastic into the water.
After using my Nalgene as a hot water bottle I'll empty it in the morning, give it a clean and then refill it with fresh water.
3. Use Your Nalgene As An Ice Pack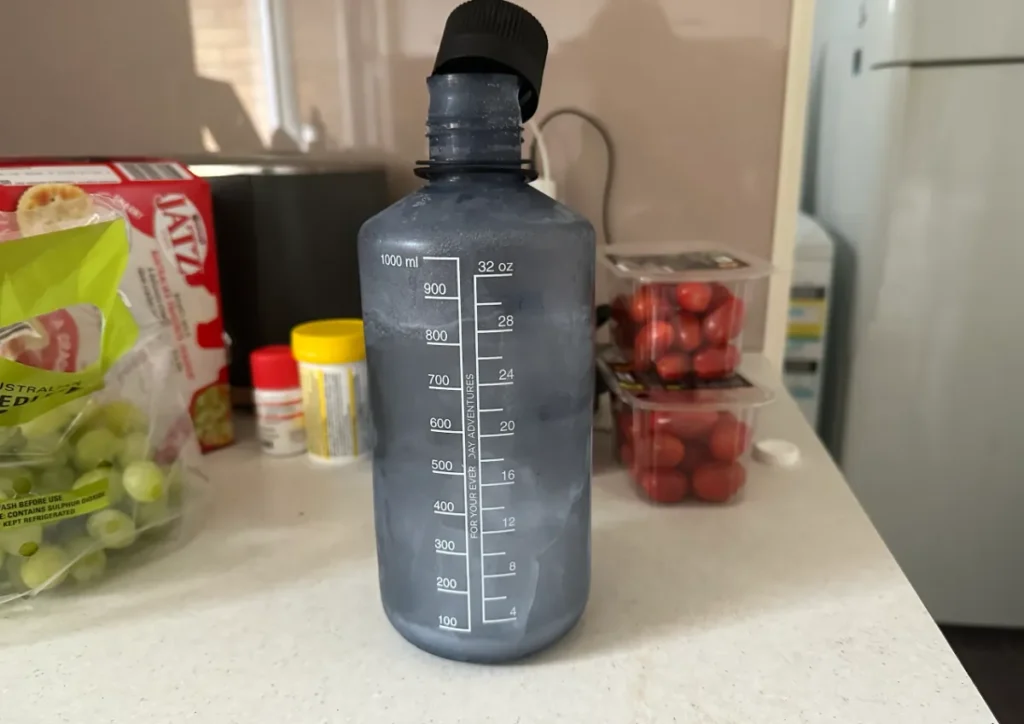 A chunk of ice frozen in a Nalgene Bottle works pretty well as an ice pack. Simply freeze a ⅔ full Nalgene on its side and add it to your cooler or lunchbox.
Be careful not to overfill it or your bottle may crack as the ice expands, which is one of the few types of damage not covered under Nalgene's amazing lifetime warranty.
Freezing your Nalgene is safe to do if you do it properly and it's a good way to keep water cold longer in your Nalgene bottle. I personally hate lukewarm water so I love freezing my Nalgenes before a summer hike.
4. Organize Your Pantry
Because Nalgene bottles are airtight and foodsafe, they make great storage containers for dry foods like oatmeal, sugar, and flour, to name a few.
Just don't store anything wet in them long term. Over time, chemicals will leach from the plastic.
5. Organize Your Garage
My oldest and most beat down Nalgenes usually end up in my garage, collecting miscellaneous screws, nuts, bolts, and anything else that'll fit.
Nalgenes are more than durable enough for the task.
6. Use Your Nalgene As A Portable Trash Can On The Trail
Nalgene Bottles make a great trash receptacle for the trail. They hold all of my dead batteries, spent matches, and whatever other small garbage I end up making.
It's especially perfect for food wrappers because, since Nalgenes are airtight, they won't attract wildlife.
This is one of the reasons I prefer the wide mouth Nalgenes over the narrow mouth ones. You can't really use the narrow mouth ones of storing trash on the trail and they are harder to clean.
Leave no trace.
7. Store Important Items In Your Nalgene While Hiking
Nalgenes make the perfect trail storage because they're lightweight, watertight, and can even float.
Anything that I want to keep dry or is too important to lose goes right into one, like matches, spare batteries, trail maps, keys, and cell phones.
Even if it rains or my gear ends up in the creek the items inside my Nalgene will stay dry.
8. Wash Clothes In Your Nalgene While Camping
Sticking a pair of dirty socks or briefs in a Nalgene with some water and biodegradable detergent is an easy way to get them super clean on the trail.
A few shakes and a couple of rinses, and you'll be feeling fresh again in no time.
9. Use Your Nalgene As A Tent Urinal
This one might be a little hardcore but, if you've ever camped in below freezing temperatures, you know how much it sucks to get out of your cozy sleeping bag to pee at 3am.
I'm not ashamed to admit that on more than one occasion I've used a spare Nalgene as a tent urinal.
Needless to say, you shouldn't drink out of it again until you've washed it really well.
BONUS: Convert Your Nalgene Into a Hydration Pack
One of my favorite Nalgene bottle hacks is the ability to turn your Nalgene water bottle into a Hydration pack.
Rather than going out there and buying a CamelBak or similar hydration pack you can get the Source Tactical Water Bottle Hydration System Converter.
This simply screws onto your Nalgene bottle and turns it into a Hydration pack that you can sip on during your hikes or mountain bike rides. A very practical conversion kit that I absolutely love.