The IceMule Boss is a backpack cooler that packs some serious punch that makes it stand out from inferior backpack coolers on the market. It is arguably one of the best backpack coolers out there and well worth consideration.
The IceMule Boss designed like a technical backpack with 1.2″ thick closed cell foam in it's main compartment, a roll down design to keep ice cool, insulated and waterproof external pockets, MOLLE webbing on the side, bungee chords, thick padded straps, a padded waist strap and a ventilated back. It is the ultimate in backpack coolers.
You can purchase it directly from the manufacturer or through Amazon.
See the latest price of the IceMule Boss at IceMule.com
(or compare to the latest price of the IceMule Boss at Amazon)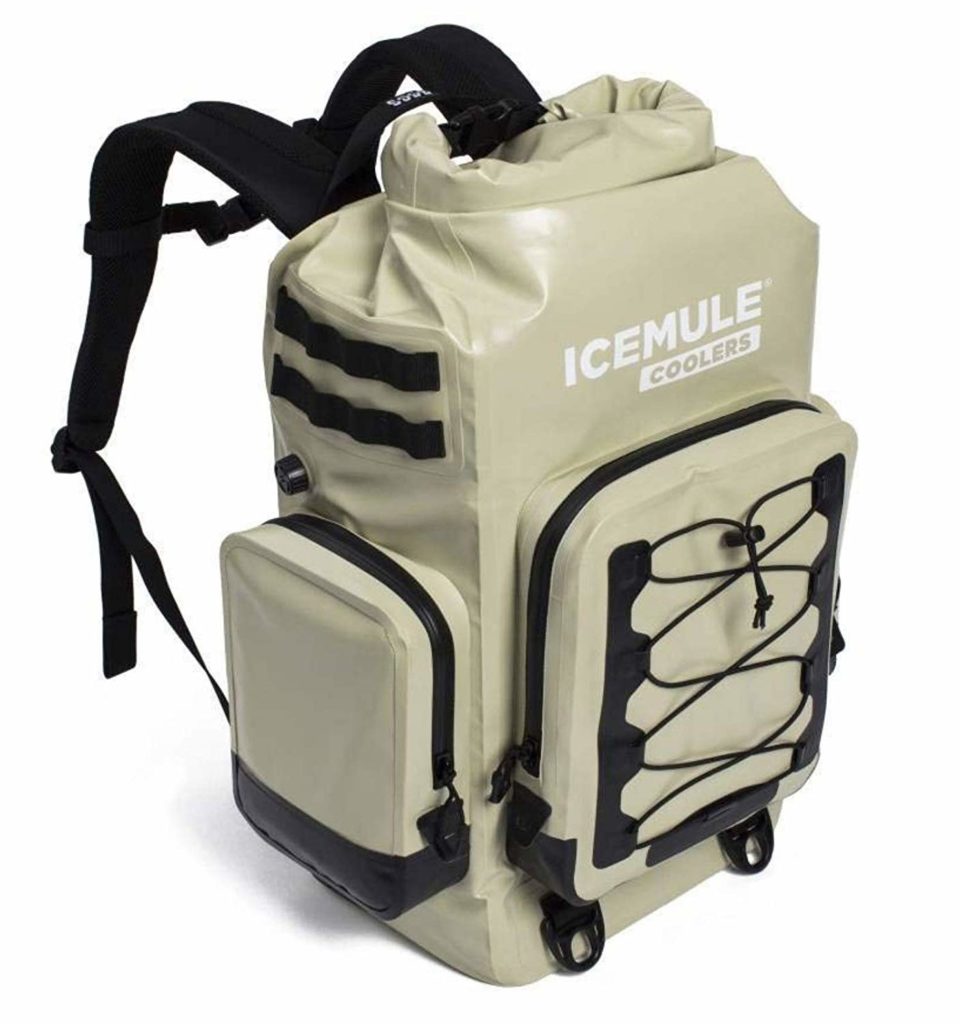 The Main Cooler Compartment Keeps Ice For Days
The central cooler compartment has a rectangular design and has 1.2″ closed-cell PolarLayer XT insulation foam.
While I have no idea what that means I do know that it can hold ice for up to 3 days and has a 30L (31.7 Quart) capacity that can hold roughly 24 cans + ice.
This thing is a beast and has a capacity larger than most backpack coolers.
One of the things I really like about this design is that the backpack keeps its shape even when not completely full. Cheaper backpack coolers on the market often look floppy and lose their shape when not filled to capacity. The IceMule Boss doesn't have that problem.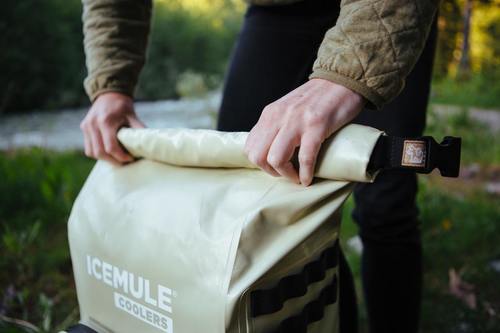 The roll down design, while kind of bizarre, ensures that the central compartment will remain watertight and you won't have any leakage. It's not completely practical to use but it's also not that difficult to roll it down and then clip it closed. This feature I will give a "just fine" rating to. I don't love it, but I also don't completely hate it.
The rectangular shape also means that it has a solid base as will stand up straight when loading/unloading your items, whether it is full or not.
The Insulated Waterproof Exterior Compartments Are Great For Your Things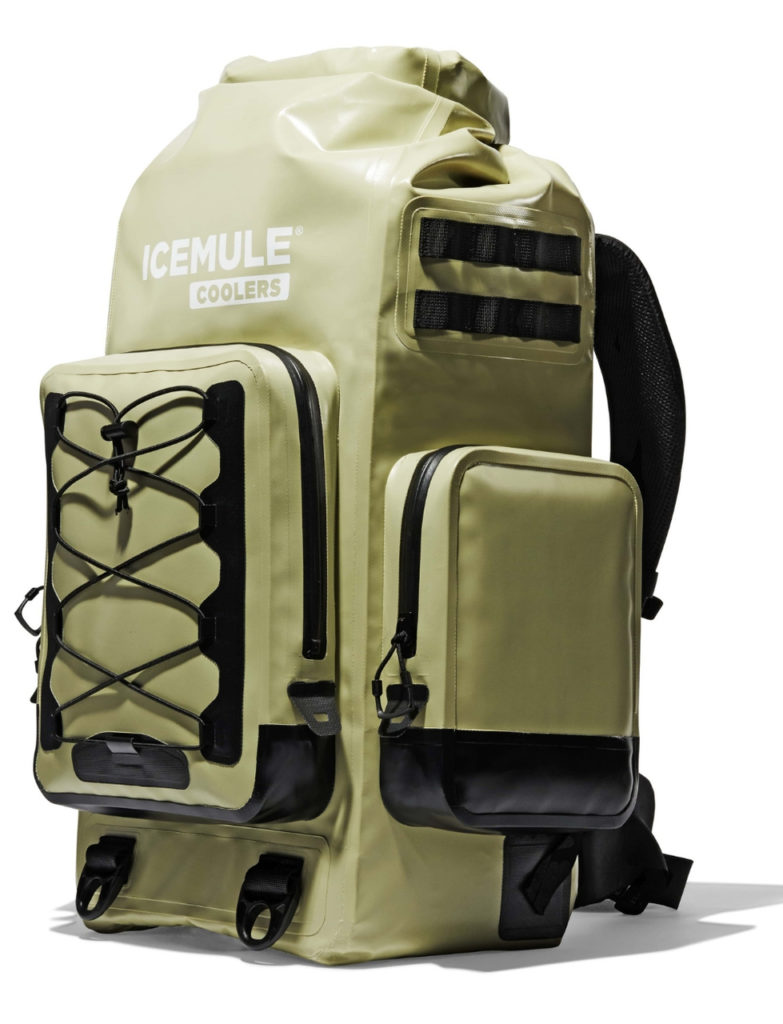 The Yeti BackFlip 24 is an amazing backpack cooler, but the thing that gripes me about it is that there are no external pockets for your phone, camera, electronics or sandwiches.
The IceMule Boss has 3 exterior compartment that are all waterproof, so you can keep electronics safe, as well as insulated so you can use them to keep items cold.
The front pocket is larger than the two side pockets and has bungee chords on the exterior. Truthfully I have no idea what people use these bungee chords for. But hey they are there if you can find a use for them.
Comfort and Support…To The Extreme
A cooler backpack this big needs the right type of support on order for it to remain comfortable when full. The IceMule Boss spares no expense in this department.
No thin straps here!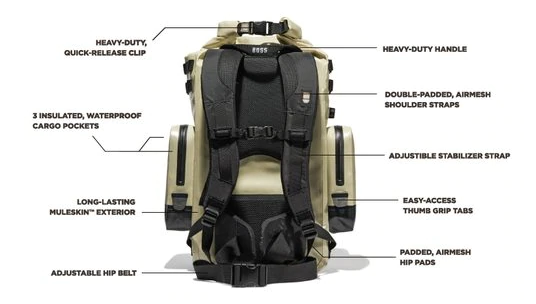 Thick Padded Shoulder Straps – Thick padded straps is a top priority whenever you're looking for a backpack cooler. The Boss has thick padded shoulder straps that use ventilated mesh so they won't be too hot.
Ventilated Airmesh Back Pads – For further comfort you've got a ventilate back pad for more comfort on your upper back.
Cushioned Hip Belt – Not only does the Boss have a hip belt but it also adds padding to the back of the hip/lower back region for more support and the hip belt is thick and padded on the sides and clips easily at your front.
Sternum Strap – For further support when carrying a full backpack of ice and drinks there is also a sternum strap to connect the two shoulder straps together.
Toughness and Durability That Lasts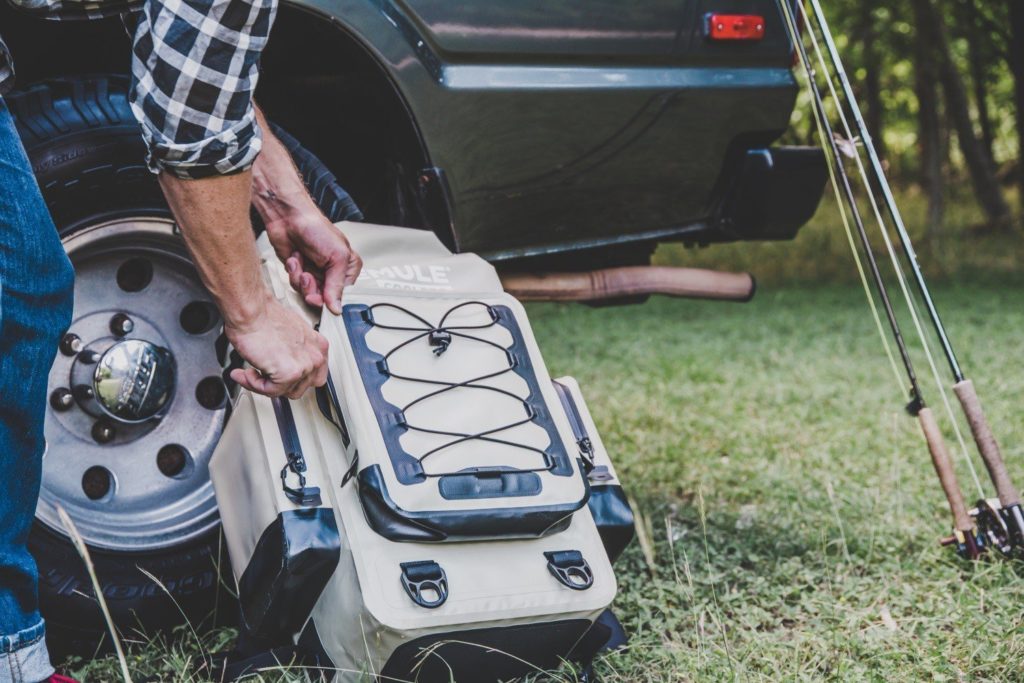 The IceMule Boss is made with a proprietary MuleSkin fabric. This makes the backpack waterproof and it also means that it is tough enough that you can take it on adventures for years and it will continue to hold up.
The bag is tough. It's dry empty weight is 7.5 lbs and it can easily handle over 60 lbs of weight without breaking a sweat.
90-Day Money Back Warranty
The IceMule Boss comes with a 90 day money back warranty if you are unhappy with the product for whatever reason.
However, outside of this I couldn't find any further information regarding warrant on the material, stitching or any other aspects of the backpack cooler.
Available on Amazon
You can purchase the IceMule Boss directly from the manufacture, from a local store of through Amazon.
Links to the IceMule Boss in this article are Amazon affiliate links so if you use them I great appreciate it.
If you want to head over to Amazon to read more customer reviews or to purchase an IceMule Boss for yourself then please click the link below.
See the latest price of the IceMule Boss at IceMule.com
(or compare to the latest price of the IceMule Boss at Amazon)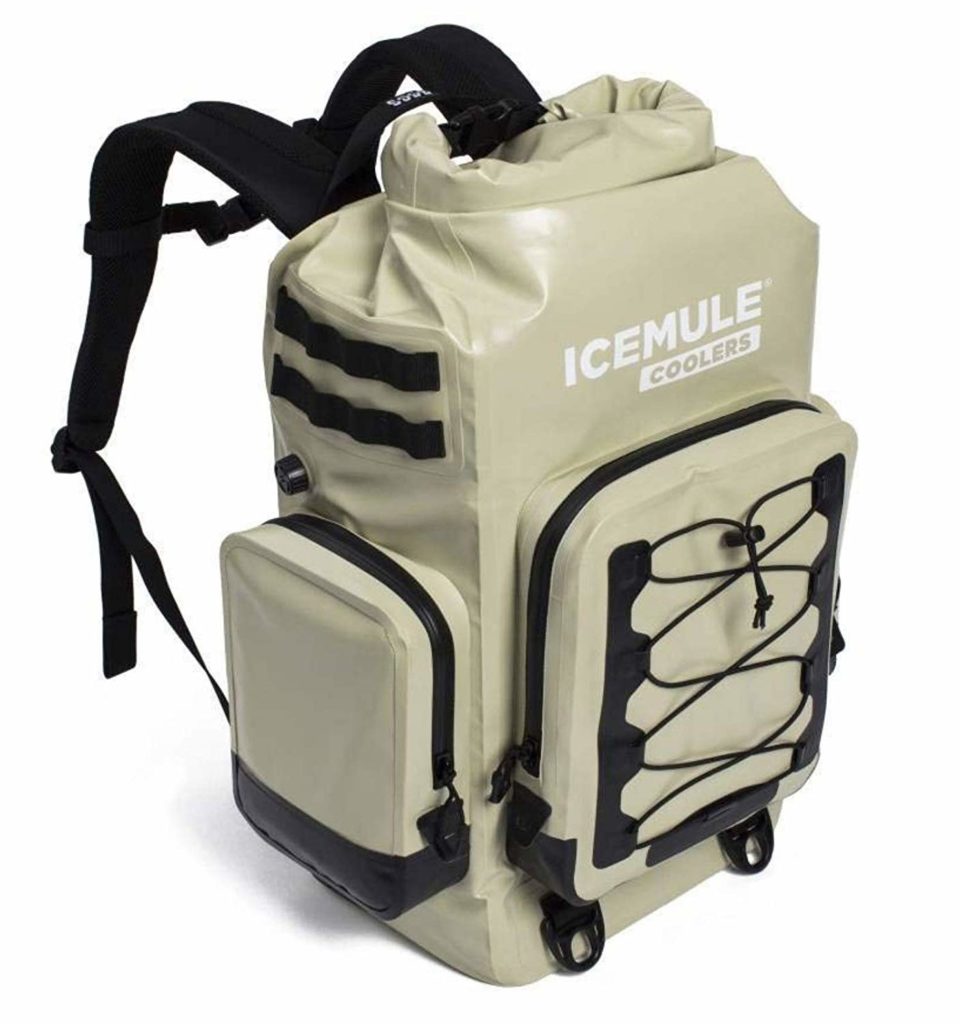 One Of The Most Expensive Backpack Coolers…But For Good Reason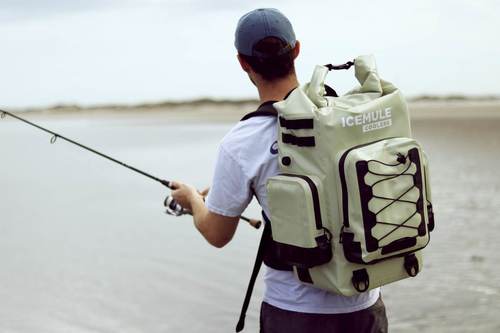 The IceMule Boss is one of the most expensive backpack coolers on the market. It comes in at around $300 dollars (can occasionally be cheaper on amazon).
Really there are only 2 premium backpack coolers around a similar price. The Yeti BackFlip 24 and the OtterBox Trooper, but neither of them really come close to the IceMule Boss in terms of it's features.
Both have smaller capacities so they don't hold as much. The Yeti has literally zero external compartments and the OtterBox has just 2 smaller external compartments.
I love the way the OtterBox opens, it makes it really easy to access items. The IceMule isn't as easy with it's roll down style lid, but it's a compromise I'm willing to make.
If you're looking for a premium backpack cooler then I really think you should at least consider this one.
See the latest price of the IceMule Boss at IceMule.com
(or compare to the latest price of the IceMule Boss at Amazon)