Hydro Flask are great water bottles that keep ice cold and keep drinks hot, but they are quite expensive so it makes sense to try and find Hydro Flasks on sale.
However, it can be tricky to find Hydro Flasks on sale because the brand are very careful and don't let retailers discount their products very often plus the websites out there selling cheap Hydro Flasks are usually selling fakes.
So where can you buy Hydro Flasks on sale?
The good news is you can often save up to 25% on your Hydro Flask bottles or other products if you know where to look and when to shop.
To find Hydro Flasks on sale you either need to use Hydro Flask's sale page, shop during the promotional discount periods listed on their promo page, or buy a discontinued color which is allowed to be discounted.
It can be really hard to find Hydro Flasks on sale, but I have found a few ways to do it which I'm going to share with you in this article. By far the best way to get cheap Hydro Flasks is to look at the used Hydro Flask bottles on Ebay, as you can save up to 50% on the retail price.
Why Is It So Hard To Find Hydro Flasks On Sale?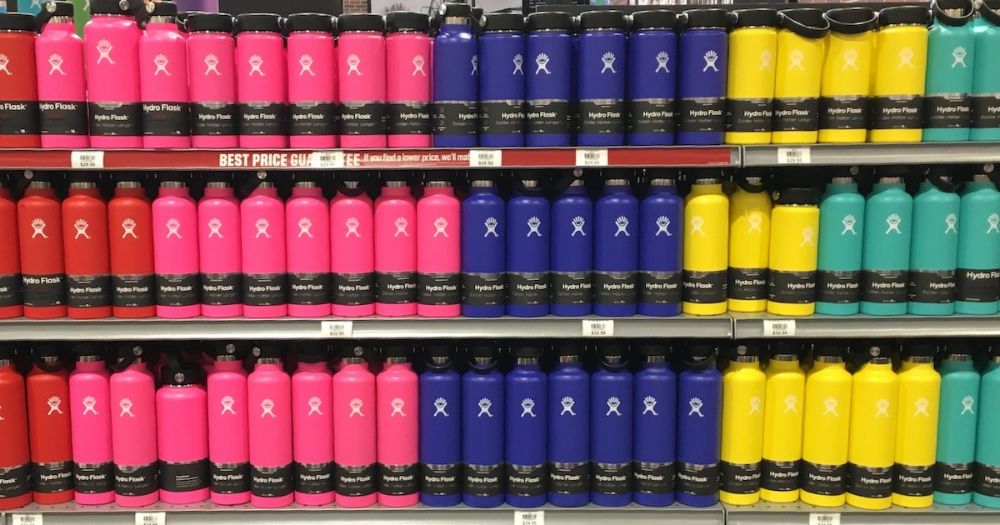 It's so difficult to find Hydro Flasks on sale because Hydro Flask the brand tightly controls what prices their products are allowed to be advertised and sold for.
Hydro Flask only works with "authorized dealers" and according to their dealer page they don't work with any e-commerce only dealers. They only work with businesses that have brick and mortar stores.
On their dealer page they say:
We are not currently opening any e-commerce dealers
This means online stores with low overheads aren't able to sell Hydro Flasks at tiny margins.
Hydro Flask also have "minimum advertised pricing" for their products. Meaning authorized dealers are not allowed to advertise Hydro Flask products below this pricing except during promotional periods set out by the brand.
On Amazon, one company (Tall Ridge) is the exclusive seller of genuine Hydro Flask bottles and they shut down any other company trying to sell Hydro Flask products on there.
On Ebay and other websites all the Hydro Flasks are generally fakes so you're not getting the real thing.
So yeh, it can be really hard to find genuine Hydro Flasks on sale. However it is possible and I'm going to show you how!
Where To Buy Hydro Flasks On Sale
There are 4 main ways I have been able to find Hydro Flasks on sale.
You can't get every color or size possible through these methods but you can often find the size you want for up to 25% off or in the case of the last tip an even bigger discount!
1. Hydro Flask's Sales Page

Hydro Flask have a semi-hidden sales page where they list products that they are discontinuing and sell them at a discounted rate.
They sell Hydro Flasks on sale for 25% off the regular asking price, so you can save a lot of money by shopping through this page.
Last month I was looking at this page and all that was on there was a single color of backpack and tote coolers. There weren't any bottles on sale.
But this month I had a look and there were so many Hydro Flasks on sale!
Here's a bit of a list of some of the things that were 25% off when I had a look
Hydro Flask 32oz Watermelon – 25% off
Hydro Flask 40oz White – 25% off
Hydro Flask 12oz Coffee Lemon – 25% off
Hydro Flask 16oz Coffee Multiple Colors – 25% off
Hydro Flask Coffee Mug Multiple Colors – 25% off
I could go on and on because everything from tumblers to bottles to lids to slings to protective boots to coolers were all 25% off. It was a good time to be buying a Hydro Flask.
It may not be that good today as you read this article, or you might get lucky like I did and see loads of Hydro Flask products on sale. But it's definitely worth checking the page regularly and then buying your Hydro Flask when it's being sold at a discount.
Click here to see the HydroFlask.com sale page
2. Shops + Websites During Promotional Periods

Hydro Flask have a "minimum advertised price" which dealers have to abide by if they want to sell Hydro Flask products.
However, throughout the year Hydro Flask allow them to discount products for a certain period of time if they want.
The details can all be found on Hydro Flask's promotional periods page.
When I looked the only dates dealers were allowed to discount was over the black friday/cyber monday weekend. The maximum discount dealers were allowed to give was 25% below the normal retail price.
The page says:
The maximum allowable advertised discount is 25% below MSRP during these promotional periods only.
To find a Hydro Flask on sale using this method:
Check the promotional page for when stores are allowed to discount Hydro Flask products
On those dates looks at a variety of local or online stores to see what discounts they are offering
Buy your Hydro Flask on sale and save up to 25%!
3. Discontinued Colors On Sale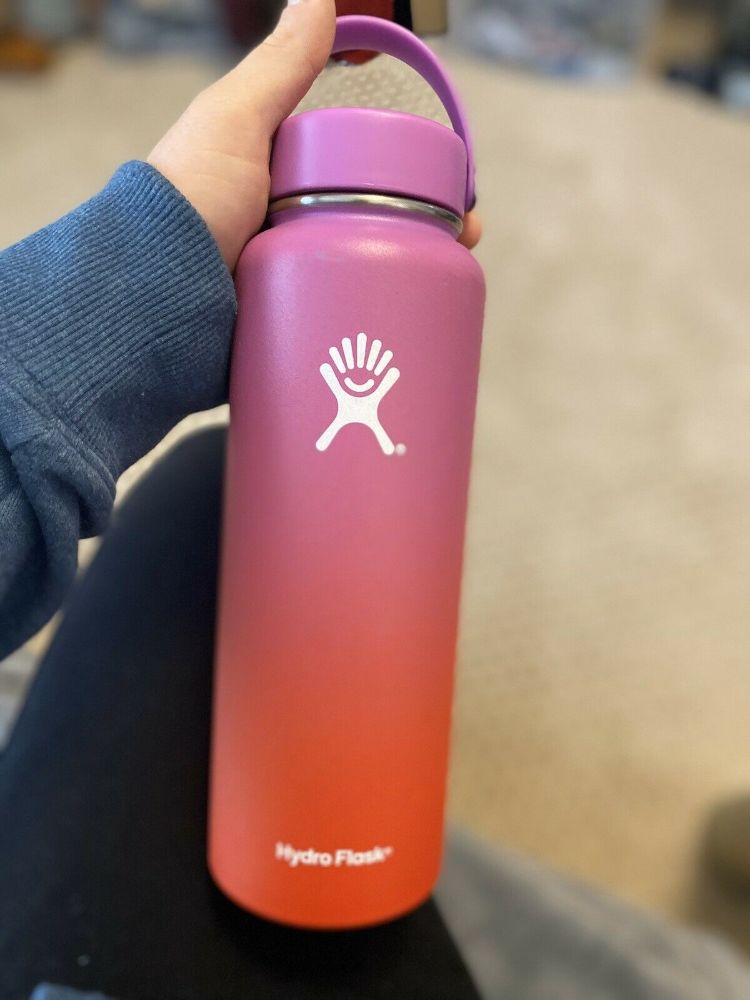 Also on the Promotional page is something Hydro Flask call a "MAP Break Allowance".
This is where Hydro Flask list the certain skews or colors that dealers are allowed to sell for under the minimum advertised price.
When I looked there were 5 discontinued colors on this list that stores were allowed to discount.
Then it's just a matter of hunting down those colors and trying to find them at a discount on different online stores or local stores that are trying to get rid of the old stock.
This is a harder way to find Hydro Flasks on sale, but it can work out if you're lucky.
4. Second Hand Hydro Flasks On Sale For Over 50% Off!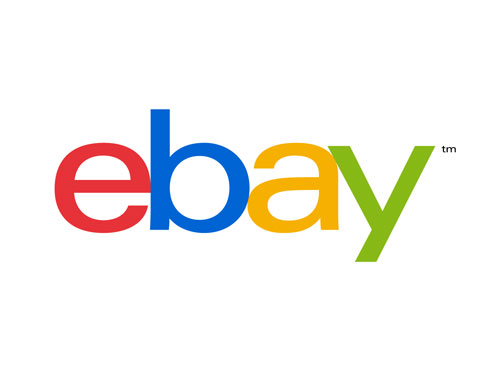 While Ebay is a terrible place to buy new Hydro Flasks (because almost all the "new" Hydro Flasks are fake) it can actually be the best place to pick up a genuine Hydro Flask for way cheaper than you could ever buy one in store.
How exactly? By buying second hand.
To do this you need to do a search for "Hydro Flask" but then on the drop down menu you want to go to the "Condition" section and click the box so you only look at "used". You can also click here to jump straight to the used Hydro Flask results at Ebay.
When I did this for the purpose of this article there were 10,969 results for Hydro Flasks but only 135 results under the "used".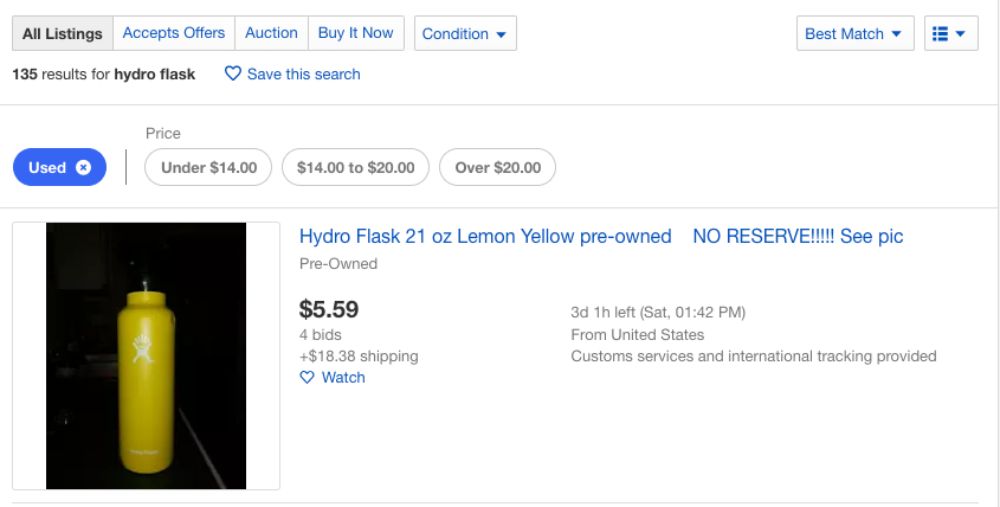 But some of the results I found were amazing.
40oz Hydro Flask for $17.99 (brand new is around $50)
3 x Hydro Flask bottles for $50 (combined new would cost around $125)
18 oz latest model Hydro Flask for $17.50 (brand new would be around $30)
And these were the undamaged ones. Some of the ones with dents in them were going to auction and I am sure they would sell for even less.
You do still need to be careful as I identified a couple of these used listings as used fake Hydro Flasks. I could tell from the printing of the logo, but the majority of them looked completely genuine. You could even get some with the old logos, which they don't make anymore.
This is a really smart way to get Hydro Flasks on sale for half price or sometimes even more than 50% off the retail price. You'll want to give them a good clean but they'll still do the same job.
Click here to see the used Hydro Flask bottles listed on Ebay