While RTIC Coolers are about as close as you'll find to Yeti Coolers without breaking the bank, they're not a perfect substitute. They even got sued by Yeti and forced to change their designs (slightly) because they were so similar.
One of the biggest problems people have with them is their lack of accessory options — especially when compared to Yeti, who offer a huge selection of accessories.
But how do all those Yeti accessories work with RTIC Coolers?
Because Yeti and RTIC Coolers are very similar in construction, size, and design, many accessories made for Yeti Tundra Coolers also work perfectly fine with RTIC Coolers. Items that clip inside the side anchorpoint tie down slot on a Yeti will also fit onto an RTIC.
This includes items like the rod holster, beverage holder and locking bracket all fit into RTIC coolers as well. Other third party accessories designed for Yeti coolers generally also fit onto RTIC coolers.
For the most part, accessories that don't snap into place (eg. seat cushions, baskets, dividers) on a hard cooler or attach to a soft Yeti Hopper's HitchPoint Grid will work just fine with an RTIC Cooler. 
I have several Yeti Coolers, but I still find plenty of use for my RTIC 45. But to be honest, if a few of my favorite Yeti accessories didn't work with it, it probably wouldn't get nearly as much use. 
Do Yeti Accessories Work With RTIC Coolers?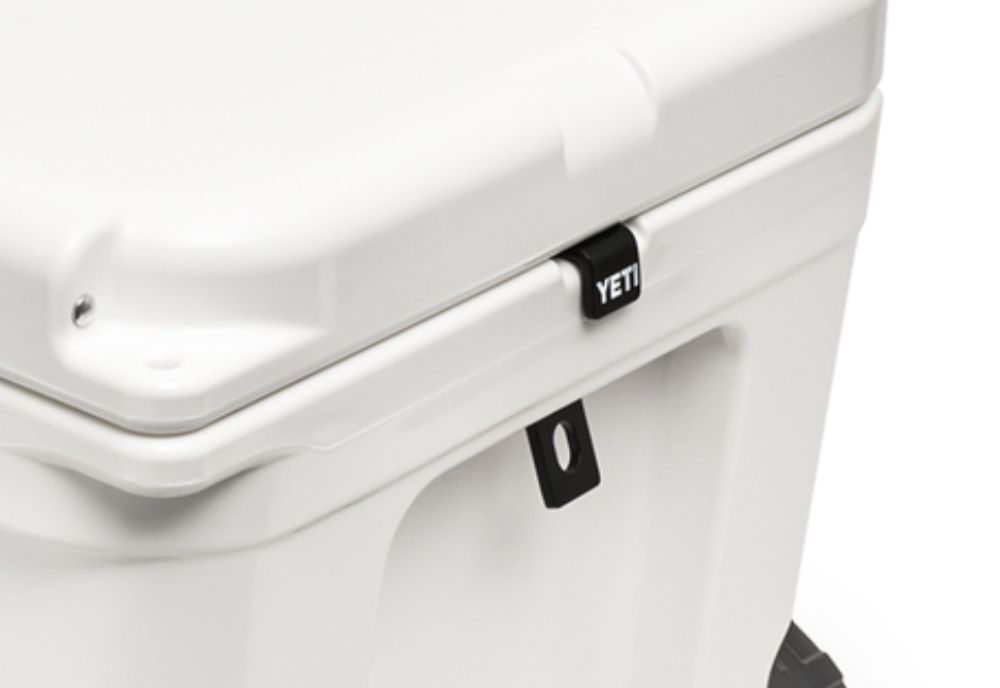 Many Yeti accessories that don't snap into place on a Yeti hard cooler (like cooler baskets or lid cushions) or attach to a Yeti Hopper's HitchPoint Grid will work well with a comparably sized RTIC Cooler. 
The reason why is pretty simple — Yeti and RTIC Coolers are really REALLY similar. 
Both Yeti and RTIC hard coolers are roto-molded, come in similar sizes (though Yeti offers many more options), and have a nearly identical build. RTIC also featured the same side anchor point tie down slots that Yeti coolers have.
So naturally, accessories that fit into this slot as well as accessories that are mounted, attach with an adhesive, or tie on typically work pretty well with coolers by either manufacturer. 
Some Yeti Accessories Don't Fit RTIC Coolers
Hard sided RTIC coolers do have slightly different capacities and dimensions when compared to Yeti coolers. This means items like baskets and dividers designed to fit inside the cooler are unlikely to fit across brands. But RTIC does sell these basic accessories.
Also, the Yeti cushion seats which are designed to clip onto the side of the lid of the cooler are not compatible with RTIC coolers but the seat cushions that just stick on the top can fit an RTIC cooler. Just check the dimensions of the cushion and your RTIC lid before buying.
Yeti and RTIC's soft-sided coolers are also quite similar, though RTIC's soft coolers aren't compatible with accessories meant to connect to a Yeti's HitchPoint Grid (those little loops on the front of Yeti Hoppers).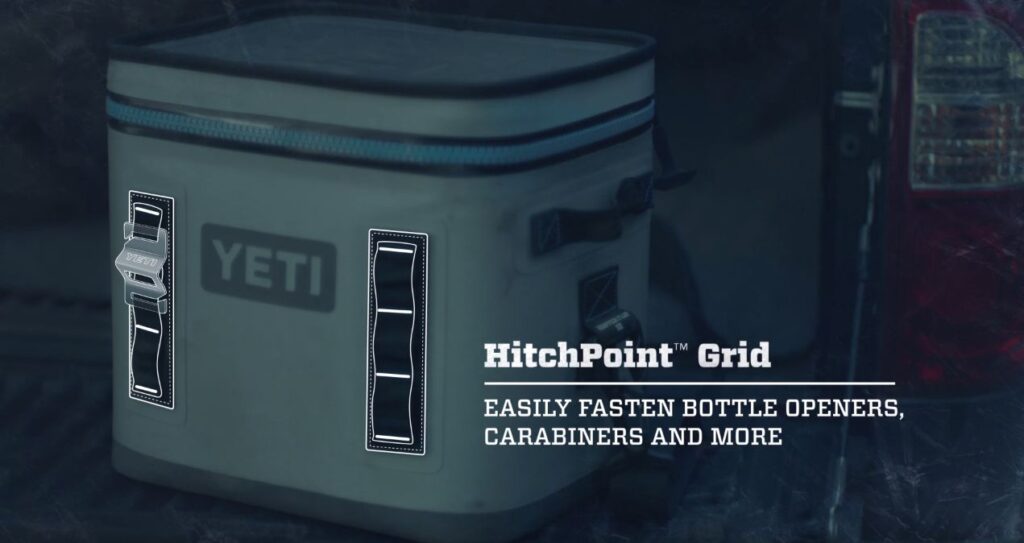 This is because RTIC soft coolers don't have the hitchpoint grid system on their soft coolers.
Instead they have a small front pocket which is something Yeti soft coolers don't have. See my full comparison of Yeti Hopper soft coolers vs RTIC soft coolers for more details about the difference in these 2 models.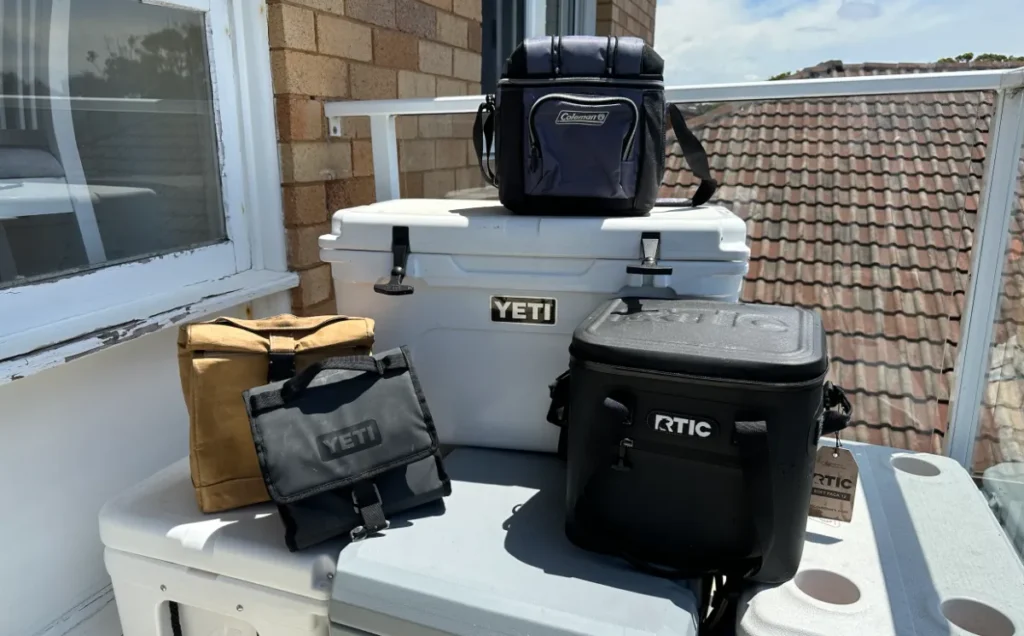 The Best Yeti Accessories That Also Work With RTIC Coolers
While there are a bunch of awesome accessories designed for Yeti's that also work great with RTIC Coolers, here are a few that I simply couldn't live without.
Yeti Cooler Mounted Bottle Opener
Like Yeti Coolers, RTIC Coolers don't come with a built-in bottle opener.
Luckily, the Yeti Cooler Mounted Bottle Opener works great with any RTIC hard cooler. 
Simply mount it to the front, side, or underside of your lid for a solid and impossible-to-forget bottle opener. Just make sure you put it where you want to keep it, since it's mounted with screws. 
Alternatively you can add your own cheap bottle opener to any Yeti or RTIC cooler buy purchasing a cheap bottle opener and tying it on with some string.
I've had one on my Yeti cooler for years and it works great.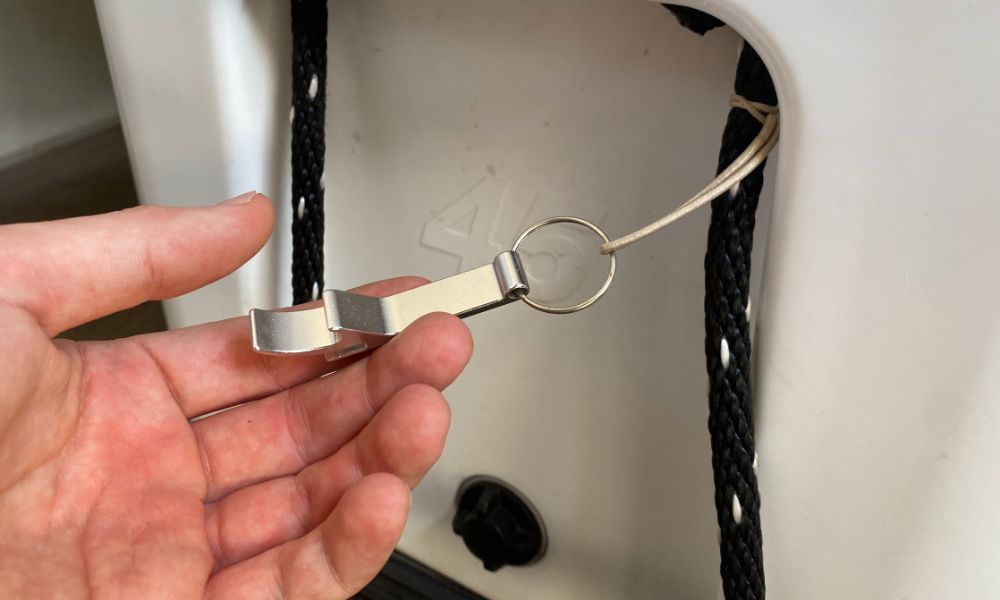 Noa Store Bottle Opener and Locking Bracket
Rather than screwing into your Yeti cooler to add a bottle opener you can get a bottle opener and tie down bracket in one. Best of all it won't damage your cooler.
The Noa Store cooler lock and bottle opener from Amazon is compatible with Yeti and RTIC coolers and slides into the tie down slots in the side of the cooler.
It's one of the best locks for RTIC coolers and the fact that it doubles as a bottle opener is super handy.
You can use this to tie down your RTIC cooler to stop it moving around when you drive or to stop people from stealing it and it stays in place and is there to open your beers when you need it.
It's made from 316L ultra low carbon steel, making it very rust resistant and it's actually backed by a lifetime guarantee.
Fullet Wheel Kit
Yeti and RTIC hard coolers aren't exactly light, with some so big and bulky they're outright impossible to carry on your own.
The Fullet Wheel Kit is a great solution. 
It straps a set of wheels to the bottom of a Yeti or RTIC cooler, making it easy to transport your cooler to your campsite, beach, or barbecue. 
Yeti Cooler Net
If you've ever wished your hard cooler had some storage space for fruit, a sandwich, or whatever else you want to keep cool without getting wet, a Yeti cooler net may be just what you need. 
Simply strap the removable elastic net to the underside of your cooler's lid to instantly add a couple liters of dry storage space to your RTIC.