What if there was a cooler that could compete with Yeti in terms of ice retention and it was super cheap? Like under $50 cheap?
The Coleman Xtreme 5-Day Cooler has ice retention to rival that of Yeti, but rather than being $350 it comes in at under $50. Not only that but it also comes with wheels for easy transport as well as 4 inbuilt cup holders in the lid. The Coleman Xtreme is undoubtably the best cooler under $50 with Yeti like performance.
5-10 Day Ice Retention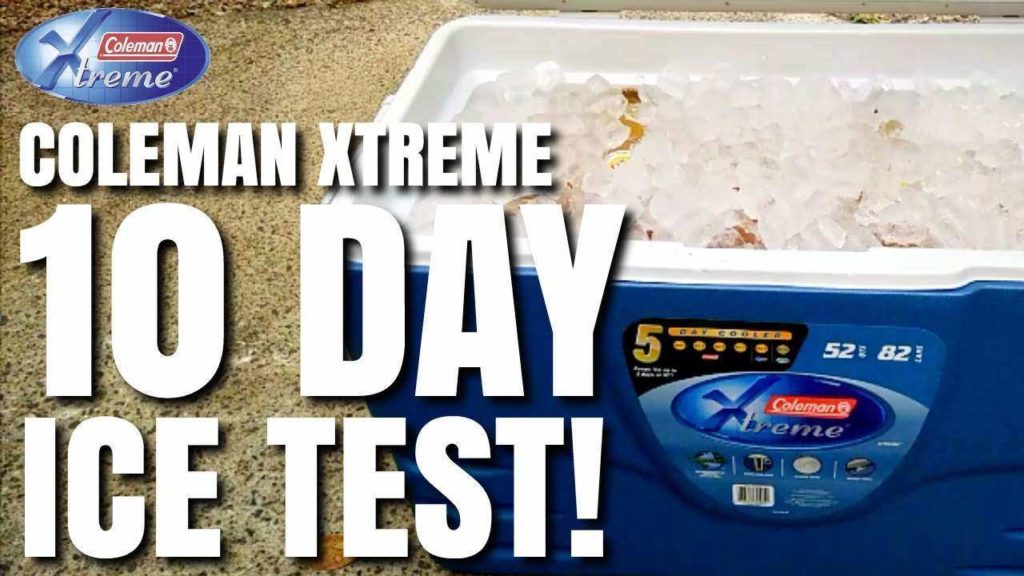 I actually didn't believe the 5 day ice retention claims when I read them, but when I did my own 10-day ice test the Coleman Xtreme actually held ice longer than the Yeti.
Now this was in ideal conditions and the Xtreme did have a larger quantity so that may have had an effect on the results, but regardless of that fact the Coleman Xtreme has some impressive ice retention for a cooler under $50.
I have also used my Xtreme cooler in my van, which can get to very high temperatures on a hot day, and the Xtreme held ice for multiple days at a time.
It seems strange because on the surface it looks a lot like a regular Coleman cooler, it doesn't seem to have excessive amounts of insulation like the Yeti, but yet when put to the test it definitely performs well.
So if you're looking for ice retention comparable to the Yeti but for a fraction of the price then look no further.
Build Quality and Features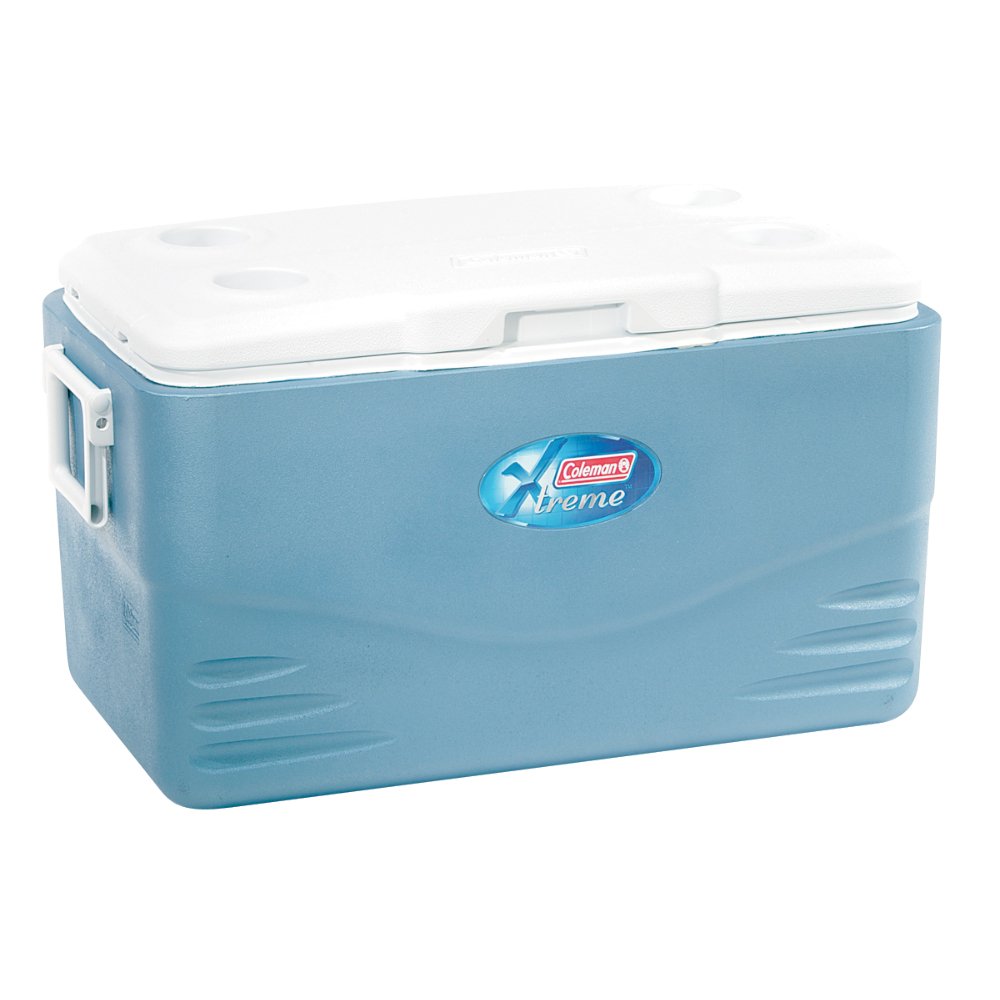 The build quality of the Yeti is far superior to that of the Xtreme. It has a roto-moulded construction which gives it a durability like no other.
The Coleman Xtreme has a fine build quality. You can stand on it and not be worried that it's going to break. But in no way would this thing be bear proof.
There are no commercial grade rubber gaskets like the Yeti. No pull down rubber latches to keep the lid secure. No sexy rope handles or tie down points.
The hinges on the Coleman is plastic and feels a bit flimsy (though mine still hasn't broken after years of use) whereas the Yeti uses a single metal pin hinge which is way stronger.
If you were to throw a Yeti from a building or pull it behind a moving car it would likely hold up just fine. If you were to try and do the same thing to a Coleman Xtreme it would get destroyed.
So yes, the build quality in the Yeti is far superior. If you need that ruggedness then it's worth paying the extra money for. But if you just want a quality cooler with good ice retention that won't break the bank, then the Coleman will do the job.
Let's Talk Price
When compared side-by-side the Coleman Xtreme is about 1/7th of the price of a similar size Yeti cooler.
By choosing a Coleman Xtreme over a Yeti you won't get all the features and durability of a Yeti…but you will save yourself approximately $300 and still have a pretty great cooler for your next camping trip, road trip or adventure.
Let's have a look at the side-by-side comparision of the Yeti when compared to the Xtreme.
Coleman Xtreme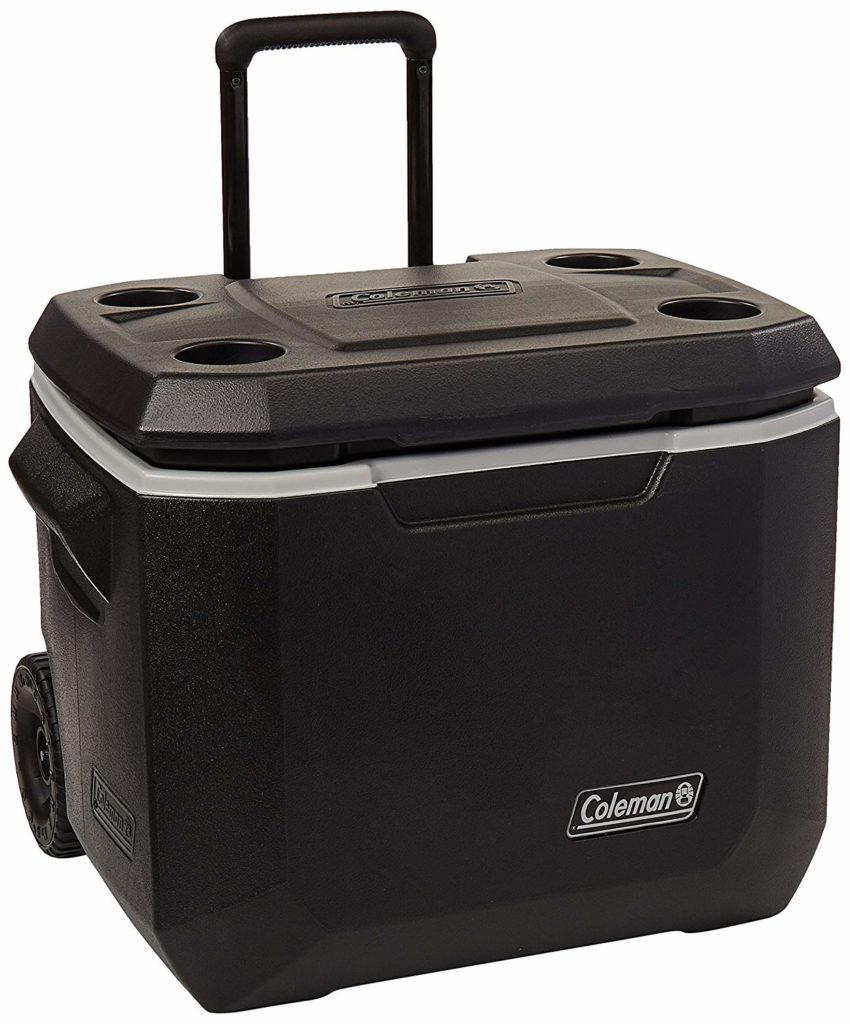 Xtreme 50 Wheeled –
Extreme 52 –
Yeti Tundra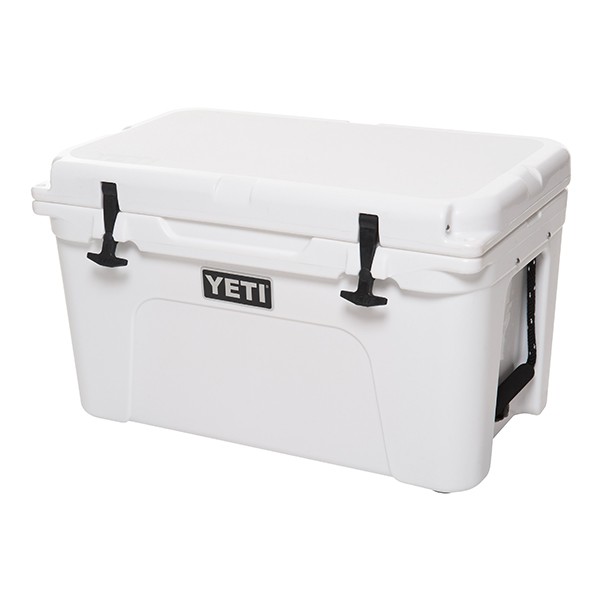 Yeti 45 (37-Quart):
Yeti 65 (57-Quart):
Inbuilt Wheels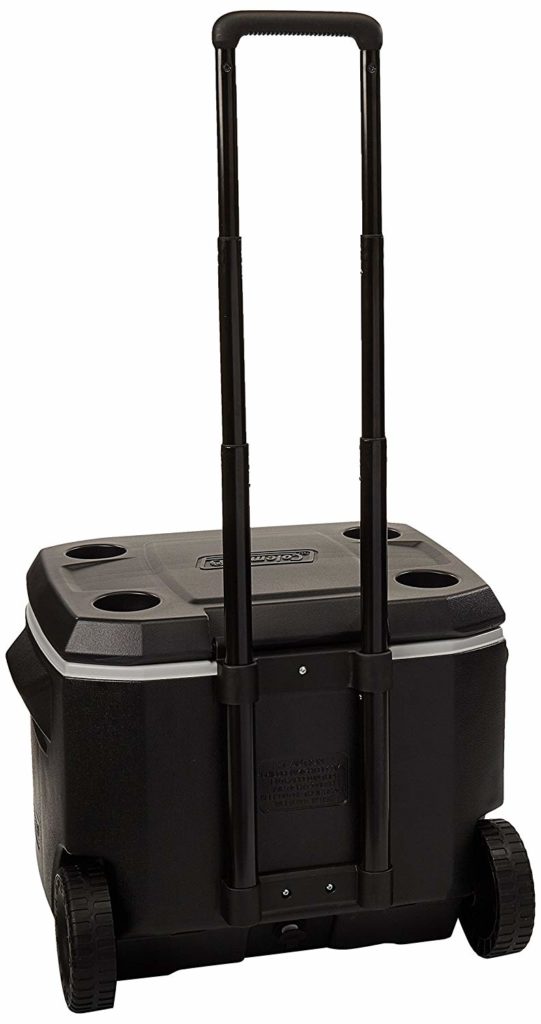 The Coleman Xtreme 50 Quart comes with inbuilt wheels and a sliding suitcase-like handle. This makes it easy to transport by yourself, especially when full.
The Yeti only has rope handles or inbuilt side handles for carrying and even when empty weighs an impressive amount.
The Coleman in contrast is much lighter and easier to manovre.
The wheels are thick and made of plastic. They are solid enough to carry the full weight of the cooler when it's filled to the brim with ice and drinks.
The wheels are also wide enough to pull on rough terrain. So if you were at a campsite and needed to move the cooler from your car or truck over to your tent or campsite then you would be able to do that.
I personally have the 52-Quart version of the Xtreme as they didn't have any wheeled ones in stock where I live, but if I could have my time over again I would love to get one with wheels.
Cup Holders
The Coleman Xtreme has 4 cup holders recessed into the lid. Initially I thought this would just limited ice retention and not be worth it, but after owning a Coleman for a few years now I can tell you that these cup holders are ABSOLUTELY AWESOME.
It sounds like a little thing but when you're camping, or for me when I'm in my van, having a place to put my drinks or for the kids to have a place off the ground to put their water bottles has proved invaluable time and time again.
It's just so practical and it's something that the Yeti lacks. Sure you can purchase cup holders for the Yeti (for even more money on top of the already expensive cooler) but the Coleman already has them and it is a feature I absolutely love.
Handles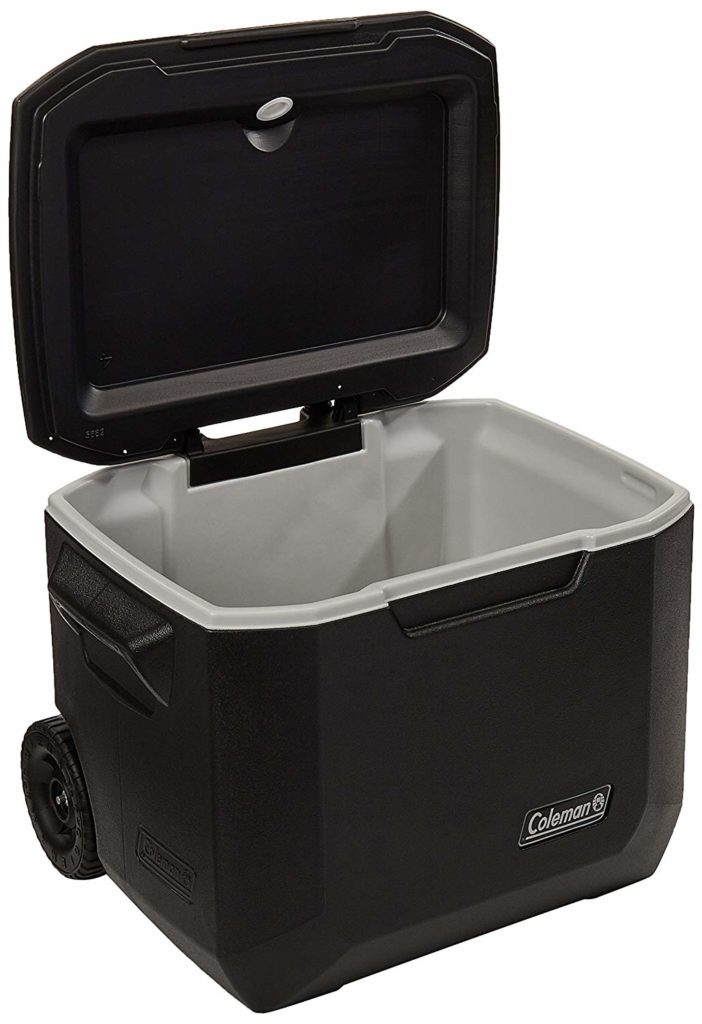 As we talked about in build quality the Yeti is higher quality (you would hope so for the price) and thus it has really nice nylon rope handles with a rubber grip.
The Coleman Xtreme 50-Quart cooler has telescoping handles that jut out from the side of the cooler. These are fine but not great and it makes the cooler much harder to carry when fully loaded…but why would you be carrying it anyway? IT HAS WHEELS!
The 52-Quart version of the Xtreme that I have (the one without wheels) has plastic handles that lie flat when not in use. They are easier to grip than the telescoping handles but are thinner than Yeti's rubber handles and thus not as comfortable to use.
The handles on my 52-Quart felt flimsy again, just like the hinges. I fully expected them to break under the pressure of carry the cooler when it was full of ice. But to this day they have never broken on me and have done the job flawlessly.
So no, the handles on the Coleman aren't as nice as on the Yeti, but they are good enough.
Coleman Xtreme, Not As Good As The Yeti…But It's Close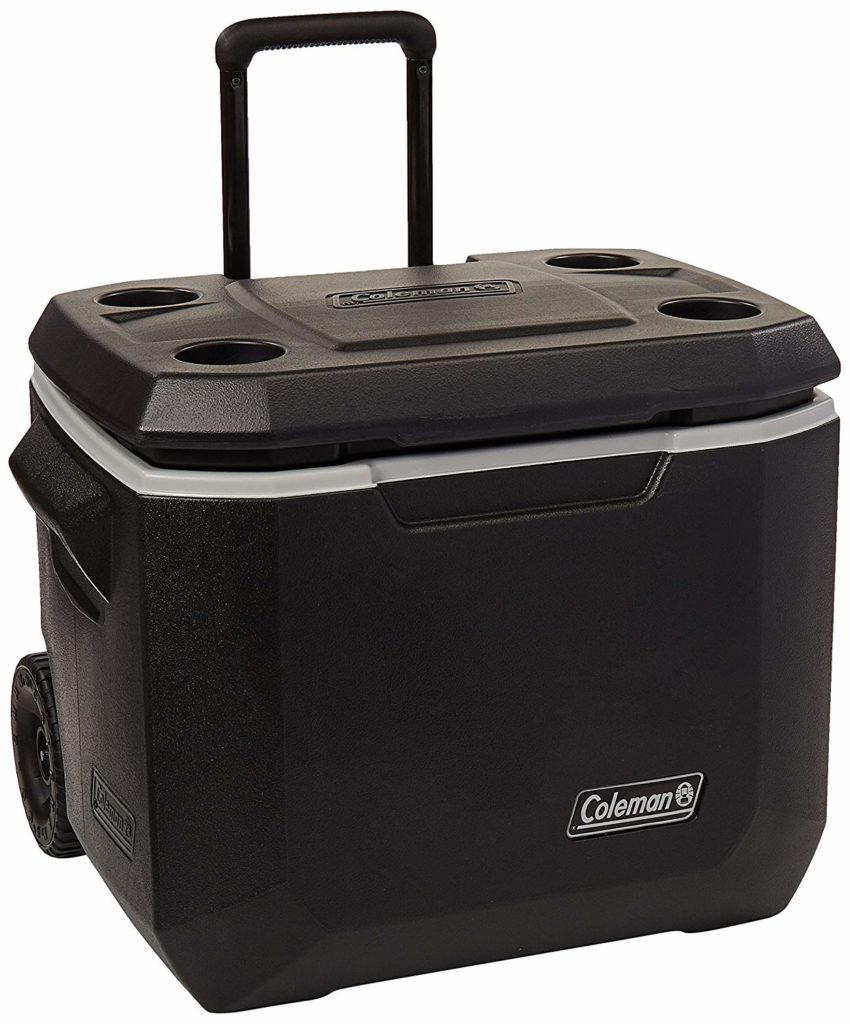 So overall no…the Coleman Xtreme isn't as good as the Yeti. Ice retention is likely slightly less in regular conditions and the build quality isn't as good.
But for under $50 you are getting an amazing cooler that will keep ice for 5-10 days. You're also getting a cooler with wheels (if you choose that model) and a cooler that has been tried and tested by thousands of people.
Running a site that reviews coolers I have purchased a lot of coolers like Yeti but cheaper. After doing so many reviews my 2 favorite coolers are actually the Yeti itself and (you guessed it) my Coleman Xtreme.
I think I just love how lightweight and practical the Xtreme is for when I don't need something as rugged and intense as the Yeti.
So if you're looking to pick up a good affordable cooler then click the links below to grab yourself a Coleman Xtreme from Amazon today for under $50.
Coleman Xtreme Wheeled 50-Quart:
Coleman Xtreme 52-Quart:
Or if it is Yeti you prefer then click the links below to look at some of the most popular Yeti sizes.
Yeti 45 (37-Quart):
Yeti 65 (57-Quart):