Whether I make one at home or go to a cafe there's almost nothing better than a delicious hot coffee to get your morning started. If you're coffee obsessed like I am I think you'll agree.
But nothing is more depressing than taking a sip of your coffee only to find out it's gotten cold before you can finish drinking it.
I don't want to skull my coffee (I'm not a barbarian) so I want a coffee mug that will keep my coffee hot for a long time. But what is the best coffee mug to keep coffe hot?
The best coffee mug to keep coffee hot is the Cauldryn Heated Mug which is vacuum insulated and battery powered. It can keep coffee hot for 10+ hours. The Thermos Mugs and the Simple Modern Cups are great non-powered alternatives that keep coffee hot for 4-6+ hours.
In this article I'll outline a variety of different coffee mugs to keep your coffee hot.
From battery powered heated mugs to vacuum insulated mugs and double walled ceramic mugs. There is even a coffee cup designed by rocket scientists that uses unique technology to keep your coffee at the perfectly warm drinking temperature all day long.
Runner Up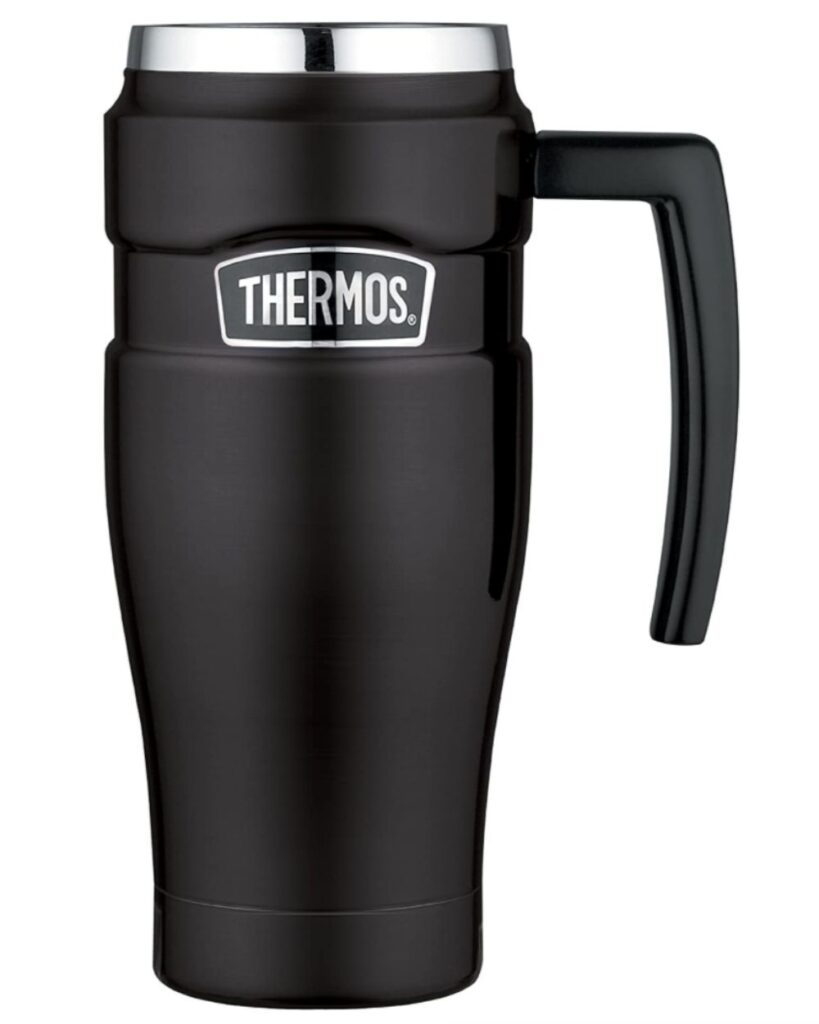 Thermos Mug
Price: See at Amazon
BEST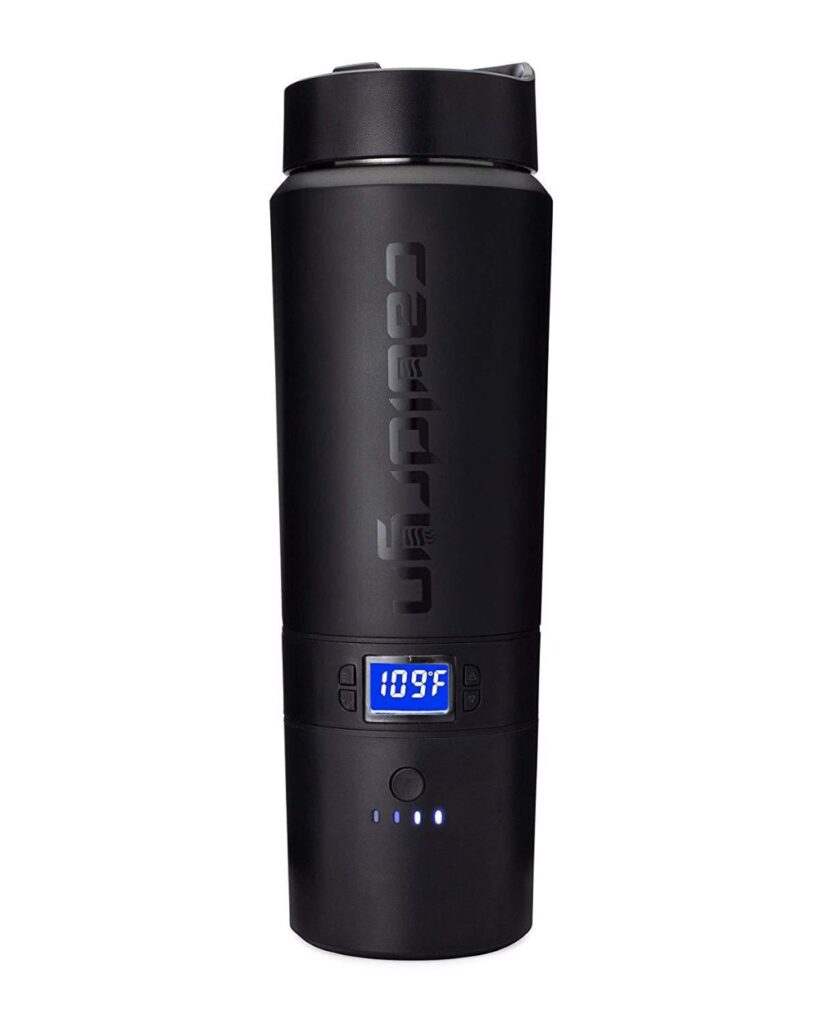 Cauldryn Heated Travel Mug
Keeps Coffee Hot: 10+ Hours
Price: See at Amazon
Budget Option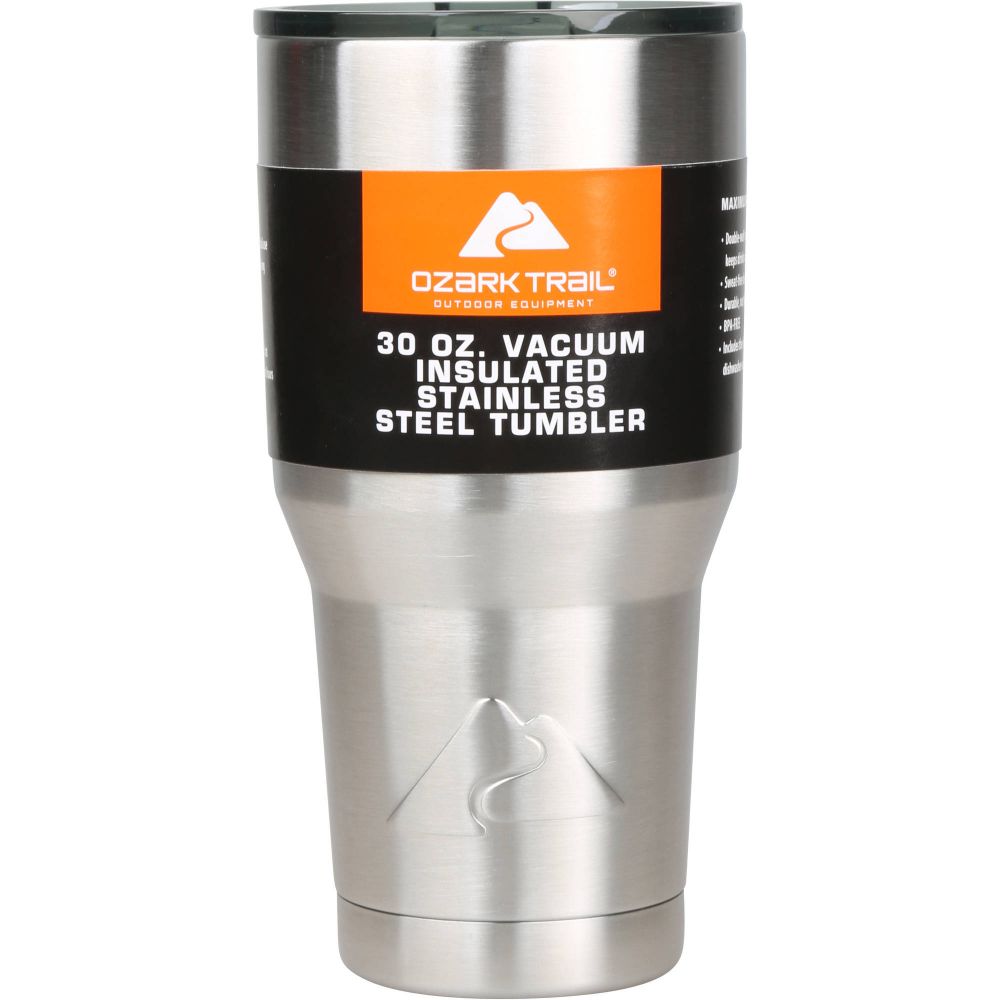 Ozark Trail
Keeps Coffee Hot: 4-5+ Hours
Price: See at Walmart
I've previously written about the types of cups that keep coffee hot the longest if you need help knowing what type of cup to look for. But below are the brands of cup that will keep your coffee hot the longest.
How To Keep Coffee Hot Longer
There are a few simple things you can do to keep your coffee hotter for longer.
Whether you're using a vacuum insulated cup like the ones mentioned in the article or you're just using a plain ceramic cup there are some things you can do so your coffee stays at that nice drinking temperature for longer.
Use a Lid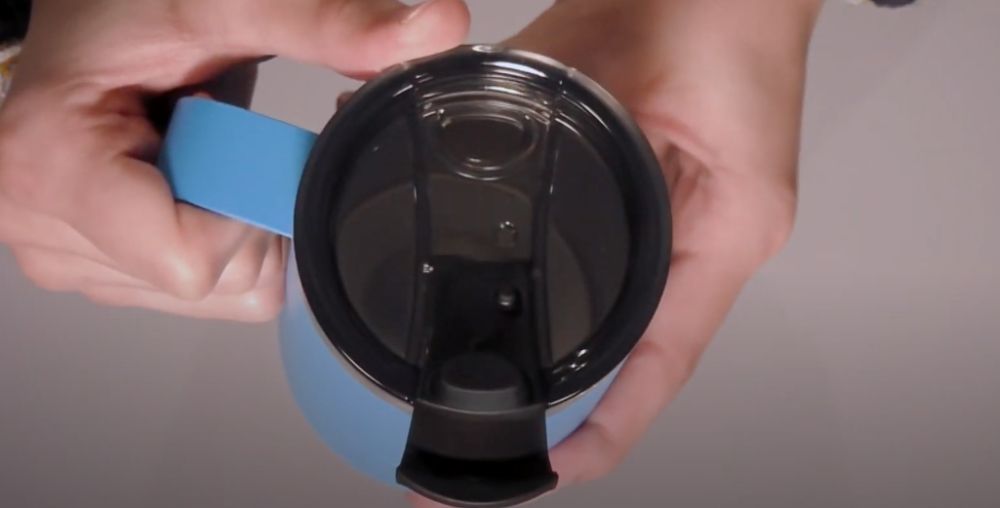 This is something I discovered when I looked at aluminium foil as an insulator.
When something is hot (and this is especially true for hot coffee) it releases steam and water vapour.
This steam actually carries A LOT of heat away. So simply putting a lid on your coffee cup and stopping the steam from escaping will keep your coffee hot for much longer.
This is such a big deal that the majority of the cups in this list have some sort of leak proof or leak resistant lid which also stops steam from escaping and traps more heat.
Pre-Heat Your Cup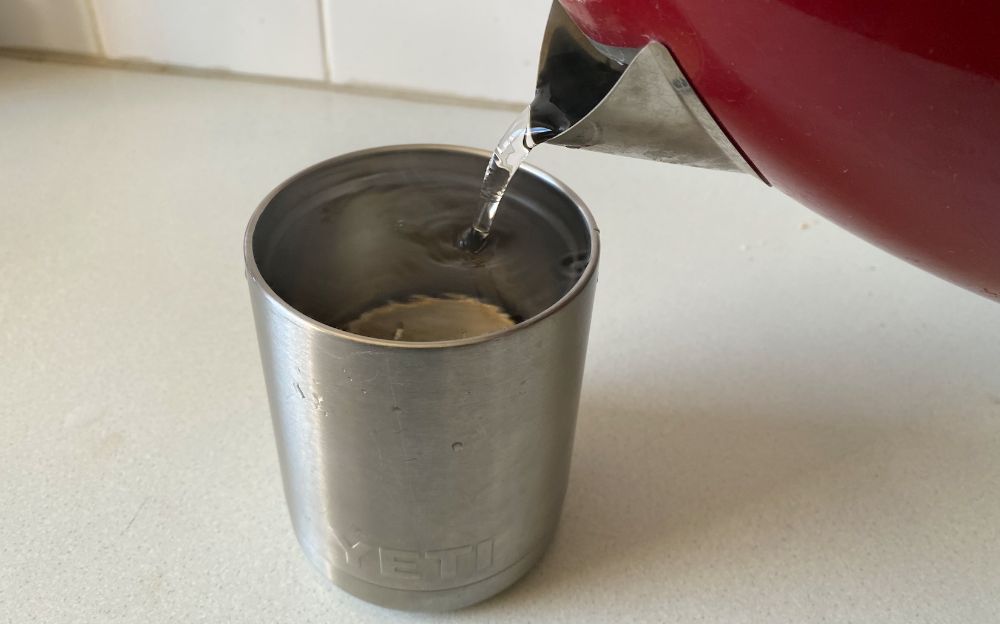 Whether your cup is made from stainless steel, stoneware, ceramic, glass or any other material pre-heating your cup can keep your coffee hot for longer.
If your coffee cup is cold or at room temperature then as soon as you pour your coffee into it it's going to suck out some of the heat in order to warm up the cup itself.
Pre-heat your cup by putting boiling water in it. That way when you pour your coffee into it it'll keep the coffee hot and won't steal it's heat.
Insulated Cups
The best way to keep your coffee hotter for longer is to get a good insulated cup.
Stoneware keeps coffee hotter when compared to ceramic, but neither of these are great. Double walled ceramic are better, but vacuum insulated coffee mugs are going to work way better than anything else on the market.
1. Cauldryn Heated Travel Mug
Keeps Coffee Hot: 10+ Hours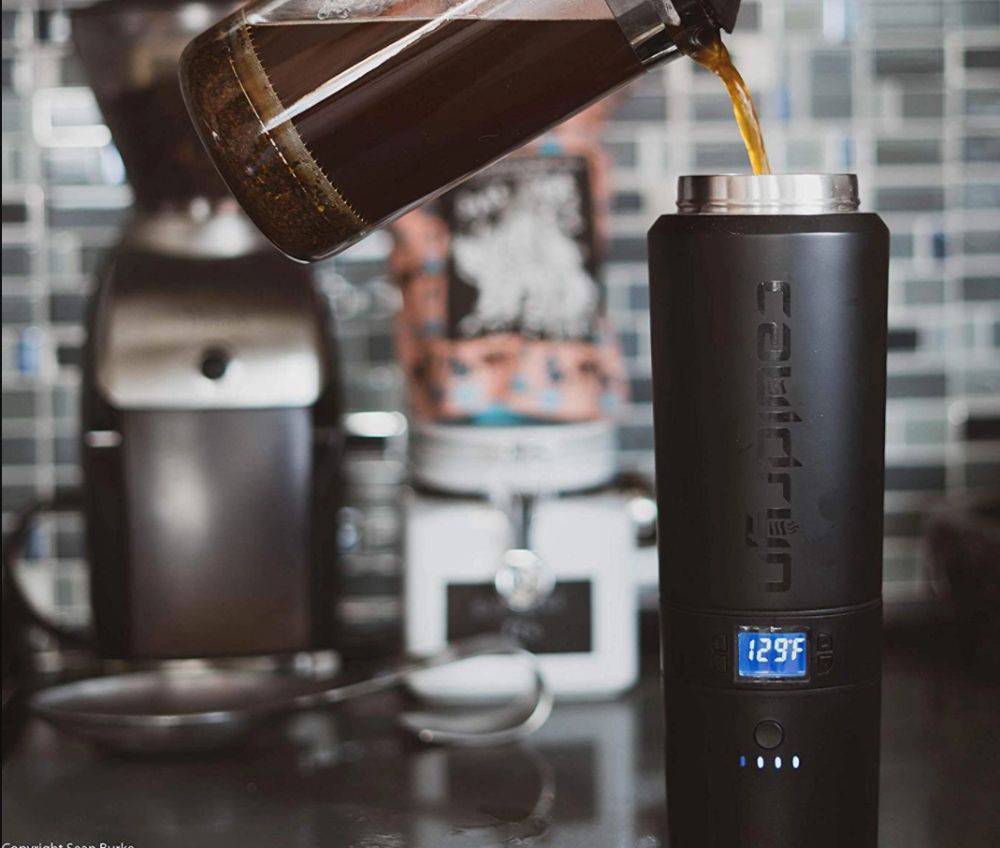 The Cauldryn beats out every other cup or travel mug in it's ability to keep coffee hot for the longest period of time because not only is it vacuum insulated to trap in the heat but it also has a battery powered heating element.
This heating element can heat cold water up to boiling temperature in order to make a coffee or it can be set so that ti keeps your coffee at the perfect drinking temperature all day long.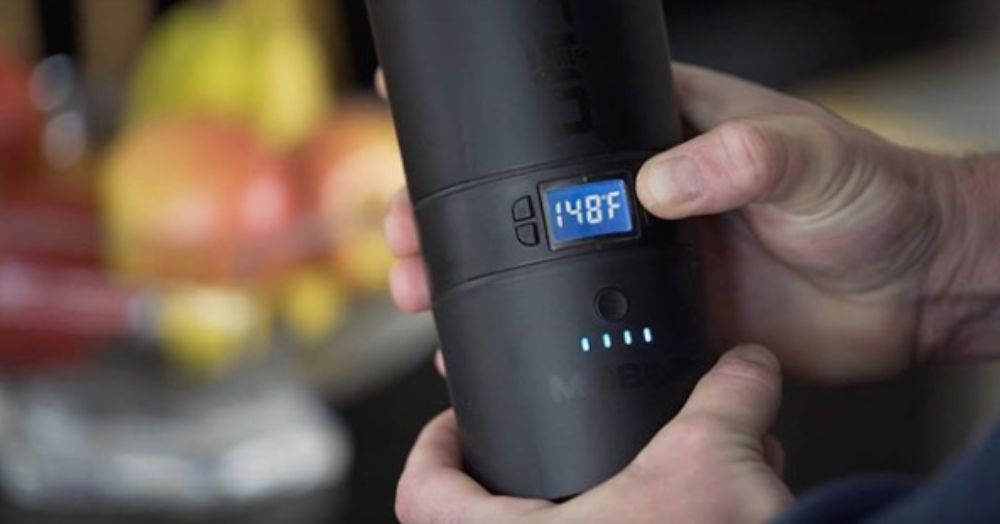 Most people like to drink their coffee at around 120-145ºF (48-63ºC) and if you set the Cauldryn for this temperature then the battery can last a total of 10 hours, keeping your coffee hot longer than any other cup on the market.
While 10 hours is good when running off battery power there is also a wall adapter or car adapter that allows your Cauldryn to run off mains power and keep your coffee hot indefinitely.
As far as price goes it's a bit more expensive than your traditional insulated tumbler like the Yeti, RTIC or Ozark Trail. But for that extra cost you're getting that heating element and the ability to warm up cold drinks on the go.
At the time of writing the cup retails for around $130 on Cauldryn's website but I actually saw it for much cheaper (under $100) on Amazon.
See the latest price of the Cauldryn Heated Mug at Amazon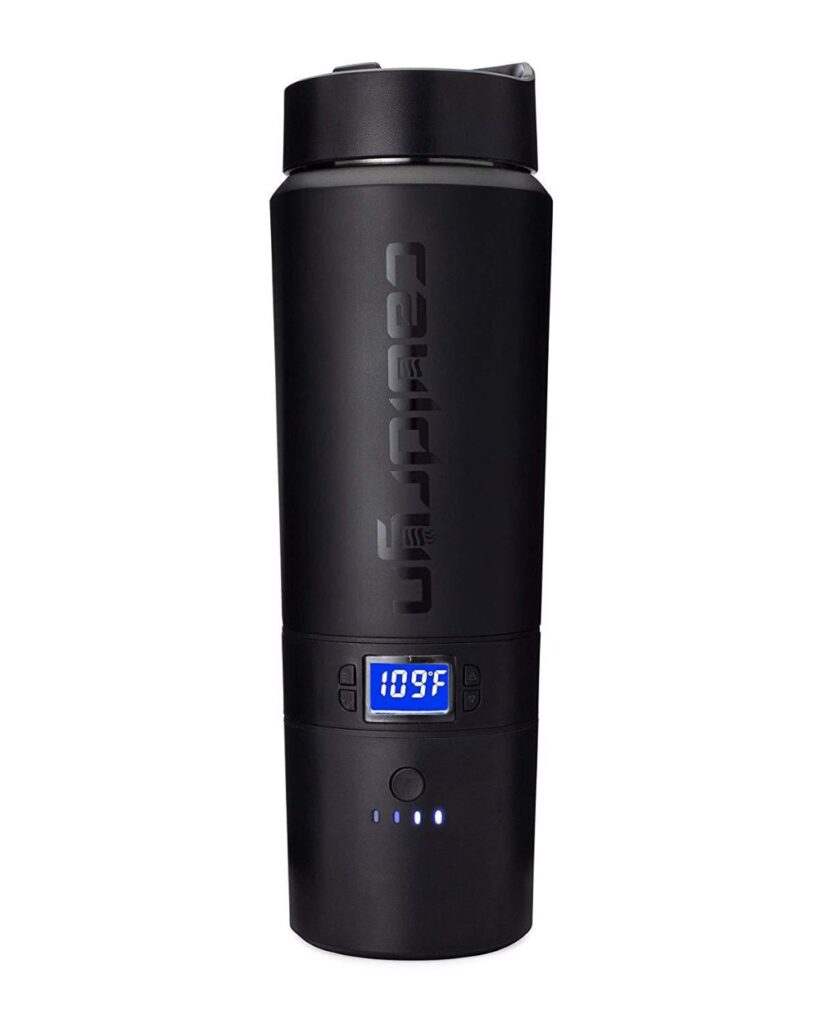 PROS:
Can boil water or keep it hot any temperature for hours
Battery lasts for up to 10 hours
Vacuum insulated to trap in heat
Modular design
CONS:
Not the most beautiful mug
Only comes in black
Light stays on when in use
Stainless steel may impart flavors into your drink
2. Thermos Insulated Mug
Keeps Coffee Hot: 6+ Hours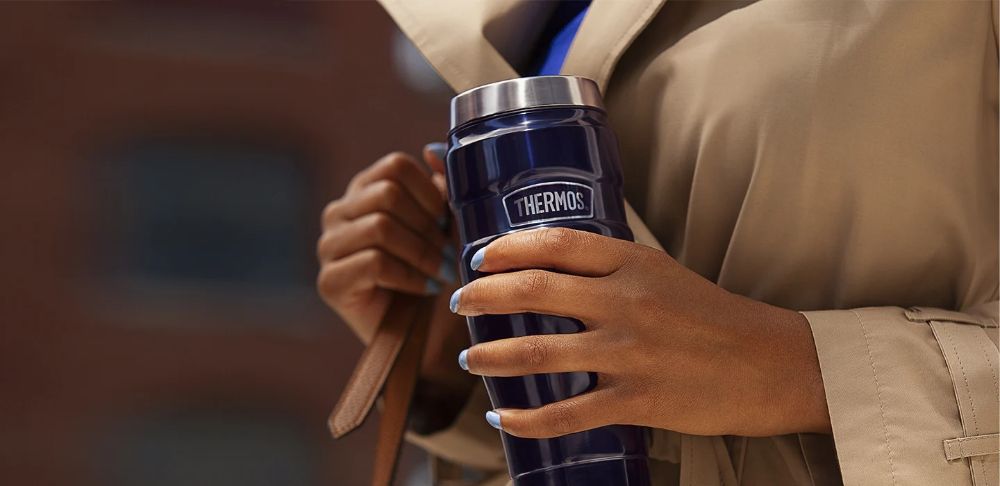 Thermos are THE original brand in the vacuum insulation game. They have been making vacuum insulated bottles and tumblers for over 100 years.
But despite this I was still surprised when I did the research and found out that thermos actually outperformed the other insulated tumblers when it came to keeping drinks hot.
It may be due to their innovative lid design which is both leak proof (so no steam will get out) and insulated to keep in the heat.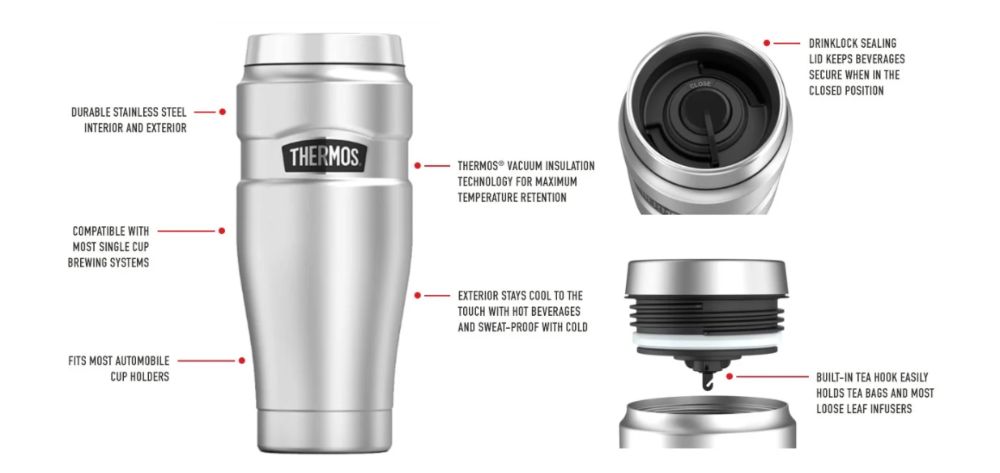 The lid also has a tea hook on the inside so you can hook your tea bag onto the lid of you want to.
It only comes in a 16 oz size, which may not be big enough for some people. You can get it without a handle or your can get it with a handle. In fact, I think it's the best travel coffee mug with a handle.
It's fairly well priced for what you get. It's not the cheapest tumbler, but it's also not the most expensive.
See the latest price of Thermos tumblers at Amazon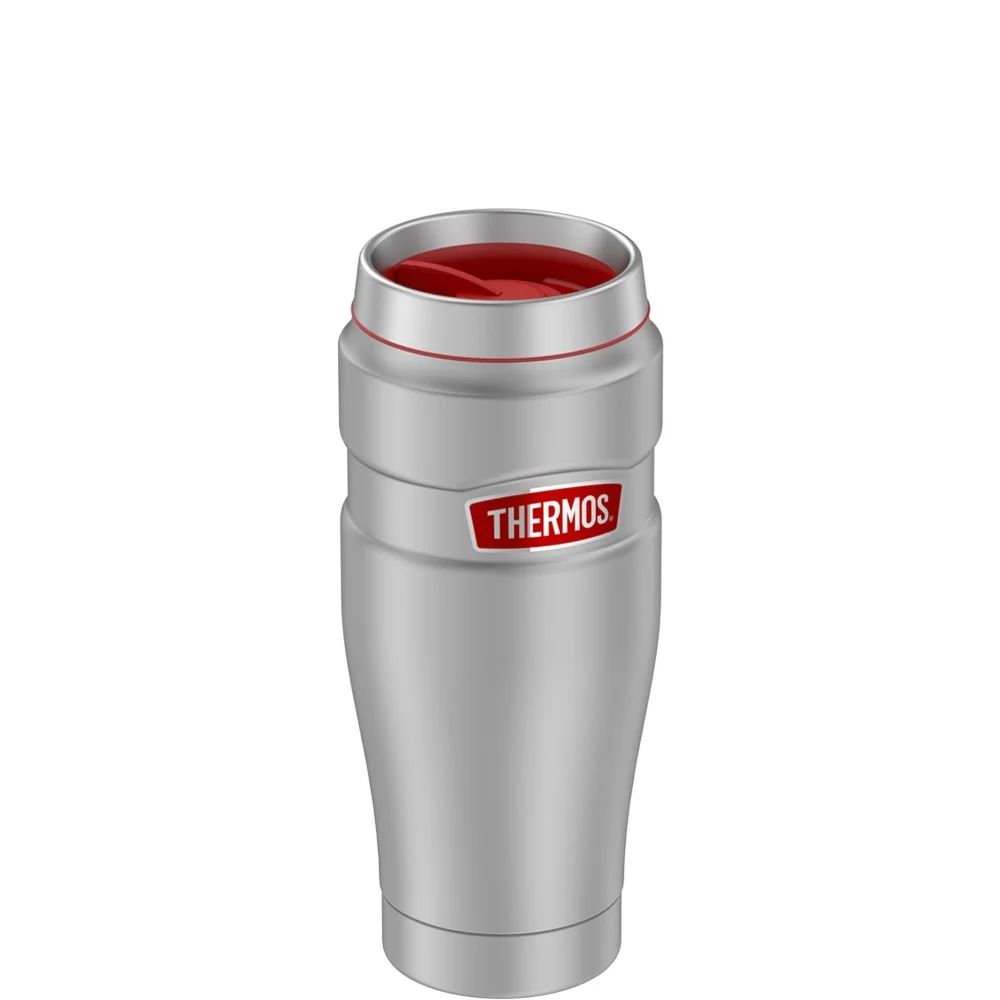 PROS:
Great ice retention
Leak proof lid
Tea bag hook
Long lasting brand
CONS:
Only comes in smaller sizes
Not the most elegant design
3. Simple Modern Classic Tumblers
Keeps Coffee Hot: 6+ Hours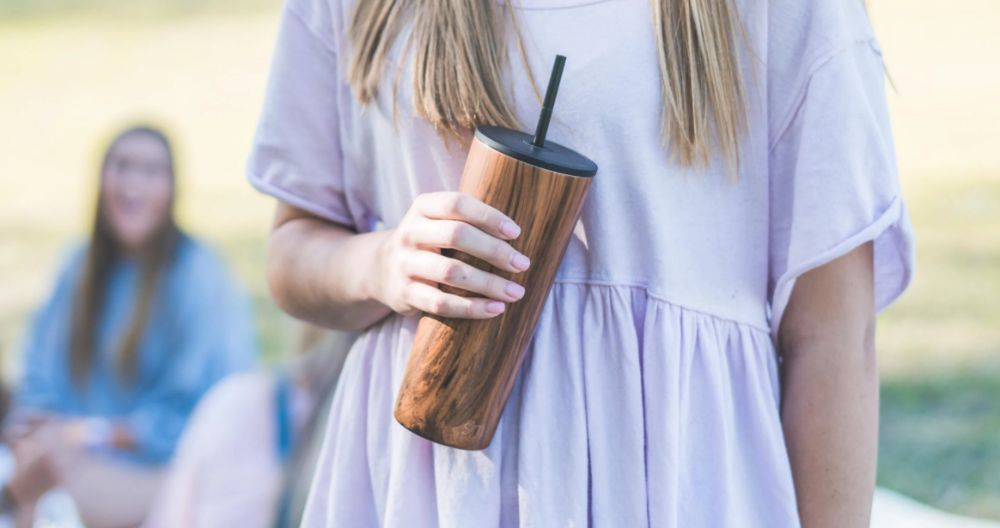 Simple Modern is a lesser known brand that seems to be primarily sold through Amazon. So I was pretty surprised to find out that their tumblers were able to keep drinks hot longer than big name brands like Yeti.
These coffee mugs come in a variety of sizes (from 16 oz up to 28 oz) and they have some of the best designs I have ever seen. From wood or marble looking mugs to two tone or metallic colors. They are definitely some of the coolest looking coffee ups out there.
These tumblers come with 2 different types or lids. The Flip Lid is designed for coffee and it screws on and is completely leak proof and won't let out any steam (so it traps in the heat).
The base is only 2.8 inches across so it should fit easily into any standard cup holder too.
They are a similar price to Thermos, not too cheap but not too expensive either. But they come in more sizes, more colors and you get both a straw lid and a leak-proof flip lid.
See the latest price of Simple Modern Classic Tumblers at Amazon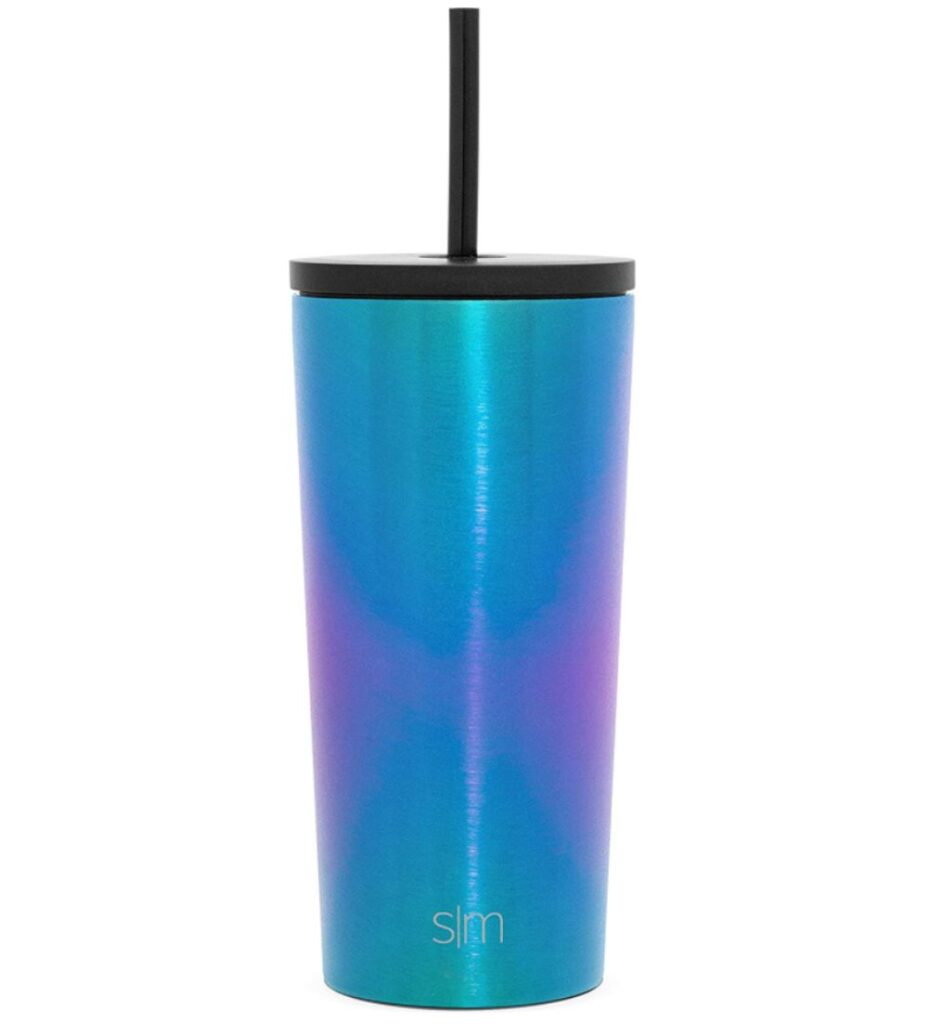 PROS:
Amazing selection of colors and designs
Great heat retention
Can be completely leak proof
Comes with 2 lids
Fits into most cup holders
Company donates 10% of profits to helping others
CONS:
Only a 90-Day warranty
Brand relatively unknown
4. Burnout Mug: Keeps Coffee At The Perfect Temperature
Keeps Coffee Hot: 6+ Hours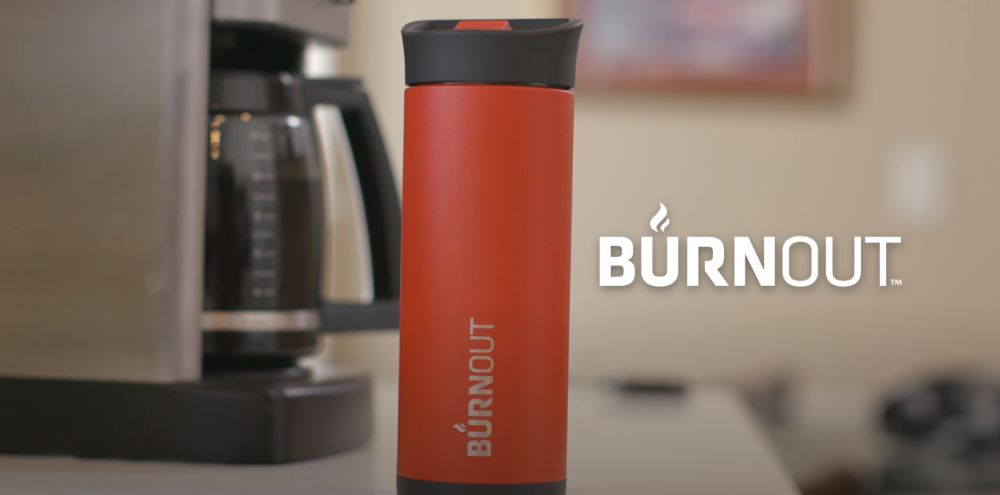 The Burnout Mug is completely unique from any other mug on this list. It is a phase change coffee mug that is able to quickly cool down your coffee to the perfect drinking temperature (so you don't burn your mouth) and then it'll keep it around that temperature all day long.
It can do this because it's a triple walled insulated cup. Between the outer and middle wall is vacuum insulation to trap in the heat and between the middle and inner wall is a phase change material called HeatZorb.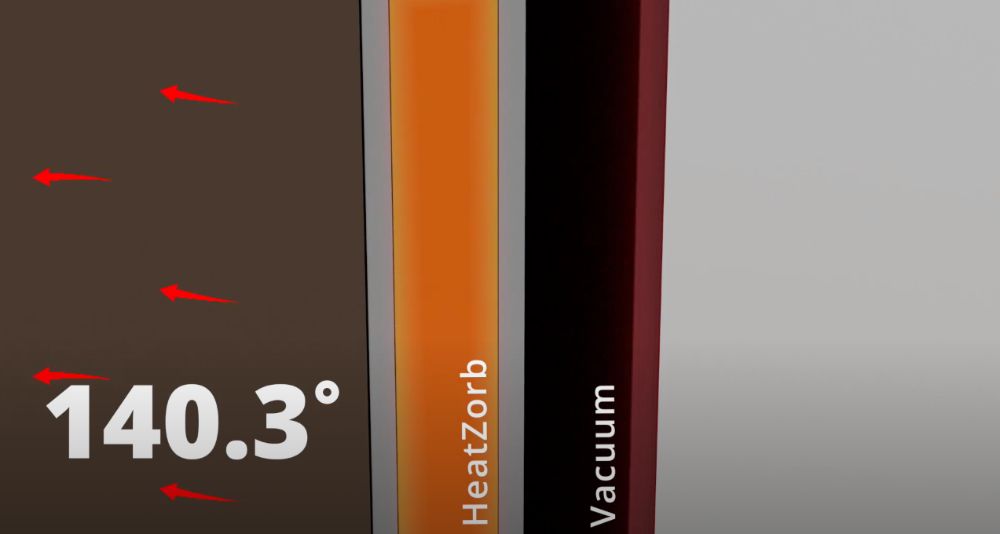 When you pour in your hot coffee the HeatZorb turns from a waxy solid into a liquid and sucks up the heat cooling down your coffee quickly.
Then as your coffee starts to cool below about 140ºF (the ideal drinking temperature for most people) the HeatZorb starts to turn back into a solid. In the process it releases a lot of heat warming up your coffee.
It'll keep your coffee in that ideal drinking temperature range for about 4-6 hours. However, a secret tip is to preheat your Burnout Mug once or even twice and the HeatZorb will get super hot and will work to keep your coffee hot even longer.
It comes in a 12 oz or 16 oz sizes and doesn't come cheap. This one is for the serious coffee drinker who wants their coffee at the exact right temperature.
See the latest price of the Burnout Triple Walled Mug at Amazon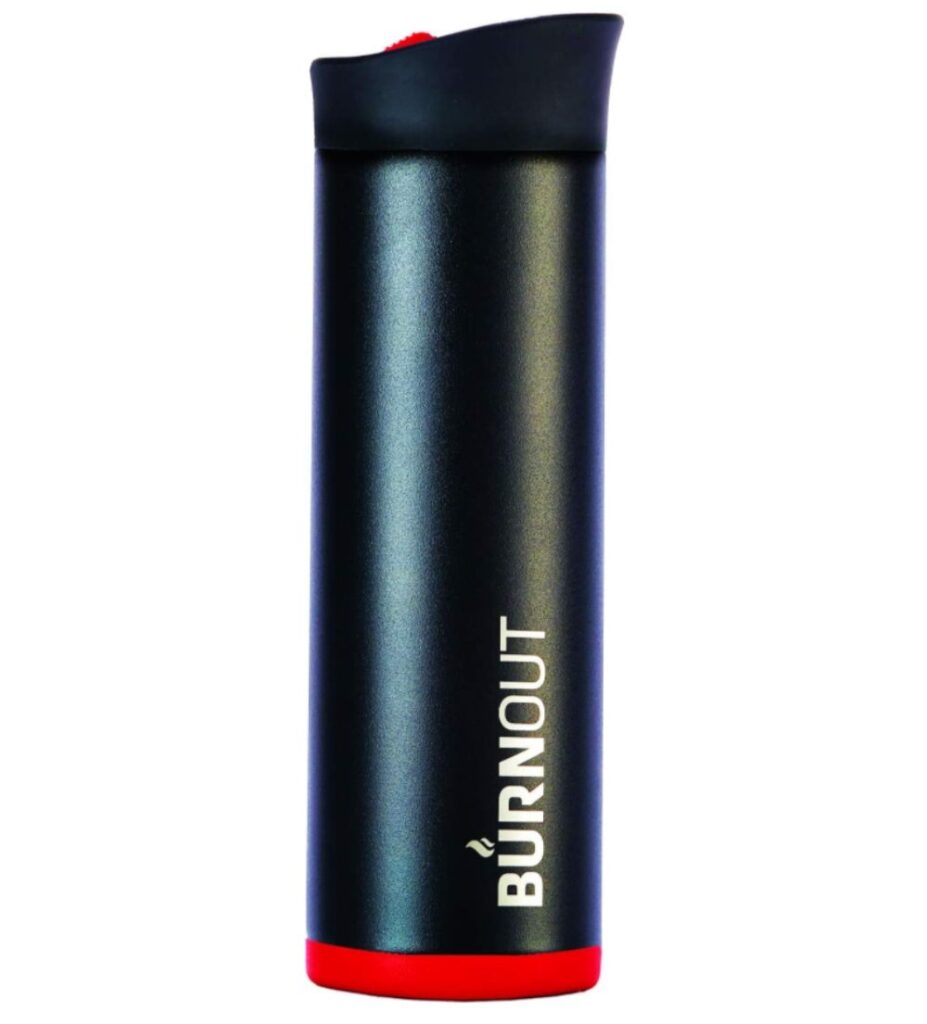 PROS:
Quickly cools down hot drinks to perfect drinking temperature and keeps it there all day
Triple wall and vacuum insulated
Dishwasher safe
CONS:
Much more expensive than regular insulated mugs
Lid can be a big annoying to use at times
5. Hydro Flask
Keeps Coffee Hot: 4-6+ Hours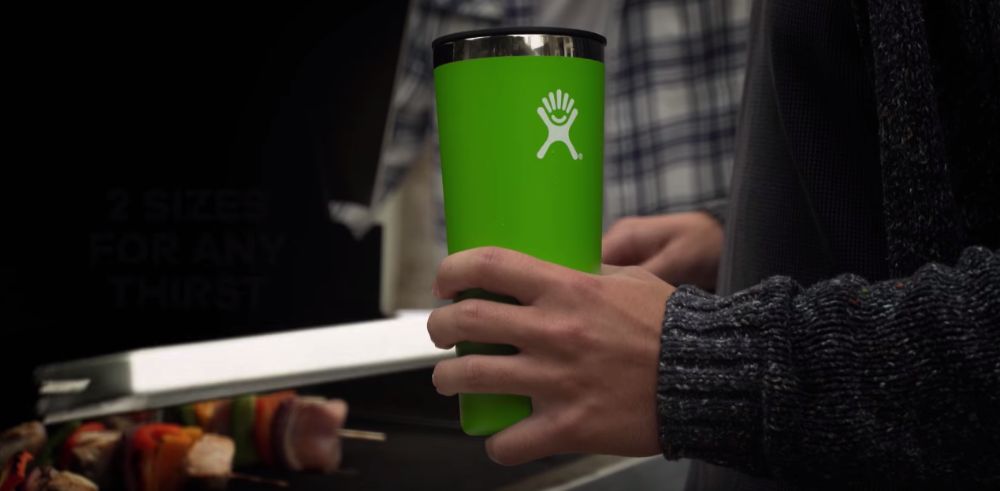 Hydro Flask are well known for their insulating water bottles, but less people know about their tumblers.
I kind of knew they made tumblers but I didn't know if they were good or not because not many people talk about them.
However, the Hydro Flask took home the title of the best tumbler cup for ice retention. Outperforming all other tumblers on the market.
The black honeycomb insulated plastic lid helps to trap in the heat which keeps your coffee or other drinks hot for ages.
They comes in a variety of bright fun colors and are designed with a small base so they fit into car cup holders.
One of the downsides is that the lid is not leak proof. It has an open spout which you can't close. It's splash proof only.
They are backed by a lifetime warranty and they also happen to be one of the lightest tumblers on the market.
See the latest prices of Hydro Flask tumblers at HydroFlask.com
(or compare to the prices at Amazon)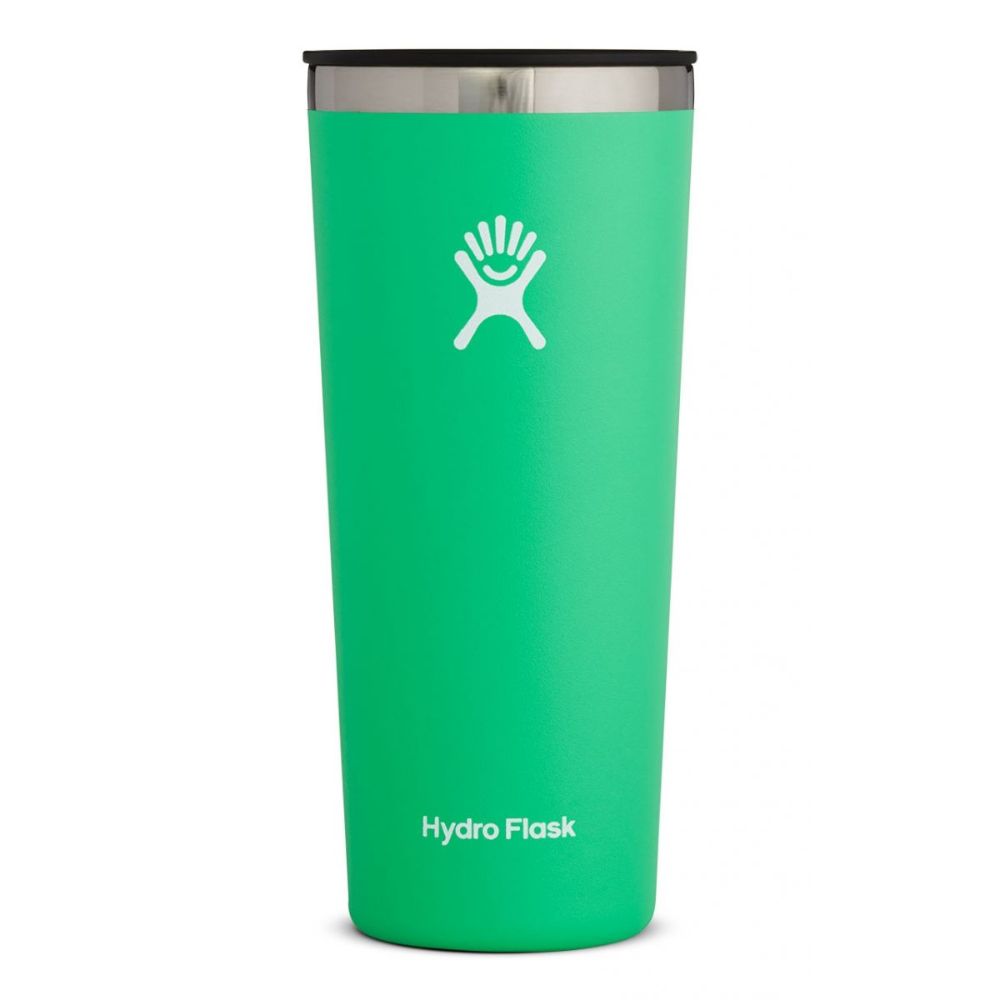 PROS:
Best ice retention out of any tumbler cup, also keeps drinks hot
Lifetime warranty
Fun colors
Lightweight
Tapered design means they fit in cup holders well
CONS:
One of the most expensive tumblers
Lid has an open spout so isn't leak proof
6. Ember Travel Mug: Battery Powered Coffee Mug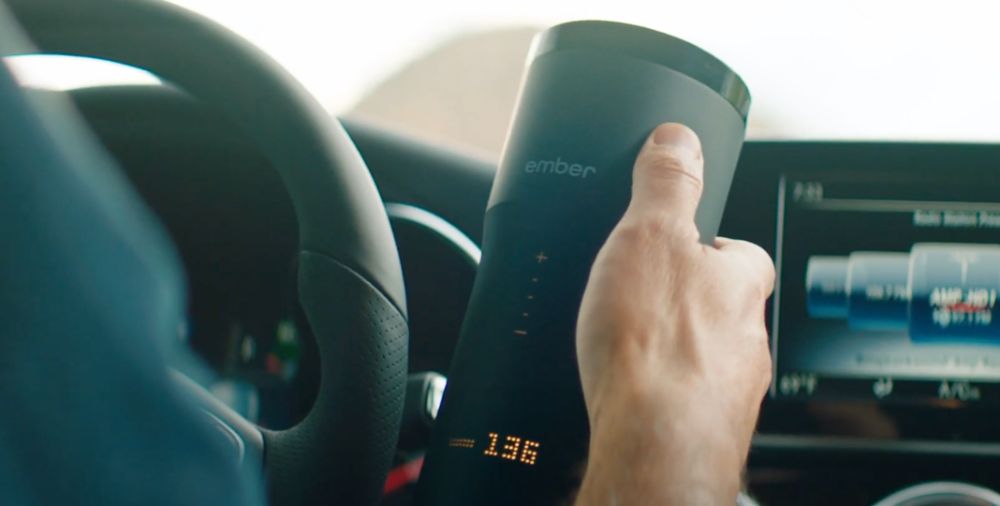 The Ember Travel Mug is a ceramic lined battery powered heated coffee cup that can keep coffee hot for 3 hours on the go or indefinitely when placed on it's charging saucer.
It'll keep drinks anywhere from 120-145ºF (49-62.5ºC) which is considered by most people to be the ideal drinking temperature.
It's not vacuum insulated though so when the battery dies it doesn't keep the coffee hot for very long. Regardless it's still one of the best battery powered heated travel mugs on the market.
The ceramic coating on the inside of the mug means it won't impart any metallic taste into your coffee.
It's got a beautiful premium design and is well built and great for the coffee snob (like me) who loves a beautifully designed cup that will keep their coffee at the perfect temperature.
See the latest price of the Ember Travel Mug at Amazon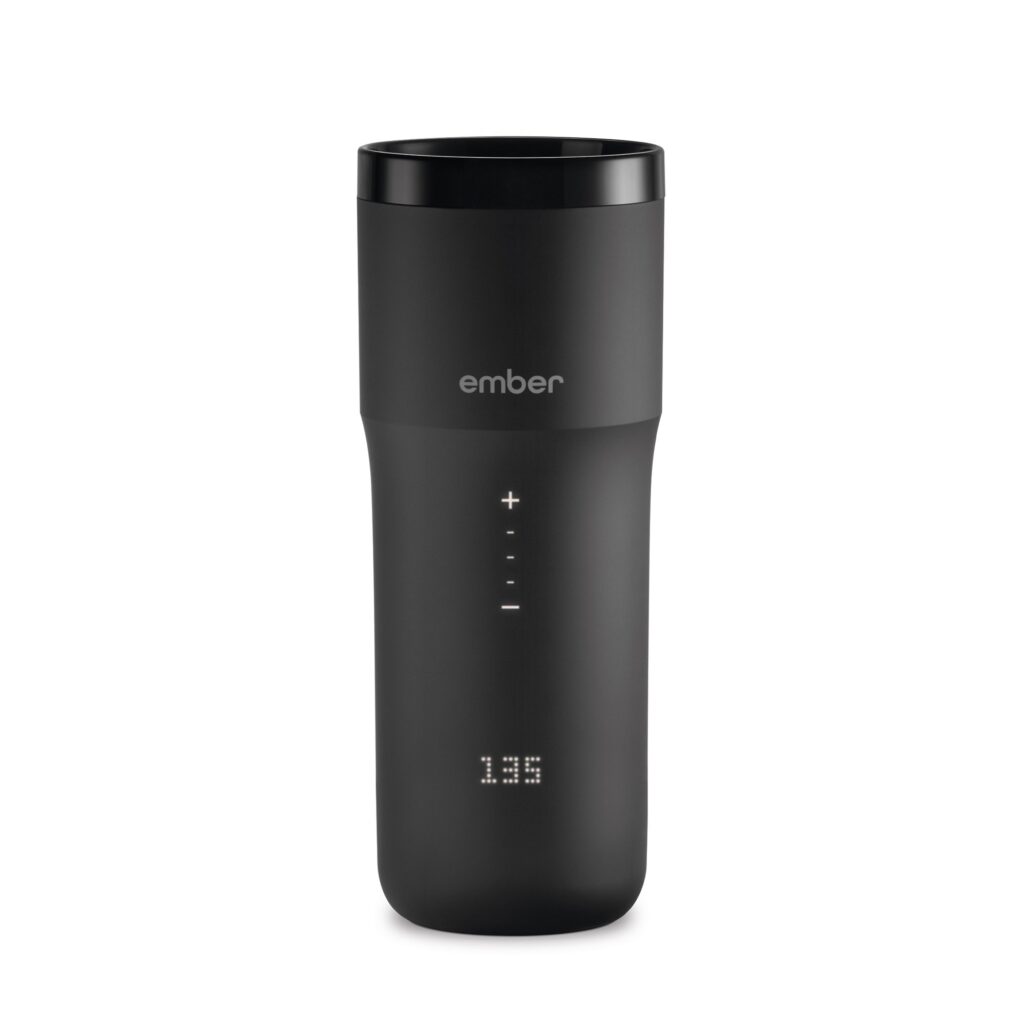 PROS:
Battery powered heated travel mug
Battery life lasts up to 3 hours or all day on charging coaster
Ceramic plated so you don't taste the stainless steel
Keep your drink at the perfect temperature
CONS:
Not dishwasher proof
Expensive
7. Yeti

Yeti are arguably the biggest brand in the insulated tumbler space and are well known for making extremely high quality products. Their range of tumblers and mugs are no exception to this.
They are made from double walled vacuum insulated stainless steel and are great at keeping coffee hot for a long period of time.
Yeti are also one of the few vacuum insulated brands that are dishwasher safe, making them easy to clean as you can just throw them in with your dirty dishes.
The MagSlider lid is easy to use and easy to clean but it's only splash proof and isn't completely leak proof.
They comes in a variety of colors and sizes ranging from 10 oz all the way up to 30 oz. There are also wider mugs available with handles.
They are one of the toughest and most well built cups on the market and they will keep your coffee hot for a long period of time. They are backed by a 5 year warranty.
See the latest price of Yeti Rambler tumblers at Yeti.com
(or compare to the prices of Yeti tumblers at Amazon)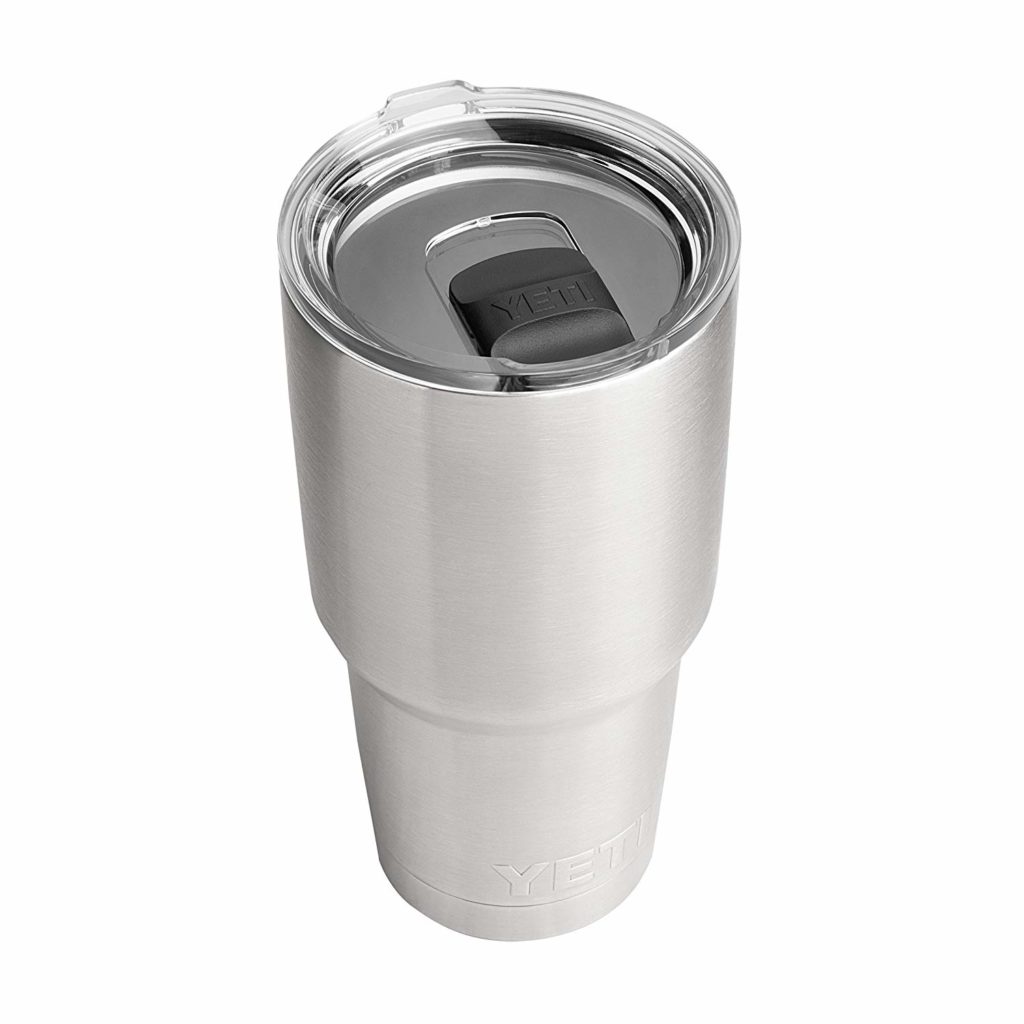 PROS:
Best build quality
Dishwasher safe and stackable
Biggest and most well recognised brand
5-Year warranty
CONS:
Expensive
You need to buy extra accessories to make it leak proof
8. BUDGET OPTION: Ozark Trail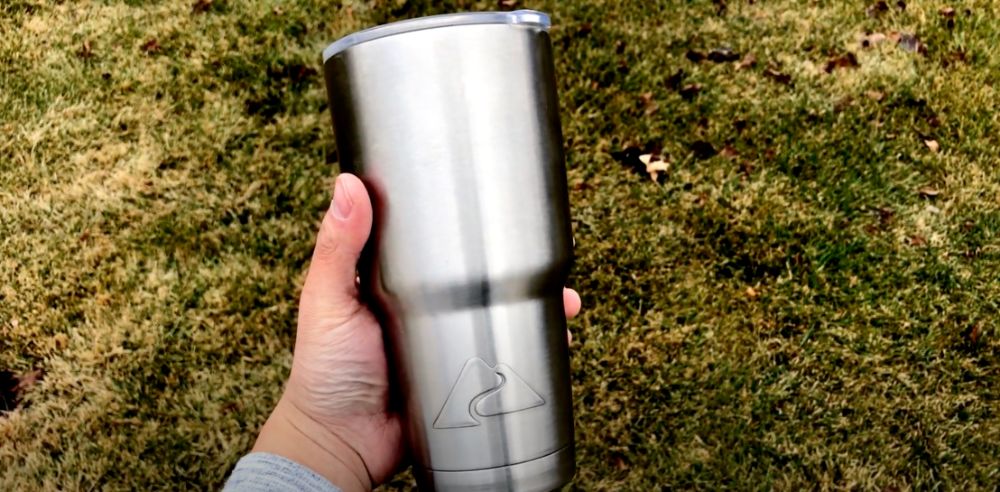 Ozark Trail are Walmart's brand of tumbler and they are seriously cheap compared to all the other tumblers out there.
They are crazy affordable compared to brands like Yeti, yet they perform nearly as well. Some tests even showed them outperforming Yeti in terms of keeping drinks hotter for longer.
The lid of the Ozark Trail tumblers aren't the best and can sometimes have issues but for the price you pay they are actually fine.
The tumbler itself is backed by a lifetime warranty so if you have any issues with it then you can get a replacement cup free of charge.
If you're looking for for a budget friendly option to keep your coffee hot for hours then you can't go wrong with the Ozark Trail.
See just how affordable Ozark Trail tumblers are at Walmart.com
(or compare prices to Ozark Trail tumblers at Amazon)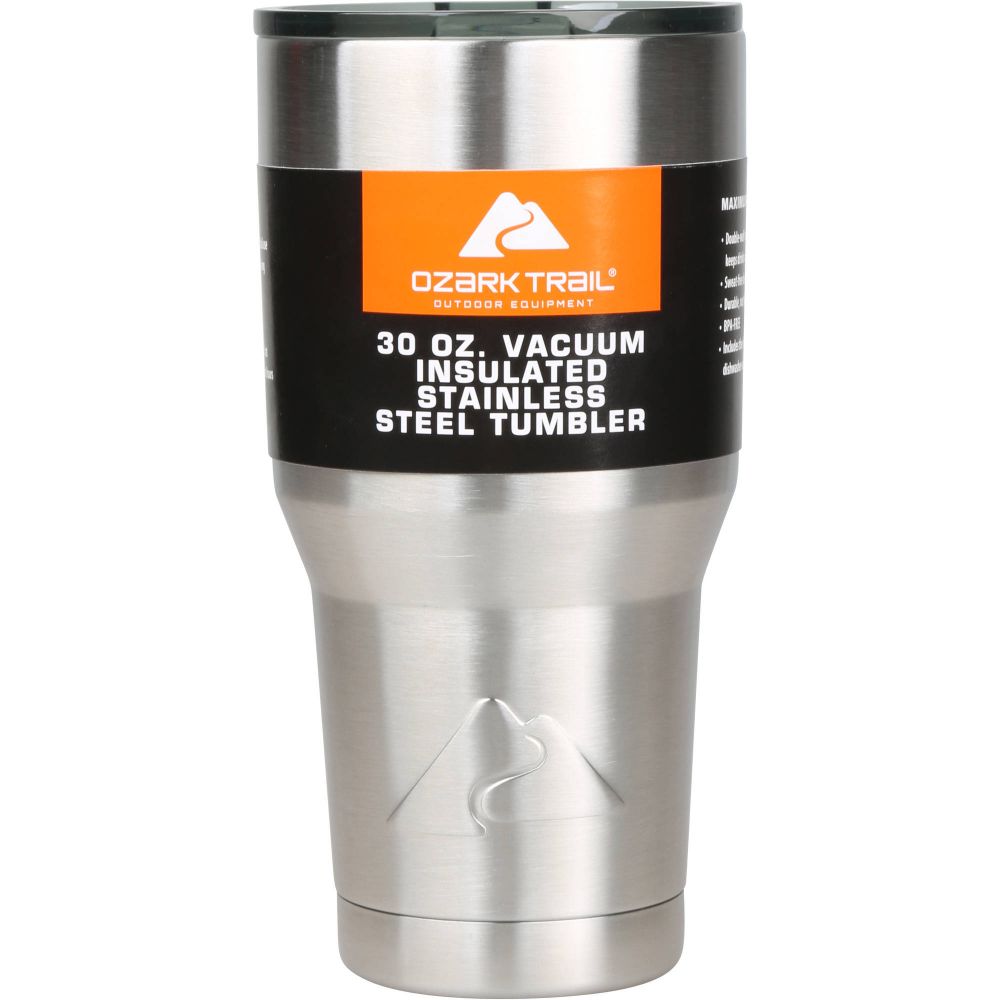 PROS:
Cheapest tumbler on the market
Lifetime warranty
Works really well
Sometimes go on sale and sell for even cheaper
CONS:
Open spout lid isn't leak proof
Some quality issues (but covered under warranty)
9. Mora Double Walled Ceramic Cup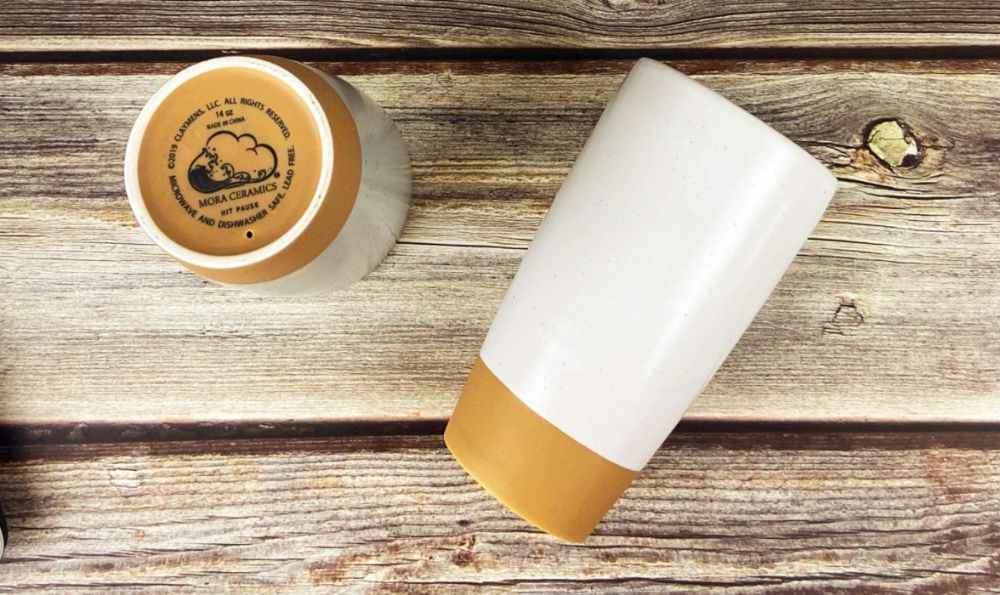 If stainless steel isn't your thing and you would rather drink out of a purely ceramic cup the the Mora double walled ceramic travel mug is a great option for you.
My partner personally feels stainless steel imparts flavors into her coffee and she prefers ceramic so this cup is a great option for her.
It's made from double walled ceramic with air in between the inner and outer wall (not vacuum). This means it insulates better than a single walled cup but not nearly as well as a vacuum insulated stainless steel cup.
It has a splash resistant lid which stays shut until you spin it open and it's made from Paladin Clay which is 20% stronger than regular ceramic, so it's less likely to break.
It's dishwasher safe and fits in most car cup holders.
It's backed by a 30 day "love it or return it" policy so if you're not happy you can send it back. It's well priced for a high-quality ceramic mug.
See the latest price of the Mora Insulated Ceramic Tumbler at Amazon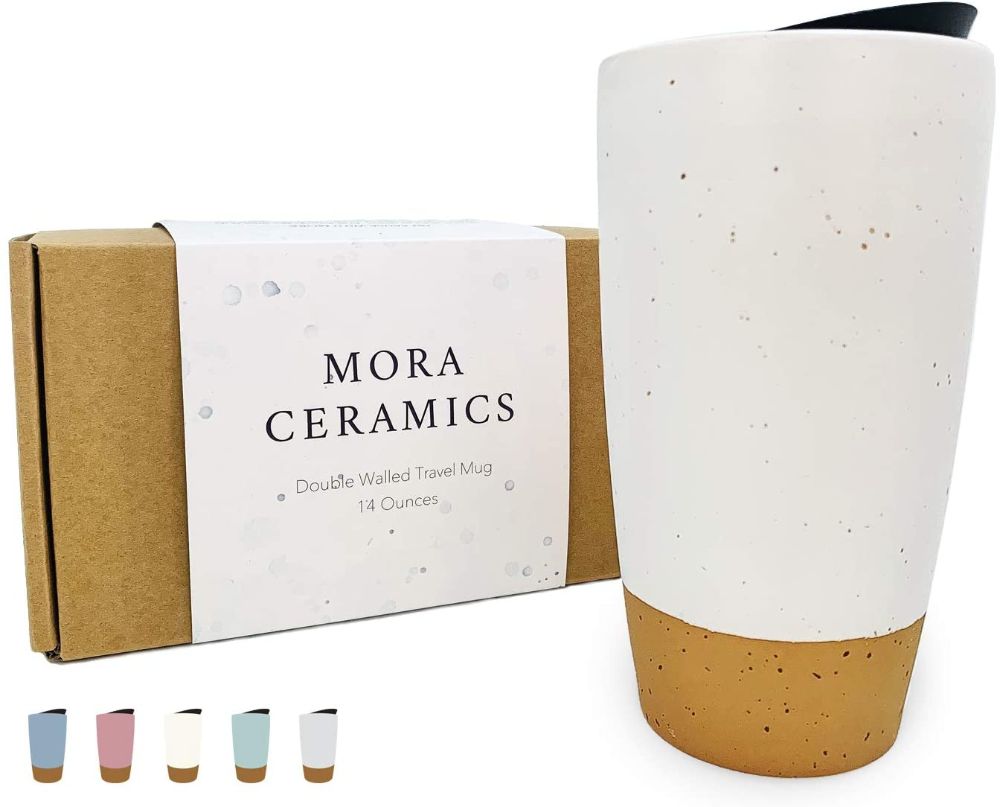 PROS:
Double walled ceramic so it won't burn your hands
Spill proof lid
Dishwasher safe
Great design
Made from strong Paladin ceramic
CONS:
Not vacuum insulated
Size may be too small for some people
Still prone to breaking when dropped
10. RTIC Tumblers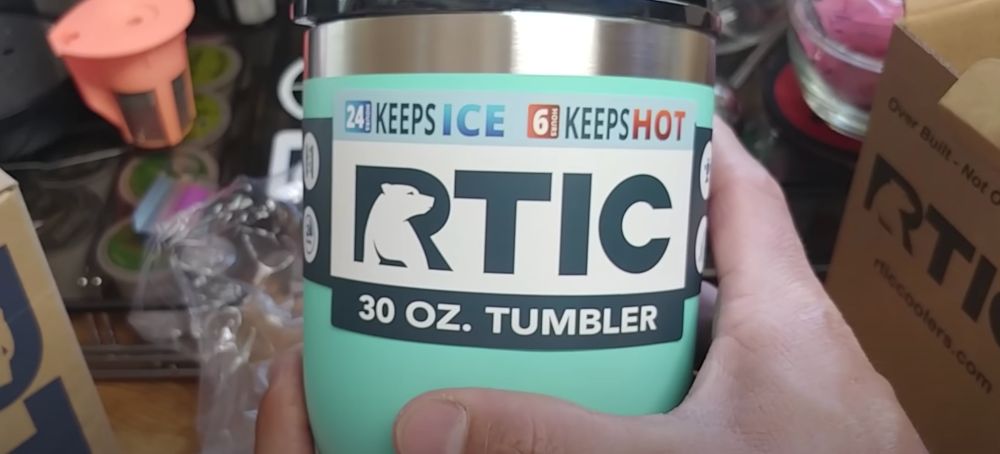 RTIC Tumblers are very similar in designed to Yeti, but they sell for a significantly decreased price. This is great for the budget conscious shooper.
RTIC Tumblers comes in a 20 and 30 oz size and they are vacuum insulated and can keep coffee hot for 4-6 hours.
They are a reputable brand and the new tumblers come with a leak proof lid. Some people say the flip lid touches their nose when drinking and this can mess up your makeup if you aren't careful, so that's something to consider.
But they are super affordable and they will keep coffee hot as long as a Yeti, but will save you a good chunk of money.
See the latest price of RTIC tumbler cups at RTICProducts.com
(or compare to the price of RTIC tumblers at Amazon)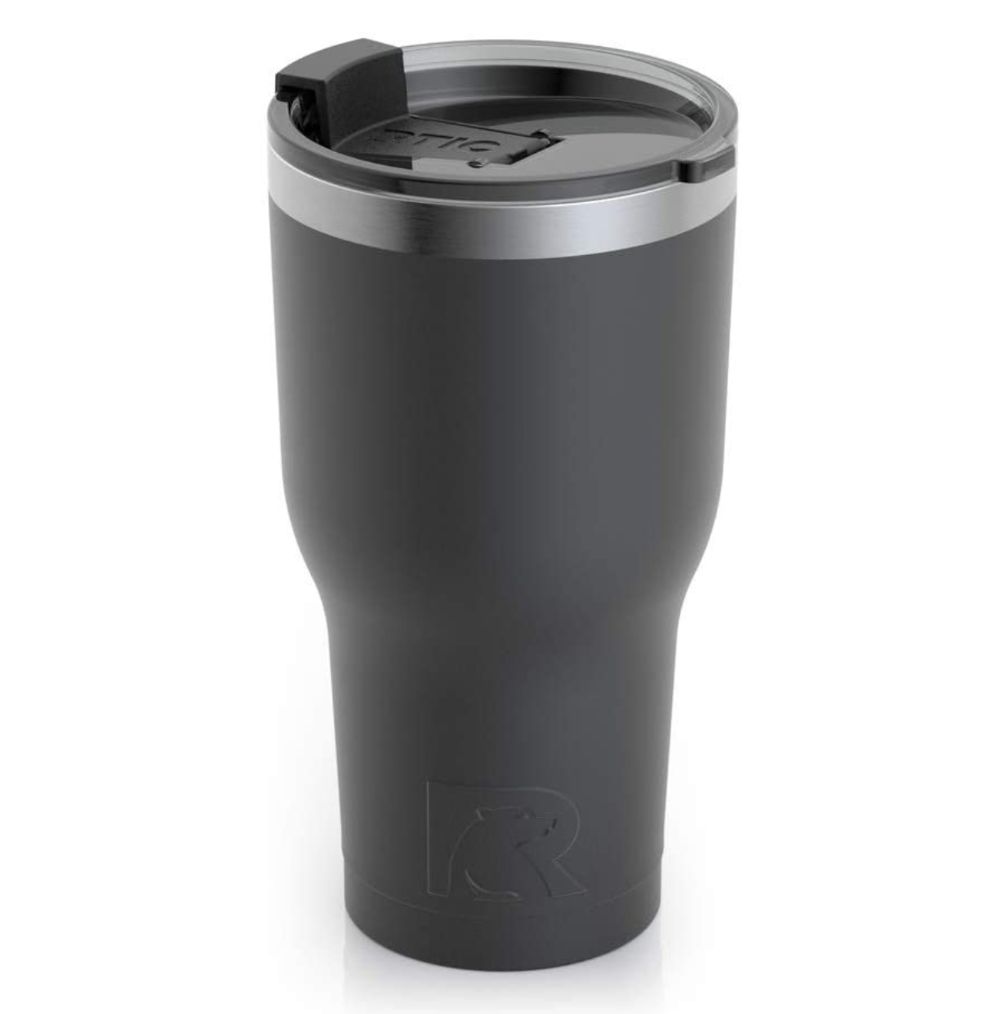 PROS:
Super affordable
Great value for money
Lots of different color options
Leak resistant lid
CONS:
Only 90-Day warranty
No smaller sizes
Flip cap can mess up makeup
Base is wider and may not fit in cup holders