Drinking lemon water in my Contigo bottle is one of my favorite morning routines, as it helps my skin to feel great and also assists with digestion. I started adding lemon to my water recently because my partner recommended it.
The hint of lemon makes it a tasty yet healthy source of hydration and it helps me drink more water each day, but how does the lemon water affect my Contigo?
Is it okay to put lemon juice in a Contigo bottle, or will it have harmful effects because lemon is so acidic?
Yes, Contigo's stainless steel bottles can safely hold lemon juice, as they are made from food grade 18/8 stainless steel that is highly resistant to acidity. Contigo's plastic bottles are made from BPA-free Eastman Tritan plastic and are generally safe to hold lemon juice, however over time it may cause the plastic to break down and leave a taste or odor.
Lemon should not have an impact on your stainless steel bottle, the only issue is some people have mentioned that putting lemon juice in stainless steel bottles make the bottle taste a bit metallic.
Overall lemon juice in stainless steel Contigo bottles seems to pose no issue – but you may want to consider the prolonged effects of putting lemon in a plastic Contigo bottle. Since understanding how lemon can affect plastic I now only rarely put lemon juice in my plastic Contigo bottles.
Will Lemon Juice Affect My Metal Contigo Bottle?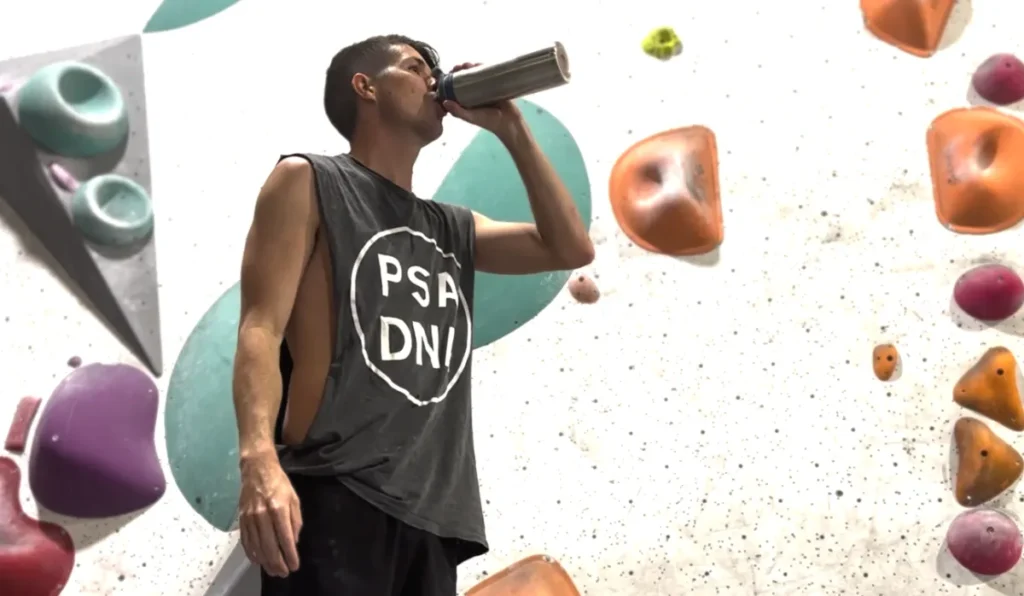 Contigo's metal bottles are made from food grade 18/8 stainless steel. This means that they are anti-corrosive and should not leach harmful chemicals into your water.
Lemon juice contains citric acid and has a pH level ranging from 2-3, meaning it's a fairly strong acid and is even 100,000 times more acidic than water.
It's also important to note that the lemon will likely be heavily diluted in water (unless you enjoy lemon juice by itself). This means the overall acidity will be a lot less that straight lemon juice.
There isn't much data on if lemon juice causes damage to stainless steel or causes metal leaching but there is some speculation that it might actually do just that.
There is a comment on an online thread from Robert Seals (not verified) who is the person who started the Klean Kanteen water bottle company.
This comment suggests that lemon juice could cause nickel to be leached from the stainless steel into your drink. This experiment was done with an acid similar to lemon juice. This same result didn't occur with water only and it doesn't seem that the experiment was done with heavily diluted lemon juice – which most people would be using.
Regardless, even with this there is likely low health risk from consuming small amount of nickel.
If you notice a metallic taste from your Contigo bottle when using lemon juice then give it a good wash and see if the taste goes away or maybe stick to water only.
You should also always make sure to properly clean and take care of your Contigo as to prevent rust. 
Lemon juice dissolves rust due to its acidic nature, and while this may be great for cleaning purposes, you don't want rust dissolving into your drink (duh).
Will Lemon Juice Affect My Plastic Contigo Bottle?
Contigo's plastic bottles are manufactured from BPA free Eastman Tritan plastic.
Eastman Tritan is known to be one of the safest and strongest plastics on the market, and claims to be far more durable and odor resistant than traditional plastic.
After researching many different pages and forums, Eastman appears to claim that their plastic is capable of withstanding lemon juice without breaking down or leaching. But there is very little data I could find to actually support this claim.
However, prolonged exposure to the acid levels found in lemon is known to have negative effects on even the strongest variants of plastic. Check out the effects lemon juice had on the plastic measuring cup below.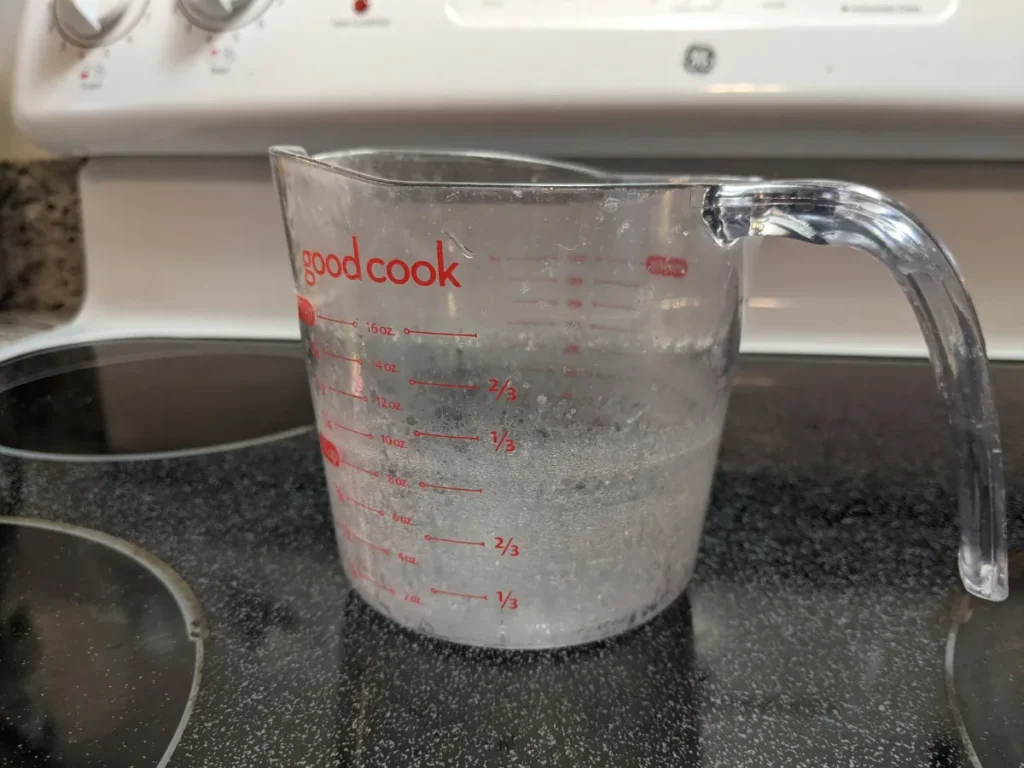 I've also found that there's still many uncertainties surrounding Eastman Tritan plastic.
This article covers further details, but Eastman was apparently involved in a legal concern over whether their plastic is truly free of estrogenic activity under certain conditions. Only the legal battle was instigated by another party making an alternative plastic – so the conflicts of interest abound.
Contigo's plastic bottles should technically be able to withstand lemon juice, even more so after it is diluted in water, however I believe that the stainless steel bottle will prove more durable over an extended period of time and is the safer alternative for drinking your tasty lemon water.
I love my stainless steel Contigo Autoseal water bottle. It works great for lemon water and I haven't had any issues with it.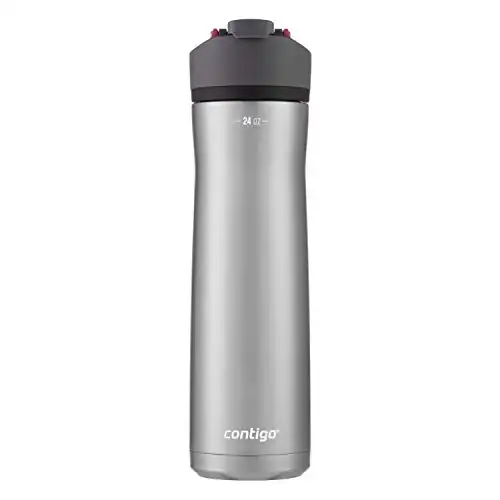 Contigo AUTOSEAL Water Bottle (24 oz)
100% spill-proof with autoseal technology. Push the button for easy 1-handed drinking and release for an instant seal without any spills.
Double-walled vacuum-insulated so it can keep drinks cold for 24+ hours and hot for 6+ hours.
Buy Now at Amazon
Will Lemon Leave an Odor or Taste in my Contigo?
I've seen many comments and forum posts claim that lemon juice will leave an unpleasant taste or odor in bottles, however there is no research that I could find proving these claims.
Of course it is possible that small amounts of metal or plastic could leach over time and cause an odd odor or taste.
If you are finding a change in taste then I would advise stopping with the lemon juice or lemon water in your Contigo and switch to only drinking lemon water from glass or ceramic cups or bottles as these are non-reactive.
However, properly cleaning and maintaining your Contigo should do the trick in preventing any undesired flavors.
Cleaning your Contigo can be done in just a few short steps.
Rinse with hot running water
Scrub all surfaces with the cleaner of your choice (for me, it's dish soap)
Rinse out the bottle removing all soap and air dry.
Letting your bottle soak in a vinegar solution can also be extremely helpful in removing any lemon taste or odor.