Cleaning a CamelBak bladder after every use can be time consuming, boring, and sometimes a bit frustrating.
But if you don't, you run the risk of bacteria and mold growing in your reservoir, which can shorten the lifespan of your CamelBak and sometimes make you pretty sick.
CamelBak cleaning tablets offer a faster, easier solution — but how well do they actually work and are they worth the pretty hefty price tag compared to other cleaning tablets?
CamelBak Cleaning Tablets are an easy, hands-free way to clean your CamelBak bladder. Just fill your reservoir with water, toss in a tablet, and wait about 15 minutes for it to work its magic. They sanitize all those hard-to-reach places in your reservoir, leave your bladder smelling and tasting fresh, and require almost no effort to use.
Their main downside, however, is their price. CamelBak cleaning tablets use very similar active ingredients to most other cleaning tablets on the market, but cost nearly twice as much.
Still, if you want a premium cleaning tablet that you know will do a great job, uses quality ingredients, and won't leave behind any film, residue, or taste, CamelBak tablets are the best way to go.
To me, CamelBak tabs do a good (or better) enough job to be more than worth the higher price tag. I'd rather know that my reservoir is as clean as possible and be confident that I know exactly what I'm putting in my bladder.
I also don't use them every time, only when I'm feeling lazy or my CamelBak needs a deep clean so the cost isn't overwhelming. In fact, I think drying your CamelBak properly is just as important if not MORE important than giving it a good wash.
CamelBak cleaning tablets have become my go to option for easy routine cleanings of my CamelBak bladders.
What I Love About CamelBak Cleaning Tablets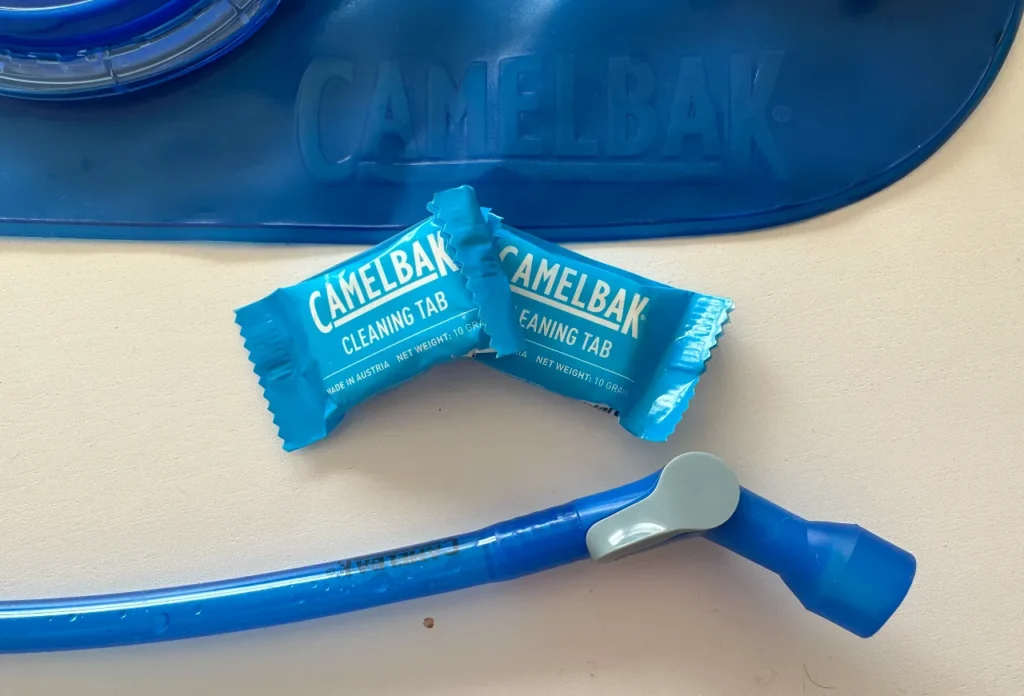 CamelBak cleaning tablets actually do clean your bladder really well and leave it smelling great. They can also help with removing the bad taste from your CamelBak bladder so your water tastes better. They are also incredibly convenient to use, which is the main reason I like them.
What more could you want?
They Clean Your Bladder Really Well
CamelBak cleaning tabs are the only cleaning tablets specifically designed by CamelBak to clean their reservoirs — so it should come as no surprise that they do a pretty great job at it.
Using the antiviral, antibacterial, and antifungal compound, chlorine dioxide, CamelBak cleaning tablets gently sanitize every nook and cranny of your reservoir with no scrubbing required.
And while they use very similar active ingredients to most other cleaning tablets on the market, the difference is still noticeable. They are also larger in size that most other cleaning tablets, meaning you need to use less tablets per clean.
They don't leave behind the weird tastes, funky smells, or chalky residues of some cheaper tablets.
And they're backed by a reputable brand, so you can rest assured that the ingredients are the highest quality available and you always know exactly what you're getting. No some dodgy knockoff that fizzes but doesn't cleaning your pack well.
CamelBak care about their gear and this same attention to high quality seems to extend to their cleaning products too. In fact, the CamelBak Crux Cleaning Kit is hands down my #1 recommend as the best CamelBak accessory and I almost consider it required purchase if you own a CamelBak or some sort of hydration pack.
It also comes with 2 free CamelBak cleaning tablets for you to try out so it's well worth the investment.
They're Super Convenient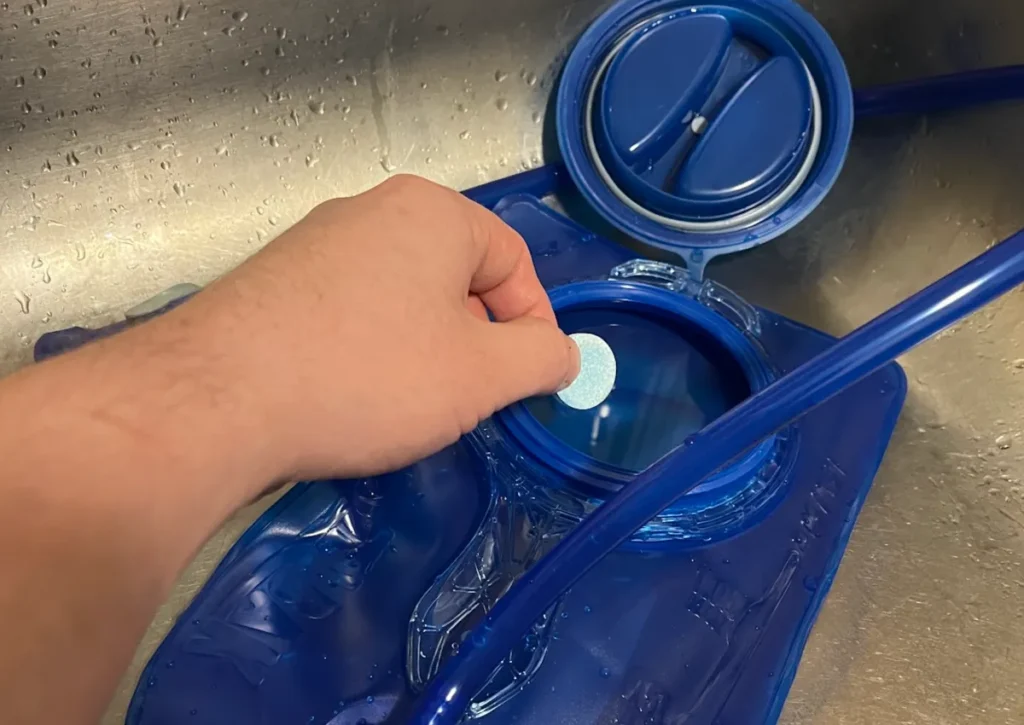 Before I started using CamelBak tabs, I was pretty inconsistent cleaning my reservoir after every use. Half the time I just couldn't be bothered with scrubbing or rinsing after a long hike or ride.
While CamelBak cleaning tablets may take a little over 20 minutes from start to finish, only a minute or two actually requires any effort.
The rest is just waiting.
I can toss a tablet in my bladder, work on something else I'd rather be doing, and check back at my convenience.
It couldn't be much easier.
What Could Be Better With CamelBak Cleaning Tablets
While CamelBak cleaning tablets clean your bladder effectively and are really easy to use, they do have a few downsides.
None of them are deal breakers to me, but knowing what to expect before you shell out your hard earned cash is important.
They're Pricey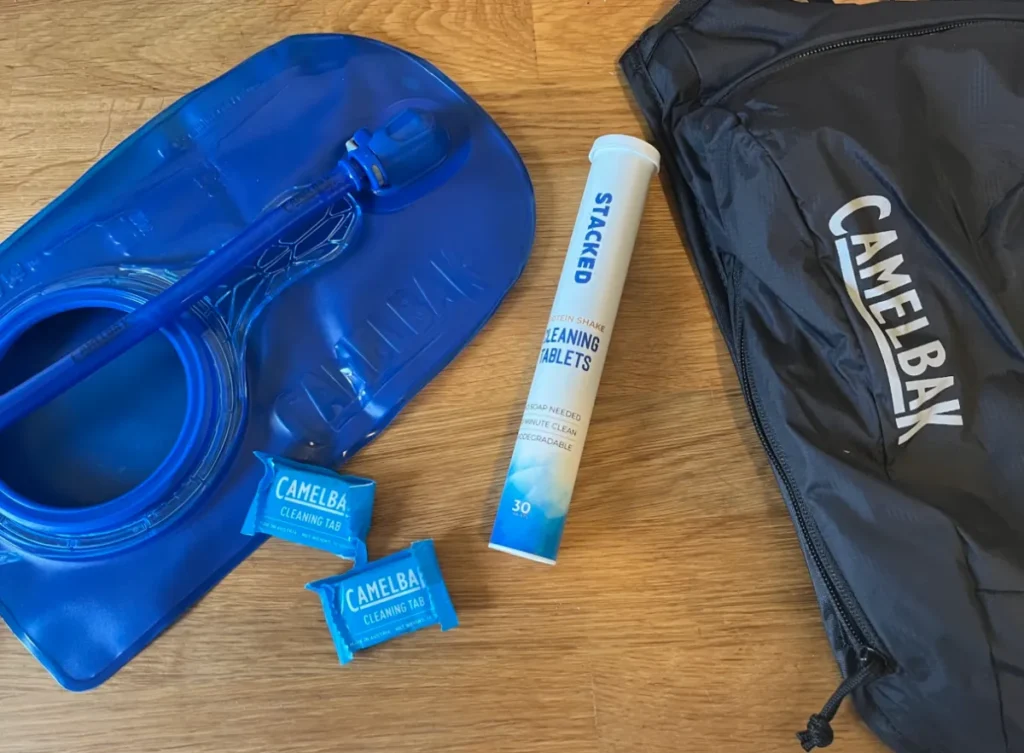 The biggest downside of CamelBak tabs is their price.
They cost at least double (and sometimes closer to four times) the price per tablet of most other options.
While it's true that you can save some cash by using budget-friendly cleaning tablets (Stacked are my favorite), it's not quite that cut and dry.
CamelBak tablets are much larger than any other tablet on the market, meaning you'll need to use fewer tablets per cleaning — bringing them much closer in actual price to the other premium tablets.
They Can't Fully Replace Washing
Even though CamelBak cleaning tablets do a great job of cleaning your bladder, they can't fully replace a good old fashioned wash and scrub.
I use my tablets for quick routine cleanings and a CamelBak cleaning kit for those deeper cleanings every couple of weeks.
It's worked well for me for years, keeping my bladder tasting fresh with no signs of mold or mildew to speak of.
Just don't pick up a pack of CamelBak tabs and expect to never have to handwash your reservoir again.
The Tablets Are Individually Wrapped
Depending on where you stand, this could either be a pro or a con.
On the plus side, being individually wrapped makes CamelBak tabs even more convenient. I can toss a few in my backpack and they're ready and waiting whenever I need them.
At the same time, being individually wrapped means that they create a lot of unnecessary plastic waste — contributing (in a relatively small way) to the plastic pollution on our planet.