Thoroughly cleaning and drying your CamelBak bladder is essential to making it work properly, last as long as possible, and prevent it from making you sick.
But the problem is, washing a CamelBak bladder is sort of a pain.
It's tough to reach some parts of the bladder, almost impossible to scrub the interior of the delivery tube, and even harder to dry fully — at least without the right tools for the job.
The CamelBak Crux & Fusion Cleaning Kit includes a reservoir brush, tube cleaning brush, reservoir hanger, and two cleaning tablets that make cleaning your bladder a breeze. It's a great value, costing a few dollars less than the price of the cleaning brush and hanger on their own.
If I could only choose a single accessory to buy for my CamelBak, hands down it would be a cleaning kit.
Over the years my cleaning kit has saved me a huge amount of time and effort and, along with CamelBak cleaning tablets, has made it easier for me to clean my bladder as often as I should.
What's Included In The CamelBak Cleaning Kit?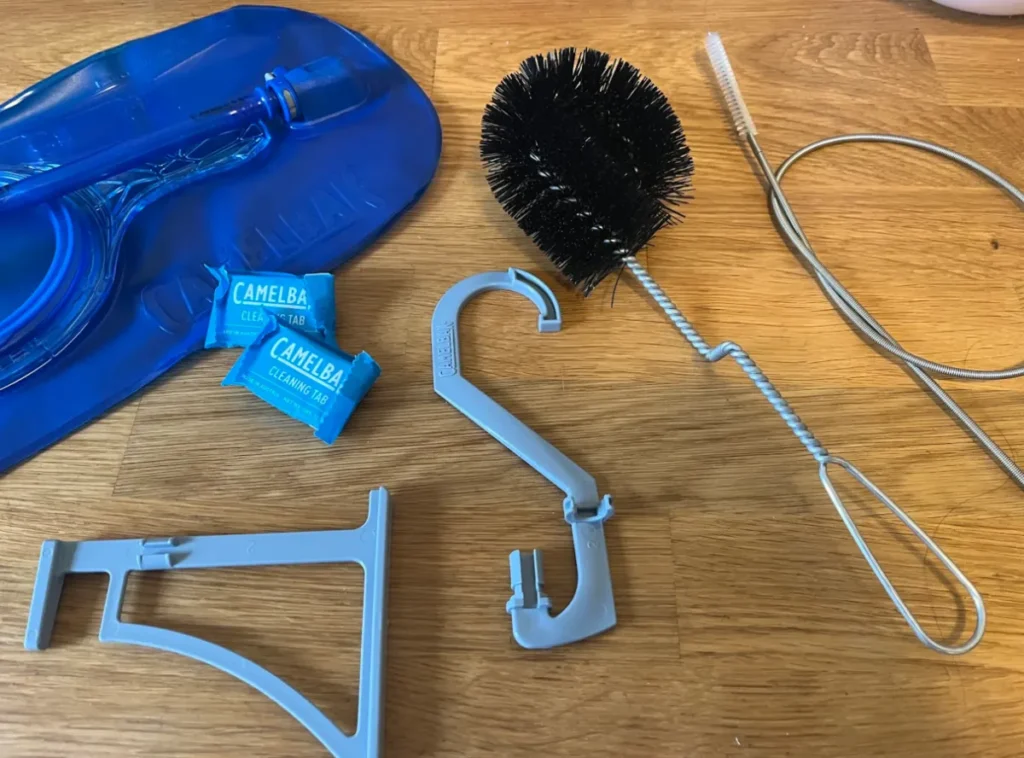 The CamelBak Crux & Fusion Cleaning Kit includes four helpful accessories that make properly cleaning your CamelBak bladder a breeze.
A Reservoir Cleaning Brush to help scrub the interior of your bladder, including all those hard to reach corners and seams.
A Delivery Tube Cleaning Brush to scrub the interior of the hose, which is incredibly annoying to do without one.
A Reservoir Hanger that separates your bladder's walls to allow airflow and vertically hangs the delivery tube to help it dry faster, allowing your bladder to dry fully to prevent mold and mildew from growing.
Two CamelBak Cleaning Tabs that sanitize your bladder and remove bad tastes and odors quickly and easily.
What I Love About The CamelBak Cleaning Kit
No product is perfect and this cleaning set is far from perfect. However, it is really good and offers good value for money.
Here's what I really like about the CamelBak cleaning kit.
It Makes Cleaning Your CamelBak So Much Easier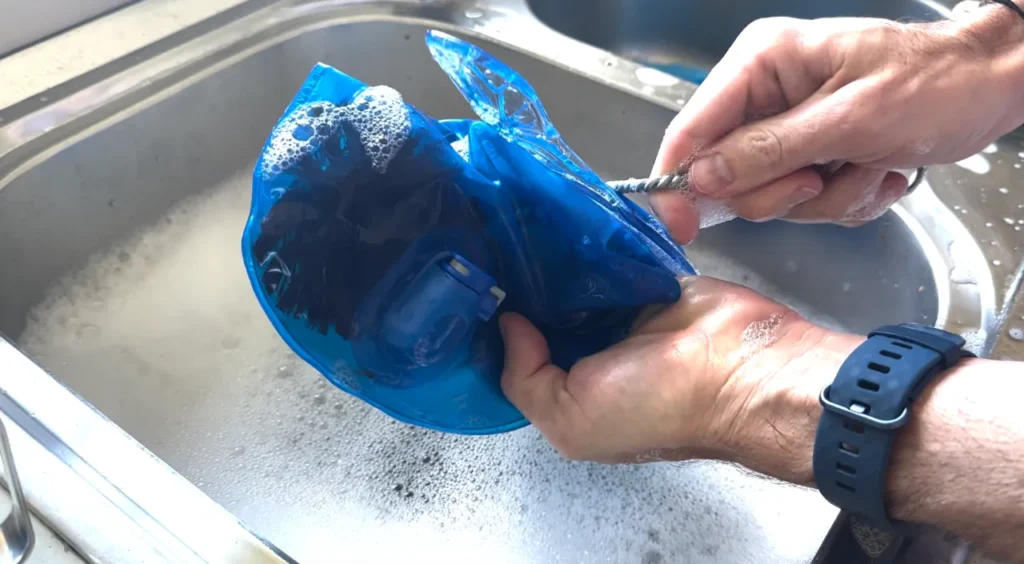 Two of the four items included in the kit are what I'd consider mandatory accessories for cleaning a CamelBak — the tube cleaning brush and reservoir hanger. Caring for your bladder without them is way harder than it needs to be. 
While there are ways to clean the delivery tube without a tube brush, they're time consuming and don't do nearly as good a job.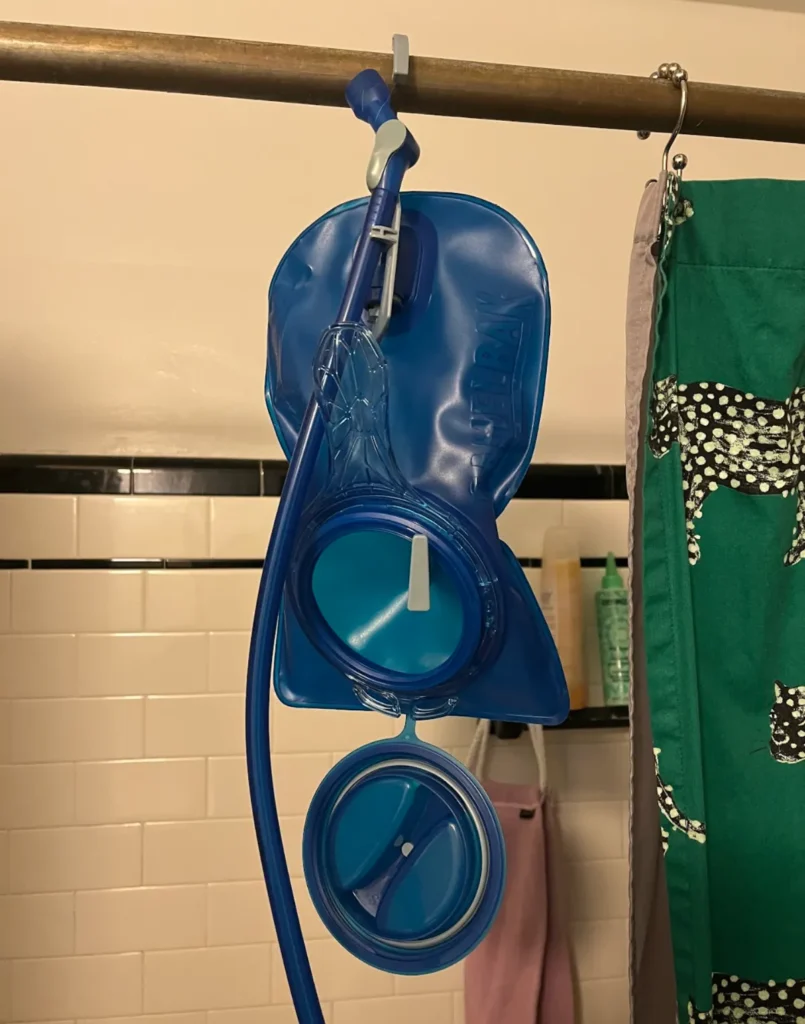 Likewise, there are other ways to dry a CamelBak bladder, but a reservoir hanger is by far the most versatile and easiest to use.
I've tried drying my CamelBak just int he dish rack (before I got the cleaning set) and it was a complete fail. You really need to prop it open in order for it to dry and the hanger does this easily.
The reservoir brush isn't necessarily needed, a bottle brush will do just fine, but it's still really nice to have. Not having to twist and bend the reservoir to reach all the seams and corners is a nice quality of life upgrade.
It's An Amazing Value
The CamelBak Cleaning Kit's value becomes apparent when you compare the price of the included accessories individually to the price of the kit.
Even if you were to just buy the two 'mandatory' accessories, the tube brush will set you back about $10 and the hanger about $14 — already more than the cost of the entire kit.
You're saving a couple bucks there and get a reservoir brush and two cleaning tablets essentially for free.
What Could Be Better With The CamelBak Cleaning Kit
The CamelBak cleaning kit is good, but I do have some minor gripes with it or ways that I think it could be improved.
I think it's important to know these things before you buy it. None of these things are deal breakers, but it's good to know what you're getting for your money.
It Only Includes Two Cleaning Tabs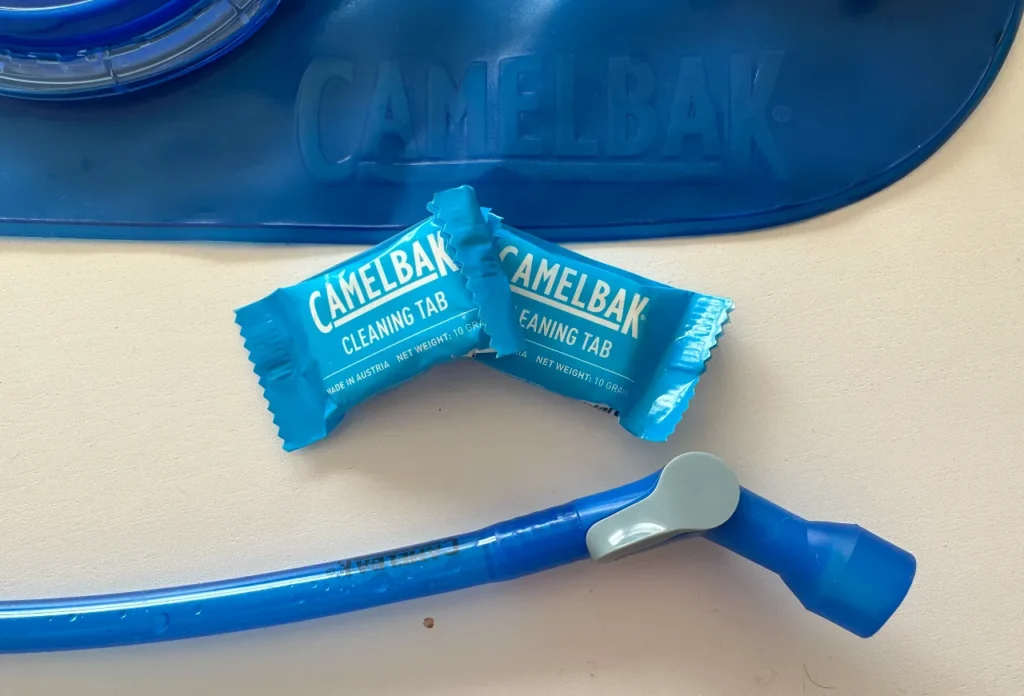 While I wouldn't expect CamelBak to include a lifetime supply of cleaning tablets in their kit, two tablets is only going to last a week or two if you're cleaning your bladder as often as you should.
In fact, if you have a large bladder then the cleaning tablets will only last a single wash. They are more of a tester than anything else I think, to get you hooked on buying the cleaning tablets – which can be expensive.
Still, even if no tablets were included, the cleaning kit is a great value.
Just consider the cleaning tablets more of a nice added bonus and pick up some extra now before you run out.
Check out my full review on CamelBak Cleaning Tablets to learn more about what makes them so great.
Alternatively, check out my list of cheaper CamelBak cleaning tablet options. There are quite a few brands that will clean your bladder just as well but for a fraction of the cost.
Some Pieces Need To Be Replaced Much Sooner Than Others
Another big downside of the CamelBak cleaning kit is that some accessories will last much longer than others.
The reservoir hanger will probably outlast several bladders, while the tube brush and reservoir brush should be replaced every six months to a year. Otherwise they start to collect bacteria themselves and can do more harm than good.
Not only will the bristles begin to wear out, but like sponges, they'll also collect bacteria and are hard to fully sanitize without damaging.
If you were to buy a new cleaning kit every time you needed new brushes, you'd eventually end up with a huge collection of extra hangers — which is a bit wasteful.
A cleaning kit is perfect for new CamelBak owners, but buying the brushes separately whenever they need to be replaced is best if you already have a working reservoir hanger.
The Reservoir Brush Is A Little Too Small For Large Bladders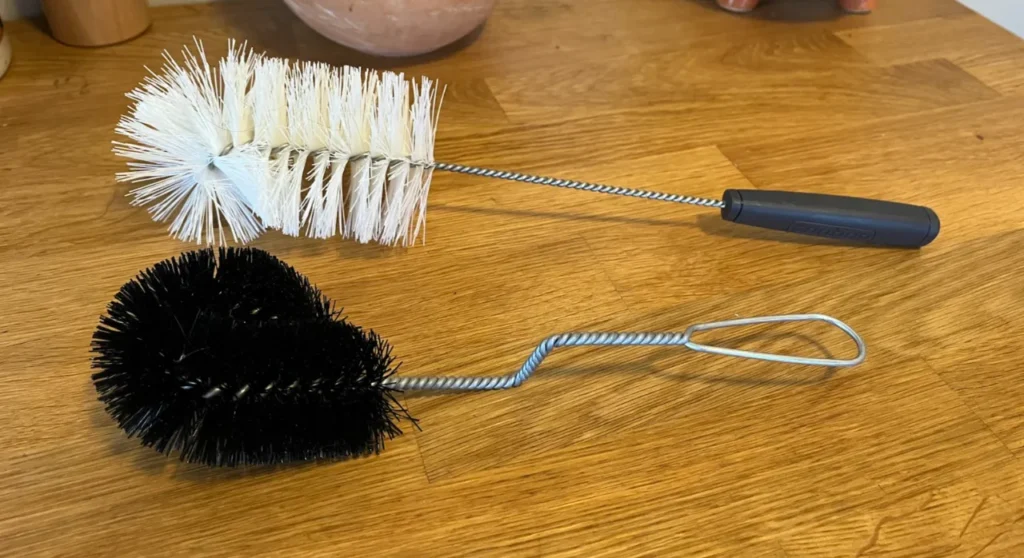 While it might be a little nitpicky, the reservoir brush included in the cleaning kit is a couple of inches too short to comfortably reach every corner of my 3L bladders.
It works perfectly with my smaller 1.5 and 2 liter CamelBaks, but for my larger reservoirs I prefer to use a longer soft-bristled brush.
It also doesn't have a good ergonomic handle so it can be annoying to hold the brush and can get a bit painful if you're washing a lot of bladders (which luckily I don't have to).
It does the job fine, but a comfortable handle would have been nice.