CamelBak is most well known for being the originator of hydration packs way back in 1988. But in the years since, they've added a wide range of some of the best reusable water bottles on the market to their lineup as well – of which I own many.
CamelBak hydration packs and water bottles each have their own unique set of pros and cons, and activities that they work better for.  
When going out on a walk, run, hike or ride it can sometimes be difficult to know whether it's better to take a CamelBak bladder with you or just a water bottle. Which is best for which situation?
When comparing CamelBak bladders to water bottles, each have their own distinct advantages. CamelBak hydration packs offer super convenient, hands-free hydration on the move and can carry a full day's worth of water all at once. Water bottles, on the other hand, are easier to prepare, easier to clean, more affordable, and more versatile than hydration bladders.
For casual activities, like walking, driving, or sitting around the house or office, water bottles are an obvious choice. For travel, hiking, skiing, and snowboarding, a hydration pack is often too convenient to pass up. For activities that involve a lot of intense movement, like cycling and running, it mostly comes down to your personal preference.
I was firmly on team water bottle for years when I first started being more active back in college. But recently, I've added a few hydration packs to the mix and, for some uses, could never go back.
The Benefits Of Using A CamelBak Water Bottle Over a Bladder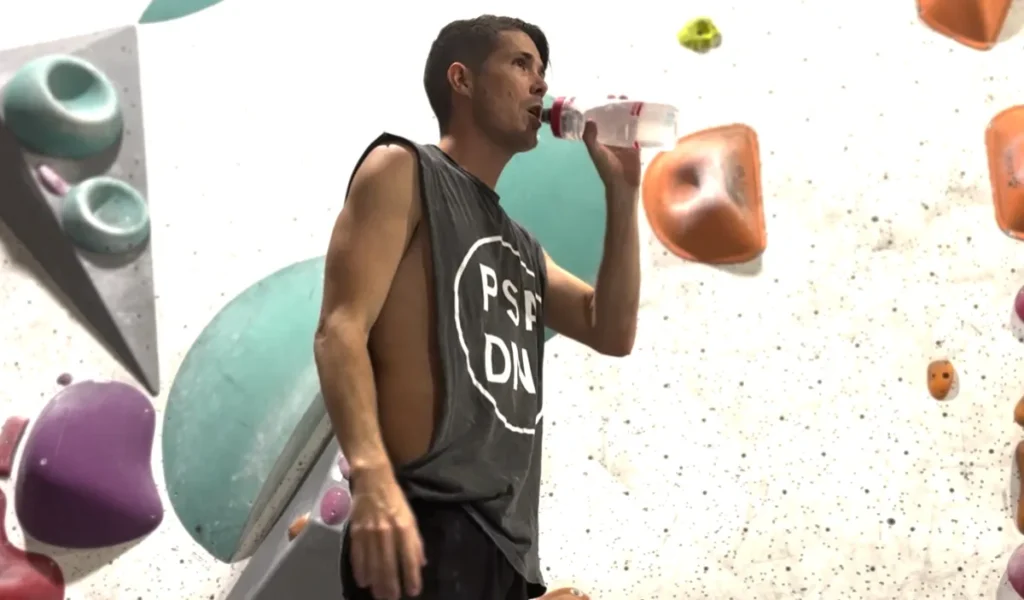 Nine times out of ten a water bottle just makes more sense to use than a hydration pack. They're easier to use, easier to maintain, and a lot more versatile.
After all, you don't want to be that guy walking around the office with a CamelBak bladder strapped to his back. I certainly have never turned up to the climbing gym with a CamelBak strapped to my back.
Easier To Clean And Maintain
For the most part, cleaning a CamelBak bottle is pretty straightforward — it's usually as simple as washing with soap and water after every few uses. 
The CamelBak lids can be a bit tricky to pull apart and clean which is why I have guides on cleaning the CamelBak Podium bottle and cleaning the CamelBak Eddy+ Bite Valve bottle.
Cleaning and maintaining a CamelBak bladder, on the other hand, can be quite a headache.
You have to soak the bladder to remove tastes and odors, scrub all the hard-to-reach corners in the reservoir, scrub the interior of the tube, and fully dry it every time to prevent mold from growing.
That being said, having some CamelBak cleaning tablets, a tube cleaning brush, and a reservoir hanger make it a much less painful process — all three of which are included in the CamelBak cleaning kit. 
Check out my in-depth review to learn more.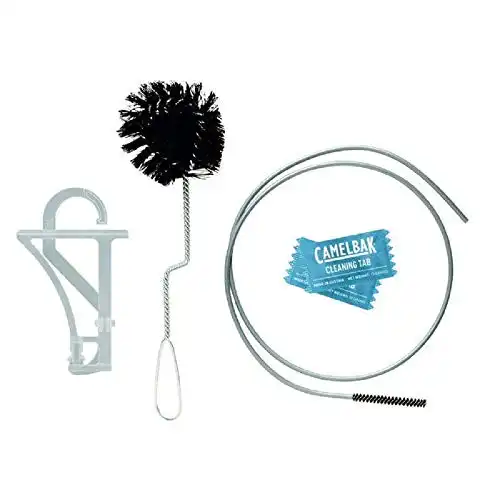 CamelBak Crux Cleaning Kit
Features a large brush for the reservoir and a extra long straw brush to clean the drinking tube plus CamelBak cleaning tabs which will help clean away any scum. After cleaning use the reservoir drying kit to easily hang your bladder and get it completely dry.
A must have for CamelBak bladder owners.
Buy Now at Amazon
Easier To Refill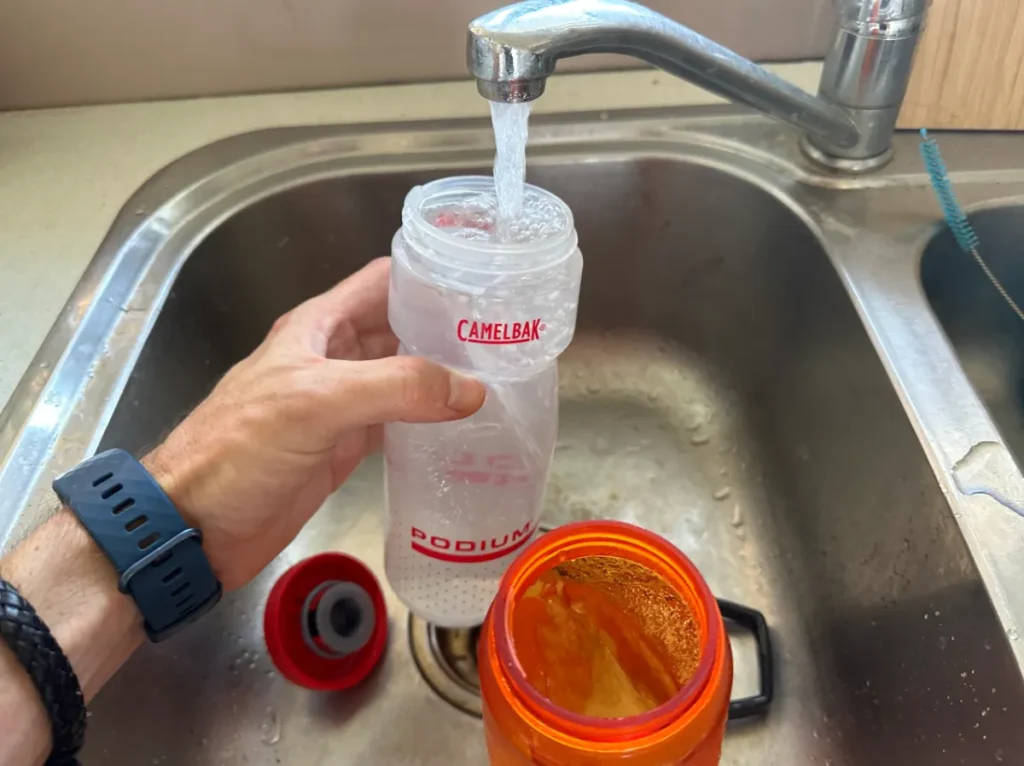 CamelBak bottles also have the advantage of being much quicker and easier to refill. Unscrew the cap, fill with water, and you're good to go.
Meanwhile, refilling a CamelBak bladder requires you to remove your backpack, take the bladder out of the pack, refill with water, and place the reservoir back into the pack. 
What takes about 20 seconds or so with a bottle is more like a 2 or 3 minute process with a hydration pack. Not the end of the world, but still a bit annoying.
Less Expensive
If budget is a concern, CamelBak bottles are significantly less expensive than CamelBak bladders.
A basic CamelBak bottle costs about 15 bucks, while the cheapest, most barebones CamelBak hydration pack will set you back around $40.
When you start talking about premium bottles and packs, the difference gets even larger.
A stainless steel CamelBak bottle with their most popular lid (the Eddy+) runs about $35. High-end CamelBak hydration packs can cost upwards of $200 — well over five times as much. 
Works Better For Drinks Other Than Water
CamelBak bladders are (mostly) limited to water because the material they're made of tends to absorb the flavor of whatever else you drink from them. 
Water bottles, on the other hand, are okay to use with pretty much whatever as long as you clean them well afterward.
The Benefits Of Using A CamelBak Bladder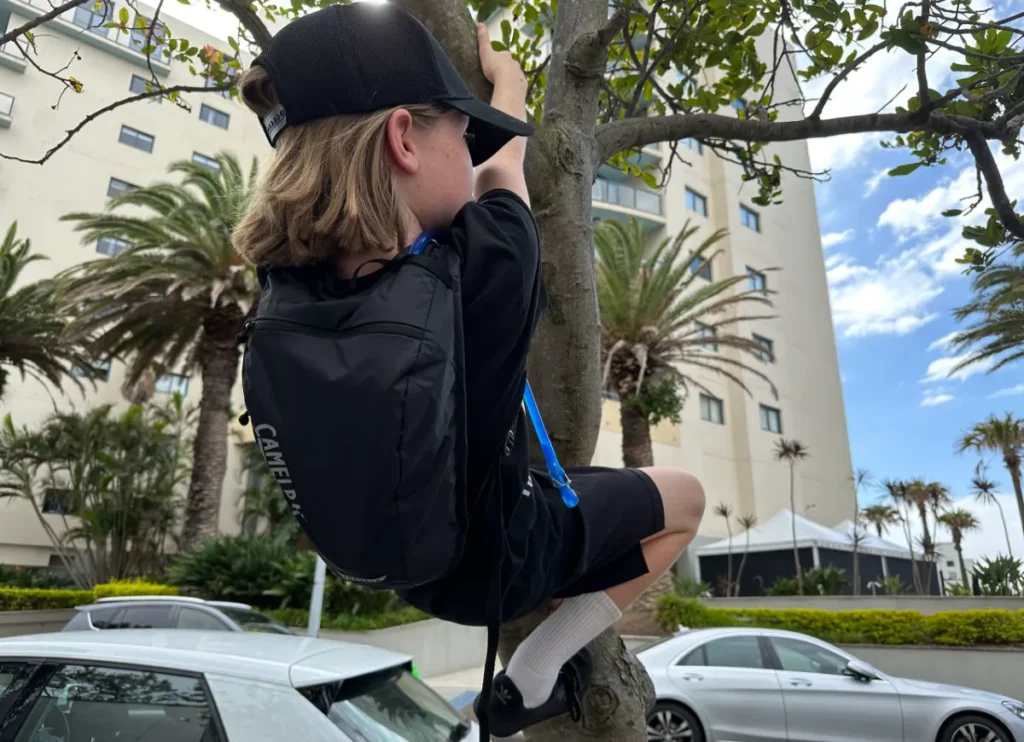 While there are certainly more benefits to using a water bottle, it doesn't mean that those benefits always outweigh the upside of a hydration pack.
For certain uses, CamelBak bladders offer a couple major conveniences that water bottles just can't match.
Quick, Hands-Free Access To Water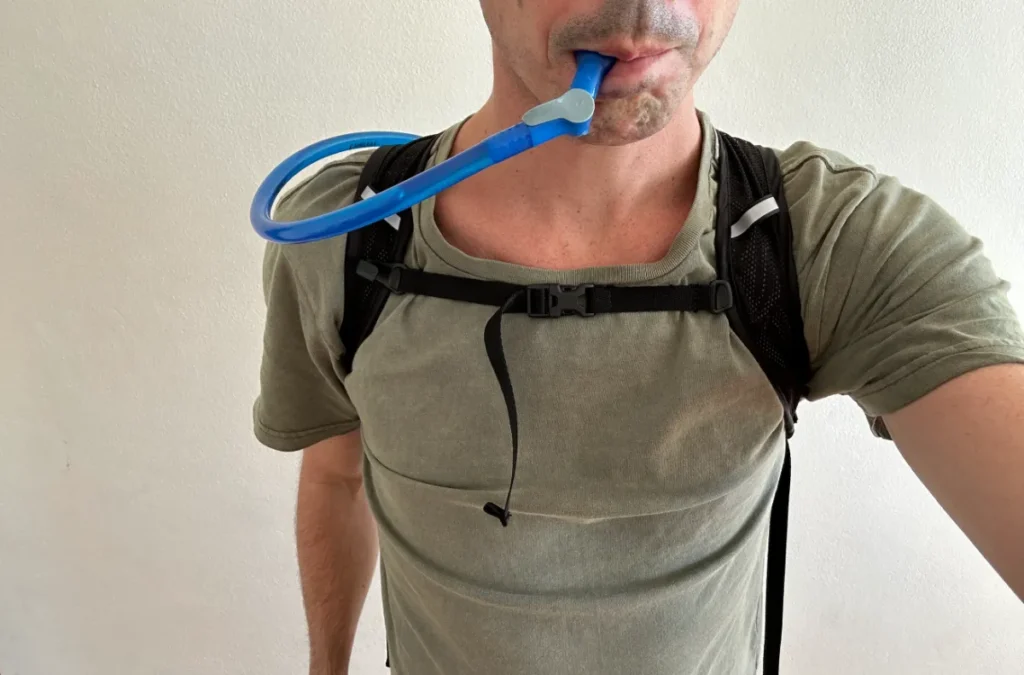 It may be pretty obvious, but the biggest benefit to using a CamelBak hydration pack is the quick, easy, hands-free access to your water that it provides.
It may not be that big of a deal for casual, everyday use. But for activities where your hands are busy or the only place to keep your bottle is tucked away in a backpack, it's a lifesaver.
If you've ever been snowboarding and tried to dig a water bottle out of a backpack and wrestle the lid off while wearing GORE-TEX gloves, you know exactly what I mean.
Carries More Water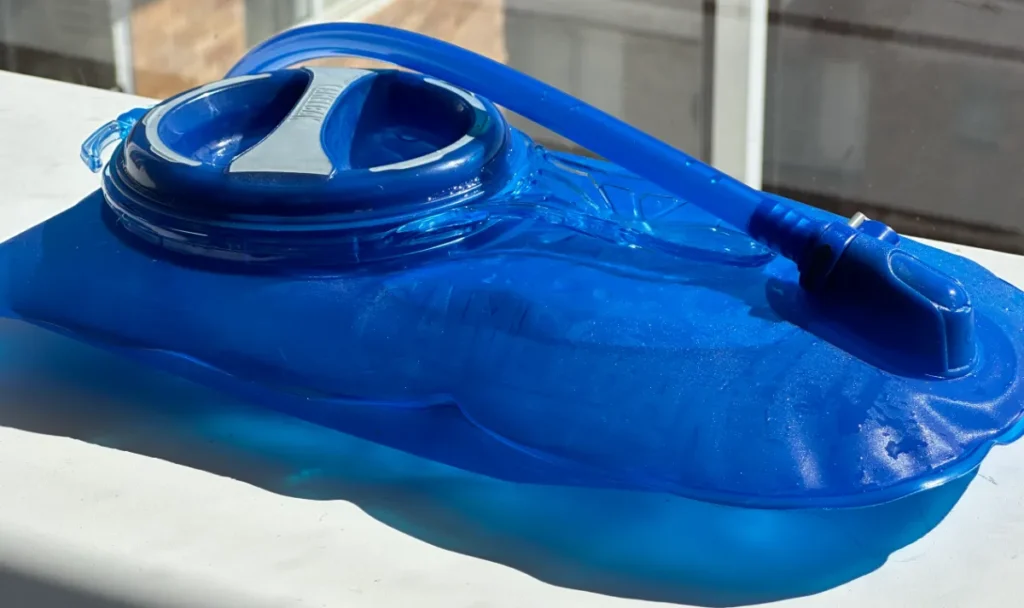 The second major benefit to using a CamelBak bladder is that they can carry way more water than a bottle can.
Sure, there are monstrous gallon-sized water bottles, but those things are ridiculously heavy and inconvenient. I've never actually met anyone who uses one.
Larger reservoirs, on the other hand, barely add any weight when compared to smaller models (outside of the weight of the water itself) because the material is just so light.
A 3 liter reservoir comfortably holds more than a full day's worth of water for the average person.
When To Use A CamelBak Bladder vs A Water Bottle
For most everyday uses, a water bottle just makes more sense to use than a hydration pack.
For casual use at work, around the house, driving, or going for a walk around the park, a water bottle is a no-brainer. It's easy to prepare, easy to clean up afterward, doesn't get in the way, and stopping to refill is no problem.
Where CamelBak hydration packs really start to shine is when carrying a bottle or digging it out of your pack is inconvenient (like on the trail or on the slopes) or when you need to carry more water because refilling isn't always a realistic option (like while hiking or traveling).
Activities like cycling and running, where a CamelBak pack may bounce around or throw off your balance, are more of a gray area that comes down to personal preference.
CamelBaks like the Repack LR 4 Waistpack (which sits at your lumbar back to provide full upper body ROM and lower your center of gravity while cycling) or the Circuit Run Vest (which straps tightly to your body, preventing bouncing and shifting while running) help offset most of those concerns.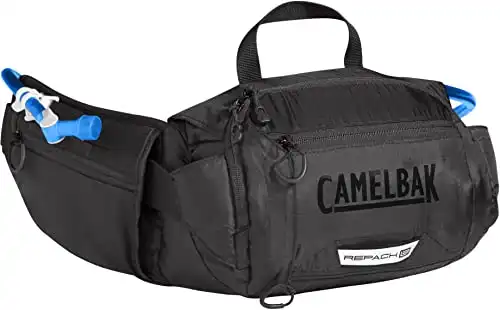 CamelBak Repack LR4 Hydration Pack (1.5L)
This 1.5L reservoir is deal for rider who need more than a bottle but less than a full pack. Features a load-bearing hop belt with cargo pockets to keep everything close at hand and dual reservoir compression straps to allow you to cinch the reservoir into the small of your back for stability and a tight fit.
Buy Now at Amazon