Yeti Coolers are great but they are quite expensive, generally starting at around $200 for the smallest sizes.
However, Yeti do have some great products that sell for under $100. These can be good for gifts for friends or family or just a way to spoil yourself and get a new Yeti product without having to break the bank.
1. Yeti DayTrip Lunch Bag

The Yeti DayTrip is actually a really impressive cooler bag that is small and compact but packs some powerful ice retention and features compared to other insulated lunch bags on the market.
While $80 may sound like an expensive price to pay for a lunch bag when you look at the quality of the Yeti DayTrip compared to other options on the market there really is no comparison.
Most other lunch bags lack much insulation and the fabric quickly frays or gets ruined. The Yeti DayTrip on the other hand is rugged and durable and can keep ice for up to 24 hours and sometimes even longer.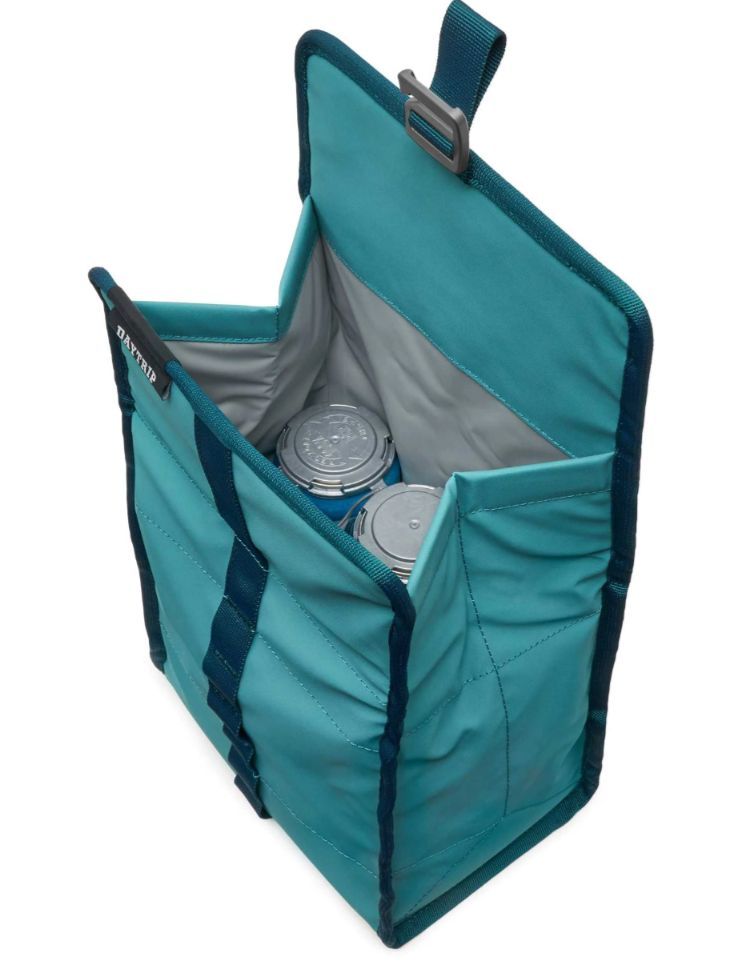 This lunch bag is perfectly designed to fit a 6 pack of beer with some ice and the Coldcell Flex insulation is so flexible when you've finished your lunch or beers it folds down to a very small size.
It work for both cold and warm items and has a magnetic "thermosnap" closure that keeps the cooler closed to keep the cold air locked in giving you longer ice retention.
The exterior is abrasion and puncture resistant so you can take it anywhere but it's also water resistant. The interior is leak proof and made from food safe material so it's fine for you to pack in fruit or any other food items.
The easy top carry handle makes it easy to carry with you to job sites or the workplace and is a great little purchase that will last you years.
It comes in multiple cool colors and Yeti often releases limited edition colors.
Click here to see the latest price of the Yeti DayTrip Lunch bag as well as the current colors that are available.
Alternatively, click here to read my full Yeti DayTrip review
3. Yeti Rambler Tumbler Cups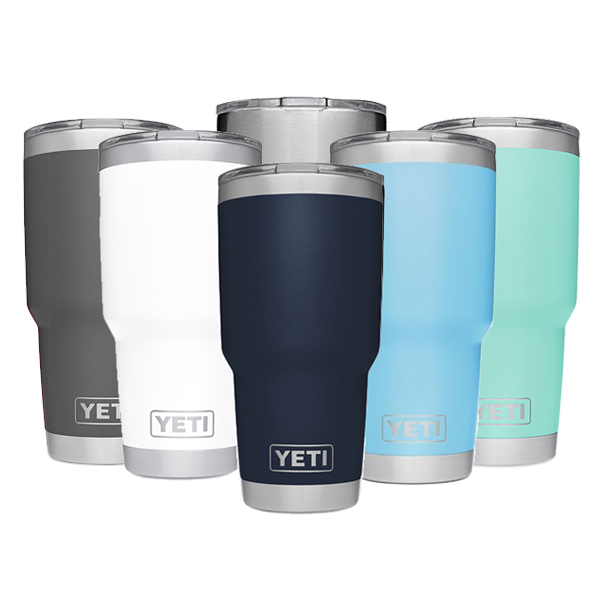 Yeti rambler tumbler cups are double walled stainless steel cups that are vacuum insulated and can keep drinks ice cold for up to 24 hours or keep your coffee/tea hot for up to 12 hours.
I've owned quite a few of these and also compared Yeti tumblers to many other brands of cups and they hold up pretty well.
The technology to make these work is really simple but also really effective. Click here to learn how Yeti cups actually work.
They come in many different sizes ranging from 10 oz up to 30 oz. Some of them have handles while some don't and there are even wine glass tumblers.
The mag-slide lid stops your drink from spilling in your car or while you are walking and it easily slides back so you can drink you hot coffee or cold juice.
Durable and well built these are a very affordable Yeti product.
See the latest price of all Yeti tumbler cups at Amazon
3. Yeti Loadout Bucket

The Yeti LoadOut Bucket is the best 5-gallon bucket on the market. It is 3x thicker than an average bucket and way more durable.
At only $40 this is one of the more affordable Yeti products out there but it is still extremely durable and extremely high quality.
Rather than the traditional thin metal handle with a thin plastic grip the Yeti Loadout Bucket has a strong canvas handle with a thick plastic grip.
This means the handle isn't going to pop out and it makes it so much more comfortable on your hands when carrying a full bucket.
Accessories

To make the bucket even better Yeti have a few accessories specifically designed for the LoadOut Bucket. There are all really good and add to the utility of your bucket.
LoadOut Lid – See through and reinforced this lid can handle up to 300 lbs making it perfect for sitting or standing on. It has a rubber gasket to keep it firmly held into place, but it easily slides off using the finger grips when you need to access the inside of your bucket. See the latest price of the Yeti Bucket Lid at Amazon.
LoadOut Caddy – The LoadOut Caddy sits on the top of your bucket and helps you to keep your smaller items organized. Divided into one half and two quarters this is great for any gear you don't want getting lost in the bottom. See the latest price of the Yeti Caddy at Amazon.
LoadOut Utility Belt – The utility belt is made from durable fabric and hangs on the outside of your bucket using velcro straps. Great for organizing things like tools and gives you easy access to them without having to dig into your bucket. See the latest price of the Yeti Utility Belt at Amazon
4. Yeti Water Bottle/Jug

Yeti Water Bottles/Jugs are another great Yeti product under $100. They are double walled and vacuum sealed just like the tumbler cups so they can keep your beverages cold for up to 24 hours and can keep them hot for up to 12 hours.
They come in many different sizes and start at 12 oz and go all the way up to a 1 gallon jug.
There is also a kids version of the 12 oz bottle which my kids absolutely love.
These Yeti bottles are great to encourage you to be healthier and drink more water throughout the day and the fact that they can keep your drinks cold makes them so much better to drink out of than a regular bottle where you water warms up within an hour.
See the latest price of all Yeti bottles at Amazon
5. Yeti Colster Beverage Cooler

The Yeti Colster takes the beer koozie to a whole new level.
Where I live it's very common for people to use cheap kozzies made of foam to keep your beers and sodas cold for a little bit longer.
The Colster is double walled and vacuum sealed just like the Rambler cups and the Yeti water bottles.
The vacuum seal keeps the heat out and will help your beers or sodas stay cold for hours.
If you know someone who loves drinking beer but hates a warm beer (maybe that person is you) then this is a good gift for them.
6. Yeti Ice Bricks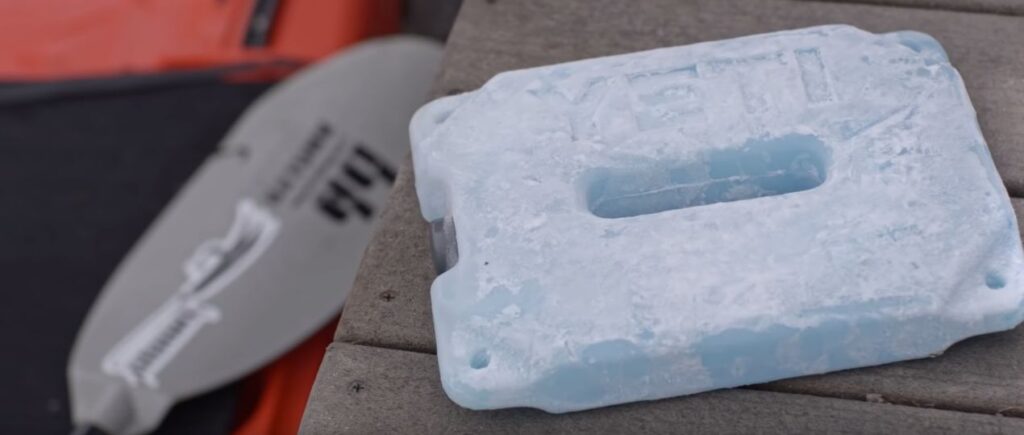 If you've already got a Yeti then a Yeti Ice Brick can be a great addition to your cooler to help it keep ice even longer.
It's a well built and reusable ice brick that will last you years and extend the ice retention of your cooler by approximately 12-24 hours.
They contain a special formulation that is designed to melt before your regular water ice melts. As it melts it draws energy from the surrounding ice making it colder. This helps to keep your regular ice frozen for longer.
Their unique design means they freeze quickly in your freezer and are easy to grab. They are also shaped in such a way that they fit nearly perfectly into the base of many Yeti coolers, saving space while still giving you maximum ice retention.
They come in 3 sizes – 1 lbs, 2 lbs and 4 lbs and they only take around 40-80 uses in order to pay for themselves when compared to ice you would buy from the local store or gas station.
A great purchase for someone who already owns a Yeti cooler and loves it.
Click here to see the prices and sizes of Yeti Ice Bricks at Amazon
Or if you want to learn even more about them then I've done a full Yeti Brick review.
7. Yeti Brick Bottle Opener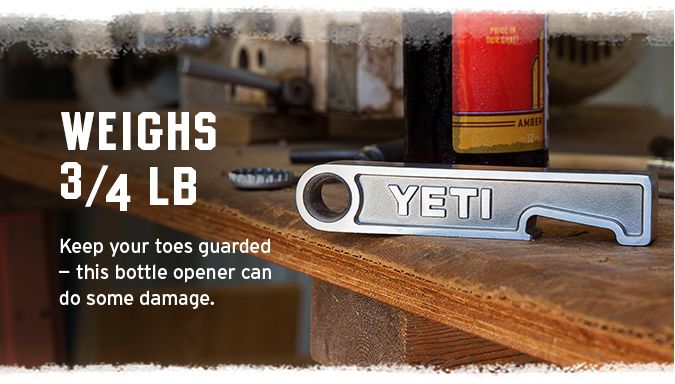 The Yeti Brick Bottle Opener is a 3/4 lbs tank of a bottle opener that just screams "overbuilt".
It's 5.25 inches long, 1 inch tall and 0.724 inches thick. It's just a bottle opener, it doesn't do anything special but it is well branded and it feels substantial.
It's hefty, it's fun to have and it's a great conversational piece. It's totally overengineered but that's what I love about it.
Most people just have generic bottle openers and honestly they do the job just fine. For years I've had a vintage bottle opener that I ABSOLUTELY LOVE. It sound silly but my bottle opener makes me excited to open my beers (even more so than usual). It's a great experience.
I don't personally own a Yeti Brick but I imagine for some people having such a substantial bottle opener would give them the same feeling.
See the latest price of the Yeti Brick at Amazon
8. Yeti Boomer Dog Bowl

For the pet owner and dog lover out there the Boomer Dog bowl is arguably one of the best dog bowls out there.
I wrote a full review on the Boomer Dog Bowl because I thought "How can a dog bowl possibly be worth around $50 and who would pay for that?!"
Turns out dog owners are actually loving this bowl and many are buying a second one so they have one for food and one for water for their pup.
It is double walled stainless steel like the Yeti cups, however it isn't vacuum insulated.
It has a non-slip rubber ring on the bottom that keep the bowl in place so it hardly moves around even with the most energetic eaters.
It's sturdy, almost unbreakable and comes in multiple different colors to suit your style. There are also 2 sizes – 8 cups (32 oz) and 4 cups (16 oz).
For someone who like's to take their dog on their adventures with them then this Yeti product is great to have.
See the latest price of Yeti Boomer Bowl on Amazon
9. Yeti SideKick Dry

The Yeti SideKick Dry is a waterproof pouch with a magnetic close that attaches to a variety of Yeti products as well as anything with a molle web.
It's a worry free way to carry your phone, wallet, keys, fishing license or anything else you want to put in there without having to worry about water ever getting into it.
The perfect addition for someone who already has a Yeti soft sided cooler or the Yeti BackFlip cooler.
See latest price of the SideKick Dry at Amazon
10. Yeti Merch

For the Yeti lover who wants to rep the brand even more Yeti have a variety of merch options available.
From hats to hoodies to t-shirts to stickers. Some sport the Yeti logo and nothing else while others have slogans like "Built for the Wild".
See all the latest Yeti merch options at Amazon
What Yeti Products Will You Choose?
Most Yeti products sell for well over $100 but as you can see there are quite a few really good options for under that price point.
These are good options for gift gifting, Christmas shopping or just for a little bit of self indulgence.