Stackable ice cube trays are great because they save a lot of space in your freezer and allow you to create more ice cubes at once with less effort.
Some ice cube trays are stackable while others aren't. If you're looking to save space in your freezer then I've collected a list of some of the best stackable ice cube trays for you.
Some are extremely cheap and affordable while other have extra features like non-spill lids, multiple compartments and easy release features as well as some more eco-friendly ice cube tray options.
The best stackable ice cube trays for your freezer pile up without disturbing the tray below, pop ice out quickly, and are a cinch to clean. Even better are those with lids preventing your ice from absorbing orders, providing better hygiene, and are spill proof.
Stackable ice cube trays are an excellent, space-saving invention. However, not all stackable ice cube trays are worth your hard-earned money. Nor does anyone have time to waste over buyer's regret…especially with something as simple as an ice cube tray.
So, I've put together my list of the best in a range of price points and materials to ensure there is a tray for you. Because both you and your freezer deserve top quality.
Benefits Of Stackable Ice Cube Trays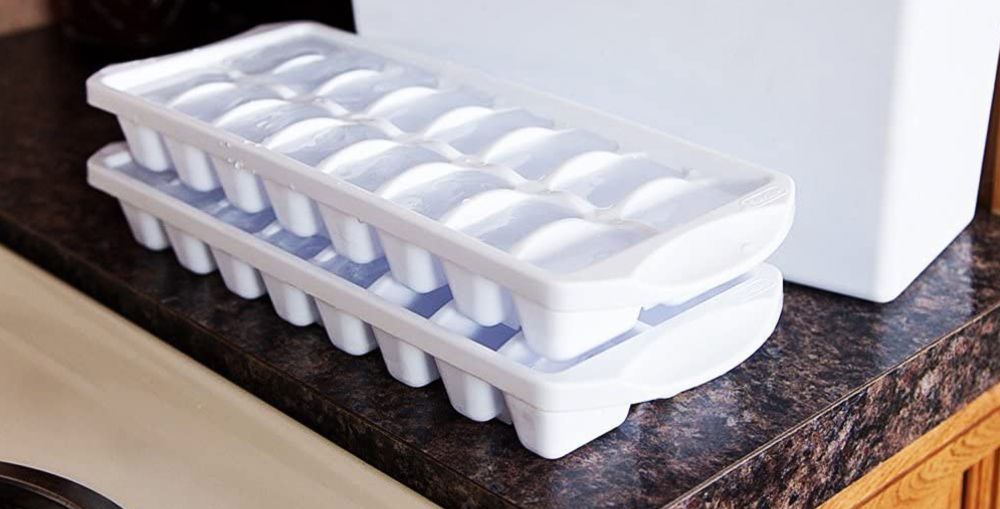 I'm always on the lookout for brilliant ice cube hacks and having stackable ice cube trays are one of the best and simplest hacks out there. Once you own a set, you never want to go back.
The benefits of them just make sense and you wonder why all ice cube trays aren't made this way.
1. Save Room In The Freezer
Freezers are like the opposite of a Tardis – they may look roomy on the outside, but there is never enough space on the inside.
I don't know about you buy my freezer is constantly full of stuff and finding the space to lay multiple ice cube trays flat so I can make enough ice to keep up with the demands of my kids can be difficult.
Stackable ice cube trays don't waste what little room your freezer can spare and allow you to stack multiple ice cube trays in one spot. Leaving the rest of your freezer free for leftover, ice blocks, microwave meals and homemade ice cream.
2. You Can Freeze More Ice At Once
Every household has an unspoken rule: if one person gets a drink with ice, then everyone will want a beverage with ice. At least that's how it works with my kids.
Doesn't matter that nobody was thirsty until you sat down with your ice-cold drink. Now everyone's acting like they've crossed the Sahara.
And in summer my kids just munch on the ice for fun. Especially if I make the small pebble ice cubes – these are their favorites.
Thankfully, with stackable ice cube trays, you can make enough to fill everyone's glass
3. The Are Less Likely To Spill
Most stackable ice cube trays come with lids, allowing you to stack more ice cube trays or anything else on top of them.
Some of these trays have waterproof lids which makes them extremely unlikely to spill in your freezer.
We've all had a time where we've filled up the ice cube tray and wobbled it to the freezer only to spill it as we precariously put it in the freezer. This leads to a frozen puddle in your freezer that is hard to clean.
With stackable ice cube trays with lids you don't have this issue as they are covered up and so much less likely to spill. Some even allow you to put the trays in your freezer on any angle without spilling.
4. They Have Lids So They Won't Absorb Odors
Leaving ice in your freezer for a long period of time means the ice is going to start to taste bad as it absorbs the odors and flavors floating around in the air in your freezer and fridge.
If you've ever placed ice in your drink only to have the ice cubes smell like garlic and completely ruin your beverage and give it a funky flavor then you'll know what I'm talking about.
A lot of these stackable ice cube trays have lids and this means those stinky odors and flavors can't get into your ice. Keeping it fresh much longer and saving your drinks from tasting terrible due to the ice.
The Best Stackable Ice Cube Trays
Below I've created a list of the best stackable ice cube trays on the market.
While YES I do own A LOT of ice cube trays (I test them out for articles like this) I do not own all of these trays.
However, I do own quite a few of these brands and I have worked hard to create a list that provides you with a variety of options when it comes to pricing and features.
Where I don't own the product I've watched YouTube videos and read through the reviews so you don't have to and avoided products that are too similar, too expensive or poor quality.
Below is my curated list. Have a look through it and choose the tray that best suits you.
1. Rubbermaid Easy Release Ice Cube Tray
The Rubbermaid Easy Release ice cube tray is a simple and clever design and I put them as #1 on this list as they are cheap and easy and they do the job well.
When they are not in use, they can be nestled. When they are in the freezer, they can be stacked so the ice cubes on the bottom don't touch or get stuck to the tray on the top.
Rubbermaid accomplishes this magic trick with a design that only requires you to turn the trays 180° to achieve the desired feature.
Rubbermaid's BPA-free plastic is easy to clean and hardwearing. This is also one of the best easy release ice cube trays. The cubes really do slide right out as the name claims.
These aren't "the best" in terms of fandagled features but they are one of the most affordable options out there. You can pick them up from your local dollar store or you can buy them in packs from Amazon through my affiliate link below:
See the latest price of Rubbermaid Easy Release Ice Cube Trays at Amazon
2. Oxo Good Grips Ice Cube Tray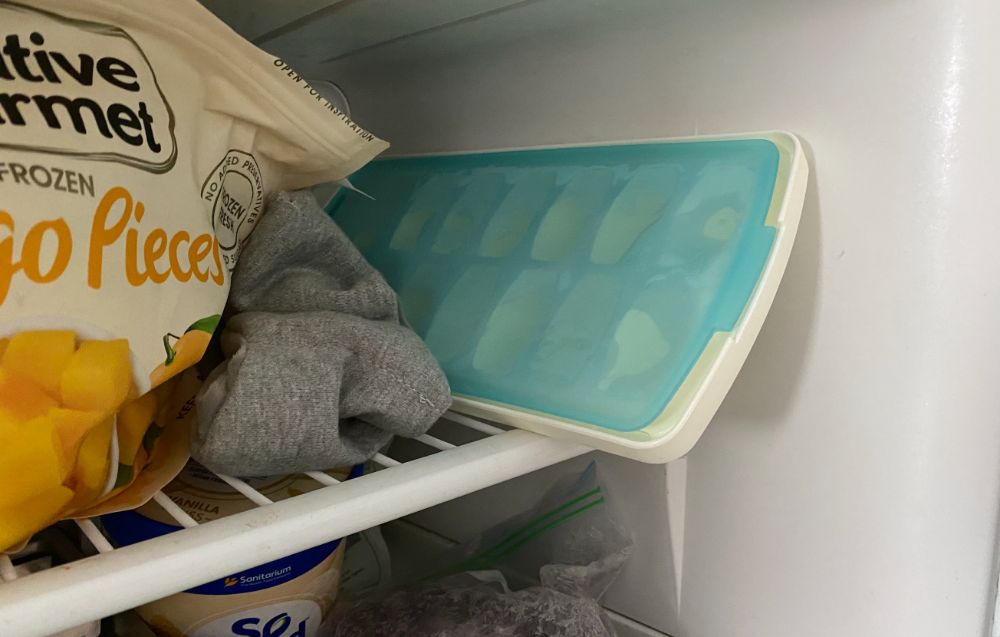 The Oxo Good Grips are plastic trays that come with a flexible silicone lid that sticks to the top of the tray once you've filled it up. But it's easy to take off once the ice has set and the ice won't stick to it.
The lids are soft, floppy silicon that presses into place and can be rolled up to expose only the cubes you want to use.
Oxo Good Grips remains watertight up to a 45° angle and they have a gutter on the sides to prevent any potential spills.
Oxo Good Grips' BPA-free can be popped into the top rack of the dishwasher.
While the lid is uber flexible, the base is sturdy enough to grip and hold shape.
But the rounded cube cups are soft enough to push the ice out with only a slight push to the bottom. Or you can simply tip the tray on it's side and the ice cubes basically fall out. A very user-friendly and comfortable design.
The only downside of this product is it has quite a wide profile for the amount of ice it makes. So it's pretty big in size compared to other ice cube trays. It's also a bit more expensive than other options on this list. However, it's extremely high quality. I own one of these trays and I wish I had more of them.
See the latest price of the Oxo Good Grips Ice Cube Trays at Amazon.
3. Ice Topper Plus Ice Cube Tray
The Ice Topper Plus is another excellent stackable ice cube tray with a lid option.
But this one has split the lid into two, easy-snap sections, so you can leave half the try fully closed while accessing the other side. The two-lid feature makes them ideal for baby food or frozen herbs in olive oil.
Rest assured, these lids seal watertight, making them resistant to spills. Thankfully, this snapping feature is simple and doesn't require high-level hand strength so my kids can easily use it and access the ice when they need it.
Ice Topper's clear design is made from food-grade silicone, entirely BPA and phthalate-free.
The bottom of the tray is made from flexible silicone (one of the best materials for ice cube trays) and this makes popping out cubes a breeze – especially if you only want a couple at a time.
In addition, the 16-cube tray and the lid are microwave and dishwasher safe and are crack resistant.
See the latest price of Ice Topper Plus Ice Cube Trays at Amazon.
4. WIBIMEN Round Ice Cube Tray with Lid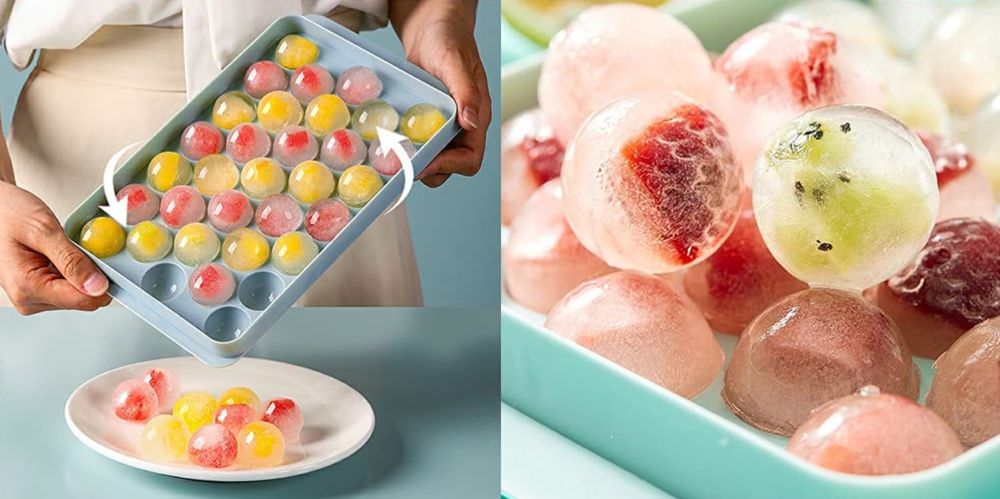 The WIBIMEN Round Ice Cube Tray makes round ice cubes in large quantities and also comes with a storage bucket. They are stackable but also you can store lots of ice cubes all at once.
Spherical ice cube trays are becoming more popular due to their elegant look, but it can be hard to find ones that actually stack or make smaller sized balls (most make really large ones).
Each hard plastic tray makes 33 spheres which pop out with a Twist & Twist. They are dainty ice balls, not giant ones; thus, they are incredibly versatile.
See the latest price of the WIBIMEN Round Ice Cube Trays at Amazon.
5. EcoZoi Dual Pack With Stand
Metal trays are classy in a retro sort of way, and are an excellent eco-friendly ice cube tray option for people wanting to avoid plastic.
However, finding a stackable metal ice tray is nearly impossible due to their design and the fact they have a handle on the top to break up the ice. But EcoZoi came up with a clever solution with a little stand that keeps them upright, saves space by allowing you to stack 2 metal trays on top of each other, and makes it easy to take the trays in and out of the freezer.
The EcoZoi Dual Pack is a metal tray 2-pack that comes with a stand and so far it's the only metal ice cube tray I've seen that has this option.
Some people avoid metal trays, worried that getting the cubes out will be too challenging. But good ones, like EcoZoi, have handles that set the cubes free with a simple lift.
In addition, the premium food-grade stainless steel design is dishwasher safe, making cleaning as effortless as possible.
See the latest price of EcoZoi Dual Pack Metal Ice Cube Trays at Amazon
6. Arrow Mini Ice Cube Trays
The Arrow Mini Ice Cube Trays are perfect for anyone fed up with ice cubes not fitting into the mouth of their sports bottles or people looking to make smaller pebble-like ice cubes which are easier to chew on.
The three trays make 60 mini cubes EACH with a rounded bottom and a flat, circular top. The food-safe BPA-free plastic easily twists, releasing the chilled bullets, ready to fill up thermoses, water bladders, and blenders.
They make a great small sized ice cube which kids absolutely love
These trays stack beautifully and are dishwasher safe.
The ease of cleaning makes the Arrow Mini ideal for making chocolates and other delicious yet messy treats. You won't have to replace them often, as this durable design is break-resistant.
See the latest price of Arrow Mini Ice Cube Trays at Amazon.
7. Icebreaker Pop Silicone Ice Cube Tray With Lid
The Icebreaker Pop Silicon Ice Cube tray is pure genius.
The stackable no-touch design is incredibly hygienic and straightforward to use. They are essentially an "ice pouch" that you fill like a water bottle.
Icebreakers are completely watertight, so no worries if you have stuffed them into the freezer at an angle instead of stacking them nice and neat.
Once the water is frozen, place it flat on a hard surface, lean your weight against it, and the ice cracks. To serve, open the pouch at the top, pull the handles on the sides, and pour the ice straight into the glass as if it were a juice carton.
They are excellent for stuffing into a cooler box and using on picnics or camping.
In addition, the clever, dishwasher-safe design is simple to assemble and take apart, making it easy to clean. One of the best ice trays ever. The only downside is they are quite expensive and cracking the ice cubes apart can create flakes of shaved ice as well as the ice cubes.
See the latest price of Icebreaker Pop Silicone Ice Trays at Amazon.
8. Glacio Small Ice Cube Trays With Lids
The Glacio Small Ice Cube Trays have one of my favorite features: lids. Ice easily absorbs odors and can taste bad even if your water is fine. Even in freezers with air filtration and routine cleaning these odors can get into your ice and lids help to keep this out and keep your ice tasting fresh.
Thus, I like lids to keep my ice fresh and anything else I pop into trays.
The high-grade silicone is non-stick, and cubes are released with a slight push from the fingertips.
Glacio is sold in sets of two, with each tray making 21 cubes.
See the latest price of Glacio Small Ice Cube Trays With Lids at Amazon.
9. Kingswere Stackable Easy Release Ice Cube Trays
The Kingswere Stackable Easy Release Ice Cube Trays are an affordable BPA-Free silicone design with handy clear lids. They are spill-resistant, odor-resistant, and dishwasher safe. The 14 cube trays are sold in a four-pack. The cubes are a tad smaller than standard, but not by much. But that little extra snugness makes them easier to get into water bottles.
The cubes can be freed in two ways:
Run water over and twist
Pop-out an individual cube by pushing out from the bottom
See the latest price of Kingswere Stackable Ice Cube Trays at Amazon.
10. Hexagonal Stackable Ice Cube Trays With Lids
The Hexagonal Stackable Ice Cube Trays prove that practicality doesn't mean giving up whimsical and fun ice shapes. The three-pack set comes in bright colors: yellow, purple, and green. The silicone molds handle cold temperatures as well as hot, making them an excellent choice for candy molds. Even better, the funky-shaped trays come with customized lids, preventing odors from sneaking into your ice or food.
Nor do you need to have children in your life to enjoy the hexagonal-shaped ice. These look fantastic in summer cocktails, especially if you are trying to add some frozen fruit touches for extra Instagram-worthy flair.
See the latest price of Hexagonal Stackable Ice Cube Trays at Amazon.
11. LiyuanQ Stackable Ice Sphere Trays
The LiyuanQ Stackable Ice Sphere Trays take the fabulous large ice ball-making design and make it space-saving.
The buckle on the side helps keep these sealed tight, preventing that highly obnoxious side leakage that plagues so many fat sphere trays.
Another plus is the LiyuanQ funnel holes are not itty-bitty and don't require a magnifying glass to line up. I've personally got a Tovolo clear ice sphere maker and it doesn't have the funnel at the top and so I always make a mess when making ice spheres. These trays don't have that problem.
The LiyunaQ makes four balls per tray, measuring 6.1 inches on the sides and 2.8 inches high, ensuring the spheres are slow to melt. The won't make clear ice as they don't freeze omni-directionally, but the ice cubes still look great.
The BPA-free silicone doesn't require any fuss to clean – just stick them in the dishwasher.
See the latest price of LiyuanQ Ice Sphere Trays at Amazon.
12. ZDZDZ Stackable Ice Cube Trays with Lids
The ZDZDZ Stackable Ice Cube Trays are another hit as they come with lids. The two-pack is an easy-release design so you won't have the problem of stuck ice cubes with this tray.
Just take the cover off and press the bottom of your desired cube, and they'll easily pop out. Or twist the entire tray in order to release all the ice cubes at once.
Each tray is less than an inch high, making them perfect for those living in dormitories or RVs. Each tray makes 36 mini-cubes, easy to put into bottles with smaller openings. These are also excellent for freezing herbs and pureed fruit.
See the latest price of ZDZDZ Stackable Ice Cube Trays at Amazon.
13. Mumi&Bubi Solids Start Kit (Stackable Ice Cube Tray)
The Mumi&Bubi Solids Start Kit has rounded bullet-like cubes that can easily slide through a small bottle mouth.
The 21 perfectly measure 1 oz size indentations equal to 2 tablespoons, making them easy to portion out baby food, candy, and pesto.
These trays hail from New Zealand and are designed from non-toxic, BPA, and PVC-free materials.
The slide-out cubes only require a push rather than a cumbersome twist. The trays are also safe to be cleaned in your dishwasher.
See the latest price of Mumi&Bubi Solid Starter Kit Trays at Amazon.
14. W&P Everyday Stackable Ice Cube Trays With Lid
The W&P Everyday Stackable Ice Cube Trays are another lid-winning option. The square blocks are 1.25' cubed, so they are slow melt. Care and thought have been put into W&P's high-grade silicone design, as there is an interior steel rim to help it keep its shape and not flop around between filling and freezer. But the bottoms remain soft, making it easy to pop out cubes individually.
The striking and modern design is made in a zero-emissions facility, meeting the highest European standards. But don't let its sophisticated look intimidate you; these are still dishwasher safe.
See the latest price of W&P Everyday Ice Cube Trays at Amazon.
Conclusion
Life is hard enough without ice trays eating up your valuable and scarce freezer space. So, make more room in your freezer by investing in stackable ice cube trays.