If you're going to ride a skimboard you NEED wax on top of your board otherwise it becomes extremely slippery and you'll likely fall off and hurt yourself.
Even if you use skimboard traction pads you likely still need wax for the uncovered areas and you may also want to add a speed wax to the bottom of your skimboard.
Some skimboard waxes are formulated to provide grip for your feet to help keep you on top of the board, and others are made to decrease drag when skimming. 
But what is the best skimboard wax to buy for the top (and bottom) of your board?
The 2 Most Important Factors To Consider When Choosing Your Skimboard Wax
When choosing your skimboard wax, no matter what brand you're going for, there are 2 really important things that you need to get right above all else.
Get these wrong and you'll be wasting your money or potentially applying the wrong type of wax to the wrong area of your board (which could give you some serious injuries).
Those 2 things are:
Grip/Surf wax vs speed wax
Wax temperature rating
Grip Wax or Speed Wax
There are 2 types of wax that are used on skimboards.
Grip wax/surf wax – Used on the top of your board to make it sticky so your feet don't slip
Speed wax – Used on the bottom of your board to decrease drag so you skim further. Makes the surface slippery.
Don't put grip wax/surf wax on the bottom of your board and don't put speed wax on the top of your board.
Wax Temperature Ratings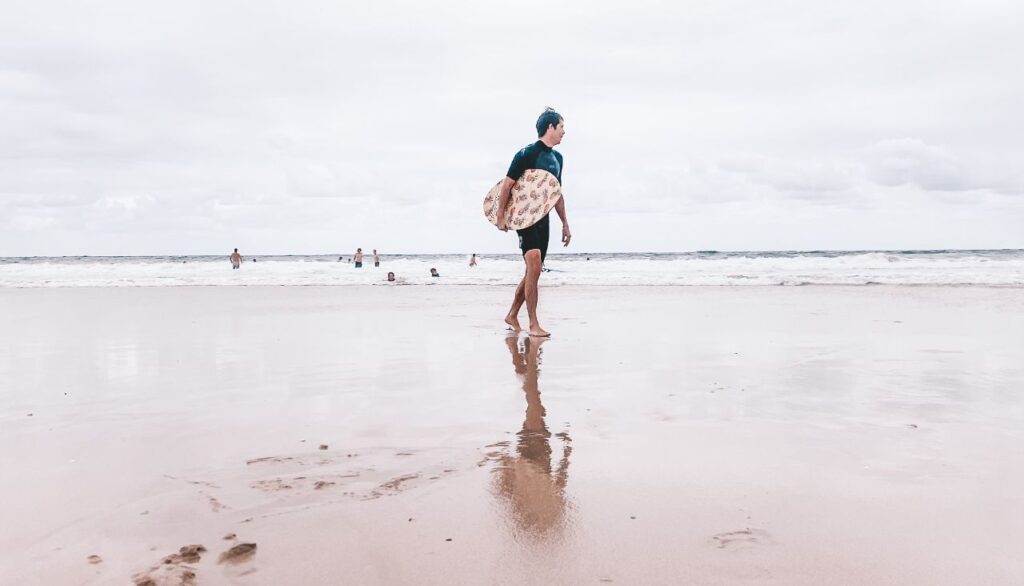 When choosing skimboard wax, it's important you consider the temperature rating.
Skimboard waxes come in four ratings that correlate to the water temperature in which the wax would be effective.
Here is a table of the four general ratings and their respective temperature ranges: 
| | |
| --- | --- |
| Rating | Water Temperature |
| Tropical | <75°F (<23.8°C) |
| Warm | 68-78°F (20-25.5°C) |
| Cool | 58-65°F (14.4-18.3°C) |
| Cold | 58°F and below (14.4°C and below) |
Cold or cool water waxes will be super soft and melt really easily in warm and tropical temperatures.
Tropical and warm waxes will become super hard, difficult to apply and less sticky when used in colder weather or in colder water.
So choosing the right wax for the right conditions is really important.
Best Waxes For The Top Of Your Skimboard
1. Fu Wax
~$6.00
If you had a tier list for wax the Fu Wax would consistently appear in the "God Tier" of waxes. It's the stickiest and most reliable wax you can buy and world champions like Filipe Toledo uses it.
Fu Wax is made in Brazil and has incredible tackiness thanks to a special formulation that has been refined by this family business over the decades they have been making wax.
Considered by many of the pros to be the best wax in the world you can expect to pay a pretty penny for Fu Wax compared to other waxes.
Another downside of Fu Wax is the fact that is comes in plastic packaging which isn't as environmentally friendly and makes storage hard (but this can be fixed by investing in a cheap wax storage box from Amazon).
The smell also isn't a delightful as some of the other brands on here and it requires regular additions or re-waxing.
If you're a pro rider and need the ultimate grip then this is the wax for you. If you're looking for an easier to get and more affordable option then consider some of the other brands on this list.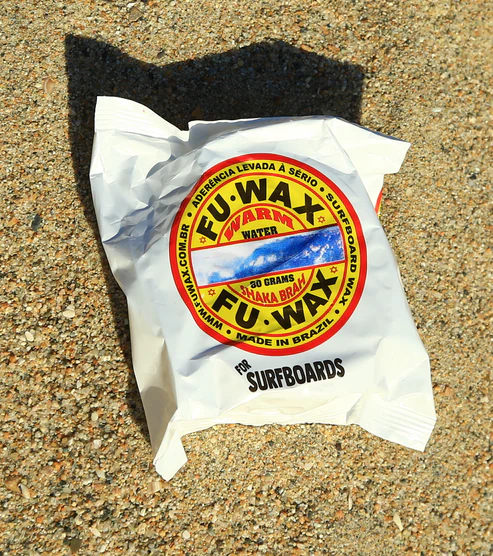 Fu Wax USA
Considered by many to be the stickiest and best wax in the world this wax from Brazil is hard to get but if you can snag yourself a pack (or 10) then the only problem you'll be having is too much grip.
See Latest Price at FuWaxUSA.com
2. Bubble Gum
~$2.50-3.00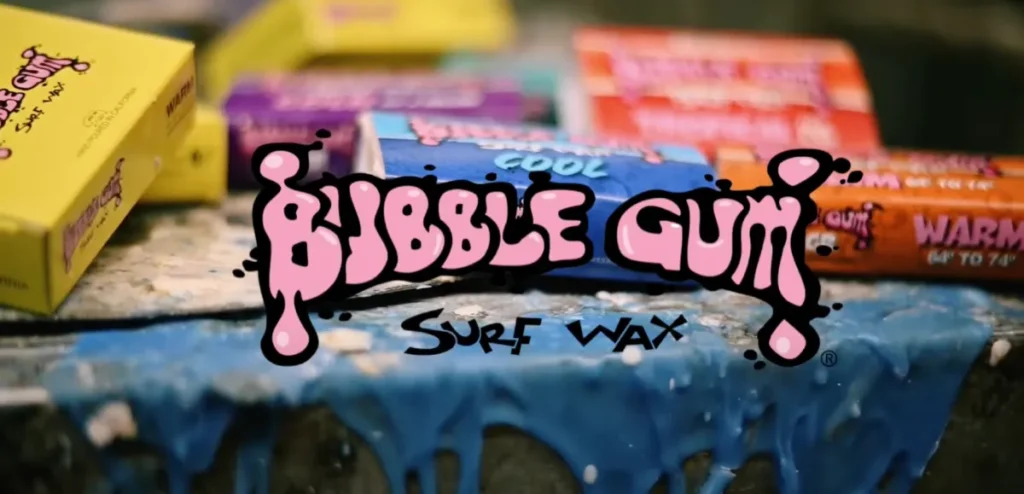 Like the name suggests this is one of the best smelling waxes out there with a classic bubblegum scent that leaves your board smelling amazing.
If you want a skimboard wax that goes on easily, bumps quickly and provides great grip the Bubble Gum surf wax is a good option.
Hand poured in the USA since 1984 this wax is more affordable than the Fu Wax but a bit dearer than some other waxes on this list.
It's convenient that it breaks into 2 parts but the wrap is comes in isn't great for long term storage and I would much prefer if it came in a box.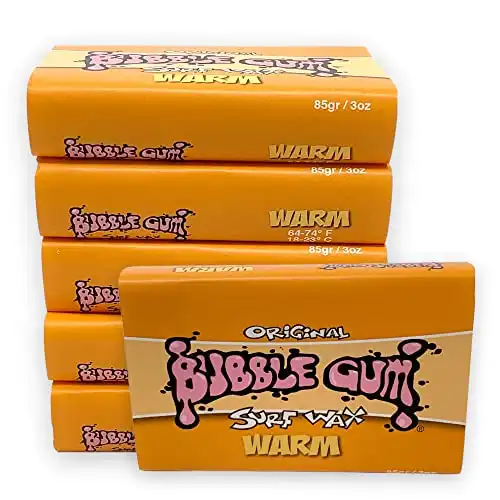 3. Sticky Bumps Super Sticky
~$2.00-$3.00
The original sticky bumps wax has been around for decades and while it's a good cheap option it's not quite as sticky as some of the other waxes on this list.
However, Sticky Bumps have upped their game in recent years and now provides a "super sticky" wax which clumps easily and provides excellent traction, still at an affordable price.
This pro variety is apparently 5x more sticky than the original. I don't know how they calculated that but your feet definitely won't be slipping with this stuff on your board.
Comes in a nice box that is great for storing leftover wax. It's great to see an old brand innovating to stay relevant.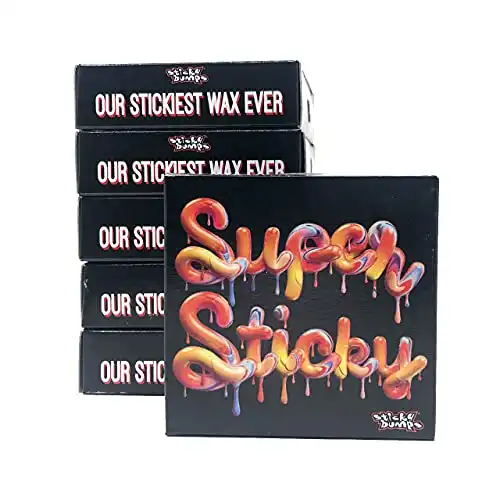 4. Sex Wax
~$2.00-$3.50
Sex wax is a brand I think we have all used many times in our surfing and skimboard careers and if you haven't personally used it you know a friend who uses it or at least has one of their air freshners in their car.
A great mix of affordability, quality and practicality this wax provides great traction for a great price and also comes in an eco-friendly cardboard box that is great for storing your leftover wax in without it getting manky and gross.
The downside of sex wax is that it can take a bit longer to bump up that Fu Wax or Bubble Gum wax meaning it's a bit more effort to fully cover your board. But once you get it on the wax is still really grippy.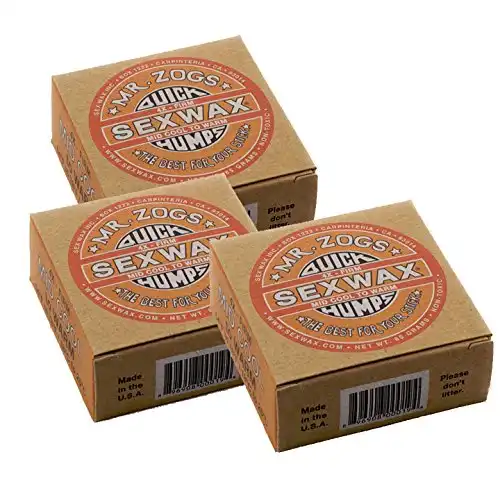 5. Mrs Palmers
~$3.00-$4.00
This wax brings back memories for me as it was the first wax I used when I started surfing. The smell still takes me back to my hayday as a little grom running down to the beach at sunrise to get some waves before school.
They've upgraded the formula since I was a kid to add extra traction and they are made locally in Australia – which can sometimes make it hard to find in the US or other countries.
It bumps up fairly easily and smells great and, like Sex Wax, comes in a convenient box for storage and also breaks easily into 2 pieces so you can share with mates or keep half for later. This pack from Amazon also comes with a free sticker you can give to your local grom.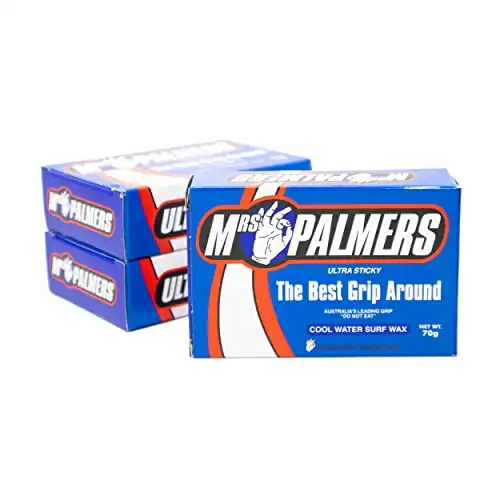 6. YEW! Your Environments Wax
$5.50
If you're looking for something all natural then YEW! wax uses clean, pure and simple ingredients that are responsibly sourced in the USA.
They are all about the environment and they use BeesWax for their surf wax and their wax contains no petrochemicals. Turns out most wax is quite refined and involves a heavy treatment of bleach and the process of making wax can release toxic chemicals into the air.
It'll cost you more than pretty much any other wax and it also goes on your board yellow (rather than the white color most waxes are) but when it comes to helping the environment isn't it worth an extra couple of bucks?
The wax still goes on great and provides a good stick, but it's not going to win any awards for the stickiest wax out there. Still, it's a good solid wax and works great.
YEW wax bars are handmade in California and source their wax from beekeepers to help keep the bee populations thriving.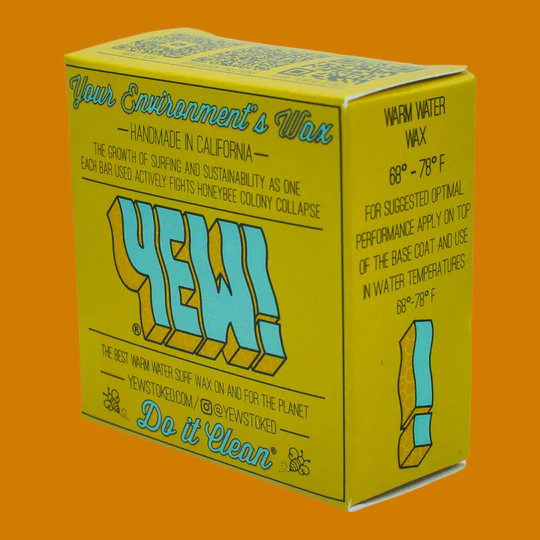 Honestly, Any Brand of Wax Will Do
Unless you're a pro and notice your feet slipping off your board when trying to do certain maneuvers then honestly, pretty much any wax will do.
Grab some off Amazon or head to your local surf shop and buy a bar or 2. They often give you a free bar with a purchase if you haggle a little bit.
Make sure to wax your skimboard regularly and also to re-wax your surfboard as the seasons change or as your wax starts to fill up with sand or become too bumpy.
Do Yourself a Favor and Grab Yourself a Wax Comb
Something to extend the life of your wax, give you a bit of extra stick when you've run out of wax or will help you strip your board when it's time for re-waxing is a wax comb.
Do yourself and favor and grab one. They are cheap and can help a lot with traction on your skimboard – especially if you're not someone that waxes often.
I find the Sticky Bumps wax comb at Amazon to be the best wax combo out there. The main reason is the scraper side is not on the opposite side to the teeth (like with most combs). So it makes stripping your wax a lot easier.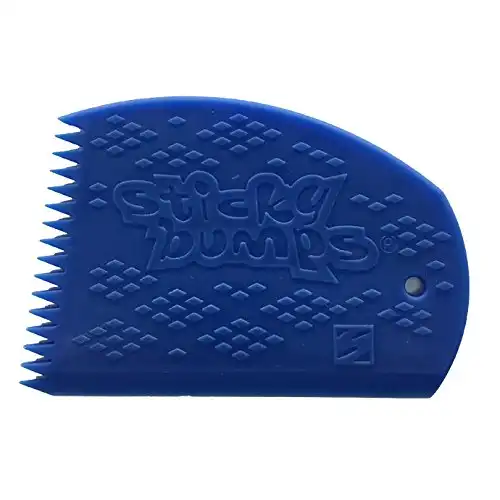 Sticky Bumps Wax Comb (Blue)
Lightweight wax comb features a jagged tooth edge for creating texture and extra traction plus a straight edge for scraping old wax off your board. Ergonomic and easy to use this is one of the best wax combs out there.
Buy Now at Amazon
Best Speed Waxes For The Bottom of Your Skimboard
Some skimboarders like to wax the bottom of their skimboard to make it more hydrophobic, which reduces drag and helps you skim further and faster.
For the bottom of your skimboard you'll want a speed wax – not a surf wax like you use on the top of your board for grip. 2 different types of waxes for different situations.
There aren't that many skimboard speed wax options out there, but there are a couple of options to choose from.
1. ZUM Wax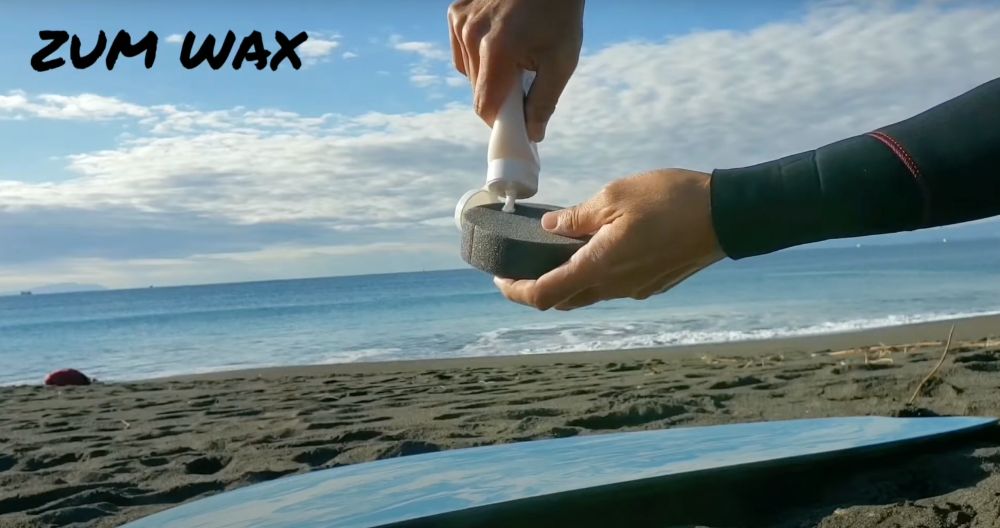 ZUMWax is one of the best speed wax options for the bottom of your board.
It increases board speed with it's high fluoro nano technology which makes your board hydrophobic and helps it to glide over sand and water better than it otherwise would.
It's proudly made in the USA and in environmentally friendly so it won't harm the critters in the ocean.
It comes with an applicator pad (I suggest applying it at home not on the beach) and it's backed but a 100% satisfaction guarantee.
The downside of this brand is that it's more expensive than other options, but if you want a great speed wax that is environmentally friendly this is the one I would personally go for.
2. Eelsnot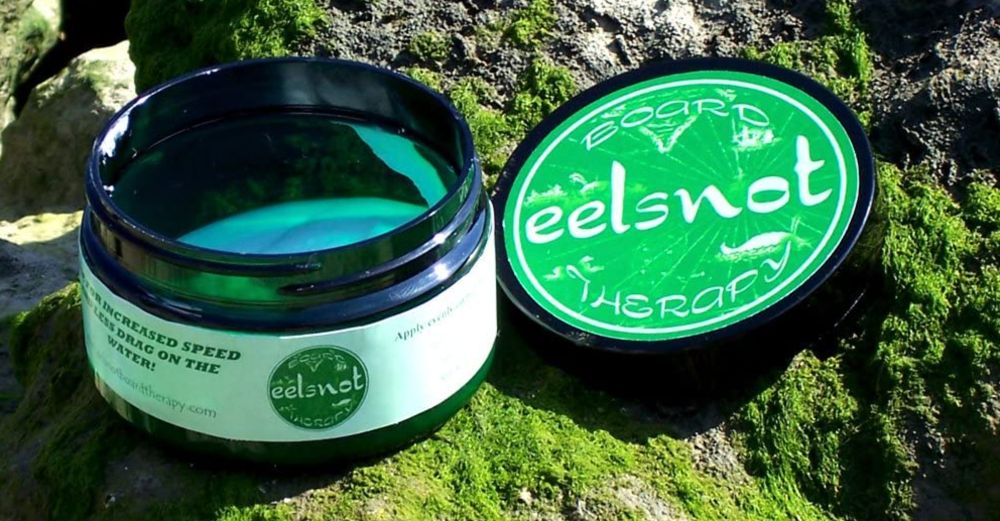 The other main skimboarding speed wax brand is Eelsnot. They make waxes for both skimboard and boats in order to protect them and help them last longer but also to decrease drag so you can skim further.
You'll need to get some microfibre clothes to use this wax, but you'll save a chunk of cash compared to the ZUMWax.
It's also not made in the USA, however it is eco-friendly and non-toxic so it's still a great choice for your board.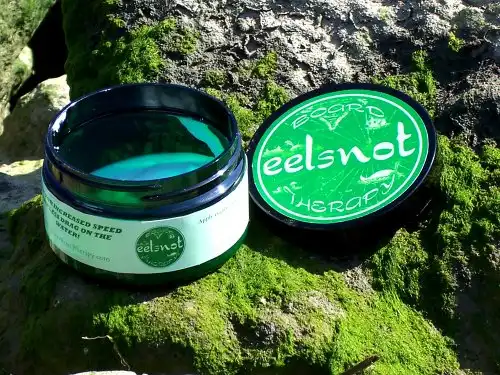 How To Wax Your Skimboard
Now that you've gotten how to choose the best wax for your skimboard down let's get into how to apply the wax to your skimboard, especially if it is your first time applying wax to the board. 
The process is pretty straightforward:
Start by creating a base layer by making small circles with the corner of your wax.
Make sure to cover all areas where your feet will go.
After the base layer, proceed to add layers to your board by using the flat side of your wax until you can feel raised bumps of wax on the surface of your board.
You will need to re-wax your board every 3-6 months, depending on the frequency of use. 
There are also indicators that it is time to give your skimboard a re-waxing. Here are some of them:
The water temperatures have changed with the season.
The wax has become too clumpy under your feet.
The wax has melted and reset (like candle wax that has hardened after melting).
The wax has started turning yellow.
The wax has become clumpy with sand.
To apply speed wax to the bottom of your board, simply apply the wax to the entire surface to achieve a slick underside that will glide effortlessly on the water. Re-wax when you feel drag has increased or the wax on your board has been depleted.