Each year there are more amazing coolers added to the market. Here are the top 12 coolers of 2016 arranged starting with the most recommended cooler.
Each of the coolers listed in this best of guide is great in it's own right. Each features specs like 5+ days ice retention and a tough and durable roto-moulded exterior. These coolers are seriously good and are good for casual BBQ'er and serious offroader alike.
The particular cooler that suits you best will come down to personal needs and preferences. So read through the list
How I Chose The Best Coolers of 2016
I love coolers and I have done A LOT of research into the different makes and models of coolers. I have looked in-depth at insulation thickness, ice retention tests, consumer reviews and even looked deep into the manufacturing processes of these coolers.
Each cooler featured in this list is great in it's own right. The top 3 models come highly recommended by me and are my favourite models, but let me state that you will likely be happy with any of the coolers on this list.
This list of the best coolers of 2016 is a great starting point for you. The cooler you eventually choose with likely come down to your personal preference.
Things All The Best Coolers Have In Common
All of these coolers (unless otherwise stated) have the following features in common:
Durable roto-moulded exterior
2 inches or more of pressure injected foam insulation
Rubber non-skid feet
Commercial grade gasket
Single bolt (or similar) hinge
Many of these models are also bear proof (when padlocked) and the majority of models are manufactured overseas, or perhaps partly in the USA.
1. Pelican ProGear Elite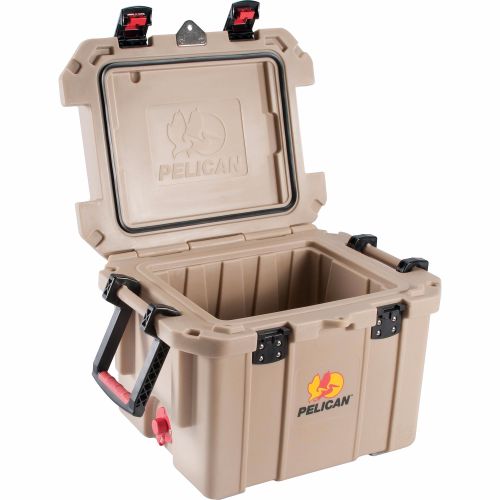 35-Quart RRP $239.99

The Pelican ProGear Elite is an amazing cooler that stands out from the rest for a few reasons.
Firstly, when it comes to ice retention it is one of the best performing coolers on the market. It outperforms big brand name coolers like the Yeti and the Grizzly keeping ice for up to 2 days longer in some cases.
It is a well price cooler, with the 35-Quart selling for around $230 on Amazon. This compared to $350 for Yeti's 37-Quart cooler (Yeti 45).
Amazingly even though this cooler is $100 less it actually comes packed with more features than any other cooler on the market.
It has strong plastic fold up handles, which I much prefer compared to the rope handles on other models. It has push and pull metal latches that are easy to use, even with gloves on, a draining spout with threading for a hose attachment if required and a built in ruler on the lid.
No coolers is perfect and the Pelican does weigh more than other coolers of similar sizes, but in most cases the added features more than make up for the extra weight.
I love this cooler and would happily recommend it to anyone.
2. Canyon Cooler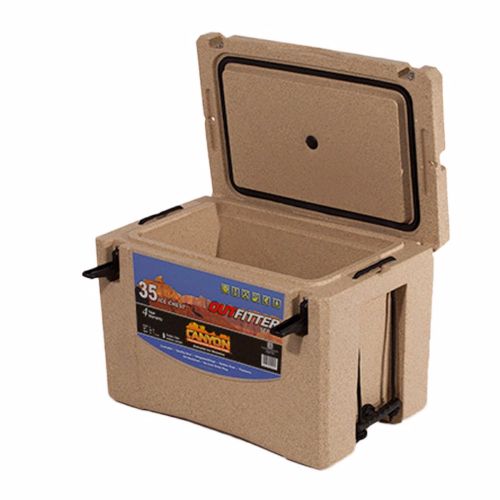 35-Quart RRP $239.99

The Canyon Outfitter cooler has the thickest insulation of any cooler on the market with 2.7 inch thick walls and a 3 inch thick lid.
The Canyon ranks in the top 3 in terms of ice retention with ice sometimes lasting up to 12 days! The latch system is easier to use than other models (except the Pelican) and everything is flush with the sides of the cooler with nothing protruding, meaning you'll never get anything caught on your Canyon cooler.
The brand isn't as well known as Yeti, Pelican or Orca but with a lifetime warranty and great team of staff located in Flagstaff Arizona you can be sure that this is a cooler that is going to last you a lifetime.
The no-lose drain plug is also a great feature as it is really easy to lose the drain plug on other models.
Retailing for around $240 this is an amazing cooler for the price you will pay. Read my Canyon Cooler Review
3. Orca Cooler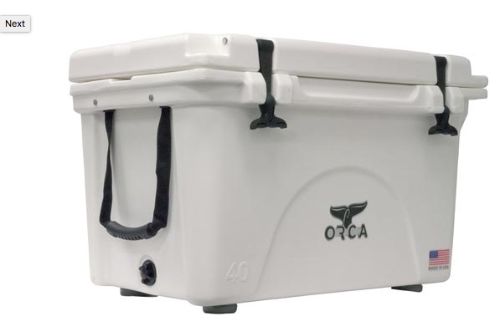 40-Quart RRP $349.99

The Orca cooler deserves it's #3 spot on this list of the best coolers of 2016. It has arguable the best ice retention in the industry, outlasting all other coolers. If achieving the longest ice retention possible is your #1 goal then you must consider this cooler.
This cooler is also the most loved cooler with an average 4.7 star rating. It is clear that Orca owners absolutely love their coolers.
The Orca is extremely similar to Yeti in design, more so than any other cooler on the market and even their pricing is extremely similar. $349 for an Orca 40-Quart (sometimes cheaper on Amazon) and $349 for a Yeti 37-Quart.
This cooler looks great, performs really well and is an overall exceptional cooler. The main reason I didn't rank it higher is purely due to it's price. I feel like the Pelican and Canyon provide you better bang for your buck.
The Orca tends to be the most expensive of the Yeti knockoff coolers, selling for a mere $10-$20 less than what Yeti sells their coolers for.
Interested in the Orca, then read more about it in my Orca Cooler Review
4. Yeti
The cooler against which all other coolers are measured, the first cooler, the best known brand, the iPhone of roto-moulded coolers.
There is no denying it, they Yeti brand has a strong foothold in the cooler market with by far the largest share. They were the first to start making coolers of this calibre and they have the strongest distribution throughout the US.
Ice retention is around 5-7 days which isn't the best in the industry but is still really good. Over 500 customers have reviewed the Yeti and it has a 4.6 star rating, which is extremely high.
If showing off to your friends is of paramount importance than the Yeti cooler is going to do that better than any other cooler. The design is simple and beautiful and the name is well recognised.
5. Siberian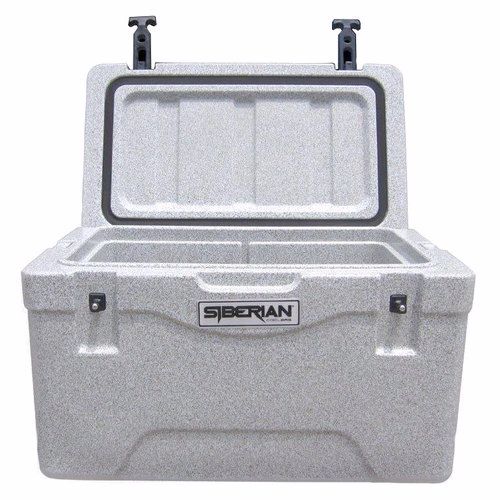 40-Quart RRP $249.00

Another cooler with equal or better ice retention than the Yeti for a fraction of the price. Siberian coolers have a similar feature set to the Yeti coolers with a similar design and latch system.
The Siberian models do have recessed cup holders in the lid which is a nice feature and the gasket is slightly different to most models, with Siberian opting for a styrofoam gasket instead of a rubber gasket.
These used to be the cheapest roto-moulded coolers on the market but they have since increased their prices in line with the other cheaper models. The 40-Quart cooler retails for around $249.
Interested in the Siberian cooler? Read more about it in my Siberian Cooler Review.
6. Engel Deep Blue Series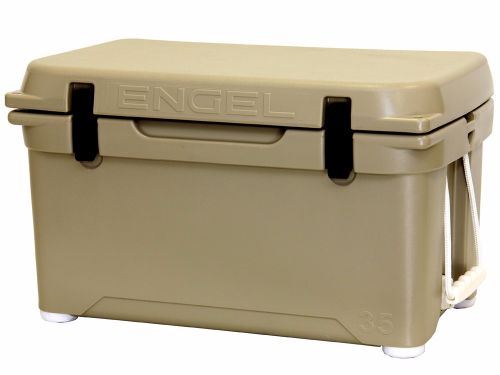 35-Quart RRP $269.99

Engel make a variety of coolers and are well known for their thermo-electric coolers. Their Deep Blue Coolers are their toughest and best insulated coolers and they really do perform well.
Ice retention is slightly better than the Yeti with a more subtle design than other coolers. It doesn't stand out and yell "look at me" like some of the other coolers do. So if you're a more reserved person and would love a cooler that works as well (or better) than all the others but isn't a show off then Engel might be the brand for you.
Retails slightly higher than the Pelican/Canyon at around $270 for the 35-Quart model. Still a good $80 cheaper than Yeti.
7. Igloo Yukon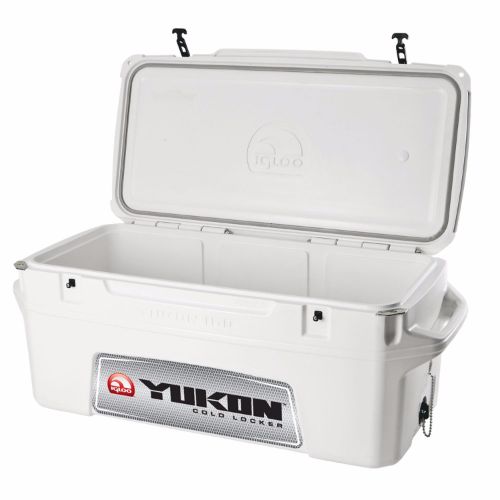 50-Quart RRP $279.99

This cooler surprised me. Igloo already have the Sportsman series which is another roto-moulded cooler so why create the Yukon?
Looking at the Yukon you can instantly see a stark design different than all other models. While everything else is slim lined and well…a basic box shape, the Yukon has protruding handles, a bezelled lid and a large drain spout with an exposed chain.
It has some added features such as an inbuilt ruler in the lid and reversible feet that can either be skid or non-skid. It's lacks the single pin hinge that almost all other coolers have and instead opts for 2 pins. I am unsure if this affects the durability of the product.
What makes the Yukon stand out to me above the Igloo Sportsman, or other models is the extremely high customer rating for a cooler that is relatively unknown. It has an average review of 4.6 stars which beats models such as the Pelican and Engel which have an average 4.5 star rating. While 0.1 of a star difference isn't a lot it is very interesting that the Yukon of all models would be so highly rated.
A great cooler for anyone who loves the bold features and wants a completely different look to the other models out there.
8. K2 Cooler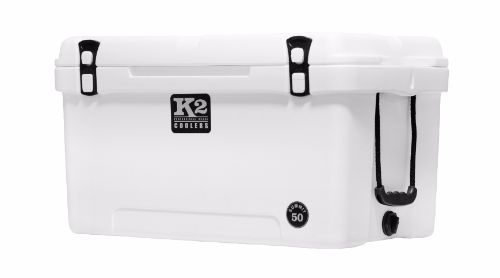 50-Quart RRP $309.00

9. Grizzly Cooler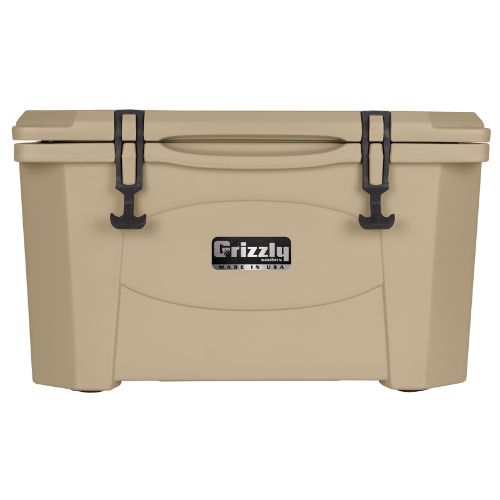 40-Quart RRP $339.99

Truth be told I'm not personally the fondest of the Grizzly coolers. Don't get me wrong they are great coolers in their own right, strong and durable and customers who buy them seem to love them, they have a 4.7 star rating, the highest of all the coolers and equal with Orca.
The problem I have is that ice tests reveal they don't hold ice as long as the Yeti cooler (expect 5 days vs 6-7 days for Yeti in similar conditions).
Considering the fact that the main reason people buy expensive roto-moulded coolers is for their ice retention, and the fact that other coolers like Yeti but cheaper can hold ice longer with similar features and you can see why I favour other coolers instead.
I am biased towards other models, so take my thoughts with a grain of salt. Grizzly make good coolers and ones you will likely be very happy with. If you're leaning towards this model don't let me stop you, if other customer reviews are anything to go by you'll be very happy with your purchase.
10. Bison Cooler
Featuring everything you would expect from a high end roto-moulded cooler plus the slightly different cantileved hinges, built in ruler and custom graphics make this a really nice cooler to own.
All of their accessories look great and I especially love the Bison Hauler which makes it so much easier to pull a fully loaded ice chest around.
11. Igloo Sportsman
The Sportsman is another roto-moulded cooler range from Igloo. Why they have 2 ranges I am not completely sure, but all in all this is a great cooler.
Where the Yukon had interesting angels and protruding handles the Sportmansis a sleeker and more subtle design making it similar to other models.
Ice retention is similar to that of the Yeti this is a solidly built cooler.
12. Icehole Cooler
While most other cooler companies manufacture overseas on order to cut down on costs Icehole have decided to charge more in order to stay local.
Their 35-Quart retails for $399 (compared to $349 for Yeti's 37-Quart) but you rest easy knowing you are supporting American jobs. Plus Icehole claim to put a portion of sales towards helping veterans.
All in all this is a great cooler that is solidly built with good ice retention. It's a bit on the expensive side, but it is the only company I trust if you truly want something 100% American.
Feeling patriotic and love the Icehole? Read more about this cooler in my Icehole Cooler Review
Which Is The Best Cooler For You?
Pelican, Canyon, Orca, Yeti or any other cooler from this list will all keep ice for 5 days or more and are so rough and tough that you can stand on them, throw them around and heck even drive a truck over them and they'll still survive.
The 12 best coolers of 2016 are all impressive models. Deciding on the right cooler will really come down to your personal preference.
Each brand has a different range of sizes and shapes which could affect your decision making (eg. The K2 has a taller model than other brands). Some models have more color shades than others (want a hot pink cooler? Well maybe the Pelican is for you) and some models have features you may want.
A built it ruler is a great addition for fisherman wanting to measure their catch, but unlikely to be used by the casual camper. Push and pull metal latches are great for those in cold areas as they can be easily used with gloves, but sometimes get sticky with sand when used by beach goers.
Take your time and consider the pros and cons of each model before making a decision and buying your perfect cooler box.