There are a lot of great coolers out there to choose from but the Pelican ProGear Elite is the best cooler for the money for a number of reasons.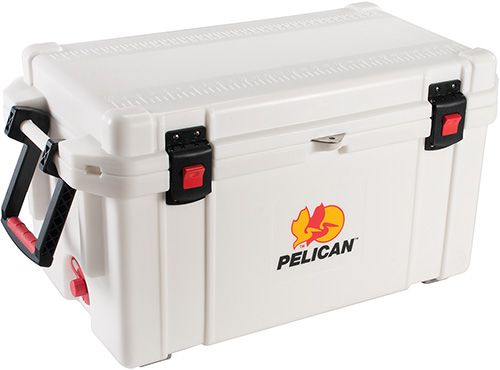 Of the best coolers on the market the Pelican is not only the most affordable model when compared with all other major brands but it also a better cooler in a number of ways.
We will get into the details in a second but let me just say that the Pelican is one of the top performing coolers in terms of ice retention, ease of use, durability, look and feel and overall awesomeness.
It was a close call between the Pelican, Canyon and Engel but in the end I had to give the best cooler for the money recommendation to the Pelican and you'll see why.
The Two Types Of Coolers Money Can Buy
When looking for the best cooler money can buy you have 2 main categories. Regular coolers and the high end roto-moulded coolers:
Regular cooler – These are your Coleman coolers or no-name brands that you can get from Wallmart for $30. Of these the best cooler for the money is the Coleman Xtreme which is $40-50 and keeps ice for up to 5 days.
Roto-moulded coolers – These coolers were introduced in 2006 and feature super durable exteriors (made from strong roto-moulded plastic…thus the name) and super thick insulation. They keep ice for 5+ days and due to how superior these coolers are it was these coolers we looked at to determine the best cooler for the money.
Now, I know not everyone wants to pay the extra money for these coolers so I will have a budget pick further down the article but these are the types of coolers I will be reviewing.
The Best Roto-Moulded Coolers
Of all the roto-moulded coolers out there some perform better than others in terms of ice retention.
The 4 brands that consistently perform the best are Orca, Pelican, Canyon and Engel. All of these coolers will keep ice for 7 days or longer. There is also the famous brand Yeti which we will discuss later in this review.
All these coolers have similar specs in terms of hard exterior, latches, non-skid feet, commercial grade gasket etc but we will get to that in a little bit.
First, Let's Talk Price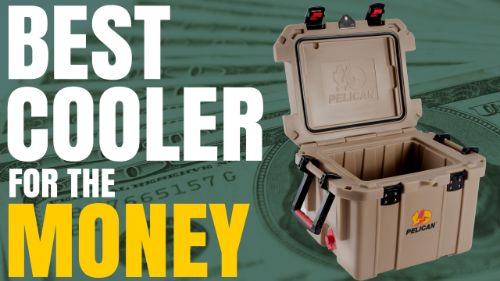 If you are looking for the absolute best cooler for the money then price obviously plays an important role. But we also don't want to sacrifice quality for price.
If we can save $100 and get a model that is almost as good then we'll do it. If we can pay $20 more and get a cooler that is significantly better we will also do that.
For example, I recently reviewed the smaller coolers Sub Z vs Yeti Roadie. The Roadie is a better cooler but the Sub Z is almost as good and is half the price, which makes it a better cooler for the money.
The Pelican ProGear Elite is an extremely high-quality cooler, but for the right price.
Please note: Prices in the table below were taken from Amazon on a single date and thus may have changed slightly by the time you read this. Click the brand name to see the latest price

| | | |
| --- | --- | --- |
| Brand (Click for latest price) | Size | 45-Quart |
| Pelican | 35-Quart | $217.25 |
| Yeti | 37-Quart | $349.00 |
| Canyon | 35-Quart | $231.00 |
| Siberian | 40-Quart | $249.00 |
| Engel | 35-Quart | $244.99 |
| Orca | 40-Quart | $324.99 |
These are the top 6 performing coolers in terms of ice retention and features and the Pelican is the best priced of all of them. In fact, Pelican coolers are even more affordable than a variety of coolers that aren't nearly as good.
You can be sure when buying a Pelican cooler that not only are you getting a great cooler with a reputable brand name, but your not overpaying.
While the Pelican has a recommended retail price of $239.99 you can often find them cheaper on .
The Yeti is the most popular and well-known cooler but as a result, it carries a hefty price premium. The Pelican is over $130 cheaper than the Yeti and is way better value for money.
The Pelican is cheaper than the Yeti and other models, but still performs better. To me this is a no brainer.
Budget Pick: Coleman Xtreme 52 (Just $50)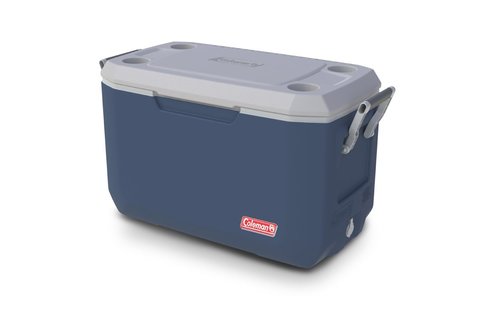 The Coleman Xtreme is the best budget cooler for the money. Selling for less than $50 (with free shipping) on Amazon this cooler will keep ice almost as long as a Yeti or Pelican (about 3-5 days instead of 5-7 days).
It lacks the roto-moulded construction and commercial grade gasket of the more expensive coolers but it does have almost as much insulation in the walls (1.5 inches vs 2 inches) and is way lighter and way cheaper.
If you want something that holds ice longer than a regular cooler, but isn't as expensive as a roto-moulded cooler then the Coleman Xtreme is hands down the best cooler for the money for you.
What Makes The Pelican The Best Cooler For The Money?
In order to assess the best cooler on the market we needed to look at a variety of things. These included
Ice Retention
Features (Latches, Handles, Drain Plug etc)
Customer Ratings
Durability
Look and Feel
Customer Support
Part and Add Ons
The Pelican is one of the best in class in each of these categories, meaning whatever features or requirements you have there is a good chance that the Pelican is going to suit your needs.
The fact that the Pelican has a great brand, incredible ice retention, stellar customer ratings and cooler features unmatched by no competitor make it the best cooler for the money.
Runner Up: Canyon Outfitter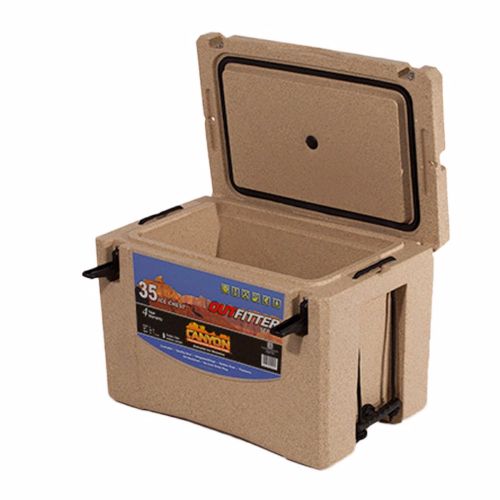 The Canyon Outfitter is only $20 or so more than the Pelican but is just as good. What it lacks in fold out handles and metal clasps it makes up for in extra insulation (up to 20% more).
It is also significantly lighter than the Pelican so if you have a bad back or worry about how heavy the Pelican is then the Canyon cooler is a great cooler for the cost.
Ice Retention
One of these reasons roto-moulded coolers are so expensive is the thickness of their insulation and how long they hold ice.
Yeti, which set the standard for ice retention at 5 days, was the best performing cooler for years, but it has recently been beaten in ice tests by new competitors.
The Pelican cooler outperforms the Yeti on most ice tests, keeping ice 1-2 days longer that the Yeti. The coolers with the absolute best ice retention are the Orca and Engel coolers, but these are either too expensive of lack some of the features of the Pelican.
I would rank the Pelican as the #3 or #4 best cooler in terms of ice retention, with the coolers above it only outlasting it by 0.5-1 days in most scenarios.
So you know when buying a Pelican cooler that it is going to have incredible ice retention and will keep ice for over a week in most scenarios.
Features
Most roto-moulded coolers come with the same stock standard features as each other. Theses are:
Heavy duty roto-moulded construction
Thick insulation
Commercial grade gasket
Non slip rubber feet
Nylon rope handles
Pull down rubber latches
Bear resistant
Tie down points
The Pelican either has all these features or takes them to a new level. Let's look at some of features that make Pelican stand out to me.
Press and Pull Latches
Most coolers use the pull down rubber latches that Yeti first introduced. They are great and work fine to keep the lid secure, but they can be hard for some people (especially children) to use.
Pelican is the only cooler with press and pull latches and let me tell you (as the owner of many different coolers) they are the best latches to use.
Simply press the red button and lift up to unhook, and simply press down and they click into place. These latches are so easy to use that I can close the cooler with just my pinky finger. Something that isn't possible with any other cooler.
Pull Up Handles
Most coolers feature nylon rope handles. For me these feel like a throw back to the old days of coolers and are more novel than functional. When carrying coolers with rope handles the cooler sways in your hands which can make for awkward carrying.
The Pelican has these beefy fold up plastic handles that are amazing to hold. This makes carrying the cooler by yourself or with a friend easier.
They've also added handles that are moulded into the exterior to give you another carrying option.
Measurement on Lid
Pelican have a moulded in ruler on the lid of their coolers with both inches and cms so when you are out fishing you can quickly measure you fish and know whether you can keep it or if you need to throw it back.
It's a neat feature and seems such an obvious things to do I don't know why other brands haven't added it.
Hose Attachment
The Pelican drain plug is different to all other drain plugs and is the only one with a garden hose attachment.
While this isn't used by most people it is nice to know that you could drain your cooler away from it's location if you needed to.
Feature Conclusion
While all of the best roto-moulded coolers are impressive in terms of durability and ice retention, none of them have as many or as good features as the Pelican.
Customer Ratings
Pelican is the 5th best top rated cooler with an average customer rating of 4.5/5 stars. There are 2 coolers (Orca + Grizzly) with a 4.7 star rating and 2 coolers (Yeti + Yukon) with a 4.6 star rating.
There are hundreds of customer ratings for the Pelican with 85% of the ratings being 4 or 5 starts and the majority of the poor reviews are either people not using them properly (no pre cooling) or a manufacturing default which should be covered under warranty.
While it isn't the absolute most loved cooler in the world, it is extremely highly rated and there is a very good chance that you too will be happy with your cooler.
Bear Proofing
Most of the high-end coolers now come as certified bear resistant. However, there coolers only keep out bears if locked with padlocks.
In bear tests the Pelican held up against bears even without using a padlock. The bears just couldn't work out the press and pull latches (the ones that are so easy a human can do it with their pinky finger).
While Pelican is only certified bear resistant with a padlock in place it's nice to know that if you go to sleep and forget to lock up your cooler, your food should still be safe against bears.
Durability
Pelican coolers are incredibly durable. The exterior is made from high impact polyurethane and is extremely difficult to break.
People have thrown these around, dropped them off the back of high speed trucks and even driven cars over them to show their strength.
Check out this video where the Pelican takes an absolute beating. The Pelican cooler isn't bulletproof but it can handle a lot.
One of the things that makes it slightly more durable than other models is that the handles are less likely to break when compared to the rope handles of other models.
Look and Feel:
The Pelican has a very unique look and feel that I can best describe as beefy.
The Yeti by far has the best finish, with beautiful plastic that has a premium look and feel to it. But what the Pelican lacks in premium plastic finish it makes up for in style.
Other coolers like Yeti but cheaper all generally follow the standard shape that Yeti pioneered all those years ago. Basically a standard box shape with rope handles and rubber latches.
The Pelican looks different with protruding handles to the side, big fold down plastic handles as well as a protruding rim where the lid meets the body of the cooler.
It's slightly taller than the Yeti or Engel, giving you more insulation in the lid and the ruler measurements on the lid really stand out.
This cooler exudes strength and I love that about it.
Problems With The Pelican ProGear Elite
While I truely believe the Pelican cooler is the best ice chest for the money it isn't without it's flaws. For some of you these flaws will be deal breakers, and that's fine, and for other people they won't matter as much. But regardless I believe it's important that you are aware of the flaws before purchasing.
Weight
The Pelican is the heaviest cooler on the market with many sizes weighing a solid 10 lbs more than other similar sized coolers…and that's without any ice in it.
Why Pelican's weigh so much I have no idea. They have similar insulation to ther models, and the durability of other models is far above what 99% of people need. So why they made it so heavy I don't know.
Add in some ice, beers or game you have caught and all of a sudden it's impossible to lift this cooler by yourself.
If you have a bad back, are pregnant or just want a lighter model then go for the Canyon instead.
Drain Plug Condensation
While having a drain plug you can attach a hose to is good in theory it isn't so good in practice.
The drain plug is made of a cheap plastic that looks like it would easily degrade in the sun over time.
Also the drain plug tend to attract a lot of condensation and has actually caused wet patches on people's floors.
If you're on a boat or if you're leaving it outside while you're camping this usually isn't a problem. But if you have your cooler in your car, inside your tent or basically anywhere you don't want the ground to get wet this can can issues.
Not A Fan Of Sand
The metal latches aren't very fond os sand and can get quite sticky if sand gets inside the mechanism. So if you are looking to take this cooler on the beach you need to be a bit careful not to get excessive sand in the latches.
Front Lock Pokes You
The hole where you place your padlock sticks out from the front in a triangle shape. This means if you're carrying this yourself it'll poke you. Carry it too low and it'll poke you in places you shouldn't be poked.
While this is an issue for some, turning the cooler around so the back of the cooler is against you solves this problem quite easily.
Where To Buy Your Pelican Cooler
Pelican coolers are sold all over the USA and are also available online through a variety of different stores.