CamelBaks work great straight out of the box but there's always room for improvement. When I have gear that I use regularly I'm always looking for ways to make it better or more convenient and my CamelBak is no different.
Luckily, there are a bunch of great accessories for that do everything from filter your water to protect you from collisions, and everything in between.
Below are 11 of my favorite accessories to make your CamelBak work better and do more for you.
1. CamelBak Cleaning Kit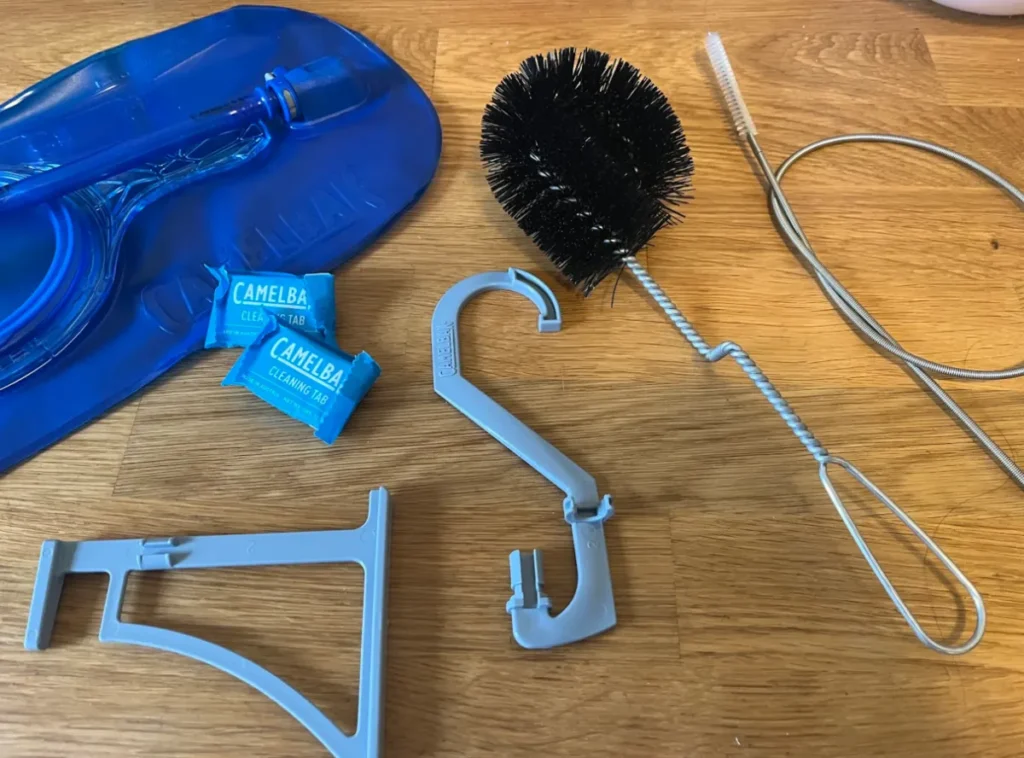 If I could only choose one accessory off of this list, hands down it would be a CamelBak cleaning kit, which includes:
A soft-bristled sponge to clean the interior of your reservoir.
A tube cleaning brush to scrub the interior of your tube, which is possible without one but pretty time consuming. 
A reservoir hanger to thoroughly dry your bladder to prevent mold from growing.
Two CamelBak cleaning tabs to sanitize all those hard-to-reach areas in your reservoir.
Washing your CamelBak properly will prevent harmful mold and bacteria from growing in your reservoir. While it's still possible to do so without one, a cleaning kit just makes it so much easier.
I highly recommend this and I think it's the best CamelBak accessory out there. I use mine every single time I wash my CamelBak so it gets a lot of use and is well worth the money.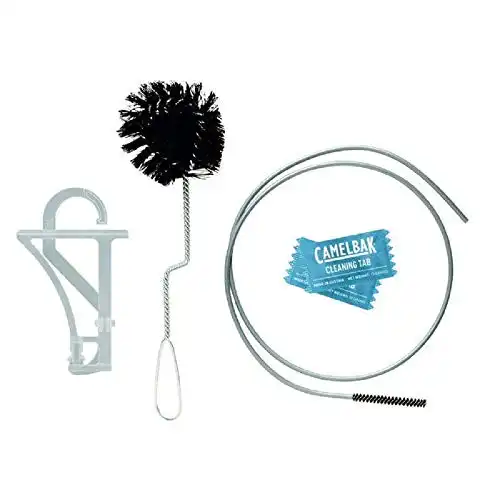 CamelBak Crux Cleaning Kit
Features a large brush for the reservoir and a extra long straw brush to clean the drinking tube plus CamelBak cleaning tabs which will help clean away any scum. After cleaning use the reservoir drying kit to easily hang your bladder and get it completely dry.
A must have for CamelBak bladder owners.
Buy Now at Amazon
2. Bite Valve Cover
A bite valve cover is an easy and effective way to keep dirt, dust, and grime off of your mouthpiece. 
If you've ever taken a swig of water from your CamelBak only to end up with a mouthful of mud or dust, you know exactly why you need this. And if you haven't, don't wait to find out the hard way.
It's lightweight, easy to install, inexpensive, and is really effective for something so simple.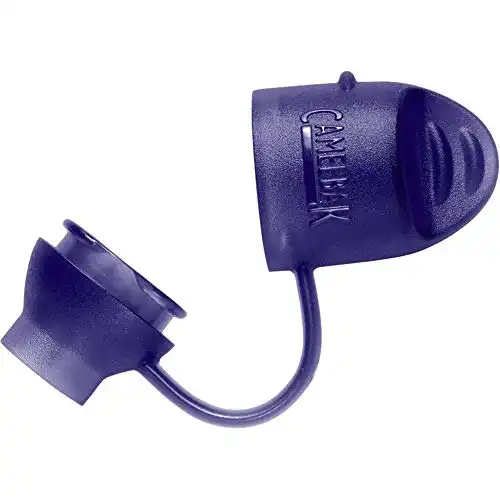 3. CamelBak Dryer
Waiting for a CamelBak to fully dry before storing it is key to preventing mold and keeping your bladder safe.
But sometimes, you really just don't have the time and even if you do getting every little corner and crevice of the bladder clean can be a nightmare…and don't even get me started on the drinking hose.
The CamelBak tube can be the hardest thing to dry and you really need to dry it properly to be able to store it without disgusting things growing.
If I'm traveling, I make sure to pack a CamelBak dryer. It attaches to any blow dryer (like those conveniently found in hotel rooms) and pumps air through your bladder, drying every nook and cranny in minutes.
Even at home I use this to dry my bladder. It takes a little bit of effort to hold the dryer onto your bladder but it works super well and I don't have to worry about the tube staying wet and not drying properly.
4. CamelBak Drying Cloths
But if you're traveling without easy access to a blow dryer, or you're a bit lazy like I am some days, all hope isn't lost. U'Be Hydration Bladder Dryers dry a CamelBak quickly, without the need for electricity. 
They work by absorbing the moisture in your reservoir and wicking it to the exterior of the pack, where it can evaporate quickly.
All you need to do is stick a cloth or two in your reservoir, slightly hanging out, and wait for it to do its thing. 
It'll absorb most of the moisture in just a few seconds making your bladder mostly dry and ready to be stored in the freezer if that's where you plan to store it.
Alternatively, leave it for 5-6 hours for a complete dry.
I like to combine this with the CamelBak drying hanger from the CamelBak Crux Cleaning Kit to hang and dry my CamelBak.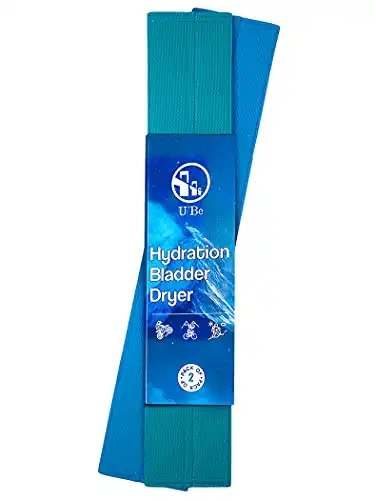 5. Magnetic Tube Trap
One of my biggest annoyances when I first got my CamelBak was trying to manage the tube one-handed on my bike.
No matter what I tried, I just couldn't find the right balance between safely secured and easy to drink.
Eventually I got a magnetic tube trap and haven't looked back since. It's quick to install, rotates freely when stowed, and snaps back into place effortlessly. 
If you use your CamelBak for cycling, this is a no brainer.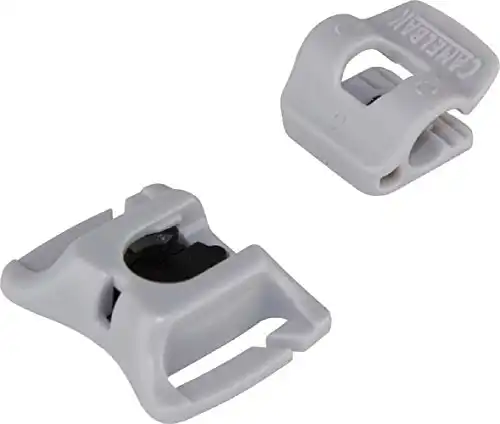 6. Rain Cover
If you're tired of your CamelBak getting soaked through when you're caught out in the rain on a hike or bike ride, a CamelBak Rain Cover is just what you need. 
It's super lightweight (so even ultralight backpackers won't fret) and slides over your pack in seconds.
Plus, it's bright and reflective so drivers can easily see you, even with the decreased visibility from the elements.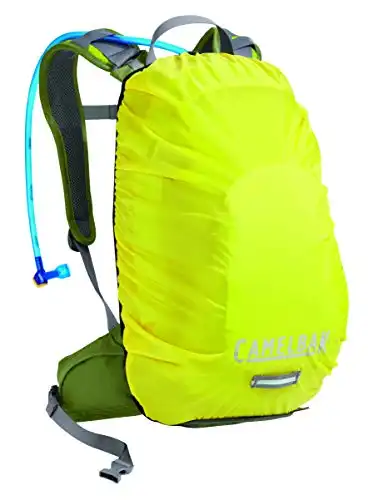 7. Insulated Tube
While there are a lot of tricks you can use to keep the water cold for longer in your CamelBak, there isn't a whole lot you can do about the water that sits in your tube and warms up between pulls. 
If you're tired of taking nasty hot sips just to get to the refreshing, cold water waiting on the other end of the delivery tube, an insulated hose can help.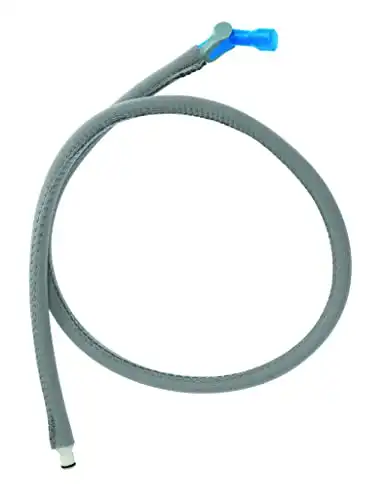 Compatible with all Crux reservoirs, it's super easy to install — just press the QuickLink button and slide it into place.
If you have a bladder that isn't compatible or want to save a few bucks, you can just add insulation to your own tube instead.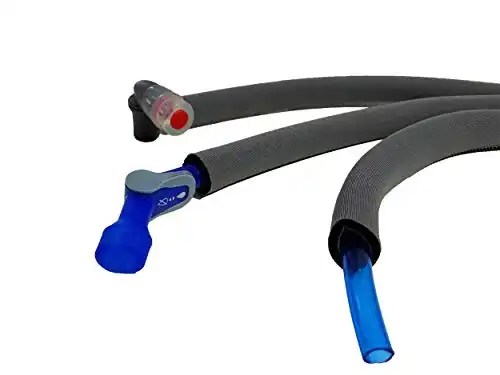 8. CamelBak Reservoir Filter By LifeStraw
On multi-day hikes, clean drinking water is always one of the biggest problems you need to solve. I used to just boil water but, if you've ever done it, you know what a pain it can be.
It's even worse with a CamelBak because you have to wait for the water to cool before adding it to your reservoir. And if you happen to run out mid-day, you could be stuck between going waterless or needing to take a lengthy unplanned break.
But a LifeStraw Filter solves the issue in the easiest possible way. 
Using a two stage filtration process, the LifeStraw removes parasites, bacteria, and microplastics AS you drink. Just dunk your bladder in a stream to refill and you're good to go. 

CamelBak Reservoir Filter Kit Filtered by LifeStraw
Features two stages of filtration to not only kill bacteria and protozoa and remove microplastics but also to reduce chloride and remove bad odors and tastes from your water.
Compatible with all CamelBak reservoirs and filters up to 1000 gallons (4000 L).
Can be paired with a CamelBak Reservoir Gravity Kit (sold separately)
Buy Now at Amazon
9. CamelBak Gravity Kit By LifeWater
An essential for car camping or RVing, the Gravity Kit by LifeWater converts your bladder into a gravity filtration bag using the same two step filtration process as the LifeWater Reservoir Filter. 
Just attach the kit and hang for an easy, clean water source on the move.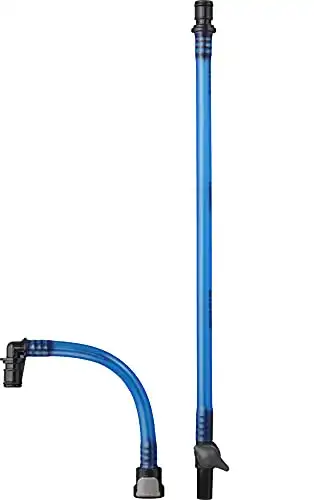 10. CamelBak Impact Protector
Give yourself extra protection while riding with a CamelBak Impact Protector. 
Lightweight but solid enough to provide CE Level 2 protection, the CamelBak Impact Protector deforms to reduce the risk of back and spinal injuries from rear collisions.
If I'm riding on the road, I use it every time.
Just slide the insert into your CamelBak pack for the added safety. Hopefully it never has to come in handy, but it couldn't hurt to be prepared. 

11. CamelBak Sternum Protector
The CamelBak Sternum Protector helps prevent chest injuries during the frontal impacts that are unfortunately all too common with mountain biking.  
Designed to be worn under a CamelBak, the Sternum Protector grades as a CE Level 2 Armor, guarding the chest and sternum, with a built-in camera mount as a nice added bonus.
The Sternum Protector comes highly recommended by all of my friends who are avid mountain bikers.