Spending a day in the wilderness is my paradise and I like to use that time to be as worry-free as possible. However, there are a few things that can ruin that peace.
I learned pretty quickly how pesky ticks can be when I first started adventuring. These devilish parasites latch onto our skin to feed on blood, but the worst danger is the bacteria and diseases that they are known to carry, the most prominent being Lyme Disease.
Unfortunately, ticks start to come out when the warmer months roll around, and they hide in tall grass and brush waiting on hosts to pass by. Because of how common they are (they can lay up to 6,000 eggs) and the risks they present, I like to deal with them in a few ways before they end up on my skin.
The best ways to avoid and repel ticks while hiking include:
Wearing protective clothing including long-sleeved shirts and pants, closed-toe shoes, and long socks (tucked into your pants if possible).
Using insect repellent that contains ingredients such as DEET or permethrin.
Sticking to well-maintained trails and avoid venturing into taller grass and brush where ticks like to hide.
Treating your gear and clothing with fabric-safe repellents such as permethrin.
Routinely checking for ticks on yourself as well as your pets.
Although it can be a pain, taking up measures to avoid and protect from ticks can go a long way in keeping your outdoor getaway a peaceful time.
There are only a few surefire ways to avoid these persistent creatures, and with so many misconceptions and false methods to kill or repel ticks, you'll want to keep reading to learn the most guaranteed methods to include in your adventuring routine.
1. Wear Protective Clothing (Long Sleeves)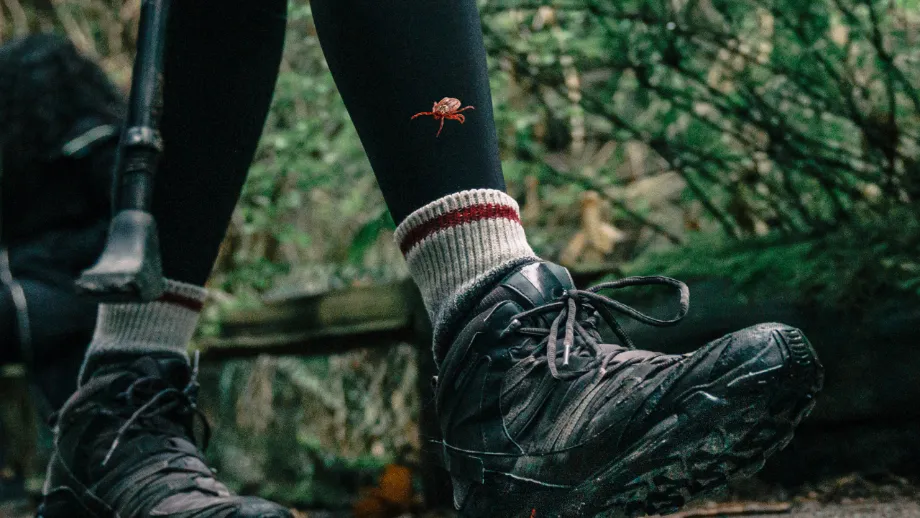 No matter how many repellents you use or how many precautions you take, if you're a frequent hiker like me there's a good chance you come into contact with a tick eventually.
Because of this, I always recommend starting by wearing long sleeves when you can.
The idea is to create a barrier between your skin and the tick, as ticks are incapable of biting through almost all fabric materials, including thinner materials like leggings.
Now this can definitely get uncomfortable, especially in months when it's scorching hot outside, but unfortunately for us outdoor lovers this is when ticks are out in full.
At the bare minimum, I'd recommend always having long socks and pants when you can. For added protection, tucking your socks over your pants can ensure that ticks won't have access to your skin even if they get on your body/clothes.
Ticks can only crawl as they don't have wings, so the only way they're getting a bite of your skin is by crawling up on contact, which in this case, will likely be around your ankles or legs.
They may then fall off during your hike, run or ride and you'll never have to worry about them. If they do stay attached to your clothes they will be fairly easy to flick or pull off as they won't be fully attached to your body yet.
Wearing long clothing really is one of the best forms of pest repellent. Everything from ticks to leeches to mosquitos bites can be avoided just by wearing clothing that covers your skin.
2. Use Tick Repellent
One of the best ways to keep ticks away from our skin is by using topical tick repellent.
If you aren't a fan of wearing longer clothes and still want that peace of mind of having a barrier to protect your skin, a tick spray can do a great job of providing long-lasting protection.
Diethyltoluamide, or DEET, is a commonly used ingredient in insect sprays, and this spray from OFF! effectively repels ticks for up to 8 hours.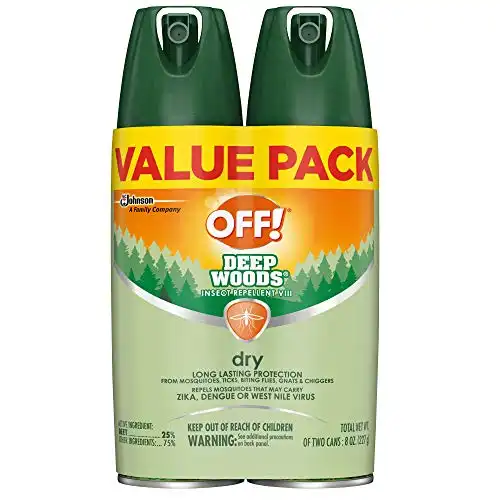 Permethrin is a favorite for repelling ticks, but what I like about DEET is that it's safe for your skin and works pretty much instantly to keep ticks away.
If you're looking for something more natural then this Nantucket Extra Strength Tick Repellent Spray is highly effective and make from organic essential oils which are proven to repel ticks.

Nantucket Spider Extra Strength Tick Repellent Spray (8 oz)
Lab tested and highly effective. Nantucket Spider Extra Strength Tick Spray for Humans is made from a broad spectrum of steam-distilled, organic essential oils that are proven to repel ticks, including rosemary, cinnamon, cedarwood, peppermint, spearmint, geranium and clove. Distilled water, vegetable glycerin and natural vanillin (made from cloves) are our only other ingredients.
Buy Now at Amazon
3. Stay on the Trail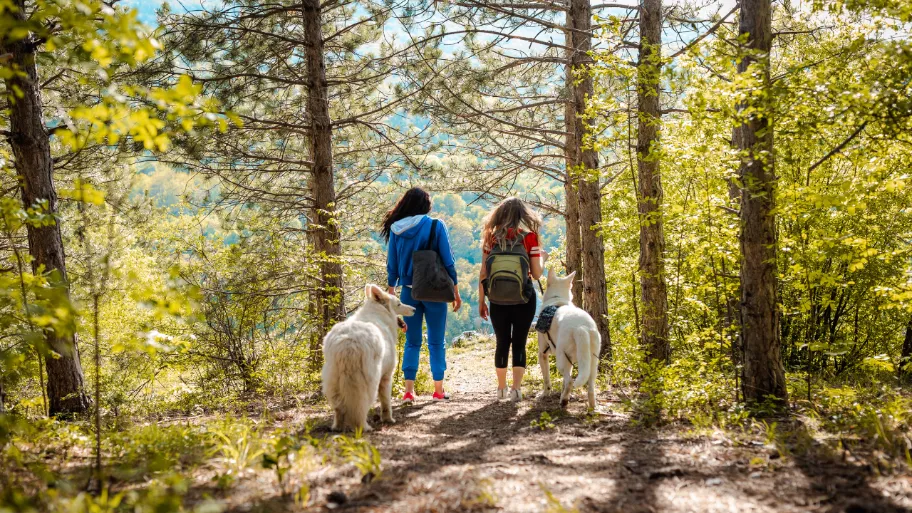 It feels a bit silly to suggest as someone who prefers the less-traveled paths, but sticking to well-maintained trails and hiking areas will go a long way in steering clear of ticks.
Ticks prefer the warm and moist environments found off the trail, places like tall grassy areas and bushes where they remain unseen.
If you want to avoid ticks at all costs, make sure you don't venture off the worn and traveled paths (this goes for your pups as well).
4. Treat Clothing and Gear with Repellent
Treating your gear and clothing can go a very long way in scaring away ticks, and what I like most is that many fabric repellents are long-lasting and can provide protection for several weeks.
Permethrin is absolutely the most popular solution when it comes to scaring ticks away, and one of the best products is Sawyer Permethrin Repellent.
Adding a layer of this repellent to your clothes or gear will protect you from ticks for up to 6 weeks (or 6 washes), and it's a great way to keep your peace of mind.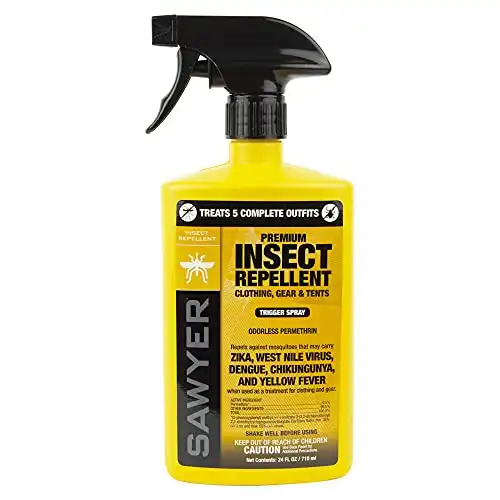 Ticks are pretty stubborn creatures and are known to crawl around a bit before biting, meaning even if they don't bite while you're out, they can follow you into your car or home. 
If you treat your clothing and gear, you won't have to worry about a tick striking when you least expect it.
5. Check for Ticks Often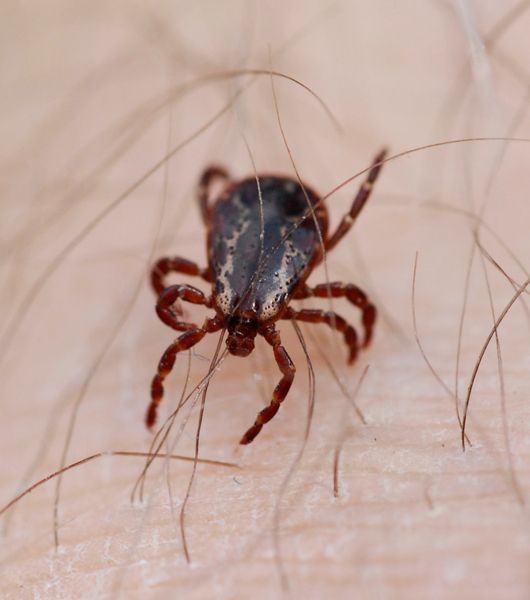 No matter how many precautions you're taking to avoid ticks, you should always be sure to frequently check your body and pet for these nasty crawlers.
This is especially true if you're a frequent outdoors person. Ticks can crawl around a bit and are even known to be picky about where they latch on, so by routinely checking it's possible that you can catch one before they bite.
The chances for disease go up the longer a tick stays latched on, and for this reason, I always try to check myself and my kids for ticks whenever we come back from a day in the outdoors.