I love my Nalgene bottles. They regularly come with me to the climbing gym and are strong and lightweight making them great for my hikes.
If you are looking to buy a Nalgene or want to keep drinks cold or hot in them you might be wondering whether or not Nalgene bottles are insulated.
Brands like Hydro Flask, Yeti and Iron Flask are able to keep drinks hot for 12+ hours and cold for over 24 hours. But do Nalgene sell insulated bottles?
Nalgene does not make insulated bottles. Their plastic bottles contain no insulation and their stainless steel bottles are single-walled, making them great for boiling water over a stove or campfire, but not great for keeping drinks hot or cold for long periods of time.
Because of their lack of insulation Nalgene bottles can only keep iced water cold for 2-4 hours in warmer weather or hot for less than 1-2 hours (unless you are putting them in your sleeping bag to use as a hot water bottle).
You can purchase insulated sleeves to help keep your drinks cold or hot for longer and these do work, but they don't work nearly as well as vacuum insulated bottles.
If you are looking for an insulated bottle then Nalgene is not for you.
Nalgene Do Make Insulating Sleeves For Their Bottles
Nalgene focuses on making high quality, lightweight and affordable water bottles for everyday use.
Despite brands like Hydro Flask, S'Well, Yeti and others having a lot of success with their vacuum insulated water bottles Nalgene is yet to make one similar.
Perhaps this is due to their commitment to manufacturing their bottles locally in the US (there are currently no factories that make vacuum-insulated bottles in the US) or maybe they have just decided to stick with simplicity as this is what made Nalgene bottles so popular in the first place.
However, Nalgene does offer insulating sleeves that help to keep drinks cold (or hot) for longer and also to help stop Nalgene bottles from sweating.
For their 32 oz. wide and narrow mouth bottles, they sell insulating sleeves with a:
Zippered top attached to the sleeve with a rubberized hook and handle
Drawstring closure on a thinner neoprene sleeve (no top cover) 
I personally like the Nalgene Neoprene bottle sleeve cover. It's simple and easy to use and made by the company itself.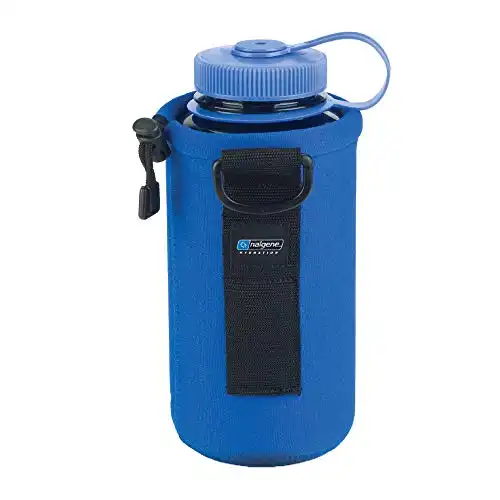 For the 24 oz. bottle, Nalgene offers a drawstring closure on a thinner neoprene sleeve (no top cover).
However, there are also third party insulating covers made specifically for Nalgene bottles, so you do have some choice.
The Sok It Botl cover (at Amazon) is a good option and has some really funky patterns. If you want to stand out while also keeping your bottle insulated then this is going to be the brand for yuo.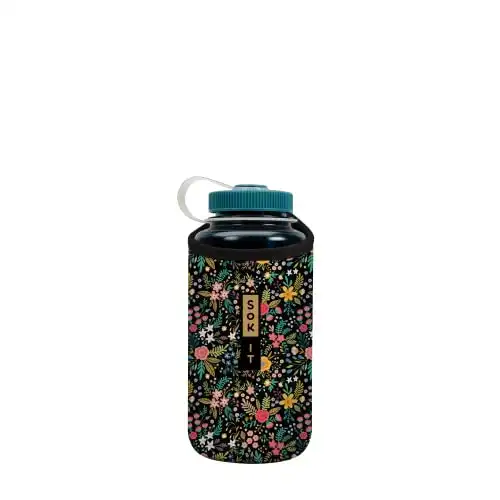 All of Nalgene's insulated sleeves keep cold drinks cold and hot beverages hot. They also prevent condensation on the bottle's outside, guaranteeing no-slip grips and no wet patches on your table.
Are Stainless Steel Nalgene Bottles Insulated?
When I first saw the Nalgene stainless steel water bottles I thought they would be vacuum insulated like Hydro Flask bottles. However, this isn't the case.
Stainless steel Nalgene bottles are made from thick single walled stainless steel and are NOT insulated at all.
While this can be a problem with the bottle if you want to keep drinks cold the fact that Nalgene stainless steel bottles are single walled actually has a long of advantages over it's insulated competitors.
The main advantage being that you can use stainless steel Nalgene bottles directly on a stove or on a fire to boil and sterilize water when you are out hiking or camping. You can cook noodles in your Nalgene, make tea, brew coffee and it's strong enough to withstand the high temperatures without breaking.
You can't use vacuum insulated water bottles to cook things in as the heat from the stove/fire can compromise the vacuum seal – ruining the bottle's ability to insulated.
Stainless steel Nalgene bottles are also thicker than other brands meaning they are less likely to dent and it also makes stainless steel Nalgene bottles strong than their plastic counterparts.
So while they aren't insulated they are great bottles.
Plastic Free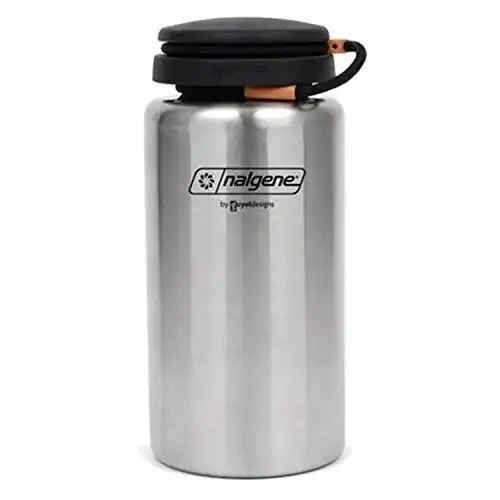 Nalgene Stainless Steel Water Bottle (38 oz)
Made from single wall surgical grade 316 (18/10) stainless steel and featuring the same size threads as the regular Nalgene widemouth this is the perfect bottle for those wanting the lifetime warranty and durability of a Nalgene without the plastic.
Comes with a rope pack loop lid attachment.
Buy Now at Amazon
Are Insulated Sleeves As Good As Insulated Water Bottles?
If you're wondering whether or not a Nalgene with an insulating sleeve is going to keep your drinks cold (or hot) for as long as a vacuum-insulated stainless steel water bottle the answer is a resounding NO.
Insulating sleeves do not insulate as effectively as vacuum insulated bottles.
This is because a vacuum is the best insulation possible. 3-4mm of vacuum insulation performs much much better at stopping heat transfer than 3-4mm of neoprene over a plastic bottle.
A vacuum insulated bottle can keep ice frozen for 1-3 days (see my Hydro Flask video below). A Nalgene bottle with an insulating sleeve will only keep ice frozen for around 4-6 hours max.
How To Insulate Your Nalgene Without a Sleeve
If you don't have an insulating sleeve for your Nalgene but still want to keep your drinks cold or hot for longer there are a few ways you can do it.
Here are a few DIY ways to create insulating sleeves for plastic water bottles:
Wrap several layers of aluminum foil around it. (Bonus: Tape bubble wrap from old mailing envelopes to the foil before wrapping.)
Cut up an old sleeping pad and duct tape it on. (Design your own removable top while you're at it!)
Set it inside a double layer of wool or polypropylene mittens or socks.
Wrap your Nalgene in a towel, sweater or jacket to insulated it from the outside.
Click here to learn exactly how to keep water cold in your Nalgene for longer. I've got a lot of great tips in that article.